Whenever Charles City cross country runner Kiki Connell competes this season, she doesn't run alone, despite her usual position far ahead of the rest of the pack.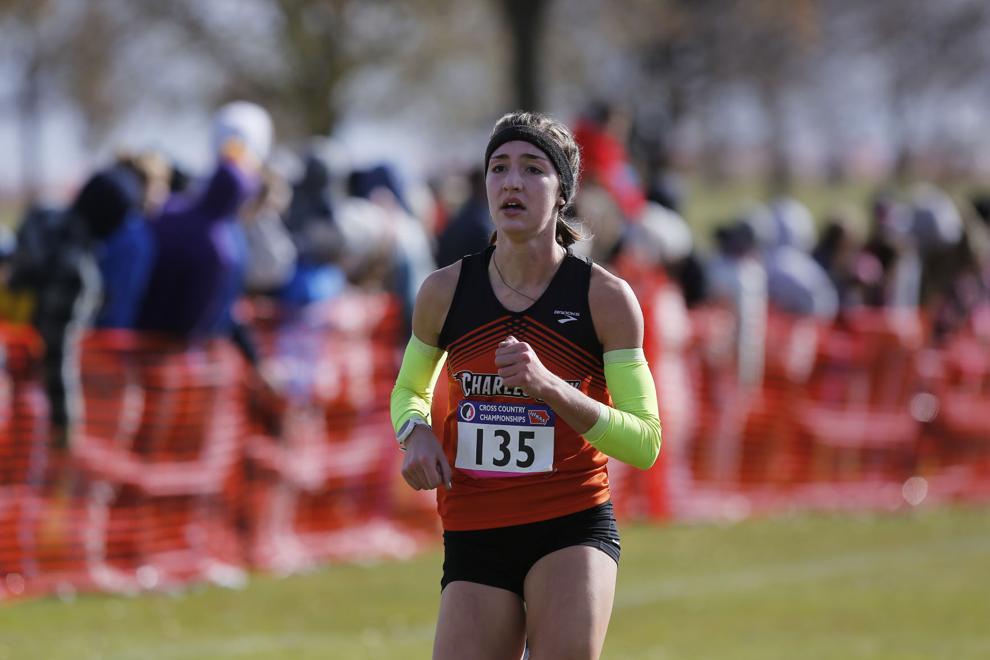 An old friend is there, every step of the way. 
Iowa's No. 3 ranked Class 3A runner goes into this Friday's state cross country meet as one of the favorites to win the whole thing. On Oct. 22, Connell punched her ticket to the state meet by shattering her own school record by 32 seconds. Her time of 17:57 was the fourth-fastest in the state this season, regardless of class. 
Every year, Connell has written some kind of motivational message on her wrist. This year, that message has been "WWLD."
Logan refers to Logan Luft, a Charles City teen who died in a 2017 ATV accident at the age of 15 and was the inspiration for Iowa's  "Logan's Law," which allows people to register as organ donors on Iowa hunting and fishing licenses. 
Luft and Connell were good friends and were both highly successful Charles City athletes in middle school, with Luft emerging as a standout wrestler and runner, and Connell stepping up as a the fastest girls' runner at the school.
"Everyone referred to us as the greatest of all times of our eighth-grade class, because we both held the school record in middle school," Connell said. 
Now, more than three years since Luft's death, Connell still thinks about her friend often. Earlier this year, Connell said she was feeling sad about the approaching end to her senior season and her high school career. That is when it struck her.
Logan didn't get the chance to experience any of this. 
"It hit me like a load of bricks," Connell said. "Logan didn't get a single varsity high school race. He didn't get to run a single race in high school. It kind of changed my perspective completely. I get to run every day in practice. I get to run these meets. I've gotten four years gifted to me and I never know which one is going to be my last. We would both be seniors this year. It kind of hit me, and I knew I had to do it for him."
This year, Connell has taken her racing to a whole new level. Her freshman year, Connell ran with her team at the state meet and placed sixth overall. Her junior year, Connell broke the school record for the first time at the NEIC Conference Meet, and placed sixth overall at the state meet. 
While her  previous PR was 18:30, Charles City head coach Amanda Rahmiller said that Connell has been confident that she could shatter that mark. At the state qualifying meet, Connell went out with plenty of confidence before running a sub-18 minute race for the first time. 
"She has been telling me for about the past three weeks or so, I really think I can go low 18s if not sub 18. It was just a matter of when," Rahmiller said. "She went into the state qualifying meets saying, "Hey, I'm going to treat this like state. I am just going to go and do my thing. Her first mile was a bit quicker than it normally was, and she just cruised after that. We weren't completely shocked with a 17:57, but it still was pretty awesome."
This year, she is hoping for a top two finish, if not winning the whole thing at Fort Dodge. Her biggest challenge in the race will be a pair of Ballard sophomores, Paityn Noe and Shewaye Johnson, who are ranked number and number two in Class 3A, respectively. 
Connell has already raced against several of the state's top runners this season, including Ellie Meyer of Iowa Falls-Alden, Rebecca Anderson from Decorah, and Emma Hoins of Waverly-Shell Rock, but the two Ballard girls present possibly the biggest challenge yet.
"She has shown where she stands among those," Rahmiller said. "The two Ballard girls are kind of that next level. That is the goal, she wants to be first or second, which I think she is completely capable of. I think it'll be tight the whole time between them. She's excited, she's ready."
Offseason devotion
Both Rahmiller and Connell cite her work in the offseason and her status as a multi-sport athlete as a reason for her dominance on the course. This past winter, Connell took up wrestling for the first time. She had never done the sport before, but finished sixth overall at the girls state meet. She is also a member of the Comets' softball team that has made a state tournament appearance each of the past five years.
Connell says that each of those sports has helped her develop as an athlete, but wrestling especially has been a big boost, both mentally and physically. 
"Wrestling this year really changed my mental toughness," Connell said. "I was looking forward to track, because I knew that I was going to be a changed runner because of what I had gone through during wrestling season. I definitely think it played a role in the success I've had this cross country season."
Connell will lace up her running shoes on Friday for the final time as a member of the Charles City cross country team, hoping for the race of her life. There are some nerves, as with any big race, but she always knows what she needs to do to have success. 
Set her own pace, run fast, and do what Logan would do. 
"He was a big part of my career success, and I always drive myself to be just like he would be," Connell said. "When I look down, and I see that, it reminds me that every race is a gift from God, and I always try to do it the way Logan would do it. He would do it with a smile on his face and work his butt off."
Shane Lantz covers sports for the Globe Gazette. You can reach him at Shane.Lantz@GlobeGazette.com, or by phone at 641-421-0526. Follow Shane on Twitter @ShaneMLantz.