When the avalanche first caught Bill Fuzak, he fought to stay on top of the roiling mass.
The Lime Creek Nature Center's Annual Winter Festival will be held from 1-4 p.m. Saturday at the nature center.
State officials who track weather trends say Iowa received about six more inches of rain than usual in 2019.
The Iowa Department of Natural Resources will release trout in seven locations across Iowa this winter in areas that would not support them in…
Clear Lake will be featured in an upcoming episode of "Fishing the Midwest."
At some times of the year, especially in the fall, big baits are the ticket to big fish. But in the winter, much of the time, smaller baits wi…
The DNR is again reminding Iowans of deteriorating ice conditions after a rescue, this time at Brushy Creek Lake near Washington on Thursday.
I've been in the business of fishing for about 40 years, and have been fishing even longer. The changes in fishing and fishing equipment over …
Looking for a way to ring in the new year? Officials with the Iowa Department of Natural Resources suggest first-day hikes Jan. 1.
Rivers, both large and small, crisscross North America. Many of those rivers are full of fish in a wide variety of species, and many of those …
Numerous new displays and exhibits were recently installed at Lime Creek Nature Center.
Lime Creek Nature Center is open again to the public after a number of enhancements were made to the interior of the building.
Take a video tour of the newly updated Lime Creek Nature Center, located immediately north of Mason City.
Trace Kendig of Polk City has been hired to serve as the chief of the Department of Natural Resources' Law Enforcement Bureau, the DNR announced.
Ice fishing and open water fishing are certainly two different things, but in some ways they're very similar. Following are some fishing ideas…
Lime Creek Conservation Area trails have been closed to all horses and non-snow bikes for the remainder of the winter/ski season.
Stay in tune with the land you live on. Healthy lives depend on healthy ecosystems. Here are our environmentally related stories from autumn of 2019.
A snowmobile safety course will be held from 8 a.m.-4 p.m. on Saturday at the Garner Law Enforcement Center.
Officials with the state Department of Natural Resources say Iowans can buy 2020 resident hunting, fishing and other licenses beginning Sunday…
The scene is timeless. At the edge of a shallow marsh, two hunters crouch in the cattails. The sunrise is fast approaching and a rising breeze…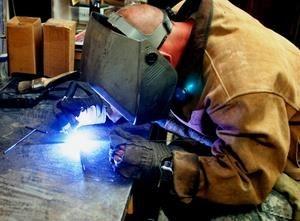 J & J Machining, Welding & Fabricating
Cedar River (above Nashua):  Anglers fishing back eddies and open water areas below dams are catching fish. With high river levels, backwaters…
Toward the end of November 2002, Lauren DeLand's body started to ache. Her head hurt. She was fatigued. Barely able to get up in the mornings,…
Ice has been coming and going so far this year, but it's for sure that eventually we're going to have safe ice available to us. When that happ…
Want to ease the pain of winter outdoors? Check out these top gear recommendations from Jeff Banowetz.
I was beginning to feel the pressure. With the Thanksgiving holiday less than a week away, my turkey dinner was still running wild and free in…
As ice fishing season gets closer, I'm making noting bodies of water that I hope to return to this year. It's been my good fortune to have exp…
Honkers for Heroes was a two-and-a-half day, fully catered event designed to honor a group of 10 military combat veterans serving in Vietnam, …