As printed in the Globe on 10/25, the IHSAA has produced coronavirus guidelines for winter sports and has very effectively demonstrated that t…
WHEN in your lifetime can you remember a president's former chief of staff, former secretary of defense, two former national security advisors…
A breath of fresh air, that's what Bennett Smith represents as a positive "can do" candidate for our Iowa House District 54. Bennett is an ind…
I learned a long time ago that this unique system of democracy is defined by the phrase -- "majority rule, minority rights." Without both, the…
Trump is in "no man's land" and can't win the argument that he should be re-elected for another term. He somehow came through a perfect storm …
I am tired of not being heard by our current lawmakers. It is time to change that! At the end of the day, I don't care if you are Democrat, a …
I commend Brice Golwitzer for what is referred to as "Bucking Tradition" and standing alone on the sidelines prior to his school's football ga…
As printed in the Globe on 10/25, the IHSAA has produced coronavirus guidelines for winter sports and has very effectively demonstrated that t…
WHEN in your lifetime can you remember a president's former chief of staff, former secretary of defense, two former national security advisors…
A breath of fresh air, that's what Bennett Smith represents as a positive "can do" candidate for our Iowa House District 54. Bennett is an ind…
I learned a long time ago that this unique system of democracy is defined by the phrase -- "majority rule, minority rights." Without both, the…
Trump is in "no man's land" and can't win the argument that he should be re-elected for another term. He somehow came through a perfect storm …
I am tired of not being heard by our current lawmakers. It is time to change that! At the end of the day, I don't care if you are Democrat, a …
I commend Brice Golwitzer for what is referred to as "Bucking Tradition" and standing alone on the sidelines prior to his school's football ga…
Sometimes life is relaxing; you feel like a dog lying on the porch in the sunshine. Then again, sometimes life gets a hold of you and shakes y…
 Birthdays should be celebrated with somebody who loves you. 
What a banner day -- the fall colors in full bloom, the blue sky fading to dusk, the supper dishes done, movie chosen, popcorn popped, tucked …
Spanning four full weeks of unparalleled beauty, October is a month like no other. If I could figure a way to make it happen, I'd take October…
The battle for the majority in the Iowa House of Representatives is not being waged in Iowa alone.
In Theodore Roosevelt's autobiography, he opposes term limits, claiming the voters impose term limits every four years if they so choose.
My distinguished and honorable opponent.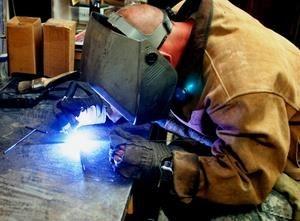 J & J Machining, Welding & Fabricating