MASON CITY | Police continued to search Friday for a man suspected of robbing a Mason City resident who was later found dead.

CHARLES CITY | Judge DeDra Schroeder this week addressed motions from defendant Doug Lindaman, including his request for a grand jury inquiry … Updated: 8:36 pm
NORTHWOOD | Two people were hurt when a sport utility vehicle hit a motorcycle near Northwood on Thursday, troopers say. Updated: 7:27 pm

CEDAR FALLS | A man was taken to University of Iowa Hospitals and Clinics with "serious leg injuries" after his motorized scooter collided wit…
This week, why isn't Sanders polling better in Iowa? What would GOP candidates do without Hi…

See the complete daily lottery results from Iowa and Minnesota here: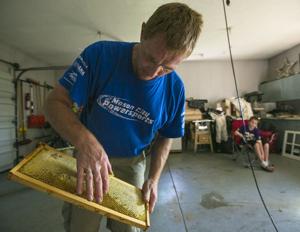 MASON CITY | Two weeks after the Iowa State Fair, Randy Elsbernd is extracting honey from boxes of honeycombs in his garage.
Featured Ads