The end has arrived for the Osage Community High School Class of 2023. It is also a new beginning, one filled with uncertainty.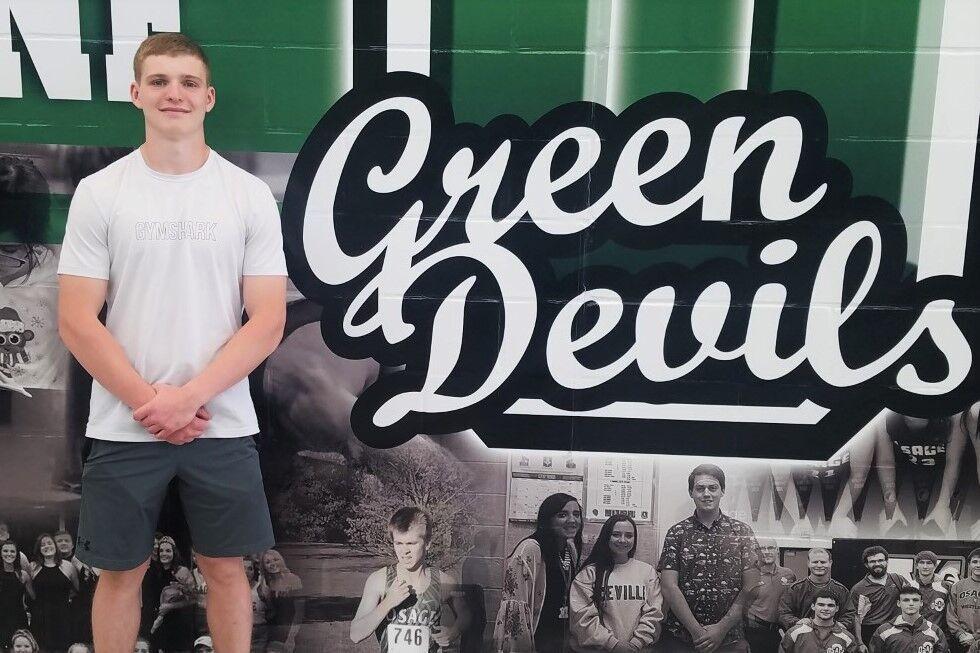 Cade Machin is valedictorian. On his final day, May 10, he leaves the building on a sunny spring afternoon, his career as a student in Osage complete.
"I haven't processed it yet," Machin said of graduating. "I want to say it's sad, but it's kind of bittersweet, just because I've developed all these relationships with teachers and classmates. They're not going to be there as much anymore. That means I have to develop new relationships.
"I wouldn't say it's scary, but it's different, to go back into the unknown."
Machin will attend the University of Iowa and major in chemical engineering. Science has always been a passion. Chemistry is his favorite part. He loves the practical aspect, how everything is made of compounds.
"I've always liked to build things around me to improve my life," Machin said. "Chemical engineering combines the two things.
"It's diverse what you can do within chemistry. There's so much to learn about it, and it makes up everything around us. Understanding it helps to bring everything into perspective."
Former Osage science teacher Eric Dralle helped confirm Machin's love for his future major, and he has not wavered in his resolve. Other positive influences have been Osage teachers Chris Kyhl, Stacy Staudt, Scott Hoppel and baseball coach Matt Gast.
Machin excelled in athletics. For four years, he played football and baseball and ran track. He played basketball for two years. It was a bonding experience with his friends.
One of his favorite memories was winning a district championship in football.
"It meant a lot to me because I worked really hard during last offseason to contribute as much as I could," he said. "I felt my hard work paid off when we kept advancing through the playoffs. The best part of sports is the relationships I've developed and kept."
Machin earned all-district as a center on the offensive line. He also played linebacker.
Machin has been president of the student council, vice president of the National Honor Society, and participates in Osage's Big Brother program.
"I wanted to be a good role model with a younger kid," Machin said. "To hopefully have a positive impact on his life, so that someday maybe he can look up to me and be the best version of himself when he looks back on our time together."
The Class of 2023 was in high school when the pandemic hit.
"We saw so much change in an instant," Machin said. "So we had to be resilient to that adversity, to overcome and still achieve our goals."
According to Machin, it was difficult not seeing his peers during quarantine.
Machin points out there were many obstacles, some not nearly as unsurmountable as COVID-19, which forced the class into a different schedule. A new high school building was built, which brought more changes. They had a new principal, Mike Kennedy, their senior year.
"There's been a lot of changes we've had to adapt to," Machin said. "And despite those changes we've been able to succeed as a whole in academics, athletics, music and art. Our class is hardworking. We'll be able to respond to changes better, and not let it negatively impact our lives and our trajectories."
Time has gotten away from Machin.
"It seems like just yesterday I was stepping into the building in fifth grade," Machin said. "And now I'm a senior – where did the time go? Looking back, I thought this was so far away, almost like it would never happen. But now I'm here, and I'm looking for what's next. It will be no time and I'll be graduating from college."
As valedictorian, Machin had to give a speech on graduation day. Like many students his age, he is not a public speaker, but Machin appreciated the fact he earned the right to speak.
"I need to give the best closing remarks to our class," he said. "I feel honored to do that. I feel responsible to send us off into the future on a good note."
Becoming valedictorian was not necessarily Machin's goal. It was just something that happened along the way, a byproduct of the high standards he sets for himself. It rose organically through a single-minded effort.
"I feel like my hard work and dedication has paid off," Machin said. "I wasn't working for the title. It's more of a milestone than an achievement. I still have work to do. I still have things to accomplish.
"I thank our school system as a whole for all they've done for us. I know it's taken so much to get to this point. And I think I'll be looking back for a long time. This place helped build us all into the people we will become."
Jason W. Selby is the community editor for the Mitchell Country Press News. He can be reached at 515-971-6217, or by email at jason.selby@globegazette.com.