Hampton-Dumont-CAL freshman Lydia Maas won by two minutes. St. Ansgar junior Riley Witt followed it up with his own dominant win. Two standout…
COVID-19 has claimed another life in Winnebago County, bringing the total number of people who've died from the virus to 13.
The Forest City football team has canceled its next two games due to COVID-19, Superintendent Darwin Lehmann announced on Thursday.
An innovative move in resurfacing Mitchell and Worth counties' roads has won Engineer Rich Brumm the national spotlight.
NIACC's Thea Lunning won individual medalist honors, while Trojan freshman John Doherty shot a career-best 72 at the Iowa Lakes Invitational o…
In the first Mason City Cross Country Invitational to be held on the school's campus, the Mohawks' cross country team walked away with some ve…
Quilts of Valor North Central Iowa presented four quilts to veterans from Osage on Sept. 6 at the Veteran's Memorial at the Courthouse.
"I think this is kind of a no-brainer."
Lance and Michelle Bushbaum's woodworking business, which they started out of their home in Osage a year and a half ago, has taken off mainly …
The Class 3A No. 2 Osage volleyball team has played 34 sets in 14 different matches so far this season and, after a 3-0 win at West Fork on Tu…
The COVID-19 pandemic has changed nearly every aspect of life, from work to school to leisure activities.
After a two week adjustment period, the area's top football teams are clicking on all cylinders.
Those old, familiar box tops cutouts that can be found on many products, but notably cereal boxes, are going the way of the 8-track tape.
The Osage volleyball team improved to 12-0 with straight-set victories over Sumner-Fredericksburg and Charles City on Saturday in the Dike-New…
Steven Smolik of rural Osage recently made the discovery of a lifetime while walking in the Little Cedar River.
"Life can change in a flash," is no longer a quaint saying for Michael Esdohr, of St Ansgar.
The West Hancock volleyball team kept it close but couldn't pull out a victory in a three-set loss to Newman Catholic on Thursday in Britt.
The St. Ansgar volleyball team had a dominant showing on Tuesday night at home against West Fork. The Saints beat the Warhawks in three straig…
The Osage football team finally put a mark in the win column on Friday night, with a 22-13 victory over Sumner-Fredericksburg. The win was hea…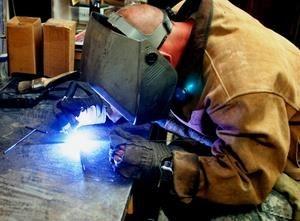 J & J Machining, Welding & Fabricating
For the third consecutive week, senior Cole Kelly brought the goods on offense for West Hancock.
The Forest City football team improved its record to 2-2 on the season, with an exciting one-point win over Clear Lake on Friday night.
CUSB Bank has been selected as one of Iowa's Top Workplaces by the Des Moines Register.
Proceedings in the Iowa District Court for Winnebago County for the week of Aug. 24, Aug. 31, Sept. 7 
"Take five deep breaths and blow out all the cares and concerns. Feel your body melt into the table. And relaaaxxx…"
A Forest City resident is fighting back after the city took his building materials after issuing him abatement notices.