In the first match-up between the Osage and Denver softball teams on June 16 in Osage, sophomore Ashley Halbach set a school record for strike…
The annual Ethnic Lunch by Central Park has been canceled due to concerns over the spread of COVID-19, according to a press release from the N…
The United State Small Business Association announced on Monday, July 6, that it was releasing data about the loans made to small businesses a…
Between 80 businesses in Britt and 125 businesses in Forest City that received the paycheck protection program loans, nearly 1,000 jobs have b…
The Paddler's Tap has reopened Thursday, July 9, with outdoor seating to properly follow social distancing guidelines.
Food, family and fireworks are what most families plan for the holiday weekend but a few of the Foster Grandmas took time to participate in th…
John Thomson, Citizens United State Bank's assistant vice president and consumer loan officer in Osage hadn't had a haircut in eight months.
Following the resignation of founding County Social Services Executive Director Bob Lincoln, Karen Dowell was named Interim CEO at the June 24…
When Northwood-Kensett and West Hancock showed up in Sheffield for the first round of Class 1A District 3 baseball action, the original plan w…
Riceville took advantage of scoring at least one run in six out of the seven innings to down Osage, 9-2, on the road.
Natalie Hemann, of Osage, has been named to the McPherson College spring 2020 Honor Roll.
The Rockford baseball squad beat West Hancock by an 11-3 score on Monday night, as the Warriors improved their record to 9-4 on the season.
As he has been all season long, Forest City sophomore Reese Moore was the star of the show on Wednesday night in the Indians' 15-5 home win ov…
The Rockford softball team crushed West Hancock on Monday, 19-5. The Warriors scored 11 runs in the third inning to blow the game open against…
After falling behind, 8-1, at home early in the game, West Fork stormed back on Tuesday to beat Forest City, 14-9, in the Indians' final regul…
The St. Ansgar softball team delivered on senior night in dominant fashion, beating Garner-Hayfield-Ventura, 12-2, on Friday night.
St. Ansgar 7, Charles City 2: The Charles City baseball team played one of the best teams in North Iowa before falling, 7-2, to St. Ansgar on …
Riceville 9, Osage 2: Riceville scored at least one run in six out of the seven innings on the road beating Osage, 9-2, Tuesday night.
St. Ansgar 7, Charles City 2: The St. Ansgar baseball team earned its third consecutive victory Wednesday night, with a 7-2 win over Charles City.
The Wildcats' softball team took sole possession of second place in the Iowa Star North standings on Wednesday night with 5-1 win over Janesville.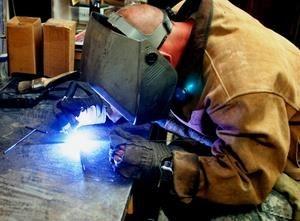 J & J Machining, Welding & Fabricating
The West Hancock Scholarship Board recently announced the winners of its Barbara J. Rankin Csomay and Richard L. Csomay awards.
If it feels like summer sports just started, it's because they did. We're only three weeks into baseball and softball, and it's already time t…
An injured gosling is on its way to recovery, thanks to the efforts of attentive, local cyclists.
The second event in the Osage Chamber of Commerce's Friday Night Out series has been canceled.
Dee Onken retires from First Citizens Bank. 
While the COVID-19 pandemic has forced many state and county fairs to cancel, the Hancock County Fair will still go on and the Winnebago Count…
The Winnebago County Board of Supervisors heard some concerns about a new wind turbine project that is currently in the works in the northern …