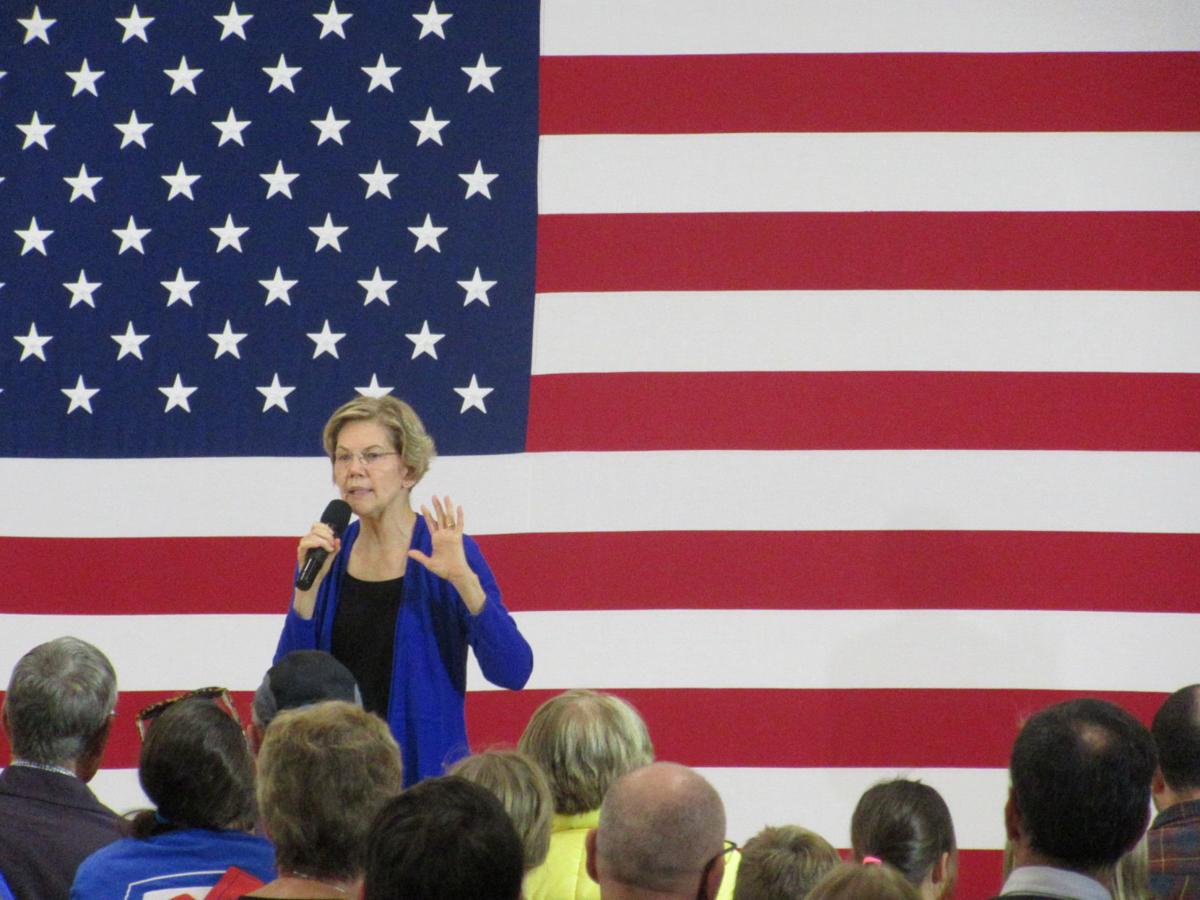 MUSCATINE – Elizabeth Warren stood by the savings and revenue projections in her campaign's proposal for a Medicare-for-all U.S. health care system, and described the debate over her plan "an exciting moment."
"After hearing from so many candidates about what's not possible, I put out a plan to show that we can have Medicare-for-all and not increase taxes on middle-class families by one penny," Warren said during an interview before a town hall event Sunday at Jefferson Elementary School here.
Warren, the Democratic presidential candidate leading polls on the race in Iowa, published the details of her health care plan on Friday. In the days since, the plan has been dissected and in some cases contested by her fellow candidates.
The Warren campaign said her plan would save Americans $11 trillion in health care spending over 10 years, and would be financed by savings from having employers paying Medicare instead of private insurance companies, "targeted defense spending cuts," new taxes on the richest 1 percent of Americans, "giant" corporations and financial firms, and by cracking down on tax evasion and fraud.
Critics have suggested the revenue projections in the Warren campaign's plan are too optimistic or aggressive, and that workers would ultimately be impacted by the taxes on businesses.
Warren responded to those criticisms by noting her plan was certified by two former high-ranking officials under Democratic President Barack Obama: his top Medicare official and chief labor economist.
The plan also was certified by Moody's Analytics chief economist Mark Zandi and former International Monetary Fund chief economist and MIT professor Simon Johnson.
And Warren said the taxes on businesses would simply replace what businesses are already paying for employee health care --- if not reduce that spending.
The U.S. Senator from Massachusetts also insisted that under her plan, individuals would be free to see whichever physician they choose because the system would eliminate physician networks, and get whatever medications they need because there would be no insurance companies to reject such a request.
"This plan is about giving Americans choice in their health care and eliminating the financial burden that is crushing American families right now," Warren said.
Warren was one of 13 candidates to speak at the state Democratic Party's annual fall fundraiser Friday evening in Des Moines. During her remarks, Warren spoke about the need for Democrats to offer and fight for "big ideas."
When asked during Sunday's interview if that speech was a defense of her campaign proposals like Medicare-for-all, Warren suggested her remarks were "a strong offense for why we need big ideas."
"We need big ideas to meet the challenges our country faces. We need big ideas to inspire people to come out and caucus and come out and vote. We need big ideas to be the lifeblood of our party so everyone knows what and who Democrats will fight for," she said.
Roughly 250 people attended the Muscatine town hall, the campaign said. Warren took three questions from the audience: none were about her health care plan. She was asked about unifying a politically divided country, equal pay for women, and STEM education initiatives.