St. Ansgar's Ryan Cole almost always get his yards. It's just a matter of when.
For three quarters on Friday night, the No. 2-ranked St. Ansgar football team had no answers for Lake Mills. 
But in the fourth quarter, everything changed.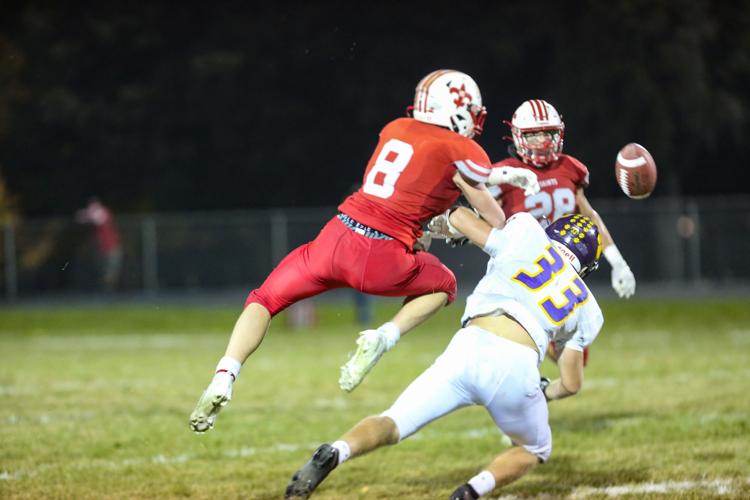 Things looked a bit bleak for St. Ansgar to start the fourth, as Bulldogs' running back Casey Hanson had gouged the St. Ansgar defense for 150 rushing yards and two touchdowns. On offense, the Saints couldn't seem to get anything going, as Class A-leading tackler Caleb Bacon helped scuffle nearly anything the Saints tried. 
But with 9:14 left in the game, the Saints finally broke through, as Cole ran the ball 83 yards for a touchdown that brought the Saints to within three points. On the Saints' next drive, quarterback Justin Horgen scored on a 40-yard touchdown run to give the Saints' the 20-16 lead, which would eventually prove to be the final score. 
After a three-yard run from Cole gave the Saints a first and 10 with a minute and a half left, the Saints let the clock run out. The suddenly-energized crowd roared with delight.
The Saints finished the regular season undefeated, and won the Class A, District 3 title. 
With his 227 yards rushing, Cole became only the sixth player in St. Ansgar history to rush for 1,000 yards in back to back seasons, and is now fourth on the Saints' all-time rushing leaders list. 
Like any good running back, Cole gave full credit for his success, and for his game-changing 83 yard run, to his offensive line. 
"It was basically all my lineman and my lead backs," Cole said. "They do a lot for me. I know I get a lot of the credit, but all the credit should be going to them. Without them, I don't have a hole to run through, and that touchdown never happens."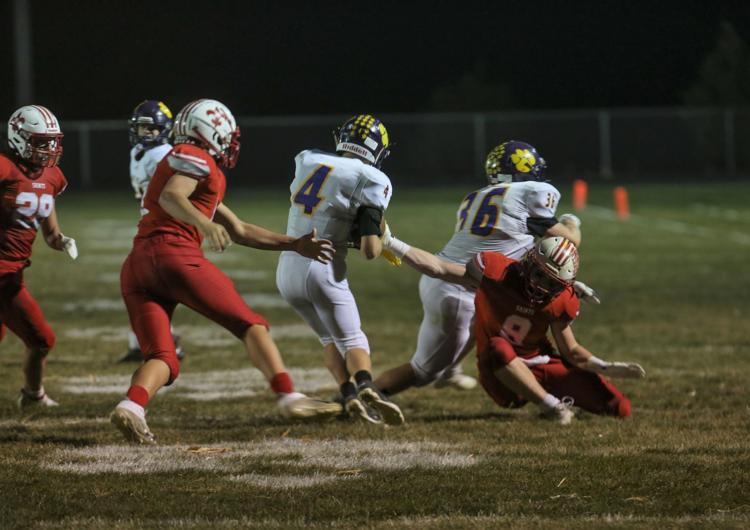 After a dominant first five games of the season, the Saints have had to scratch and claw for their past two wins.
The four-point win was by far the Saints' closest margin of victory this season. Last week against Newman Catholic, the Saints came out on top, 44-34, in a barn-burner of a game. 
"They're a very well-coached team, and they've got some kids. I know they've been looking to this group for a long time," St. Ansgar head coach Drew Clevenger said of Lake Mills. "17 seniors and some outstanding players. We talked at halftime about a few adjustments, but it was ultimately the kids kept swinging and doing the best that they could."
"We were able to break a few plays in the second half."
This week, the Saints didn't look like their usual selves in the early early on, but the struggles and adversity against Lake Mills seemed to make the victory all the more sweet. 
""Everybody said, it's not about me. It's about us," Horgen said. "For us to come out and play a game like that, we know that we can win."
In the first half, Lake Mills' scored twice, thanks to a pair of long runs from Hanson. Hanson scored a 32 yard touchdown with 6:54 left in the first quarter, after which the Bulldogs converted the two-point play to take an 8-0 lead.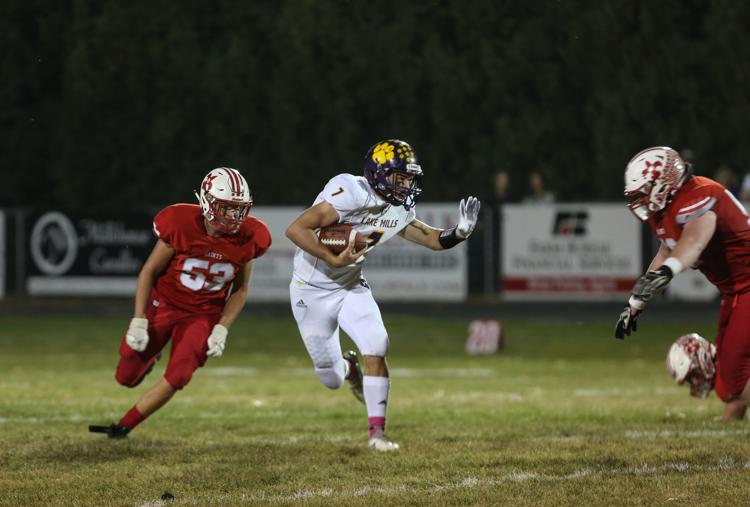 Midway through the second quarter, Hanson continued his big day, with a 34-yard carry into the endzone. The Bulldogs were successful on the two-point conversion again, and took a 16-0 lead. 
On the next drive, the Saints finally got on the board, as Cole scored a touchdown on a five-yard pitch play. The PAT was unsuccessful, however, and the Saints trailed by 10 going into halftime. 
After a scoreless fourth quarter, the Saints' pair of touchdowns brought the crowd to a fourth quarter frenzy. Horgen's run gave the Saints the lead, and was by far his longest run of the season. 
"It's a great feeling, but everybody on the team was excited and hyped up," Horgen said. "There is no better feeling than when you're down in a game at halftime, and come back to score in the fourth quarter, and take the lead."
It was no easy task, but the Saints' vaunted running game finally came through against the Lake Mills defense, which was led by the "Three-Headed-Monster" linebacking corps.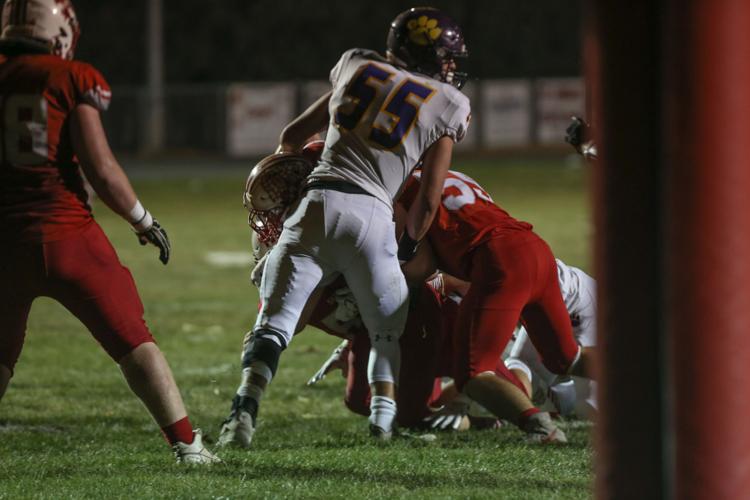 Bacon came into the game as the leading tackler in Class A, and the fifth leading tackler in the state, regardless of class. He was a tough and physical presence against the Saints, with several tackles that stalled out the Saints' rushing attack. 
"He is a very good player," Cole said. "He is everything they talk about, and is really good at what he does. He's a pretty big guy, but we have some pretty big guys too."
The district title is St. Ansgar's sixth in the past seven years, with the only exception coming in 2018. 
Hanson finished the game with 23 carries for 162 yards. Bacon finished with 14 tackles. 
"As coaches, we are so proud of this group," Lake Mills coach Bill Byrnes said. "We wanted a district title, but it was not to be. This tells us where we are in terms of playing one of the best teams in the state."
With the No. 2 ranking and a district title in its pocket, St. Ansgar will receive a first round bye in the state playoffs. The Saints will play the winner of Friday's Class A, Pod 5 game between North Union and West Fork, on Oct. 23 at 7 p.m.
"We've been banged up as heck this year," Clevenger said. "We've still got two defensive backs that are out right now, and really haven't played for several weeks, and we think we have a chance to get them back. We feel like that gives us a chance to get a little bit healthier there. We'll still practice hard, that's what we do here."
Shane Lantz covers sports for the Globe Gazette. You can reach him at Shane.Lantz@GlobeGazette.com, or by phone at 641-421-0526. Follow Shane on Twitter @ShaneMLantz.
Be the first to know
Get local news delivered to your inbox!