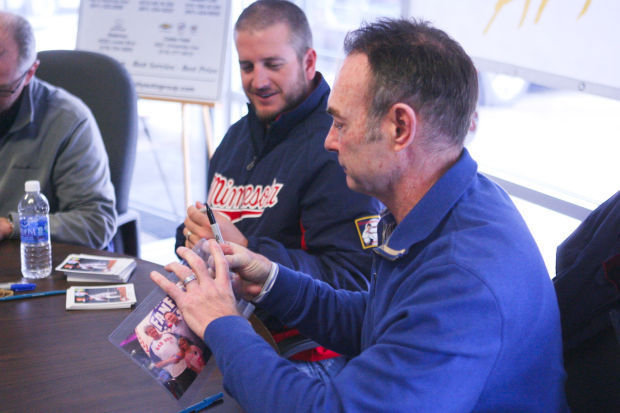 MASON CITY | Glen Perkins is one of the guys who knows things don't always go according to a script.
From the University of Minnesota and climbing through the Minnesota Twins organization, Perkins had a clear vision for his future in the big leagues.
"Each year you set goals of what you want to accomplish and you hope you get there," the All-Star closer said during Wednesday's Twins Caravan stop at Community Motors. "Then one thing leads to another. I thought I would be a 200-inning-a-year starter, and then things change."
Change hasn't been a bad thing for the 31-year-old who was a first-round pick in 2004.
Perkins has made a seamless transition from a starter, where he was 12-4 for Minnesota with a 4.41 earned run average in 2008, to the bullpen, where he is now regarded as one of the top closers in the American League.
He's hoping the next change he goes through involves the Twins climbing out of the cellar and competing for American League Central titles again.
It's been four years of futility, four 90-loss seasons that forced the end of the Ron Gardenhire era as Minnesota's manager at the conclusion of a 70-92 year.
New skipper Paul Molitor said Wednesday he could care less about seasons gone by or what his counterparts in the AL Central did in the off-season.
Molitor, a member of the 3,000-hit club as a player, is saddled with helping revive a pitching staff that had the highest ERA (4.57) in the American League in 2014. The Twins had the lowest number of complete games (two) and the pitching staff had the fewest strikeouts in the American League.
"It's pitching and defense," Perkins said. "We scored the seventh-most runs in baseball. We didn't prevent runs well enough."
The Twins dug into their pocketbook and signed Ervin Santana and his career 4.17 ERA to a $55-million deal and inked Phil Hughes to a contract extension in the offseason in an attempt to bolster the starting staff. They also signed fan favorite Torii Hunter to a one-year deal to shore up an outfield that still has a glaring hole at center field.
"The clock might say 39 on his body, but he's got a lot of baseball left in him," Molitor said of Hunter.
Molitor also said Wednesday he's hoping Aaron Hicks can fill the void in center field after struggling each of the past two seasons and that Danny Santana will turn into an everyday infielder after being forced into the outfield in 2014. In 150 career games, Hicks is hitting .201 in the big leagues.
But the main concern has nothing to do with an offense that was fifth in the majors in on-base percentage (.324) and seventh in runs scored (715).
It's all about the pitching staff, namely the starting rotation, where only Hughes (16) and Kyle Gibson (13) had more than seven wins.
"It was a long four years," Perkins said. "We had higher expectations, and that was frustrating, but I think with the turnover we've had this offseason it's going to be a lot easier to look forward than it has in the past."
Molitor is hoping his voice and direction help change the trajectory of the franchise.
"You don't try to teach people to be you. Everyone has their own style and you try to take their strengths and try to shape it and maximize their potential," he said. "People say, can a good player be a good manager? I've seen a lot of guys do a good job with that in the coaching or managing world, so it's a matter of you have to have the mindset it's not about you anymore. It's about trying to make these guys better and trying to improve their game."