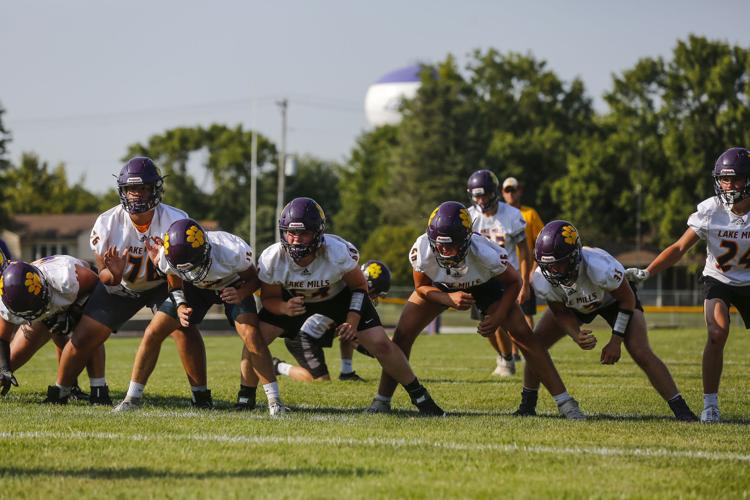 The Lake Mills football team has a lot on the line this year. 
With 17 seniors, it might be the Bulldogs' best shot for awhile at the district title they have craved for so long. With the team's move from Class 1A to Class A, District 3, that will be no easy task.
An up-and-coming Newman Catholic squad, along with 2019 state semifinalist St. Ansgar, will also be vying for the crown, along with North Butler, West Fork and Nashua-Plainfield.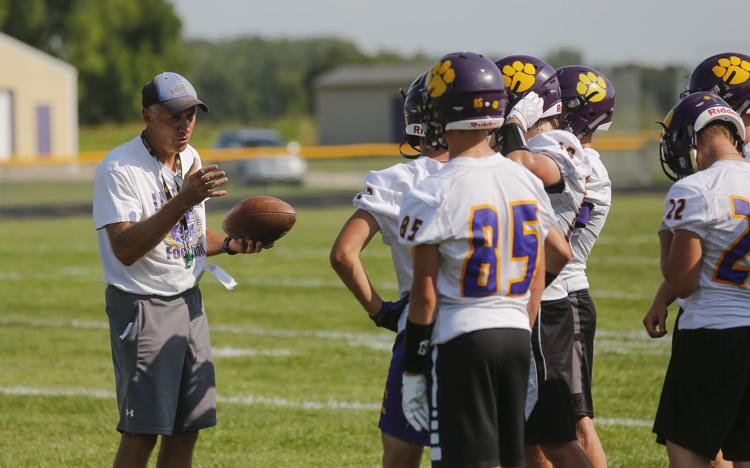 "Every night out, it's going to be solid," Lake Mills head coach Bill Byrnes said. "Newman will probably be a little improved as well, and North Butler will be a little bit better. We'll just have to see. The teams that can stay the healthiest will probably have the best opportunity to win the district."
The heart and soul of this Bulldogs is the linebacking trio of Caleb Bacon, Casey Hanson and Elijah Wagner, who combined for 164.5 tackles a season ago, and which Byrnes refers to as a "three-headed monster."
Out of necessity on a 37-man team, many of the starters have roles on both sides of the ball.
"They're extremely good defenders, but also on the offensive side, they're all going to have pivotal roles for us," Byrnes said. "Those guys have the most experience, they're three year starters and are very good athletes, whether it's good baseball players, wrestlers, or basketball players. We will look to them a lot to lead us on both sides of the ball."
Bacon serves as an offensive lineman in addition to his work as a linebacker, and was named a 2019 First Team All-State player. He has proven to be a force for the Bulldogs on both offense and defense, after finishing last season with a team-high 92 tackles.
"That is the main part of a small school, you've got to play both ways," Bacon said. "I guess that makes everyone a better athlete overall. I play offensive line and linebacker, you've got to be big on the offensive line, and be big and fast as a linebacker. You've got to be an all-around athlete, and we've got lots of those."
Bacon kicked off his season in style this past Friday, registering 12 tackles and an interception in the team's 20-6 win over Forest City. 
Wagner also plays linebacker and offensive guard for the team, while Hanson serves as strong-side linebacker and running back. 
Hanson rushed for a team-high 561 yards on 106 carries a season ago.
On offense, the team is in its third year of option football, a style probably best known for its use by the military academy teams like Army and Navy. Hanson admits that it took awhile for him to get a grasp the team's offense, with its many intricacies and quirks. 
While it might be a bit complicated at first glance, Hanson's familiarity with the scheme will be a big help going into 2020. 
As a running back in a run-heavy offense, Hanson seems pretty happy with the set-up. 
"It was complicated the first year," Hanson said. "The second year I started, and I caught  the hang of it because I was in every practice rep. (Coach) calls the play and I know where exactly I am going. I just like to have the ball. That way, if something goes wrong, it's on me. Being a  senior this year, I'd rather have the game on me than on a freshman."
The Bulldogs are a study in extremes. They are heavy in both seniors and freshman, a team fighting for success in the present, while keeping an eye on its future. Quarterback Bennett Berger, a junior, will be a big part of that future. He returns to his role as the starting quarterback this season after missing much of last year to a broken ankle.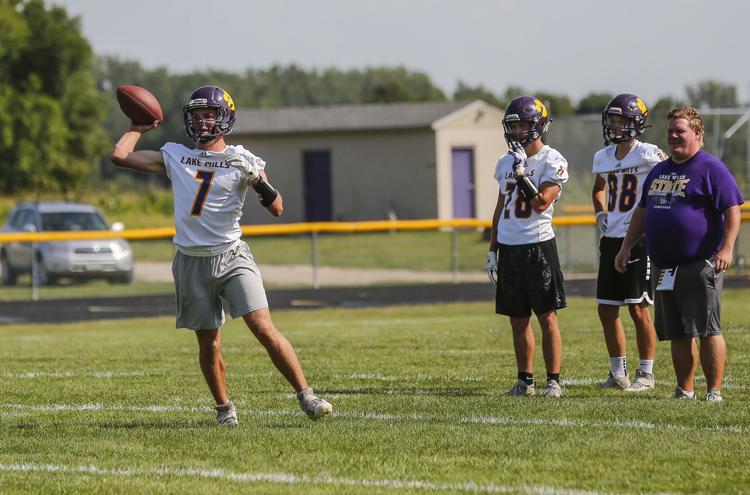 With the cast he has around him on offense and defense, Berger feels good about Lake Mills' chances at finally toppling St. Ansgar for the district title, after over a decade of dominance from their neighbor to the east. 
"That's a big goal for us," Berger said. "It goes further than St. Ansgar. We've got to win every game, and it's definitely a motivating factor."
The team itself is not alone in its high expectations for this season. St. Ansgar head coach Drew Clevenger recently called the Bulldogs the "favorites" in the district, and referred to his own teams as "underdogs" after losing nine seniors to graduation. 
While Byrnes is grateful for those kind words from a rival coach, he said until the work is done, the district title still runs through St. Ansgar. 
"I think Coach Clevenger is trying to find a way to motivate his kids," Byrnes said. "I appreciate that and we have some very good rivalry games, and have had some good football games. They're a very strong opponent, and I think they are the favorite this year."
With two coaches each insisting that the other team is the one to beat, it's obvious that the two programs respect each other quite a bit. The Oct. 9 game at St. Ansgar looms on the calendar. 
The Bulldogs hope that a district title is on the line that night. 
"It'd be up there with my most memorable senior moments, finally winning it my senior year," Bacon said. "I think that'll be the district title game, but we'll have to play good those first six games."
Lake Mills will play its second game of the season on Friday, against Belmond-Klemme. 
Shane Lantz covers sports for the Globe Gazette. You can reach him at Shane.Lantz@GlobeGazette.com, or by phone at 641-421-0526. Follow Shane on Twitter @ShaneMLantz.
Be the first to know
Get local news delivered to your inbox!