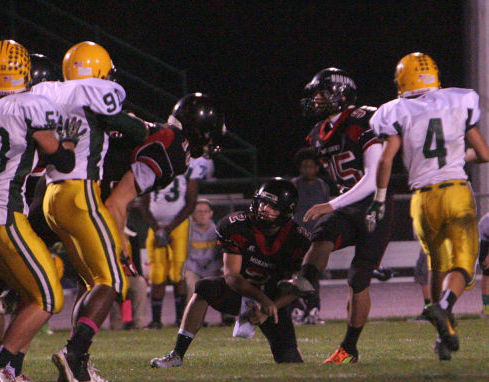 MASON CITY | The play, or The Kick as it will go down in the Mason City High School history book, could have been wiped out.
Can you imagine a coach accepting a defensive penalty and canceling out the greatest kick in school history?
If the score wasn't 34-0 at the time, it could have happened.
Mason City was facing a 4th and 3 at the Hoover 41 on Friday night.
Coach Justin Penner's first instinct was to punt. Because, really, what high school kid can drill a 58-yard field goal?
The ball was inches from the right hash and a cross wind was blowing from the south with kicker Miguel Recinos facing the west end zone.
"I said something like, 'Coach, I got this,' " Recinos recalled.
As Recinos lined up, he was aiming for the left upright.
The snap was perfect. So was the hold.
While the kick was on its way, the crowd noise on senior night began to crescendo.
The ball cleared the crossbar with roughly four to five yards to spare. Pandemonium surrounding a kicker, not just any kicker, but a record-setting kicker, ensued.
But there was a flag lying on the Mohawk Stadium grass.
You have free articles remaining.
During the play, Hoover was called for a personal foul. It would have given the Mohawks a first down. But the lead for Mason City was 34-0, so the penalty was declined and Recinos' place in state and school history was secure.
The 58-yarder is a school record and is tied for the third-longest field goal in state history. His four made field goals (48, 28, 58, 21) in the 47-7 romp over Hoover also tied a state record.
"Two years ago, my first thought would have been 'I need to kick it harder,' " said Recinos, who also has a 50-yarder to his credit this season. "It's about solid contact and good power. But I want to be on target and accurate."
When he woke up Saturday morning after falling asleep around 2:30 a.m. after he and his teammates celebrated a victory in their final regular-season home game at Mohawk Stadium, Recinos' accomplishment was linked by the USA Today.
He's hoping this kick will put him on the radar of college coaches, much like the way former Ankeny prep Todd Sievers parlayed his state record 63-yard field goal into a kicking role at the University of Miami.
Recinos talks with pride about everything surrounding his record-setting night.
But Saturday morning, as he stood in the exact spot where he kicked his 58-yarder from, there was still one thing gnawing at him.
He made four field goals Friday. He missed one, that one coming from 51 where the timing was off from the start and his kick sailed wide left.
"All kickers have to be enthusiastic about being perfect," Recinos said. "If you aren't perfect that motivates you. I had a good game but there's still room for improvement."
The recruiting process for Recinos, who is rated as the No. 29 kicker in the country by Kohl's Kicking, has been slow. He's talked to Iowa State but an offer still hasn't been extended. He's hoping that after Friday's performance things heat up. 
Recinos had a plethora of great kicks Friday. The best, he said, was a kickoff that split the uprights. No. 2 on his list was his 58-yarder. 
"I don't think I've ever heard the crowd that loud," Recinos said. "When it left my foot people were cheering."