When North Iowa high school teams prepare for Clear Lake, they focus mostly on the passing game.
Leading the Lions' air attack is senior quarterback Jaylen DeVries, who is tops in North Iowa in a couple of key categories and 13th in the state in passing yards.
While DeVries is the quarterback area teams often refer to as the most dangerous signal-caller, there are other North Iowa QBs who have earned a modicum of respect.
Here is a look at the Top 6 leading quarterbacks in the Globe Gazette's coverage area – based on 500 yards or more passing yards – and two other North Iowa QBs on fringe teams who are having exceptional years.
Jaylen DeVries, Clear Lake
The Clear Lake quarterback started the season on fire and has not cooled down in six games, all victories.
Against Osage in the season opener, the senior had 343 yards through the air, completing 17 of 20 passes and throwing four touchdowns, the longest being a 79-yard strike to senior Kody Kearns.
In Week 2, DeVries came back with another big effort, passing for 292 yards and four TDs. He was 20-for-32 through the air and threw an 86-yard touchdown strike to senior Nick Danielson.
In his last four games, DeVries has thrown for 705 yards – including 305 yards against Hampton-Dumont-CAL two weeks ago – and 13 touchdowns, including six against Hampton-Dumont-CAL.
Here are his numbers through six games: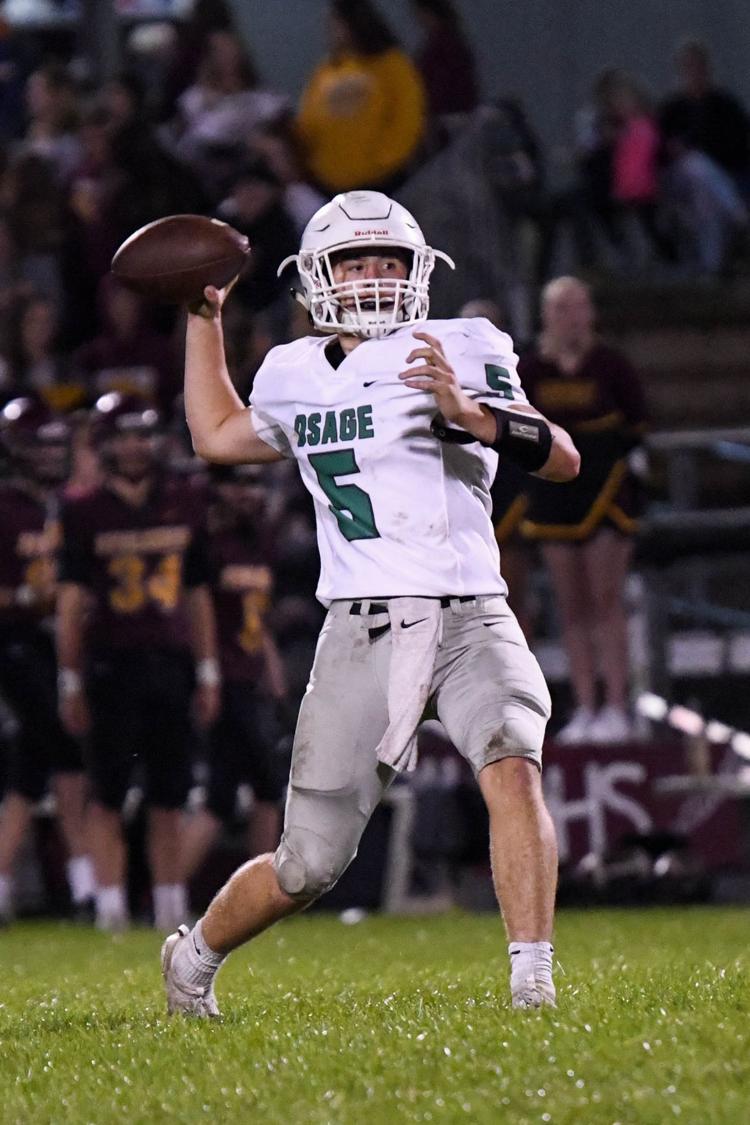 Colin Muller, Osage
While the Osage football team started out with four consecutive losses against very good teams – including the No. 2 team in Class 2A and No. 2 team in Class A – Muller had big passing games.
Against No. 2 (Class 2A) Clear Lake, the junior quarterback passed for 235 yards and two touchdowns. Then against No. 2 (Class A) St. Ansgar, he threw for 262 yards and four touchdowns.
In Week 4 against Garner-Hayfield-Ventura, Muller had 308 yards and three touchdowns.
Here are his numbers through six games: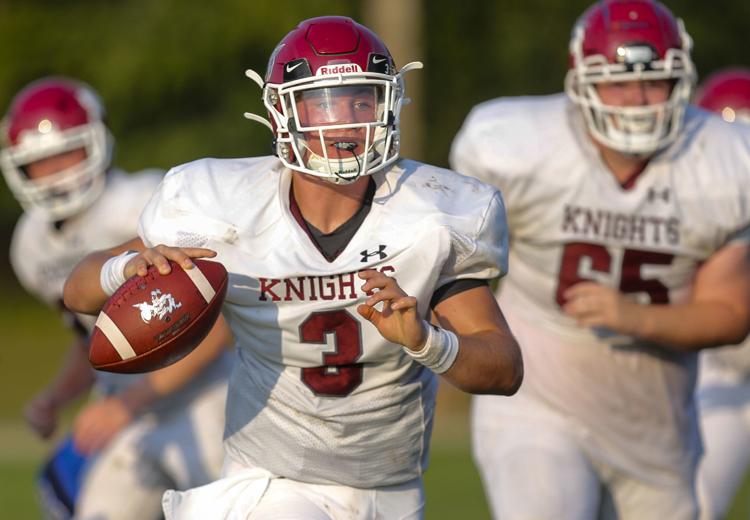 Max Burt, Newman Catholic
The young Newman Catholic quarterback has thrown for 674 yards and 13 touchdowns for the 2-4 Knights.
The freshman signal-caller has thrown at least one touchdown in each of the Knights' six games this year and has multiple TD games twice.
His biggest game came in a loss to Bishop Garrigan in Week 2 when he passed for 203 yards, including a long of 66 yards, and two TDs. He threw three touchdowns against Starmont two weeks ago.
Here are his numbers through six games:
You have free articles remaining.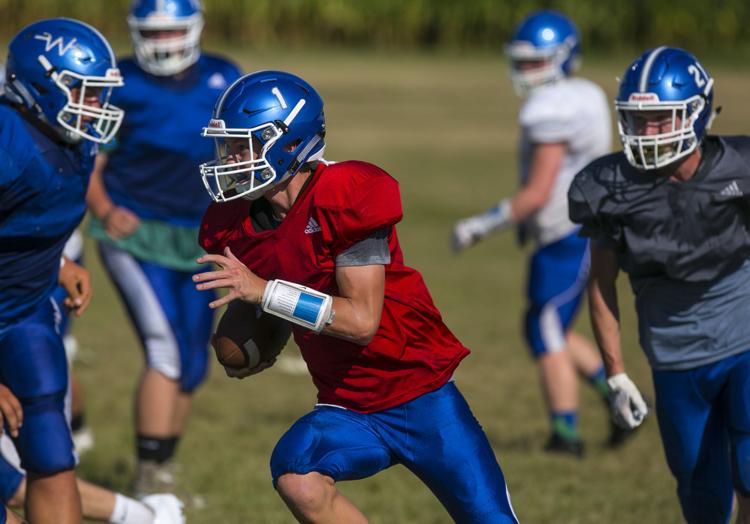 Will Bushbaum, Rockford
The junior quarterback has had three 100-yard passing games, with his biggest production coming in a Week 1 blowout victory over West Central when he passed for 161 yards and five touchdowns.
His other 100-plus yard games were in a wins over Dunkerton (105 yards and one TD) and last week against North Iowa (107 yards and one TD).
Here are his numbers through six games: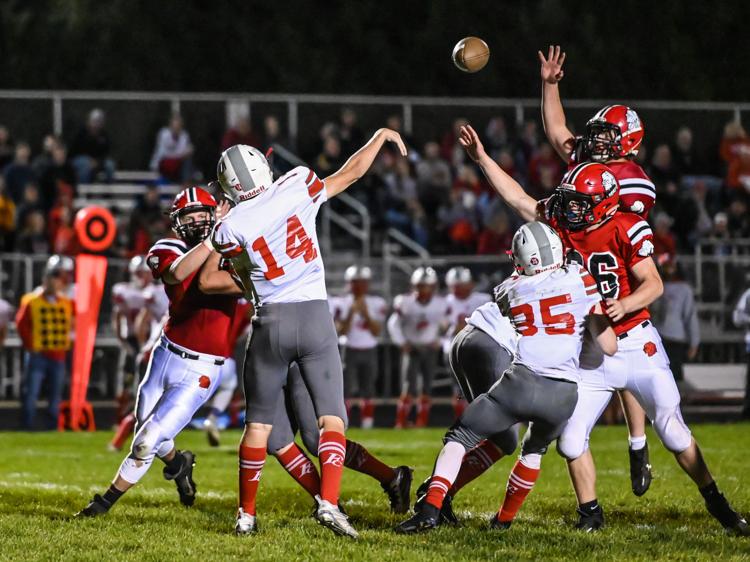 Riley Helgeson, Forest City
The senior quarterback has thrown one touchdown in five of the six games he has played in this season.
His breakout game was in a loss to Estherville-Lincoln-Central in the season opener, where he passed for 154 yards and one TD.
Here are his numbers through six games:
Cal Heeran, Hampton-Dumont-CAL
The junior quarterback took over as starter in Week 2 against Algona. In the loss, Heeran passed for 115 yards and one touchdown.
Heeran had two more 100-yard passing games, the first coming in a win over Clarion-Goldfield-Dows, where he passed for 140 yards and had two TDs, with a long of 95 yards. 
Last week in a close loss to Forest City, Heeran passed for 156 yards and two touchdowns, including a 79-yard TD strike.
Here are his numbers through six games:
Other top North Iowa quarterbacks
• Tyler Manske, Algona – The sophomore QB had a breakout game in the season opener, passing for 236 yards and two touchdowns. In six games this season, Manske is 42-for-64 with 929 yards and 10 TD.
• Jordan Meyer, Belmond-Klemme – The junior had a season-high 149 yards and three touchdowns in a season-opening win over Eagle Grove. He is 41-for-73 for 547 yards and six touchdowns this season.