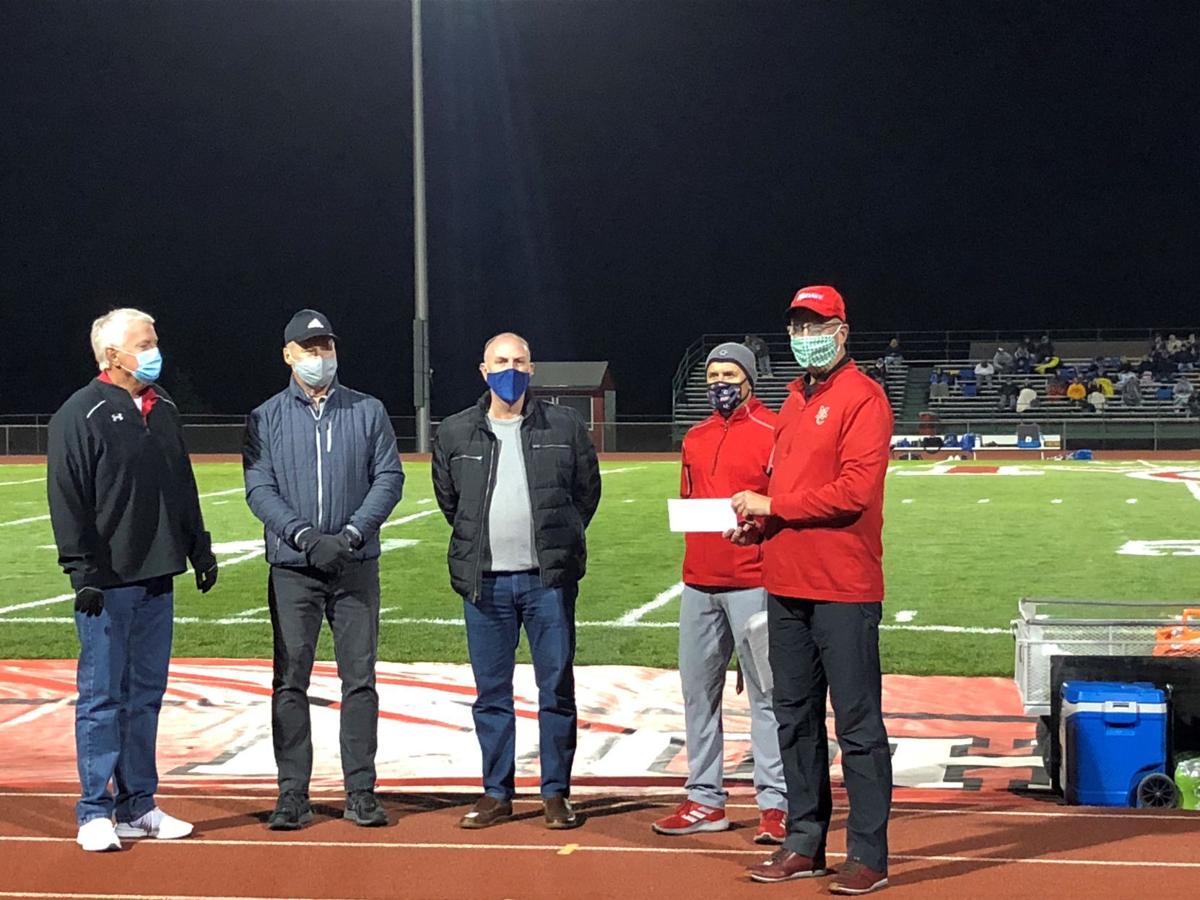 Last week, Dick Garth and Eldean Matheson became a part of Mason City history. Now, they will become a part of some Mohawk students' futures. 
This past spring, the Mason City Athletic Hall of Fame announced that Garth and Matheson, two former longtime Mason City coaches, would be inducted as a part of the institution's class of 2020. 
After that announcement, a group of five Mason City alumni decided to honor the pair of coaches by establishing the Dick Garth and Eldean Matheson Scholarships. 
At halftime of Mason City's home football game against Humboldt on Oct. 2, several members of the group handed Mason City Superintendent Dave Versteeg a check for $50,000 to establish the scholarships, which will be given to two Mason City students every year, in the amount of $3,000 each. 
"What a testament to those two coaches, and the impact they made on (five) particular young men in this case," Versteeg said. "In a bigger picture, what a difference coaches can make in people's lives. Years later, that comes full circle, with a memorial of that size that will last for a long, long time."
Doug Opheim, along with Gil Anderson, Ron Angell, Tom Matheson, and Dan Thomas is one of the five Mason City alumni who established the scholarship. 
The five are lifelong friends who played for Garth as Mason City basketball players, and still keep in touch with both coaches regularly.
After committing the $50,000 between the five of them, they also reached out to other Mason City alumni to contribute for the scholarship. Opheim says that 15-20 people gave money, to bring the total close to $60,000. 
"The idea was to give back to our high school to recognize the leadership of Dick and Eldean, and the impact they had on our lives, and hopefully give back to future students so they can follow a similar path to us," Opheim said. "We don't want to manage it, we trust the Mason City High School scholarship committee to manage who gets it. We want to give two $3,000 scholarships per  year until the money runs out."
"Our only criteria is give it to a student athlete that has the potential to be a successful leader, which all five of us ended up being."
Matheson was the head coach of the Mohawks' football team from 1967 to 1975, and compiled a career record of 39-33-3. He also coached track and field, where he coached two players that won state titles. 
"It's great," Matheson said. "They're going to do a great thing here for Mason City athletes with the scholarship. I'm proud of them."
Nancy Prins, Dick Garth's daughter, said that Garth was "humbled and surprised" by the announcement, and like Matheson, was proud of his former students for giving back to the school. 
Garth coached the Mason City basketball team from 1965 to 1982, and led the team to four state tournament appearances. 
"We thought it was a great thing that they are doing," Prins said. "Those five boys have always been really supportive of dad and kept in touch with him. He was very surprised and very honored by that."
Shane Lantz covers sports for the Globe Gazette. You can reach him at Shane.Lantz@GlobeGazette.com, or by phone at 641-421-0526. Follow Shane on Twitter @ShaneMLantz.
Be the first to know
Get local news delivered to your inbox!