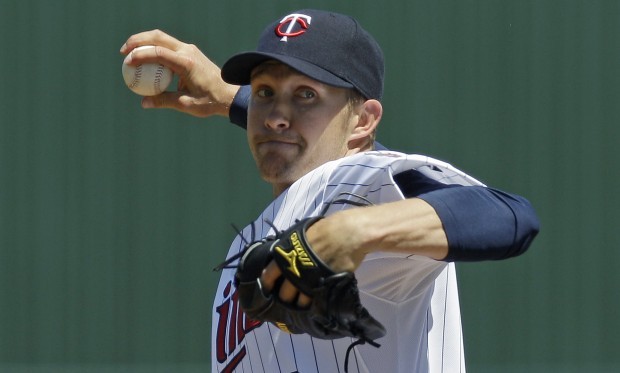 FORT MYERS, Fla. (AP) — Scott Baker struggled in his return to the mound on Monday for the Minnesota Twins.
He allowed seven runs in 2 2/3 innings, giving up a grand slam to Ben Zobrist and a two-run homer to Elliot Johnson, in a 10-4 loss to the Tampa Bay Rays.
Twins manager Ron Gardenhire is waiting for Baker, who has been dealing with tendinitis in his pitching elbow, to find his 2011 form.
"Our starting pitcher put us in a hole today," Gardenhire said. "He got his work in, yes. But we chased the ball all over the field and spent eight hours in the first three innings out there.
"That ain't good enough. He's got to pick up the pace and get going now. He said his arm's fine, everything's good. Well then let's go."
The injury has been a concern for Baker, who had a strained pitching elbow last year.
The time off delayed his preparation for the season and created doubt on whether he'd be ready to start the home opener April 9 against the Angels.
You have free articles remaining.
"We've got a long season," Baker said. "To sit here and say that's the most important thing, to make that home opener start, that's just not the case. Obviously I'd love to make that start, but if I can't, I can't."
Baker was Minnesota's most consistent pitcher last year, going 8-6 with a career-best 3.14 ERA.
"It's like you need to allow things to happen, instead of create velocity, create movement, and basically trust in your stuff and trust in your ability to make pitches," Baker said. "That wasn't the case today."
Twins backup catcher Ryan Doumit hit his first home run of the spring, and Justin Morneau and Jamey Carroll added doubles.
• The Twins reassigned right-hander Brendan Wise to minor league camp, and now have 38 active players in camp.
• Outfielder Josh Willingham was scratched from his start because of a right ankle injury.
• Twins pitcher Jason Marquis remains away from camp as he spends time with his daughter, who was injured in a bicycle accident last week. There is no timetable on his return.