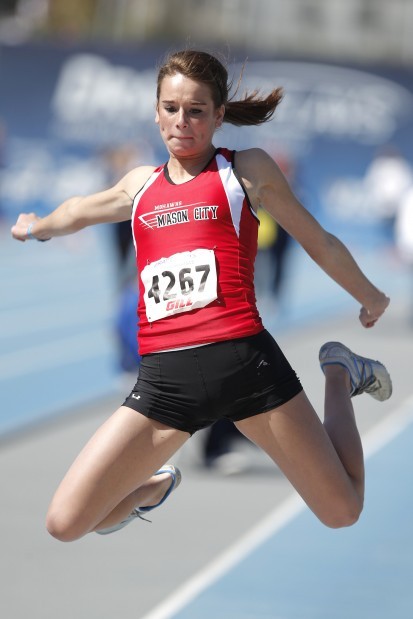 MASON CITY — Morgan Vorba admits there's a difference between being in basketball shape and track and field shape.
The Mason City junior begins her third season on varsity and has figured out the difference between the two.
"Sometimes I think that in basketball we run a lot," she said. "But it's totally different running up and down a court and getting out on a track and running 400s.
"You have to train and you can't just go from basketball to track. I've realized that over the years."
Vorba placed fifth in the long jump at the state indoor championships March 20 in Cedar Falls with a leap of 16 feet, 7 1/4 inches.
Heaven Chandler of Columbus Junction won the event with a jump of 17-4.
Vorba's personal best jump is 16-10 at last year's CIML Iowa Conference meet where she placed second.
Vorba placed 13th in the long jump at last year's Class 4A state meet with a jump of 16-5 1/2.
Mason City coach Jim Lee said he was more than pleased with Vorba's initial effort of the season.
You have free articles remaining.
"That really blew me out of the water," the coach said. "If she does that in the first meet of the season with very little training, she has a 17-foot jump in her for sure this year."
Lee, who is in his second year as head coach of the Mohawks, said Vorba is not the only one ahead of where they were at this point a year ago.
Mason City's 4x100 team ran 53.8 at the Iowa State indoor meet this season and the 4x400 team ran 4:26 indoors this season.
"We didn't run 4:26 last year until third outdoor meet," Lee said, "and last year's Drake qualifying in the 4x1 was 53.6 so we almost qualified at the indoor at Iowa State.
"It's been a lot of fun, a lot of fun."
Lee said a strength of the Mohawks will be their sprint speed.
"I'd say we have six or seven girls that can really run," he said. "In the past, we had maybe two girls that we could put together. We should be able to put together some strong 4x1, 4x2 and 4x4 teams."
The Mohawks also return senior Brea Alexander, who cleared 5-0 at last year's state meet in the high jump.
Alexander jumped 4-10 and placed 13th at the state indoor meet.
Mason City opens its outdoor season Thursday at the Waverly-Shell Rock coed meet.
"We're looking for some nice time drops from our kids," Lee said. "We're looking to score some team points."