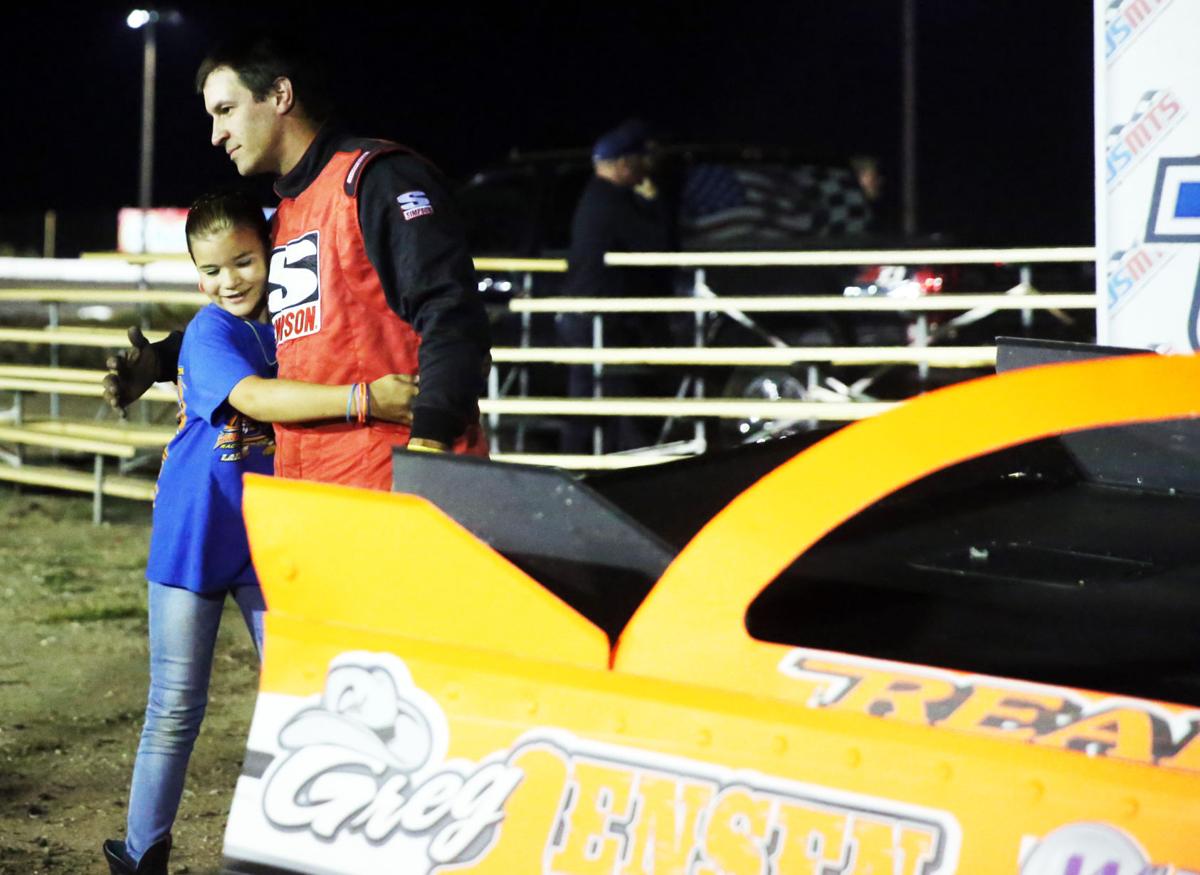 MASON CITY — When the green flag dropped on the 2016 racing season, those in charge of Mason City Motor Speedway wanted to change the culture.
It wasn't going to happen in one week. Maybe not in one year. But they wanted progress, and the reaction from drivers and fans alike as the season wore on was going to be a sure indicator.
When the final checkered flag flew Sunday night during fan appreciation night, the first chapter closed.
Photos: Mason City Motor Speedway season finale
"They've changed how I used to think of this race track," Modified track champion Jason Cummins said. "It's really exciting to come down here. They've done a real good job."
Cummins won his track championship prior to Sunday's season finale, but he put a cap on a memorable season by racing to his first Modified feature victory at MCMS and his second-career win at Mason City.
The 2016 season marked the first year Cummins raced at the half-mile track in a decade.
"We were just right there every night," Cummins said.
It turned out to be a memorable night for many drivers who were awarded their season championship trophies and pay.
Aside from Cummins, Nate Chodur, the B Modified track champion for the fifth time at Mason City, raced to a runner-up finish. Weston Koop capped the best season of his career with his fifth victory on a night when he was awarded his second championship in three years.
"It makes all the hard work seem like it paid off," Chodur said. "It seems to me there were more high-caliber drivers here this year. Running against guys like Brandon Hare, guys who run you hard and run you clean, that's fun."
You have free articles remaining.
Sunday night was planned as a night for track officials to say thanks to the fans and drivers as new promoters finished their first season at MCMS.
Admission for the night was $1, a large chunk of kids were allowed in free and pit passes were only $10.
On the track, feature lineups were determined by championship standings.
That starting grid didn't completely dictate who won races.
In the Stock Cars, Lynn Panos came from 11th to top track champion Kevin Donlan and a host of others.
Jared Boumeester also came from deep in the field in the B Modifieds, rolling off 13th before racing through the pack and sliding by Chodur for the feature win.
Devin Jones was awarded the Tuner feature despite crossing the line second. Season champ Mitch Balik crossed the finish line first but was docked two spots for an incident in the final corner that cost Oliver Monson a victory.
Modifieds – Jason Cummins, Ryan Ruter, Josh Angst, J.D. Auringer, Aaron Benson, Kevin Stoa, Josh Ruby, Alex Yohn, Dustin Brown, Logan Brown, Clint Wendel, Doug Hillson, Rich Lewerke, Levi Nielsen, Dean Schroeder, James Parker, Cole Hall.
Stock Cars – Lynn Panos, Jesse Brown, Luke Sathoff, Steve Jackson, Kevin Donlan, Jim Scribner, Joe Willier, Cody Frerichs, Blake Cole, Shawn Wilson, Josh Zieman, Pat Graham, Wyatt Medlin, Dan Feltus.
B Modifieds – Jared Boumeester, Nate Chodur, Alex Zwanziger, George Nordman, Brandon Hare, Dan Tenold, Josh Appel, Lyle Sathoff, Levi Chipp, Nick Wagner, Autum Anderson, Coby Bangasser, Levi Carlberg, Rick Baxter, Nate Whitehurst, Jared Timmerman, Dustin Kruse, Kyle Germundson.
Hobby Stocks – Weston Koop, Andrew Borchardt, Cory Gansen, Scott Dobel, Zac Smith, Blaine Hanson, Tony Smidt, Derek Willert, Chris Hovden, Jonathon Trunkhill, Tanner Green, Jim Lokenvitz, Jay Servantez, Greg Lammers, Spencer Cole.
Tuners – Devin Jones, Oliver Monson, Mitch Balik, Hunter Benson, Taylor Fields, Kyle Balik, Ken Winkowitsch, Jamie Tapp, Nick Hamlin, Brad Maynard, Matt Baker, Nathan Miller, Justin Neilson.