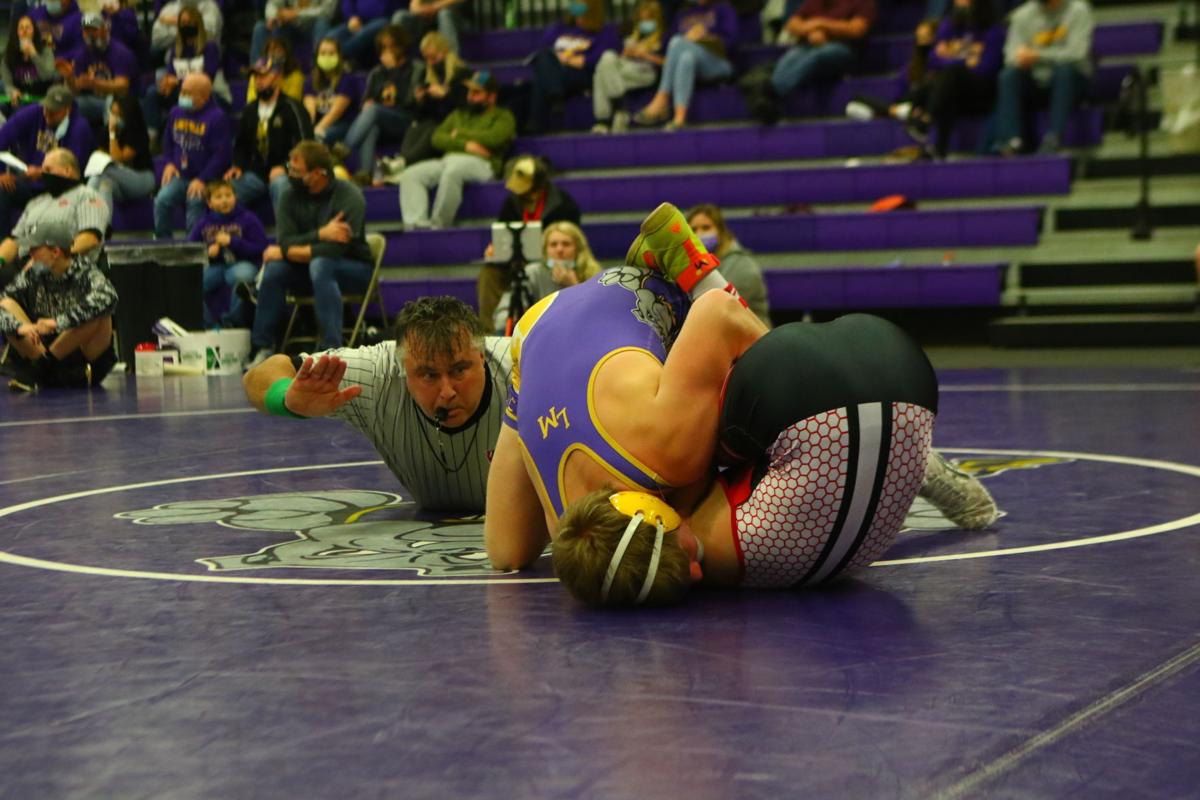 Six area teams competed at the Class 1A section 7 meet at Lake Mills, but it was the Class 1A No. 10 Lake Mills wrestling team that had the most dominant day.
The Bulldogs crowned three champions, earned eight total qualifiers and scored 221 points to fend off South Winneshiek and earn another sectional meet championship.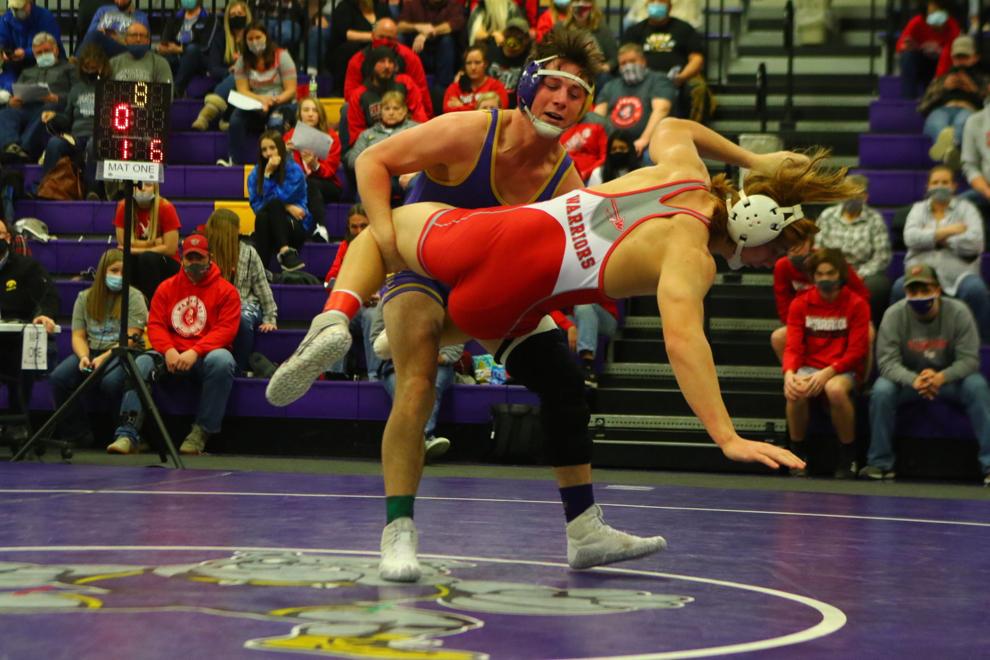 "It's good for them and it's a nice individual thing," Lake Mills head coach Alex Brandenburg said. "It's nice having as many as you can go to the district meet, because they're probably still motivated at regionals to keep working hard in practice. We'll just keep plugging away and doing what we usually do."
Lake Mills senior Dalton Thorson earned a big win for the Bulldogs at 138 pounds. He pinned Central Springs eighth-ranked junior Bryce McDonough in the first period to start the championship wins for the Lake Mills squad.
Lake Mills sophomore Alex Beaty earned a 5-0 win over Central Springs sophomore Preston Prazak at 145 pounds. No. 3 senior Casey Hanson followed it up at 160 pounds with a 4-0 win over Northwood-Kensett junior Drake Tiedemann.
"It's nice because I've wrestled Drake and he's great," Hanson said. "This was my third time wrestling him and it's always the hardest thing to do – beat a good wrestler three times. Doing that was good."
Second place finishers that qualified for the district meet included sophomore Kinser Hanson at 106, sophomore Lucas Humphrey at 113, senior Jack Ramaker at 132, junior Brett Peterson at 152 and Elijah Wagner at 182.
Outside of Lake Mills, Central Springs came in third with 176 points, St. Ansgar came in fourth with 126.5 points, Riceville was fifth with 109.5 points, Northwood-Kensett was sixth with 106 points and Newman Catholic was seventh with 102 points.
OTHER CHAMPIONS
At 106 pounds, Newman Catholic freshman Liam Stockberger earned an upset win over Hanson. Stockberger secured a pin 1 minutes, 32 seconds into the match.
St. Ansgar freshman Christian Michels made short work of Humphrey. Michels scored the 113 pound championship win with a pin in the first period.
At 120 pounds, sophomore Treycen Rollene from Northwood-Kensett earned a sectional championship. He beat Central Springs junior Zach Howes by fall in the first period to advance to the district meet.
Central Springs second-ranked Clayton McDonough continued his dominant junior campaign with an 8-0 win over South Winneshiek junior Ethan Maldonado in the championship match. McDonough is looking to advance to another state tournament.
Central Springs junior Brock Mathers earned a tight 6-3 decision over Ramaker. His match came directly after Clayton McDonough's match, as the Panthers doubled down for back-to-back champions.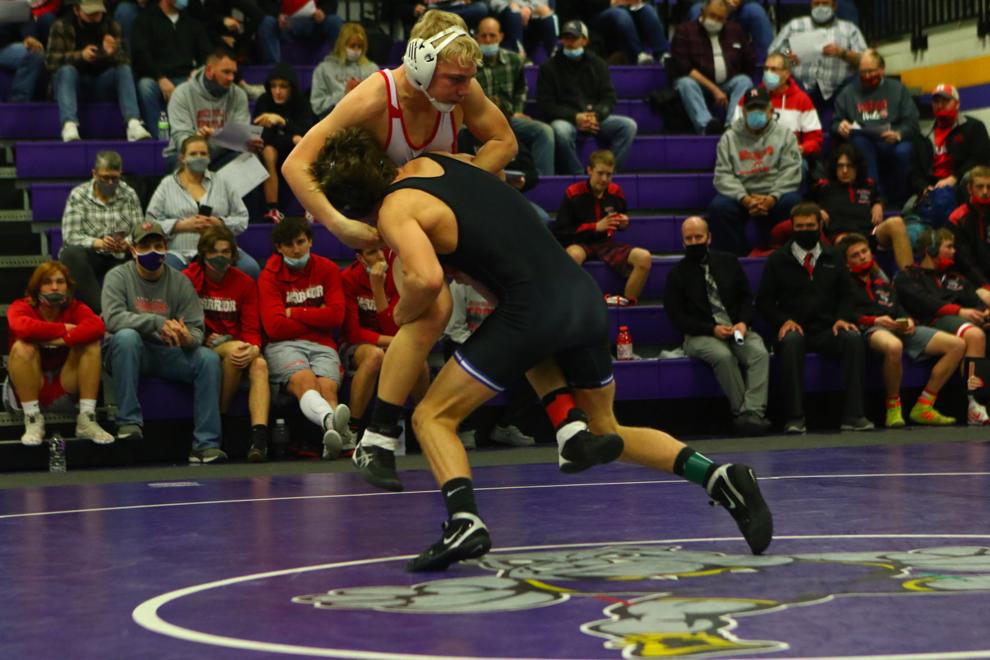 Riceville junior Lawson Losee showed why he ranked No. 4 in Class 1A. He took care of Lake Mills junior Brett Peterson in an 11-5 win. Losee is looking to head back to the state tournament for the second season in a row.
"Season's not over, we've got to keep rolling," Losee said. "Just look at the next one, which is districts. But I'm pretty pumped. I've just got to be able to put it behind me and look to the next one."
Central Springs got its third champion of the day when senior Kaden Jacobsen beat South Winneshiek junior Logan Hageman in a 4-1 decision. Jacobsen also earned his 150th-career win in the semifinal round.
The ranked matchup between Riceville senior No. 5 Drew Fox and Lake Mills senior No. 2 Elijah Wagner will have to wait another week. Wagner has been dealing with a nagging injury, and, after securing a second-place finish, forfeited to Fox.
Newman Catholic junior Holden Hensley beat South Winneshiek junior Tony Greve, 9-1, in the championship match. Between Hensley and Stockberger, the Knights crowned two champions in the sectional meet.
Riceville junior Mitchel Marr earned a pin over Central Springs senior Dalton Dewitt in the first period. With Losee and Fox already qualified, Marr was the third champion for Riceville on the day.
Other qualifiers
Howes at 120, Prazak at 126, Bryce McDonough at 138, Prasak at 145, Tiedemann at 160, Hulshizer at 220 and Dewitt at 285 all earned second-place finishes and qualified for the district meet.