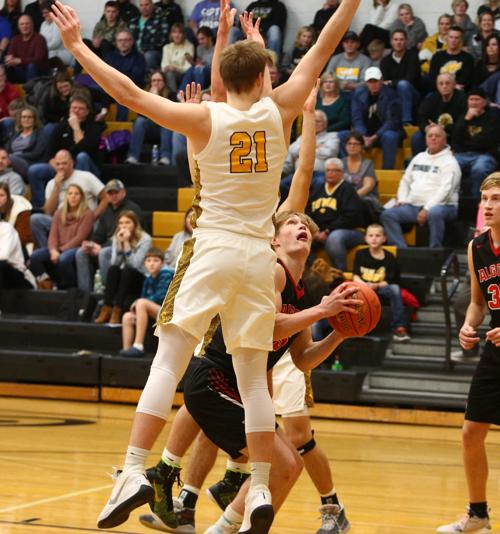 Last week, the Class 1A basketball rankings had three area basketball teams ranked in the top five. This week, things are just a little bit different, as the Lake Mils squad fell four spots to number eight, while Bishop Garrigan is now tied with South O'Brien at No. 4.
Class 1A
With the Warhawks two-point home loss on Monday night, West Fork and Osage finished with a Top of Iowa East co-conference championship. The win was a revenge game for Osage, who fell to West Fork on Jan. 3, 54-47. The loss snapped a 10-game winning streak for the Warhawks. While a shared championship is tinged with disappointment, the Warhawks put together a spectacular regular season. 
(Tie) Bishop Garrigan, 17-2
Bishop Garrigan clinched the program's first Top of Iowa title on Monday night with the Golden Bears' victory over North Iowa. With both Cade and Angelo Winkel averaging over 15 points a game, Garrigan is going to be a scary team to face in the postseason.
7. Remsen St. Mary's, 17-3
With a two-point loss to Forest City last Friday, Lake Mills' 15-game winning streak came to an end. The Bulldogs bounced back with a 66-point win over North Union, but still finished one game back of Bishop Garrigan in the conference standings. Just three points separated the Bulldogs from a share of the conference title. With a duo like Chett Helming and Dashawn Linnen leading the offense, this team can easily bounce back. Coming that close has to be bulletin-board material in the postseason tournaments. When I went out to a practice last week, coach Kyle Menke said he is proud of his team's depth. That is a good sign for the playoffs. Relying on just one superstar player can be risky. Helming, Linnen, Colby Groe and Mason Fritz should give the Bulldogs all the scoring and leadership they need. 
9. Martensdale-St. Mary's, 17-3
10. Burlington Notre Dame, 16-4
Class 2A
7. Dyersville Beckman, 15-4
You have free articles remaining.
9. Western Christian, 15-4
(Tie) Aplington-Parkersburg, 18-2
Class 3A
3. Davenport Assumption, 15-3
The Lions have high hopes for this upcoming postseason. With just two losses on the year, Clear Lake looks like a contender to make a deep playoff run. Andrew Formanek and Carson Toebe continue to lead the team, with an average of 16.1  and 14.8 points per game, respectively. Keep an eye on next Tuesday's game against Algona. There could be a lot on the line. 
(Tie) MOC-Floyd Valley, 16-3
Class 4A
1. Ankeny Centennial, 17-1
(Tie) Council Bluffs Lincoln, 17-1
9. West Des Moines Valley, 12-5
10. Dubuque Hempstead, 13-5