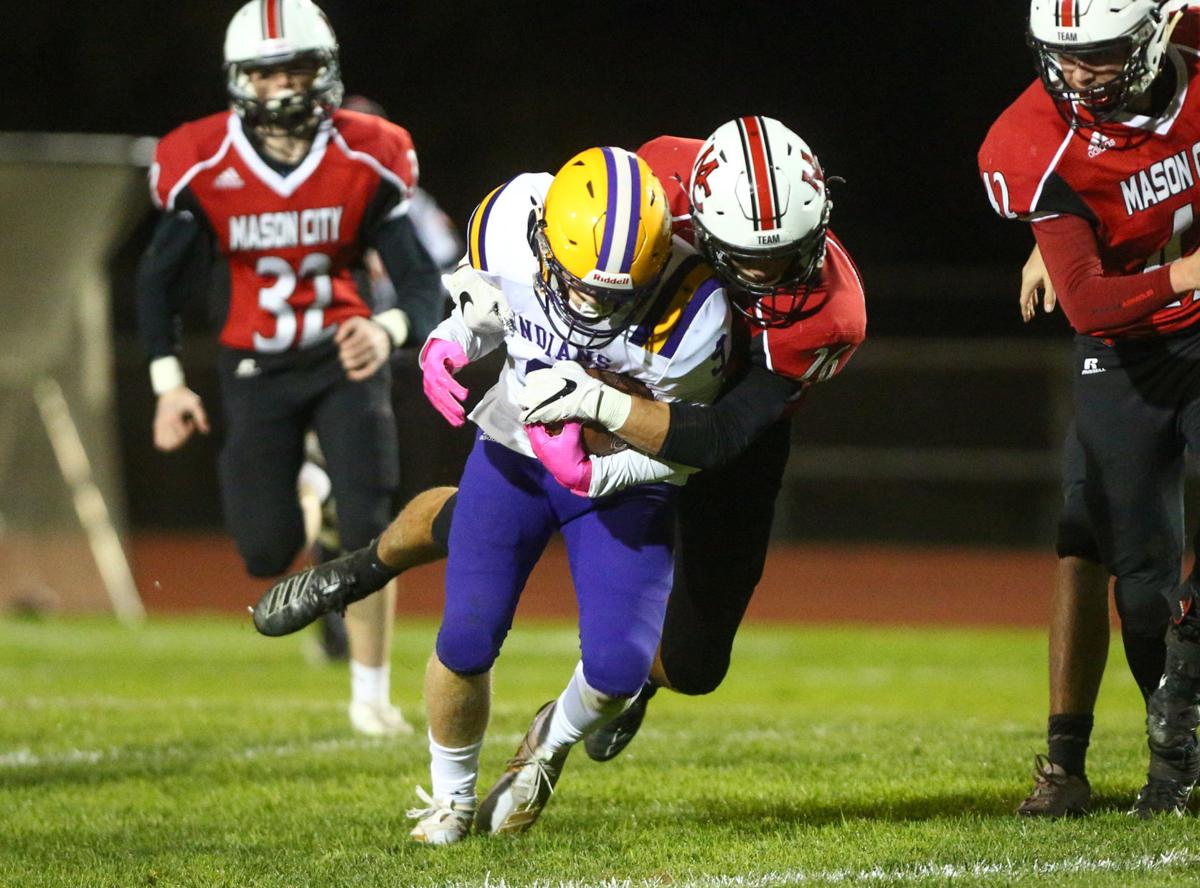 The Iowa High School Athletic Association announced on Friday that it is planning on holding the fall sports season as currently scheduled, amid the COVID-19 pandemic. As of now, the IGHSAU is also scheduled to begin its season on time.
The news means that Iowa's high school football, volleyball, cross country, boys Class 4A golf, and girls' swimming seasons can begin practicing on Aug. 10, with competition set to begin for boys golf on Aug. 13, and Aug. 24 for all other sports. 
"The health and safety of student-athletes and their communities has been our priority as we work to provide opportunities during this pandemic, and will remain so as we move forward into the 2020-21 school year," the IHSAA said in a statement. "We will continue to work with our partners at NFHS, IATS, and within the Iowa state government to develop protocols and sport-specific guidance, and will adjust as necessary."
While high school associations in Michigan announced on Friday that fall sports are also a go, some states, like New Jersey, Kansas, Arizona, Washington, New Mexico, and New York have delayed the fall season, with New Mexico opting to hold football in the spring. 
Osage head football coach Torian Wolf was happy that a decision had been made, and said he is excited to get to work and shift his athletes' focus to something positive, but also hopes the schools do their part to sanitize and socially distance.
"It's difficult to say what the 'right' decision is in these circumstances," Wolf said. "As always, the biggest concern is to keep our young athletes healthy, but also allowing them the privilege of being high schoolers. That being said, I think getting them back into a normalized routine is also healthy."
Mason City head football coach John Lee said that he is excited about the decision, but also understands people's concerns. 
"Like baseball and softball, we will take the precautions described by the IHSAA and the state," he said. "I am cautiously optimistic moving forward as we plan to have a full season of high school football, but realizing the environment can change at any time."
The IHSAA statement also made clear that member schools can determine for themselves which sports and activities their school participates in each year. In light of the May COVID-19 outbreak in Wright County, for instance, the Belmond-Klemme and Eagle Grove school districts both decided to not hold summer sports season in 2020.
The IHSAA said that it will provide further sports guidance to its member schools the week of July 27. 
Mason City Activities Director Tracy Johnson said that the district will have a better idea of how it will be approaching fall sports once the IHSAA guidelines arrive.
"It's nice to plan on it, and now we have a little bit of time to make it work," Johnson said. "It's better this way than having them call us on August 1, and say 'go.' Now we have time to think of different scenarios, and once we get that guidance, we can adjust."
Johnson also raised the possibility of having face shields on the front of football players' helmets, which come down over the mouth, but said those are not currently required or regulated by the state's athletic governing bodies. 
"We also have to look at the cost implication," Johnson said. "Those face shields are like 25 dollars a shield. We'll know a little better once we get the information from the state."
The Iowa Department of Public health announced 879 new positive cases of COVID-19 on Friday, and the Cerro Gordo County of Public Health announced that the number of deaths in the county had grown to 11.
Shane Lantz covers sports for the Globe Gazette. You can reach him at Shane.Lantz@GlobeGazette.com, or by phone at 641-421-0526. Follow Shane on Twitter @ShaneMLantz.
Be the first to know
Get local news delivered to your inbox!