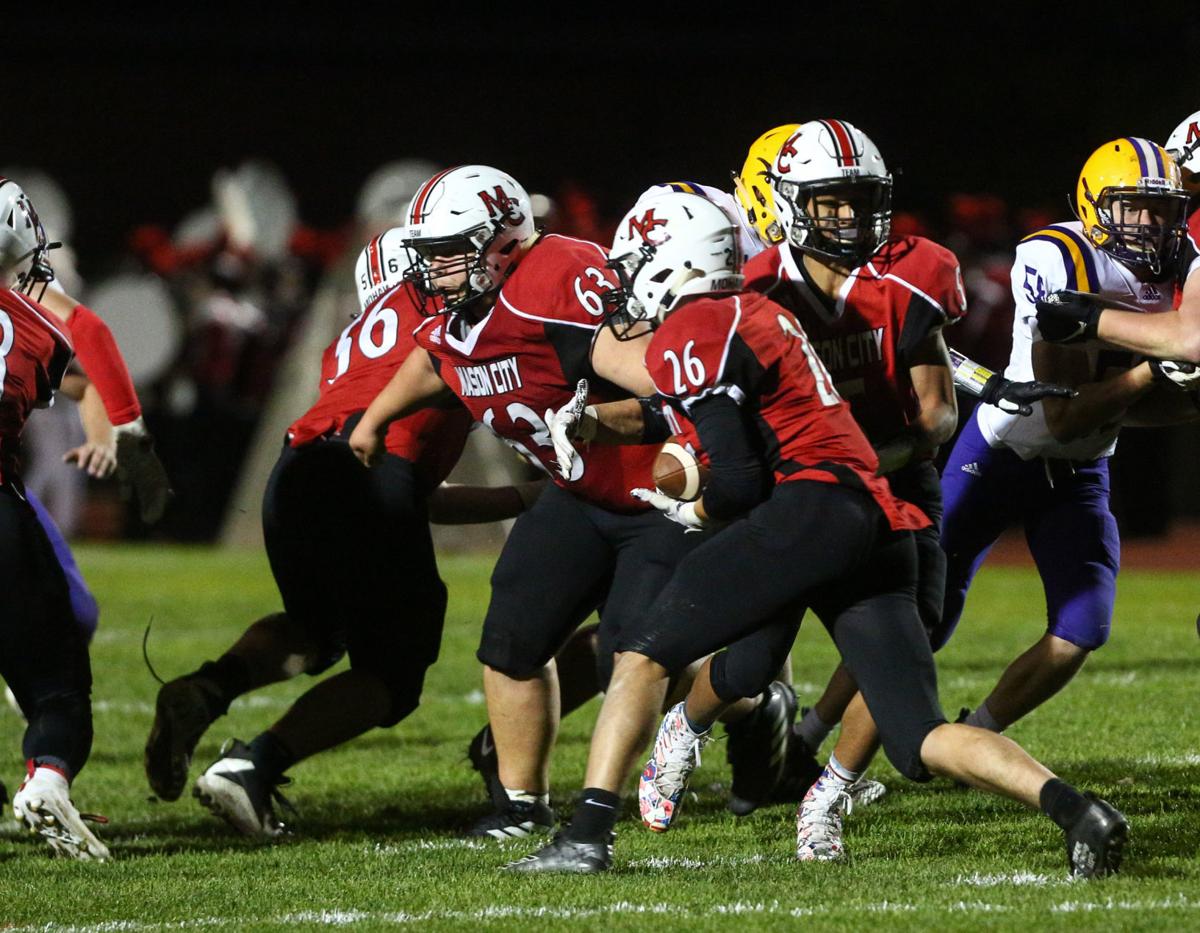 Mason City football is moving down a class.
The Iowa High School Athletic Association revealed its football district and class assignments on Thursday, and there are a few changes for area squads, the biggest being Mason City's move down from Class 4A to Class 3A.
Rather than the previous two-year cycle, the new classifications will be reevaluated after one-season, much like Iowa's other high school sports programs.
In addition, Class 4A will be operating under a new model. Teams in 4A will be assigned groups, based on geographic location, and recent program success. The IHSSA measured teams' last four seasons of football through Rating Percentage Index (RPI), and playoff success.
That was then used to assign the teams to a tier, with their schedule consisting of similarly tiered teams. The 4A playoffs will be determined at-large and determined by RPI, and there will be no district champions. 
With Mason City's move to Class 3A, no area teams will compete in Class 4A in 2020. 
After the announcement, Mason City head coach Brandon Krusey seems optimistic about the change.
"We knew we were going to be real close to the line one way or another," Krusey said. "The drop to 3A gives us quite a few new teams to play and prepare for.
"I'm glad the state is beginning to consider looking at things differently than they have in the past, and look at options. We must continue working to improve as a football team and prepare ourselves to be more competitive with whoever is on our schedule, 3A or 4A."
The IHSAA also announced that it will be sticking with the current season format of nine regular season games and 16 playoff qualifiers for each class. District champions will receive automatic playoff berths, while RPI will determine the remaining at-large qualifiers in Class A through 3A.
• Mason City will move down a class from Class 4A to Class 3A.
• Central Springs will move up to Class 1A from Class A.
• Lake Mills moves down to Class A from Class 1A.
2020 District assignments
District 2: AGWSR, Clarksville, Janesville, Northwood-Kensett, North Iowa, Riceville, Rockford, Tripoli, Turkey Valley
District 2: Alta-Aurelia, Bishop Garrigan, Manson Northwest Webster, North Union, St. Edmond, Fort Dodge, West Hancock
District 3: Lake Mills, Nashua-Plainfield, Newman Catholic, North Butler, St. Ansgar, West Fork
District 4: Central Springs, Columbus Catholic, Denver, Jesup, Osage, Sumner-Frederiksburg
District 2: Algona, Cherokee Washington, Estherville Lincoln Central, Garner-Hayfield-Ventura, Okoboji Millford, Spirit Lake
District 3: Clear Lake, Forest City, Hampton-Dumont-CAL, Iowa Falls-Alden, Roland-Story, West Marshall
District 2: Ballard, Boone, Humboldt, Gilbert, Mason City, Webster City
District 3: Charles City, Decorah, Epworth, Waterloo East, Waverly-Shell Rock, West Delaware