Four years. Four state tournament trips. Two state finals appearances. One state title.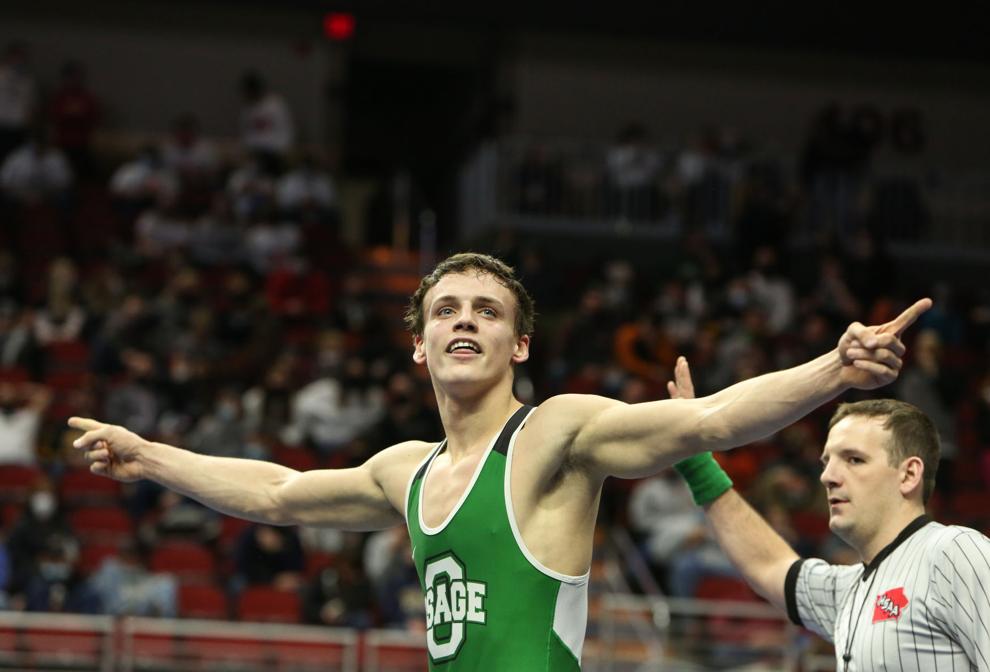 On Saturday night on the mats of Wells Fargo Arena in Des Moines, Osage senior Spencer Mooberry went out on top, ending his highly successful high school wrestling career in the most appropriate way. 
Mooberry won the title with a 6-4 sudden victory over previously undefeated Union senior Adam Ahrendsen in the Class 2A 182-pound finals. When the referee blew the whistle, Mooberry spread his arms wide, hugged both his coaches, tossed his green ankle bands, and swung an imaginary baseball bat through the air to celebrate his home run of a win. 
With the victory, Mooberry redeemed his loss in the state finals last year, when he finished second overall at 170 pounds. When Mooberry raised his arms toward the ceiling on Saturday, he had just one thought in his mind. 
"Holy s***, I did it," Mooberry said. "I've been dreaming of this since I was a little kid and I finally accomplished it. It's a great feeling."
Mooberry took an early 2-0 lead over Ahrendsen with a takedown at 0:38 in the first. After Ahrendsen tied it in the second with a reversal, Mooberry went out in front again with an escape.
The pair ended regulation tied at 4-4, but Mooberry ended it with a takedown at 0:43 in overtime.
"It means a lot," Mooberry said. "You hear all those Green Devil fans up there, it's crazy. Osage loves their wrestling, right? It's been too long since we've had a state champion."
For Osage head coach Brent Jennings, the victory was a storybook ending to his senior wrestler's accomplished career. 
"He's worked really, really hard," Jennings said. "He's earned everything that he got tonight. He just went out, and didn't get denied. He was calm and relaxed this year, and didn't get caught in anything big. He did what he needed to do to come out with a W. Hats off to him and his family. He's invested a lot of time into this, and he deserves it."
While Mooberry is finished with his time at Osage, he will be sticking with green at the next level when he suits up for Division I North Dakota State. 
"They're getting a good one," Jennings said. "He'll be willing to run through a brick wall for them. If they treat him right and do the right things with him, they'll have a dynamite Division I wrestler on their hands."
Mooberry's win was especially welcome, as it served as a kind of redemption for a tough start to the day for Osage. 
In the first Osage match of the evening, Green Devils' senior Averee Abben lost to Independence senior Brandon O'Brien in a rowdy and hotly contested 4-3 tiebreaker in the 132-pound finals. The Green Devils crowd roared with disapproval at several points as O'Brien sat on the mat and paused the action with a few injury timeouts. 
At the end of the second period, the score was still 0-0, but Abben went up 1-0 when O'Brien was called for stalling in the third. After an escape, Abben went up 2-0, but O'Brien sent the match to overtime with a takedown at the two-second mark. In the third overtime, O'Brien was called for stalling again to give Abben a one-point lead. 
But O'Brien clinched the title with a reversal, and waved his arms to the crowd as he retreated to the locker room. After the match, Jennings made it clear that he was unhappy with the performance of the referees, who earned the ire of the Green Devils' crowd several times. 
"I felt that the referee did not do a good job controlling that match, and making the calls necessary to make it a true, even match," Jennings said. "It just wasn't officiated well. Averee had the opportunity to win it and let it slip between his fingers, the end. But prior to that, it should've never gotten to that point, in my opinion."
Two matches later, Green Devils' sophomore Nicholas Fox also lost, as Centerville senior Matthew Lewis earned a 3-2 win in the 145-pound championship. The loss was the second straight state title match defeat for Fox, and the victory made Lewis the 29th four-time state champion in Iowa history. 
"He is a sophomore, he'll be back," Jennings said of Fox. "He jumped from 120 to 145 this year, and (is) a two-time state finalist at this point. Obviously not what he envisioned happening here at the state tournament. He'll have to do something similar to what Spencer did, and continue to work hard and drive. He has that drive. He'll work hard."
As a team, the Green Devils finished second overall in the team standings with 96 points, while West Delaware took the title with 150 team points. 
Earlier in the day, many North Iowa wrestlers earned spots on the medal stand. In Class 1A, 120-pound West Hancock freshman Kellen Smith took sixth place after a 13-5 major decision loss to North Butler's Tanner Arjes in the fifth-place match.
At 126, Central Springs junior Clayton McDonough took third place after a 2-0 win over Cameron Clark of West Sioux in the consolation finals match. 
McDonough beat three former state finalists to earn the bronze medal. At 145 pounds, Bryce McDonough took fifth place. Lake Mills senior Dalton Thorson took eighth place at 138 pounds after a 7-0 loss to SE Warren senior Randy Jimenez in the seventh-place match. 
The Bulldogs earned an eighth-place medal at the next weight as well, after Alex Beaty lost by fall to Garrett Sarringar  of Sibley-Ocheyedan in the seventh-place match at 145. 
Riceville senior Lawson Losee took third place at 152 pounds by beating East Buchanan senior TJ Lau in their consolation finals matchup. At 160 pounds, three area wrestlers finished on the stand, with Casey Hanson of Lake Mills placing fourth, West Hancock's Bryer Subject taking fifth, and Northwood-Kensett junior Drake Tiedemann coming in seventh. 
182-pounder Elijah Wagner was the fourth and final Lake Mills' wrestler to place, as he took fourth following a loss to West Sioux junior Carson Lynott in the consolation finals. 
At 195 and 220, West Hancock junior Mathew Francis and senior Cole Kelly both took third place, while Riceville's Mitchel Marr finished fifth at 285. 
In 2A, Osage freshman Tucker Stangel finished fourth at 113 pounds, while senior Colin Muller took seventh place in the 170-pound bracket. The Forest City trio of Kellen, Brock, and Reese Moore all finished on the medal stand, with Kellen taking sixth place at 126 pounds, Brock placing fourth at 132, and Reese coming in fourth place at 195 pounds. 
At 152 pounds, Hampton-Dumont-CAL junior Carl Barkema took eighth. 
For Charles City, 285-pound junior Chase Crooks earned a sixth-place medal. 
As a team, West Hancock finished fifth in the Class 1A standings with 57 points, while Don Bosco claimed the title with 179.5. Lake Mills finished eighth overall, with 49 points. 
North Iowa's lone Class 3A state place-winner was Mason City junior Jace Rhodes, who took fifth at 132 pounds with a win over Ayden Kingery of Southeast Polk. 
Averee Abben Osage - 132-1.jpg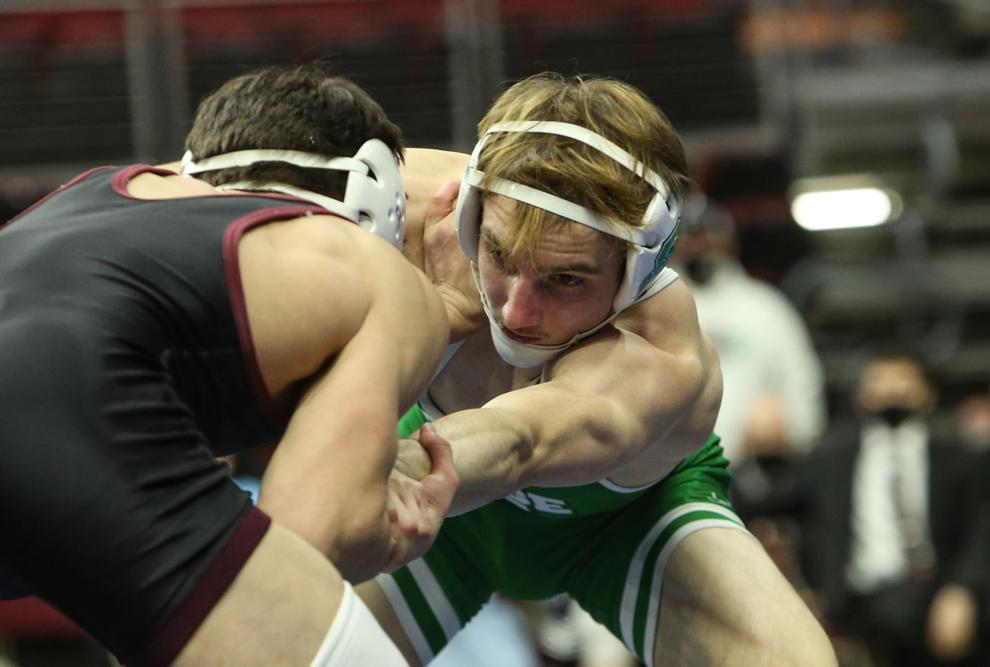 Averee Abben Osage - 132-2.jpg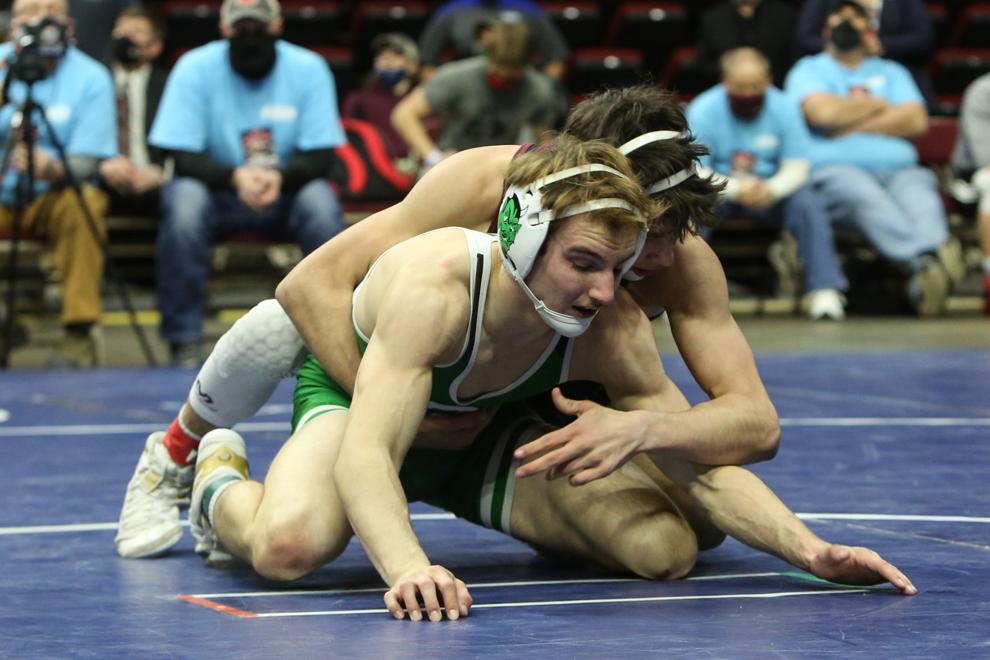 Averee Abben Osage - 132-3.jpg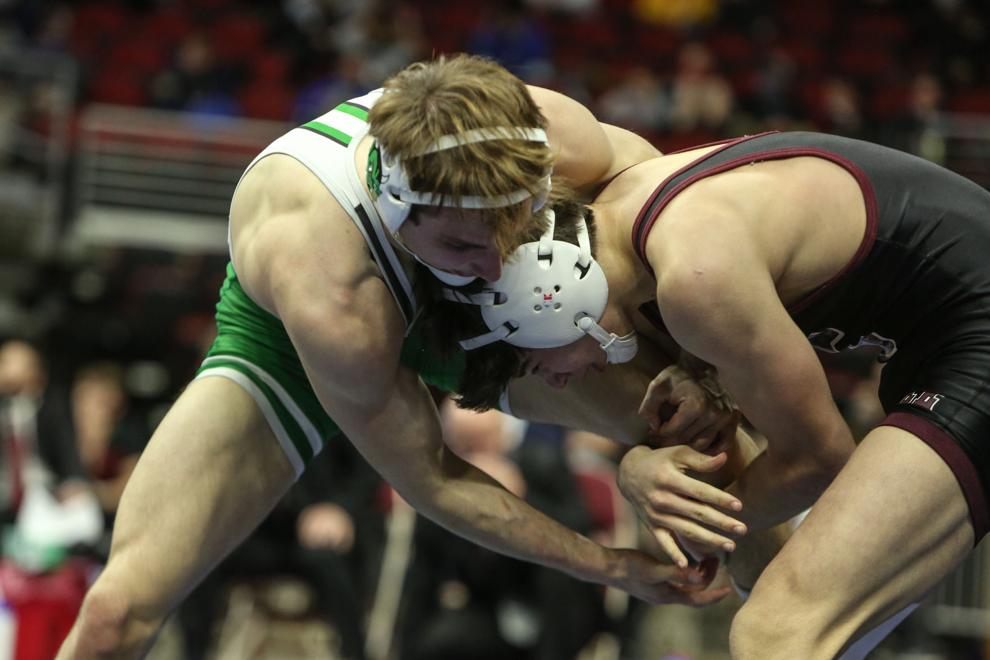 Averee Abben Osage - 132-4.jpg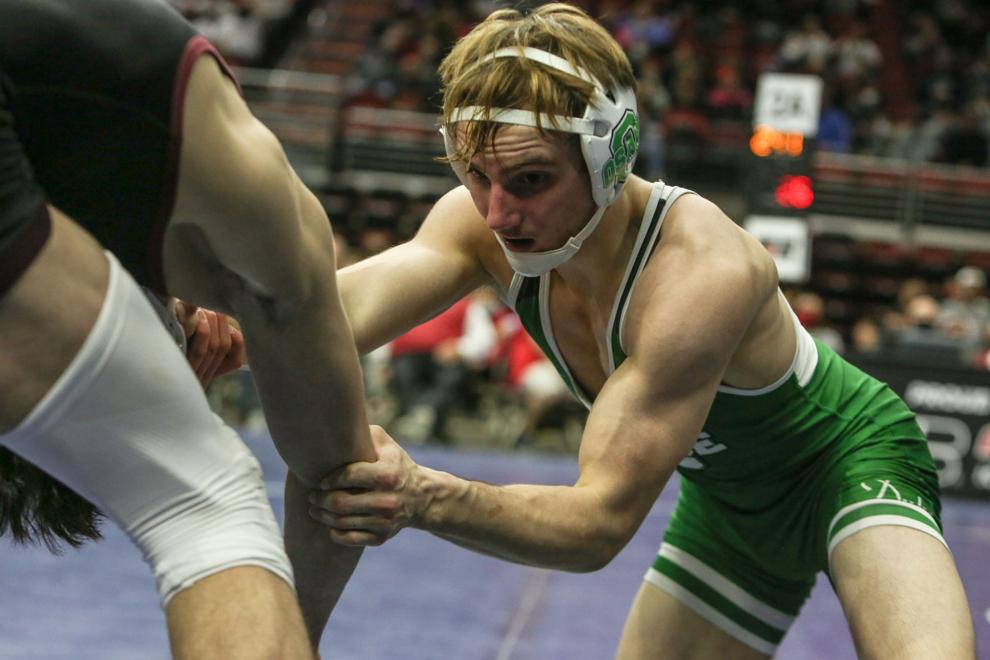 Averee Abben Osage - 132-5.jpg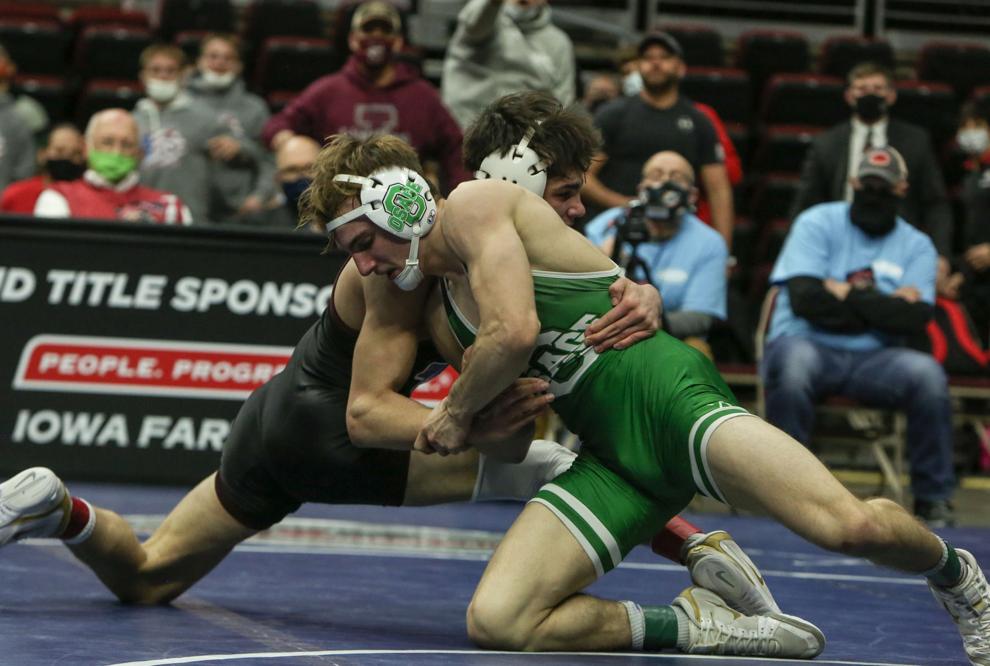 Kale Peterson -West Fork 106-1.jpg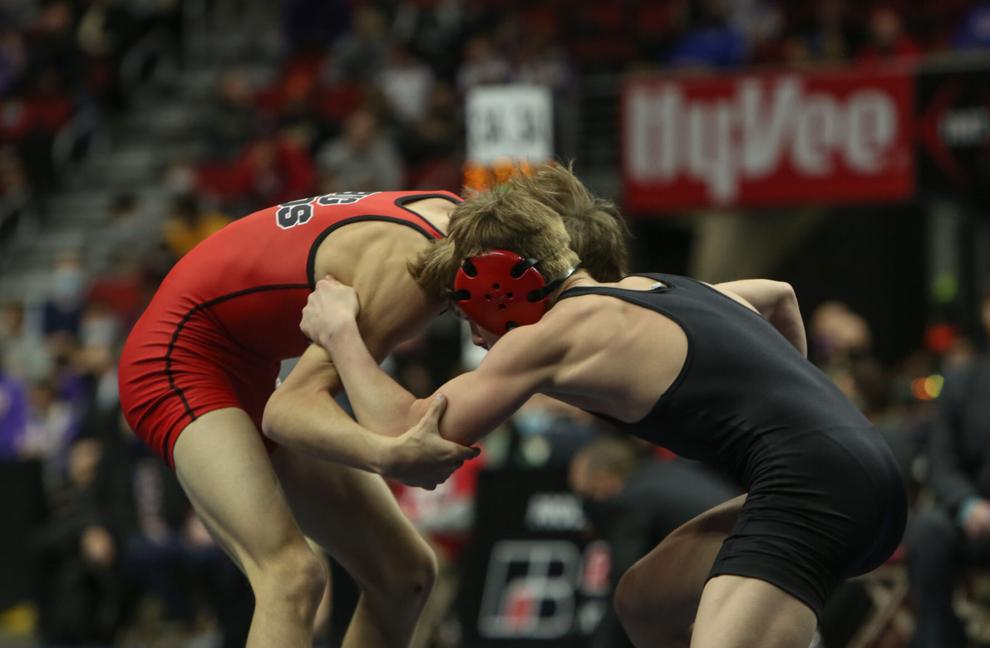 Kale Peterson -West Fork 106-2.jpg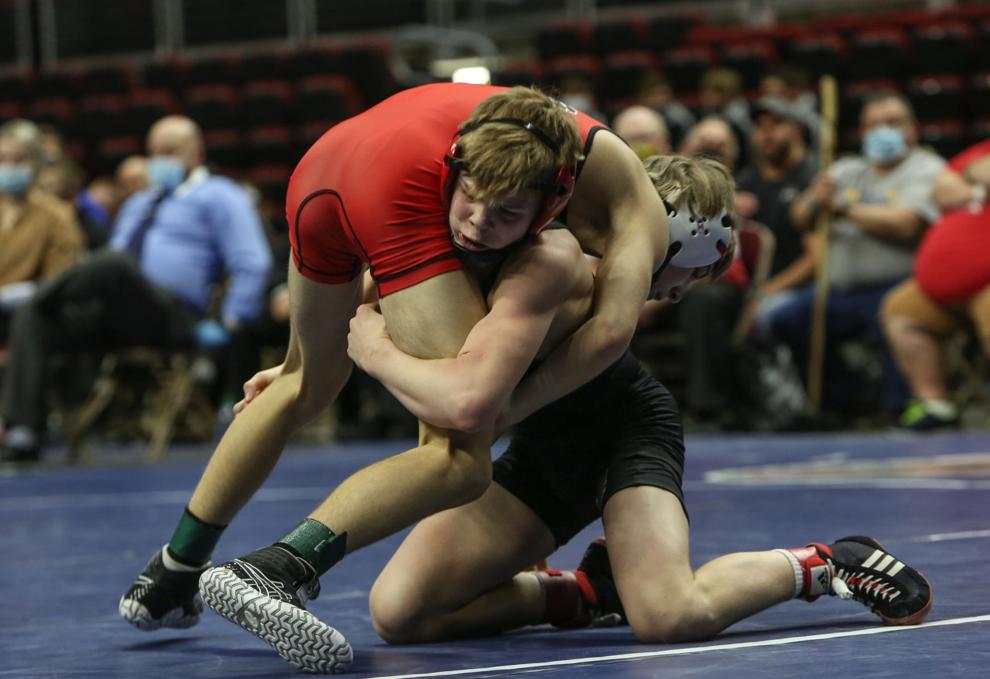 Kale Peterson -West Fork 106-3.jpg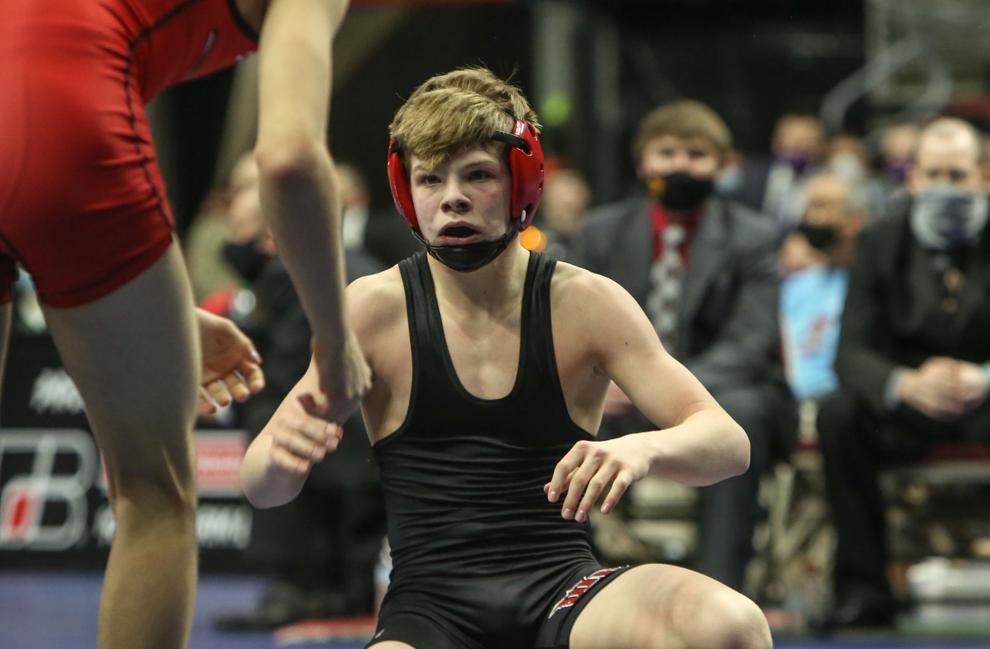 Kale Peterson -West Fork 106-4.jpg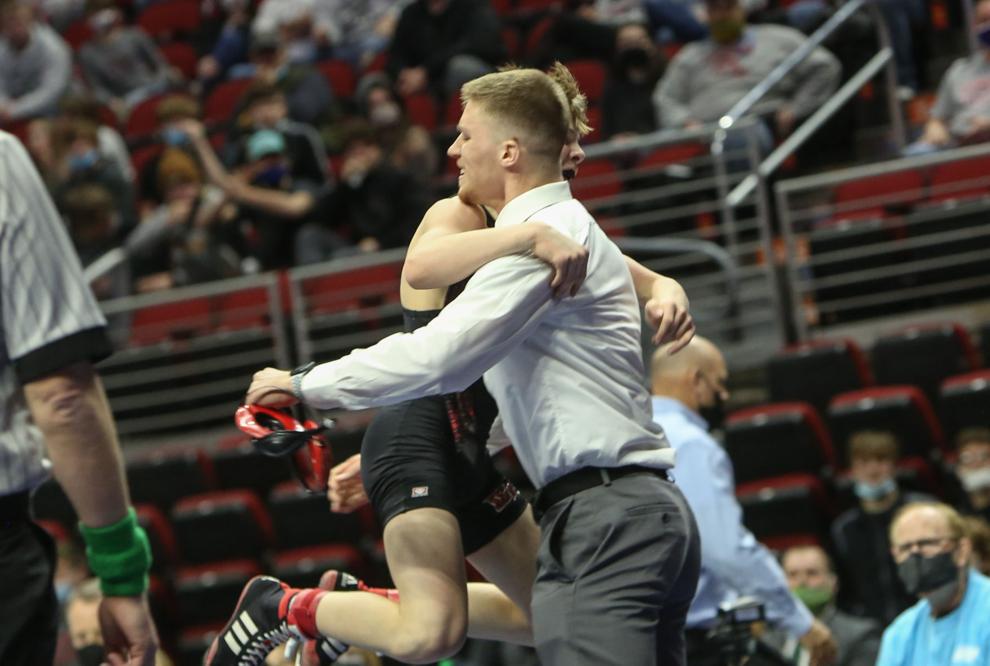 Kale Peterson -West Fork 106-5.jpg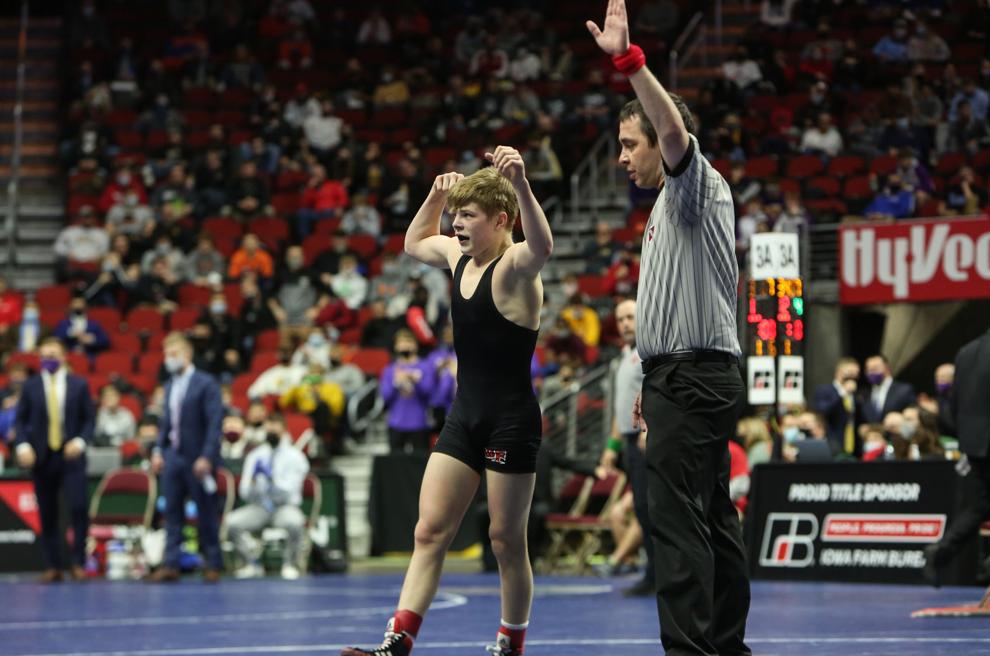 Nicholas Fox - Osage 145-1.jpg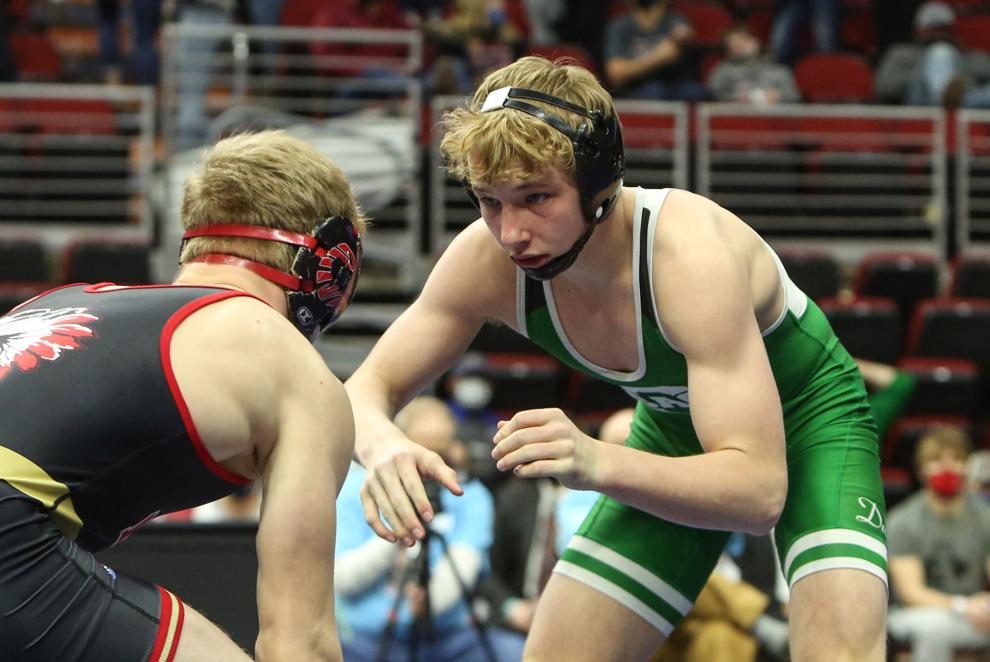 Nicholas Fox - Osage 145-2.jpg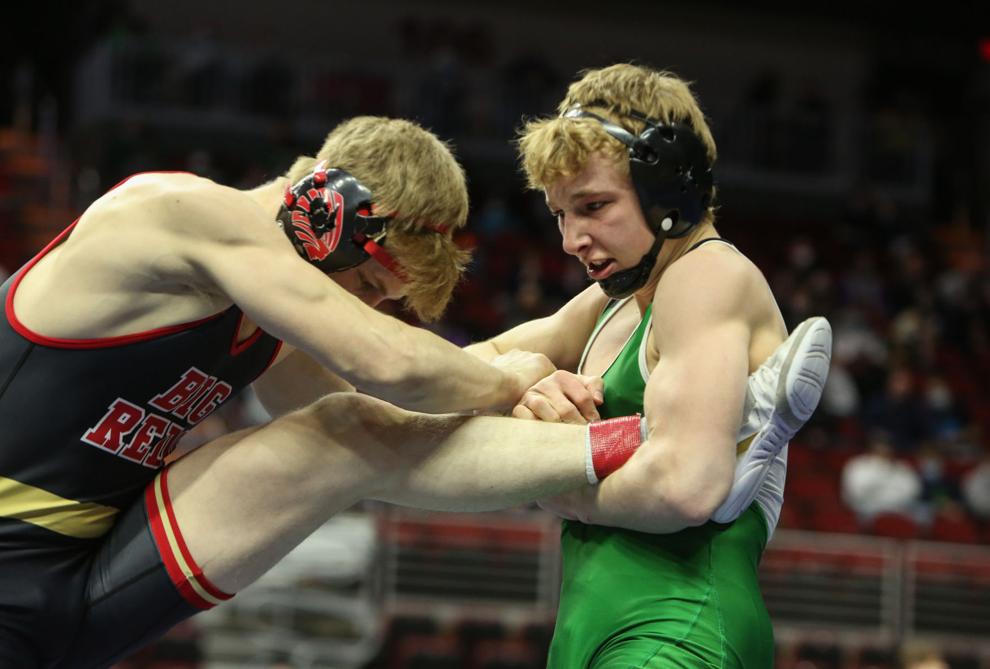 Nicholas Fox - Osage 145-3.jpg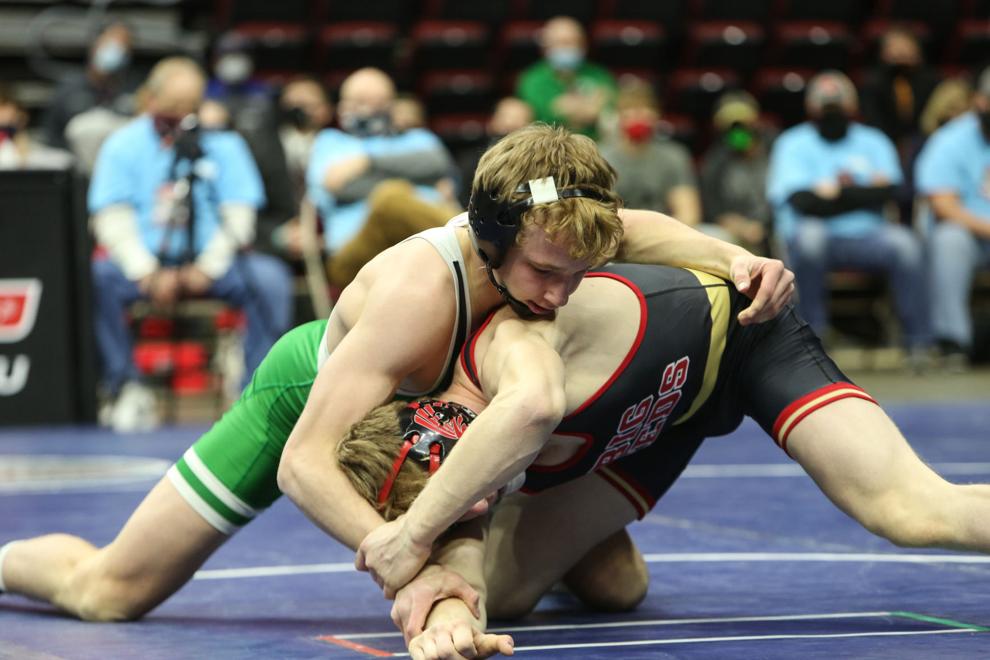 Nicholas Fox - Osage 145-4.jpg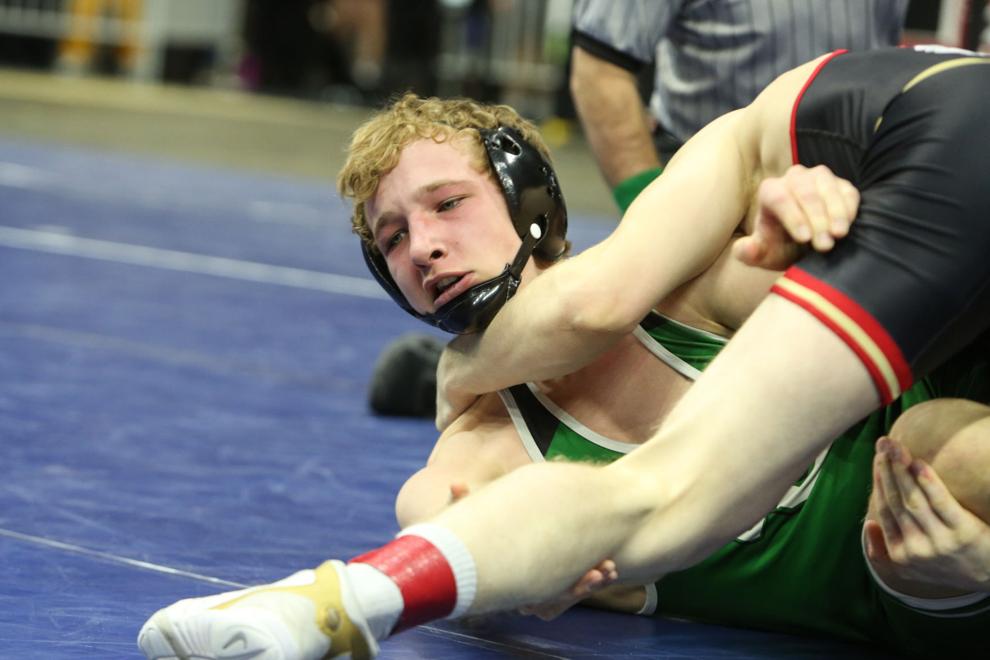 Nicholas Fox - Osage 145-5.jpg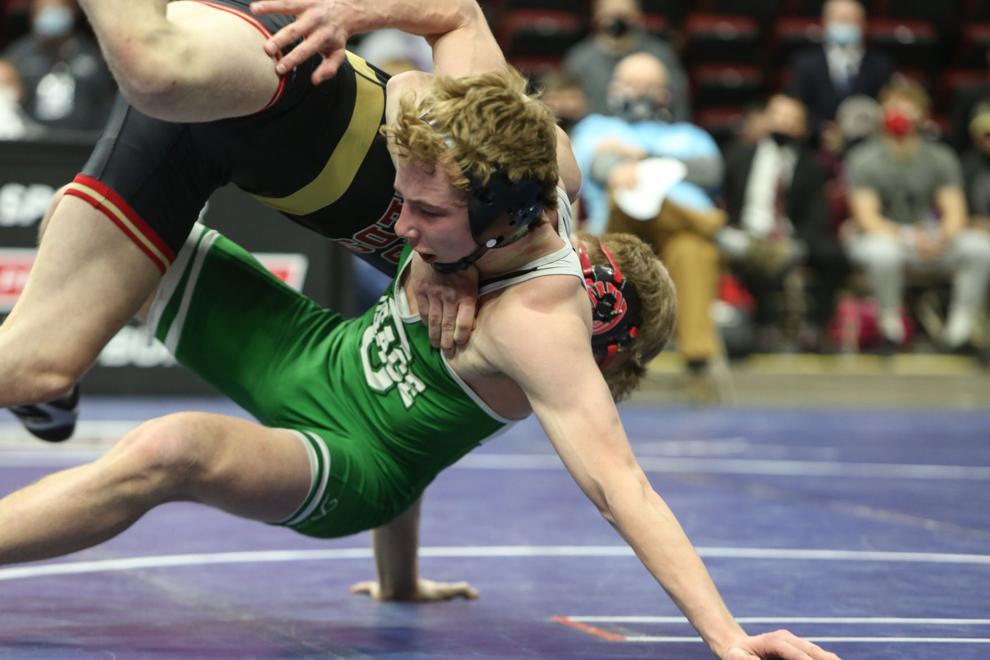 Spencer Mooberry - Oasge 182-2.jpg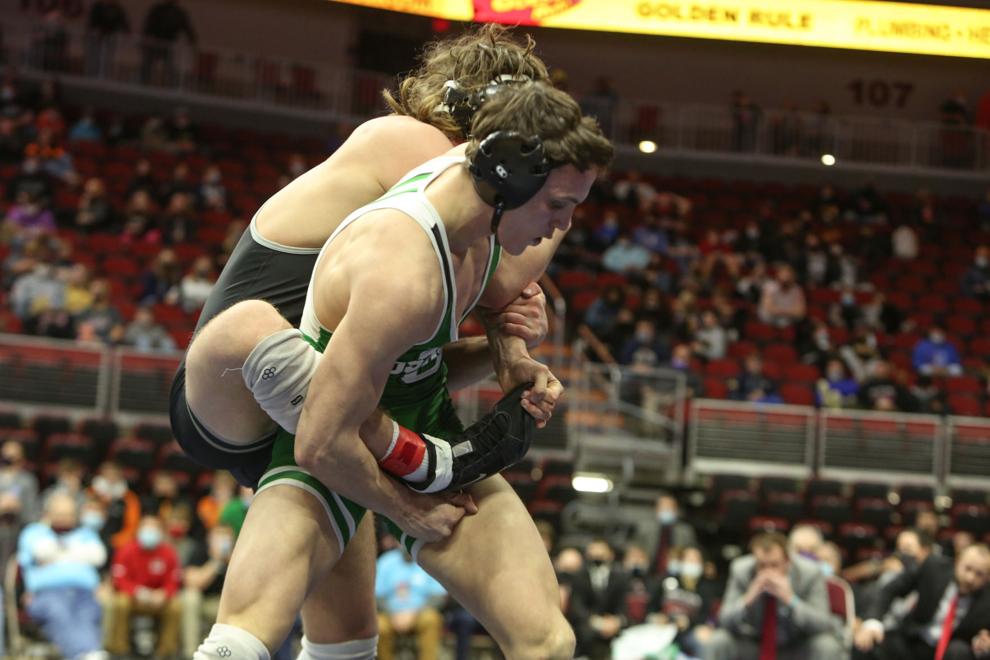 Spencer Mooberry - Osage 182-1.jpg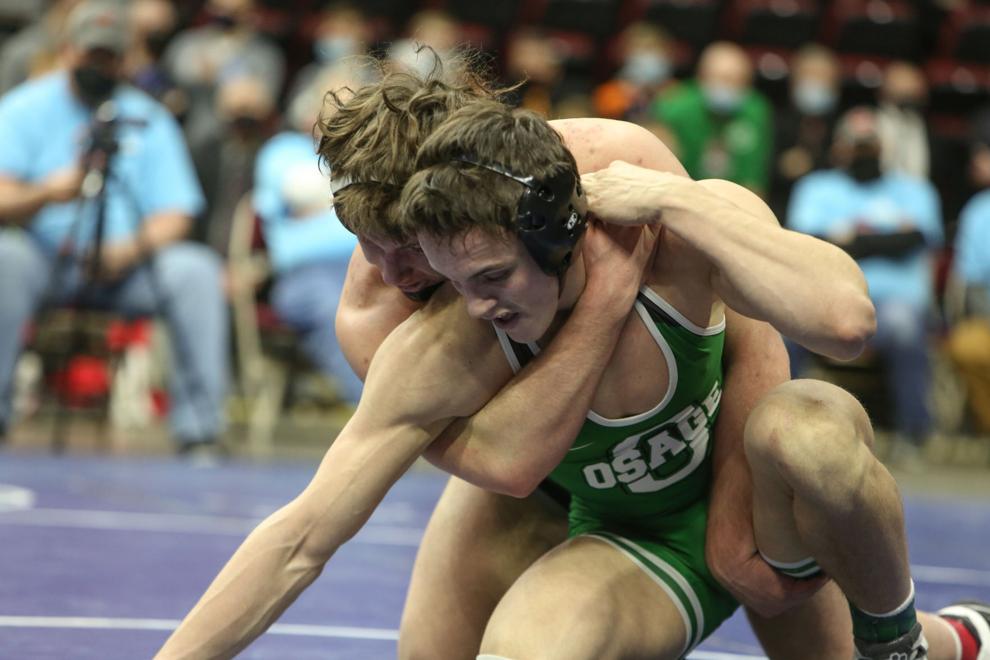 Spencer Mooberry - Osage 182-3.jpg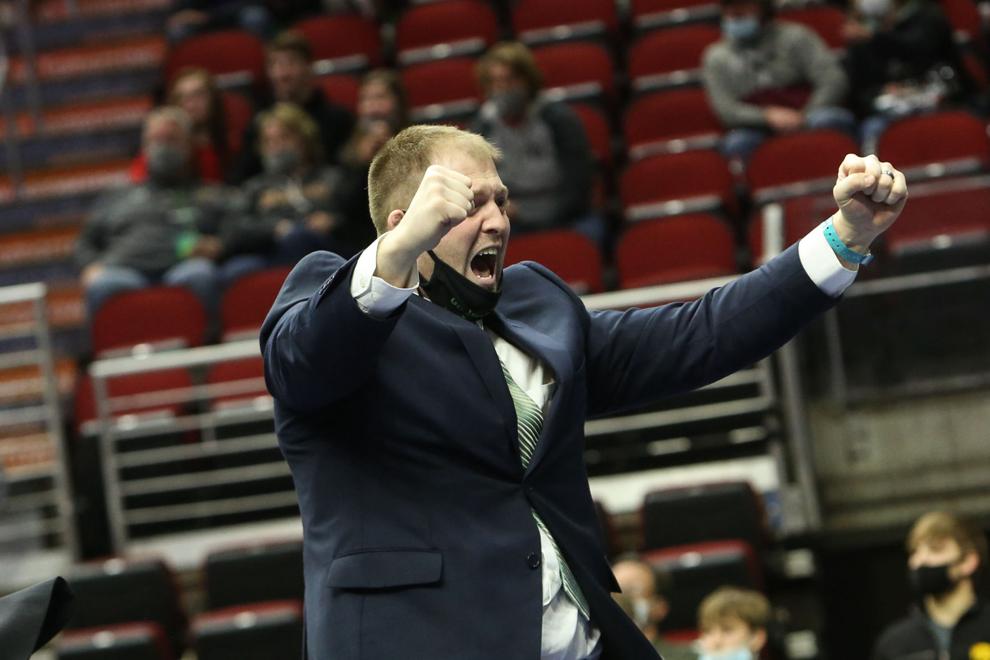 Spencer Mooberry - Osage 182-4.jpg
Spencer Mooberry - Osage 182-5.jpg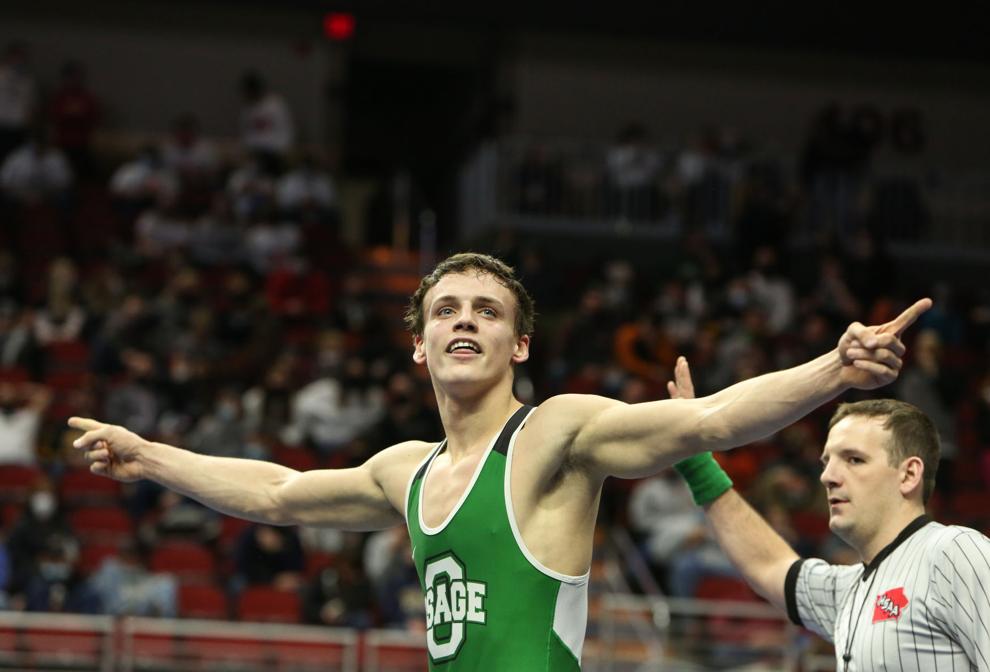 Spencer Mooberry - Osage 182-7.jpg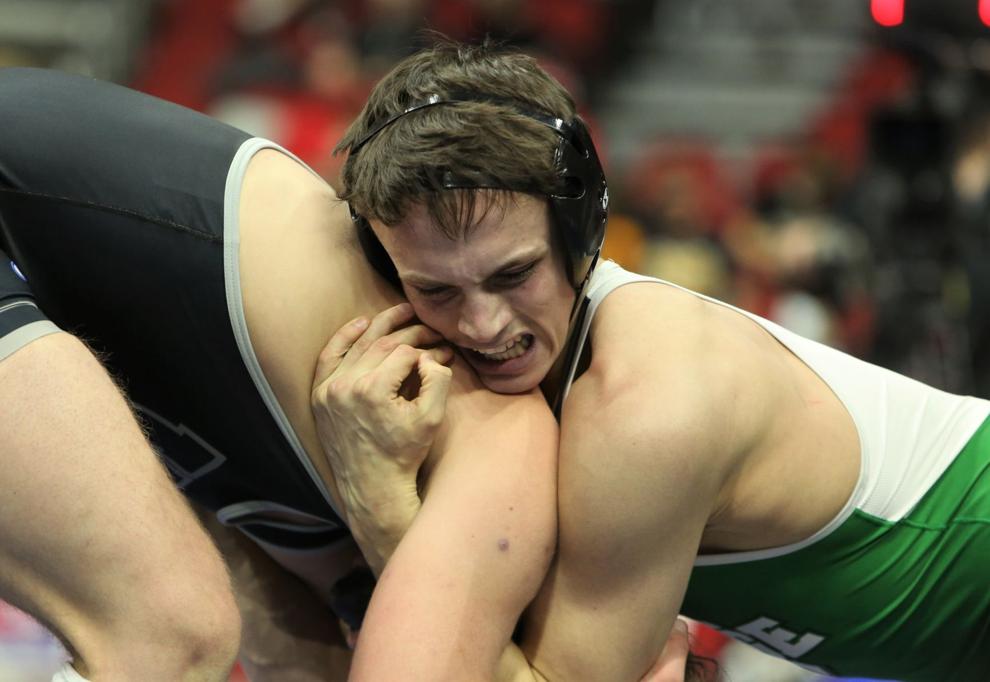 Shane Lantz covers sports for the Globe Gazette. You can reach him at Shane.Lantz@GlobeGazette.com, or by phone at 641-421-0526. Follow Shane on Twitter @ShaneMLantz.