For North Iowa's class 1A wrestling teams, 13 proved to be the lucky number on the first day of the state wrestling tournament. 
A wild weekend in Des Moines kicked off on Thursday morning at the Iowa High School State Wrestling Tournament, as grapplers from all over the state began their pursuit of a state championship. 
At the end of the Class 1A session, 13 North Iowa wrestlers punched their ticket to Friday's state quarterfinal round.
No. 1 ranked West Fork sophomore Kale Petersen got the day started at 106 pounds with a quick win by fall over SE Warren sophomore Rylan Jimenez, to advance to the state quarterfinals. Petersen pinned Jimennez at the 1:06 mark of the first period. 
At 120 pounds, West Hancock freshman Kellen Smith advanced on a 12-1 win against Tyce Ruffridge of Pocahontas Area. 
Central Springs junior Clayton McDonough pushed his way through to the quarterfinals at 126 with a win by fall over Nick Schmidt of Beckman Catholic. The win puts McDonough's record at 54-0.
"It's living up to my expectations so far," McDonough said of his third appearance at the state meet. "I really didn't prepare any different way, just the same old stuff. Just get down here, train hard, and focus one match at a time."
The fun continued for the Panthers at 138, with a 9-1 major decision victory for Bryce McDonough, as he advanced to the quarterfinals by beating Dalton Thorson of Lake Mills. 
"It's awesome," Clayton said of watching his twin brother wrestle at state. "After I get done wrestling, I'm putting my stuff on, calming down, getting ready to go again, and I get to watch him. It pumps me up, especially when he does good."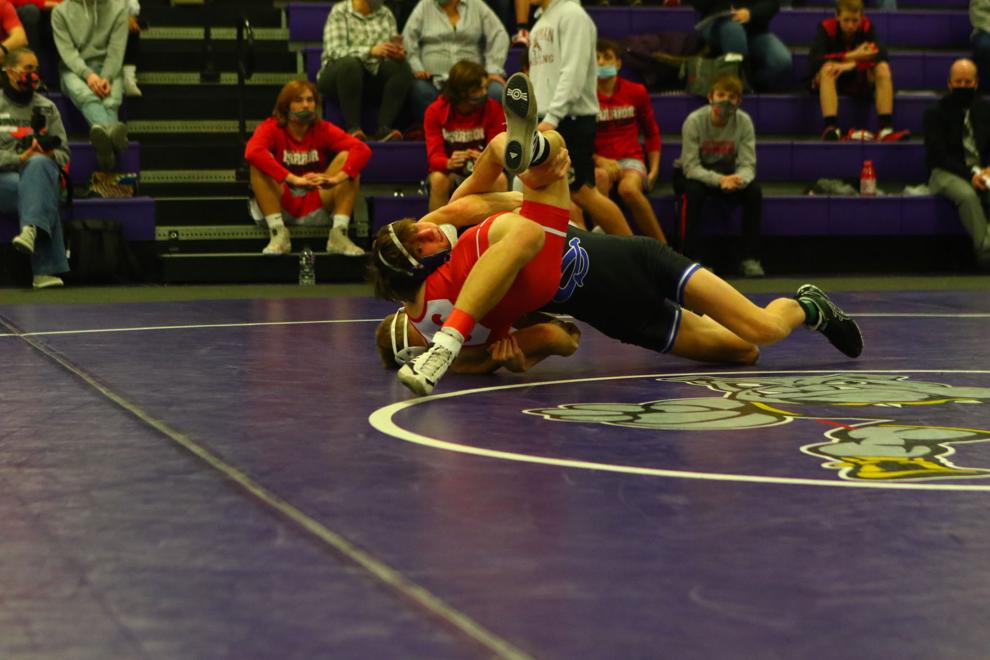 The Bulldogs bounced back at 145 pounds with a pin victory by sophomore Alex Beaty over Max McGill of Woodbury Central. At 182 pounds, Bulldogs senior Elijiah Wagner beat Iowa Valley junior Brody Hoyt by fall at 1:31, and will wrestle Midland junior Cayden Miller in Friday's quarterfinals. 
Riceville saw one of its two wrestlers advance out of the first round, as Lawson Losee beat West Hancock junior Kane Zeuhl by a 5-2 decision at 152 pounds. The other Wildcat competing at the Well, 285 pound Mitchel Marr, lost his first round match by fall, and then beat Justin Rupnow with a quick pin in the consolation rounds.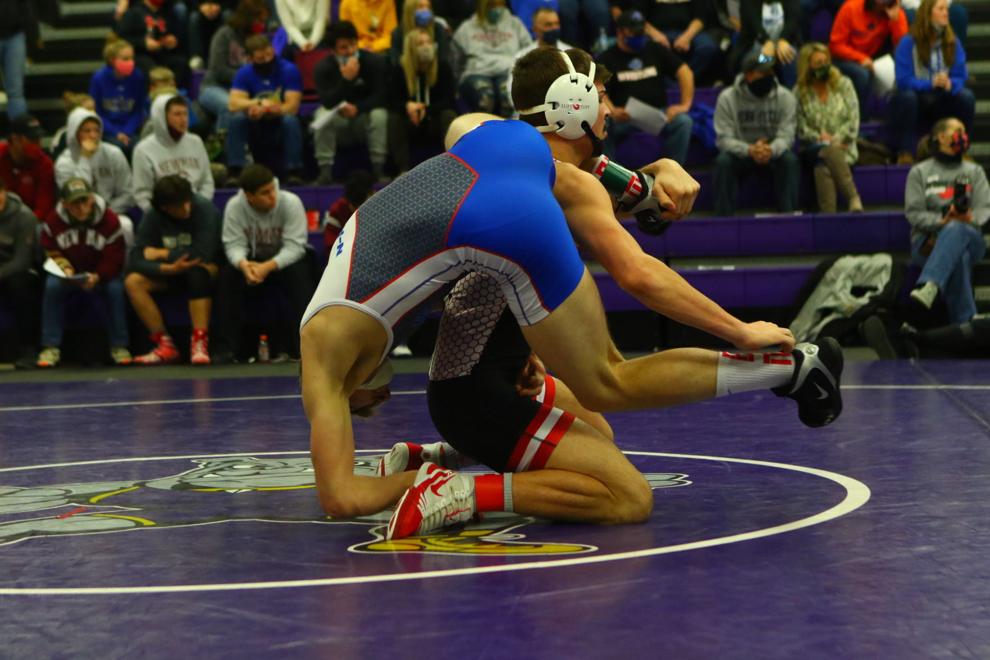 Three area wrestlers came out with first-round wins at 160 pounds, as Lake Mills senior Casey Hanson, West Hancock senior Bryer Subject and Northwood-Kensett junior Drake Tiedemann all advanced to Friday's quarterfinal round. 
Subject's win came in overtime, and ended with Subject taking an 8-6 sudden victory against Cael Cassady of Martensdale, St. Mary's. 
"He got behind early and ended up winning it in overtime, so that was a big win for him," West Hancock head coach Mark Sanger said.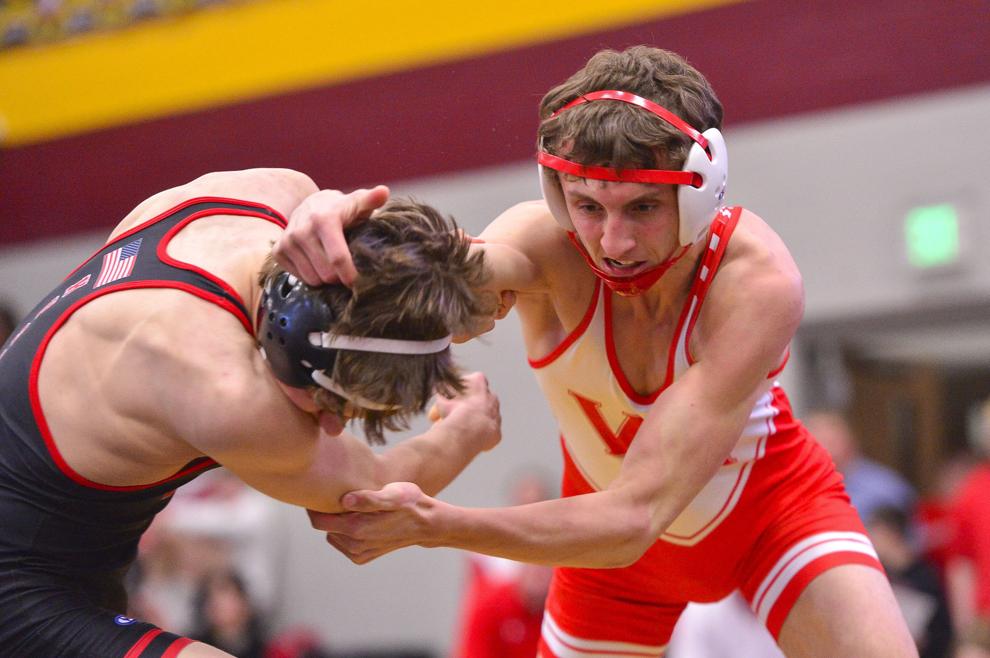 Two more Eagles earned victories at the heavyweights in 195-pound junior Matthew Francis and 220 pound senior Cole Kelly. Francis beat South Hamilton senior Trevor Thompson, 6-0, in the first round, while Kelly scored a 14-5 major decision win over Jayden Hoard of South Central Calhoun. 
Kelly will face No. 2 ranked Derek Anderson of Hinton on Friday in the quarterfinal round, and Francis will face No. 6 ranked Cedric Yoder of Don Bosco. 
"Matthew Francis wrestled the number four kid in the state, and controlled the match the whole way," Sanger said. "Cole Kelly got a big win as well, but they all have huge matchups in the second round. We've got some big matches tomorrow."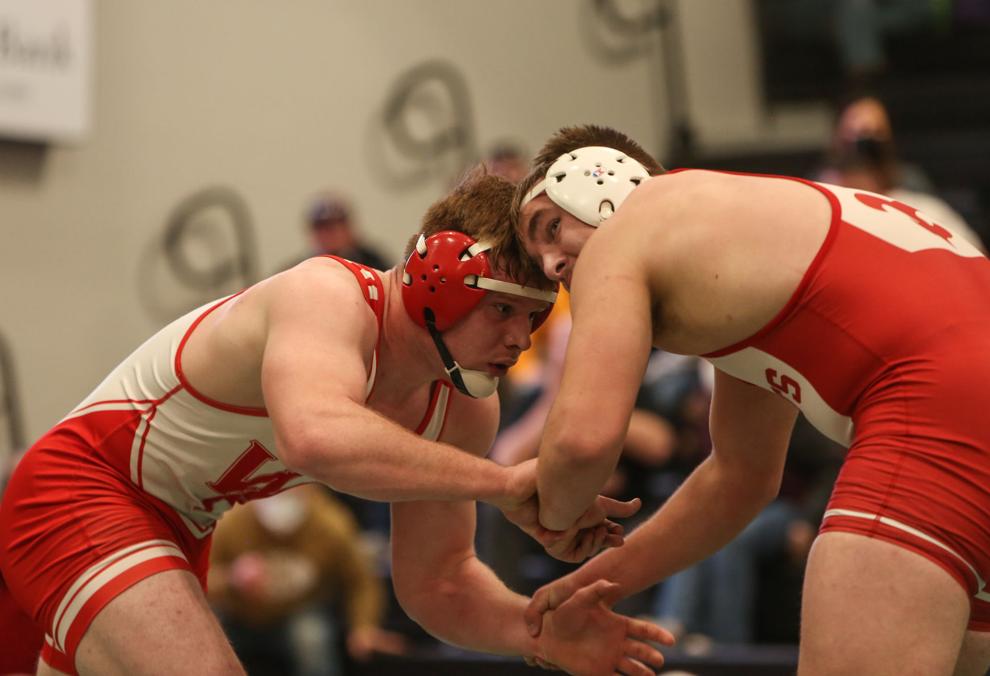 After Kelly's win, four West Hancock wrestlers will wrestle in tomorrow's Class 1A quarterfinals. 
"It's always good to get the first one under your belt, and get the nerves out of the way," Sanger said. "We'll take it, four out of six."
St. Ansgar junior Sage Hulshizer, in his first career state tournament match, beat Sam Vonnahme of Interstate-35 by fall at 1:40 to advance to the quarterfinals, where he will face Lisbon No. 1 ranked senior Cole Clark. 
Several other area wrestlers competed in the consolation rounds, after starting their day off with a losses. West Hancock freshman Evan Boothroyd (106 pound) lost to Brody Brisker of Hilton by technical fall in the first round, and then lost by fall to Moravia junior Dalton Ervin by fall in his consolation matchup. 
"It was a good experience for him to be down here," Sanger said. "He'll understand some things he's got to improve on, and hopefully get back next year and do a little better."
In the 132 pound bracket, Central Springs junior Brock Mathers lost his first round match to undefeated Hagen Heistand of Logan-Magnolia, and then fell by a 15-6 major decision against Lisbon junior Quincy Happel. 
After his first round loss to Bryce McDonough, Dalton Thorson beat Matt Peters of Lawton-Bronson in the 138 pound consolation round, 7-3. He will wrestle on Friday for a spot in the consolation quarterfinals. 
Lake Mills junior Brett Petersen and West Hancock junior Kane Zuehl both lost their first round matches at 152 pounds. Petersen bounced back by beating Alburnett sophomore Gunnar Keeney, but Zuehl lost his next match by a 4-3 decision. 
"Two heartbreakers," Sanger said of Zuehl's day. "Losing both matches, and he just couldn't pull them out in the end. He's a junior, so hopefully we can him some motivation to get back next year. All in all though, not a bad round."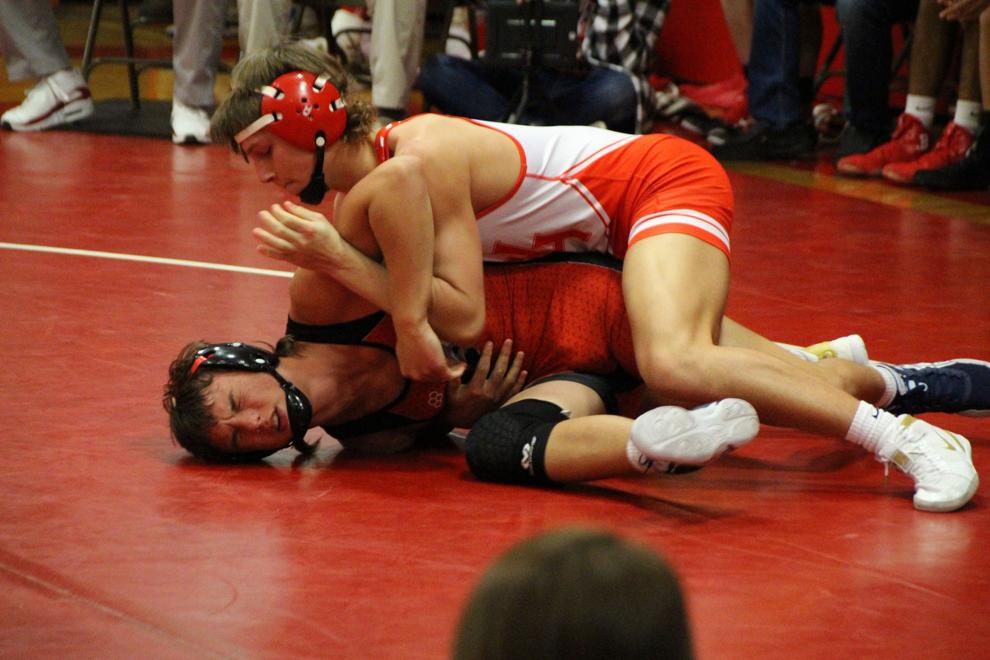 At 170 pounds, Central Springs senior Kaden Jacobsen lost a 7-4 first round decision to Kolby Scott of MVAOCOU, and then won his consolation match by fall in 42 seconds. 
The Class 3A first round started on Thursday at 1:30 pm, and Class 2A will begin at 6 p.m. Check Globegazette.com for updates throughout the day.
Shane Lantz covers sports for the Globe Gazette. You can reach him at Shane.Lantz@GlobeGazette.com, or by phone at 641-421-0526. Follow Shane on Twitter @ShaneMLantz.