Lake Mills senior wrestler Elijah Wagner thought his season was over.
At the Top of Iowa Conference meet on Jan. 23, the Class 1A No. 2 182-pounder wrestled Class 2A top-ranked Osage senior Spencer Mooberry in the championship match. During the match, he felt a pop in his knee, but adrenaline allowed him to keep wrestling.
Wagner fell in a 2-0 decision to Mooberry. But the outcome wasn't the worst part of the match.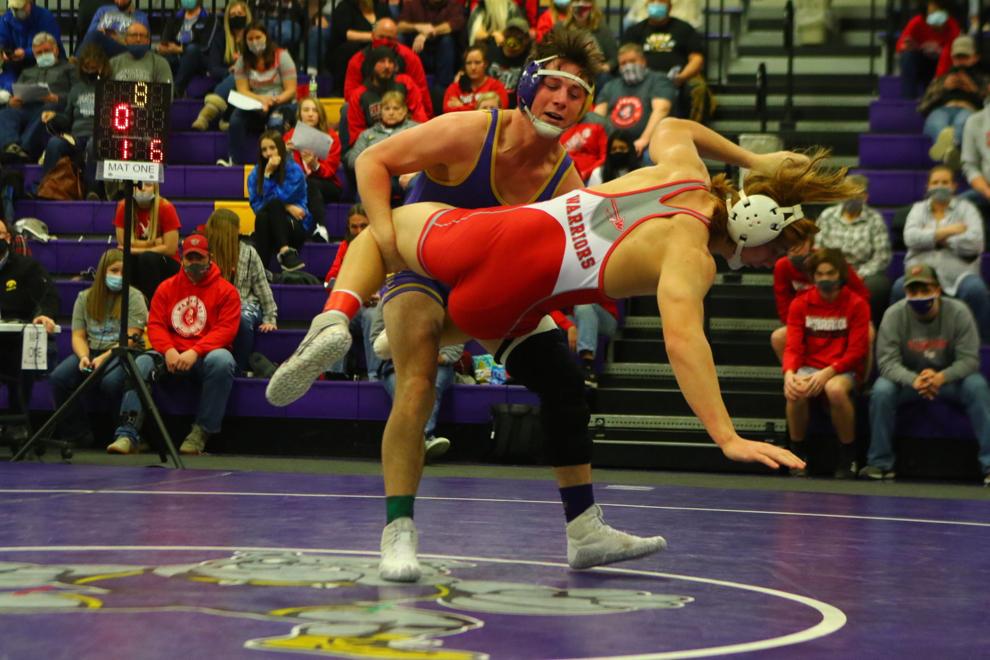 The next day when he woke up, Wagner could barely walk. He told his mom that something was wrong. She took him to the physical therapist, who told him that he had torn his lateral collateral ligament (LCL).
"I called the coach and told him," Wagner said. "I was heartbroken and in tears telling him. They told me I might not be able to wrestle."
But Wagner wasn't going to give up on his dream of winning a state title that easily.
So, instead of pouting, feeling sorry for himself and quitting – he decided to sit out from wrestling for close to two weeks, heal the injury and keep the dream alive. He did rehab activities and swam to stay in shape.
"It never crossed his mind to be done," Lake Mills head coach Alex Brandenburg said. "It was just, 'what can I do to get back on the mat for myself and my team?' It was, 'I'm going to go no matter what.'"
Slowly, the injury became tolerable enough for him to get back on the mat. He was able to secure a knee brace just days before the sectional meet, but he had no idea what to expect from himself once he wrestled in competition again.
What happened on the mat came as a surprise to both him and his coach.
Wagner was able to qualify for districts, then followed it up by winning his bracket during the district meet on Saturday at Clarksville. He did it by securing an 8-0 win over Class 1A No. 5 Drew Fox – a solid wrestler in his own regard.
What was the most shocking for Brandenburg was how well Wagner wrestled in the later periods of his matches. He was expecting that after nearly two weeks off, Wagner's stamina might take a hit. But that just hasn't been the case.
"At first, you're just hoping a kid like that just gets to state and helps get the team to state," Brandenburg said. "But seeing him wrestle today and be dominate, I don't think it's limited him that much. He's still got a chance to bring home a state title for himself, which is his goal."
If anything, winning all of his matches against solid competition has given Wagner the confidence he needed ahead of the state tournament.
After finishing fifth at 160 pounds last year in his junior campaign, Wagner's childhood goal of wrestling Saturday night in the finals is still alive. In fact, he expects to be there – injury or not.
"I'm putting it out of my mind," Wagner said. "I've been wrestling better on it than I thought I was going to. Kids kind of tried pulling on it and stuff today. Nothing really hurt it, so I'm hoping it won't deter my performance."
Wagner will wrestle with the Lake Mills wrestling team at the state team duals at 11 a.m. on Wednesday at Wells Fargo Arena in Des Moines. Then, he'll wrestle on Thursday morning for his individual matches.
"The trainer has done a good job, the doctor has done a good job," Brandenburg said. "I think he's right in line to reach his goal."