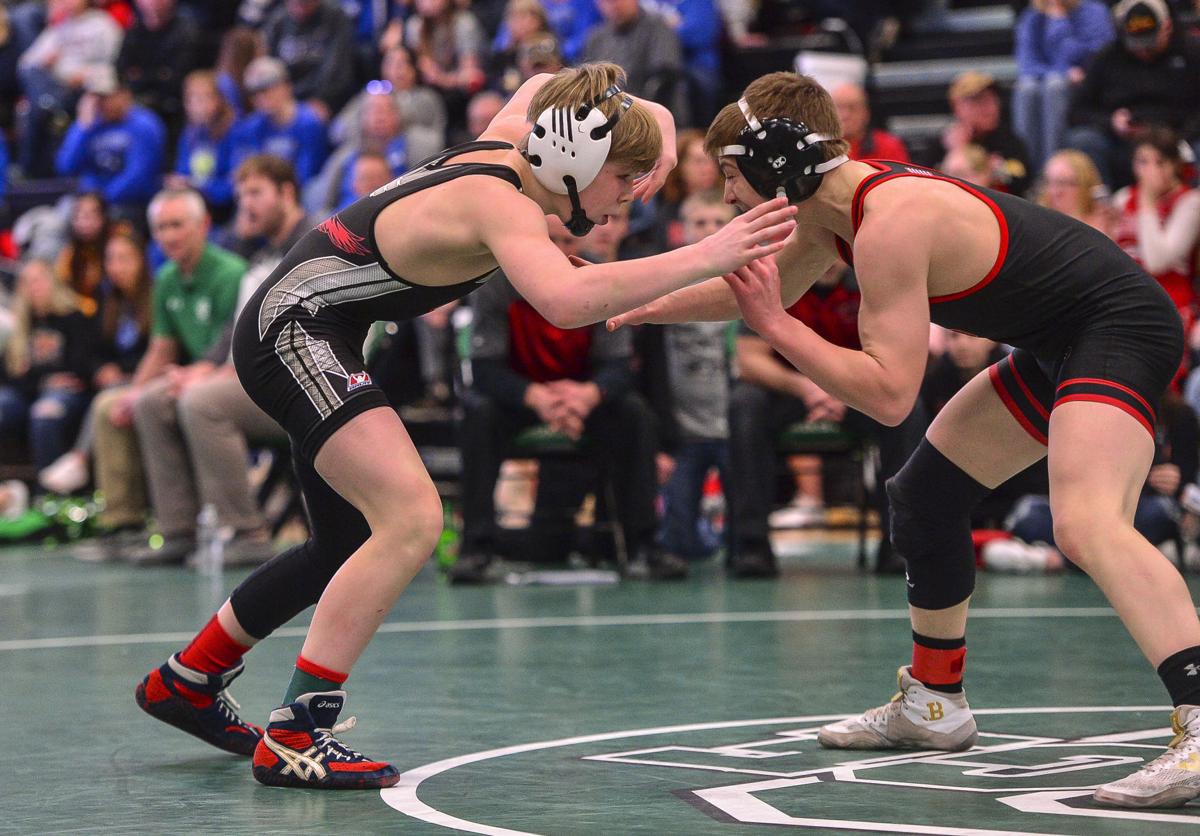 Saturday night is Kale Petersen's time to shine. 
On Friday afternoon, the West Fork sophomore wrestler punched his ticket to his first state championship, with a win by fall in the Class 1A 106-pound semifinals at Wells Fargo Arena. Petersen pinned Don Bosco junior Caleb Coffin at the 3:09 mark to push his way through to the title round. 
Petersen finished sixth at state his freshman year, as he recovered from an August 2019 knee surgery. Now with a clean bill of health, a No. 1 state ranking, and a 29-1 record on the season, Petersen is ready to take his spot at the top of the podium. 
"I feel like I'm more focused when I wrestle some of the better kids, compared to normal season kids," Petersen said. "Basically, I'm just attacking my stuff and doing what I do best. Nothing is really changing out there."
West Fork head coach Jared Arbegast agreed that Petersen seems to be at his most dominant when facing top ranked opponents. For his coach, watching Petersen at his best is a sight to behold. 
"He does show up against the tough kids, and he is one of the guys that thrives on that," Arbegast said. "It's kind of weird. That semifinal match he got comfortable a couple takedowns in. He opened up and really let his stuff fly. He is really, really tough when he does that. It's a cool thing, not a lot of kids or a lot of athletes have that. He likes that moment, and it's kind of cool."
With a full season in his rearview mirror, Petersen seems to have no ceiling to what he can accomplish on the mat. 
"Last year, I was focused on staying healthy," Petersen said. "I didn't want to mess up my knee again. This year, it's way better, and I'm 110 percent healthy now."
So far this week, Petersen has dominated the competition. In his first-round matchup on Thursday, Petersen beat Rylan Jimenez of SE Warren by pin, just over a minute into the match. In the quarterfinals on Friday morning, he beat Highland Riverside sophomore Easton Slaybaugh by a 19-5 major decision, and then took down Coffin in just over three minutes.
On Saturday night, Petersen will face his toughest competitor of the season, in Eli Becerra of Missouri Valley. Becerra comes into the match with a 50-0 record on the season, and is ranked No. 2 in the state. 
Becerra won his first round match by fall at 3:11, beat Easton Krall of Wapsie Valley in the quarterfinals, and then beat Nashua-Plainfield's Kendrick Huck by a 2-0 score in the semis. 
"I expect myself to win," Petersen said. "It's not going to come easy, I know that. He just wrestled a kid that I've wrestled all season, and I've never lost to that kid, but he had a really close match, … I don't really expect anything different." 
Though he is only a sophomore, the big stage and bright lights don't seem to bother Petersen. With the biggest match of his life coming on Saturday, against the No. 2 ranked wrestler in the state, Petersen is right in his element. 
"I feel pretty confident in Kale's abilities," Arbesgast said. "He lives for these kinds of moments."
Shane Lantz covers sports for the Globe Gazette. You can reach him at Shane.Lantz@GlobeGazette.com, or by phone at 641-421-0526. Follow Shane on Twitter @ShaneMLantz.