The Clear Lake volleyball team improved to 5-6 on the season with a sweep of Crestwood on Thursday night. The Lions beat the Cadets by set sco…
After a dismal 2-4 start to the 2020 season, the Newman Catholic volleyball team has since won seven out of their last eight games and are on …
The Algona varsity volleyball team has been shut down for two weeks due to a positive COVID-19 case within the program.
Preparing to face a team with one star volleyball player can be difficult, but not impossible. 
Victory was sweet for the Mohawks on Senior Night at home. The Mason City girls' swim team came out and beat Marshalltown, 72-30, to earn a te…
After a challenging, but educational, weekend of volleyball at the Osage Tournament, the Forest City volleyball team went into Tuesday night's…
Injuries have had a big impact on the Mason City volleyball team in the past week. On Thursday night, the Mohawks lost setter Bre Lowe to a hu…
One day after Northwood photographer Jodie Bachtle decided to not sell a Northwood-Kensett "Back the Blue" volleyball poster that was meant to…
After receiving backlash, a Northwood photographer has decided to not sell a volleyball poster made in conjunction with the Northwood-Kensett …
On a night filled with exciting volleyball, Charles City proved its worth.
Photos from the Mason City volleyball triangular meet on Thursday, featuring Charles City and Clear Lake. Charles City beat Mason City and Cle…
Heather Johnson, the new head coach for Clear Lake volleyball, hates making decisions. 
It has become pretty clear over the past several days that what we are doing isn't working. 
The Mason City volleyball team fought hard against Des Moines Lincoln in Des Moines and came away with a three-set victory over the Railsplitt…
For three consecutive years now, the Osage volleyball team has ended its season in the state semifinals. For this year's squad, a long-awaited…
With two straights sweep victories to start the season, the Osage volleyball team was already on a roll coming into Thursday night's Mitchell …
There is a fire burning under the St. Ansgar volleyball team this year. 
The Osage volleyball team has made it clear that another state tournament appearance is on its mind this season. After the first two matches o…
The Forest City volleyball team has no shortage of confidence this season. After finishing second in the Top of Iowa West conference a season …
After falling behind and losing the first set, the Forest City volleyball team came back and won three straight sets against Garner-Hayfield-V…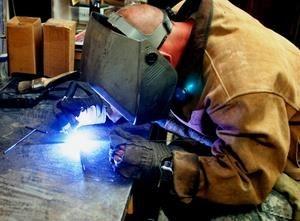 J & J Machining, Welding & Fabricating
The Riceville volleyball team was the only area volleyball team that competed on Monday night. The Wildcats played back-to-back matches agains…
It has been several decades since the Mason City volleyball team finished a season with a winning record. Sometime soon, head coach Curt Klaah…
After a tough first set against New Hampton on Thursday night, the Mason City volleyball team put up a fight.
The Osage volleyball team will be a tough out for any team in Class 3A this fall. The Green Devils showed exactly why in their three-set victo…
Photos from Osage volleyball against Newman Catholic on Thursday in Osage. The Green Devils defeated the Knights in three sets.
On Tuesday night at the Mason City High School gymnasium, a lot of things looked very different than in years past.