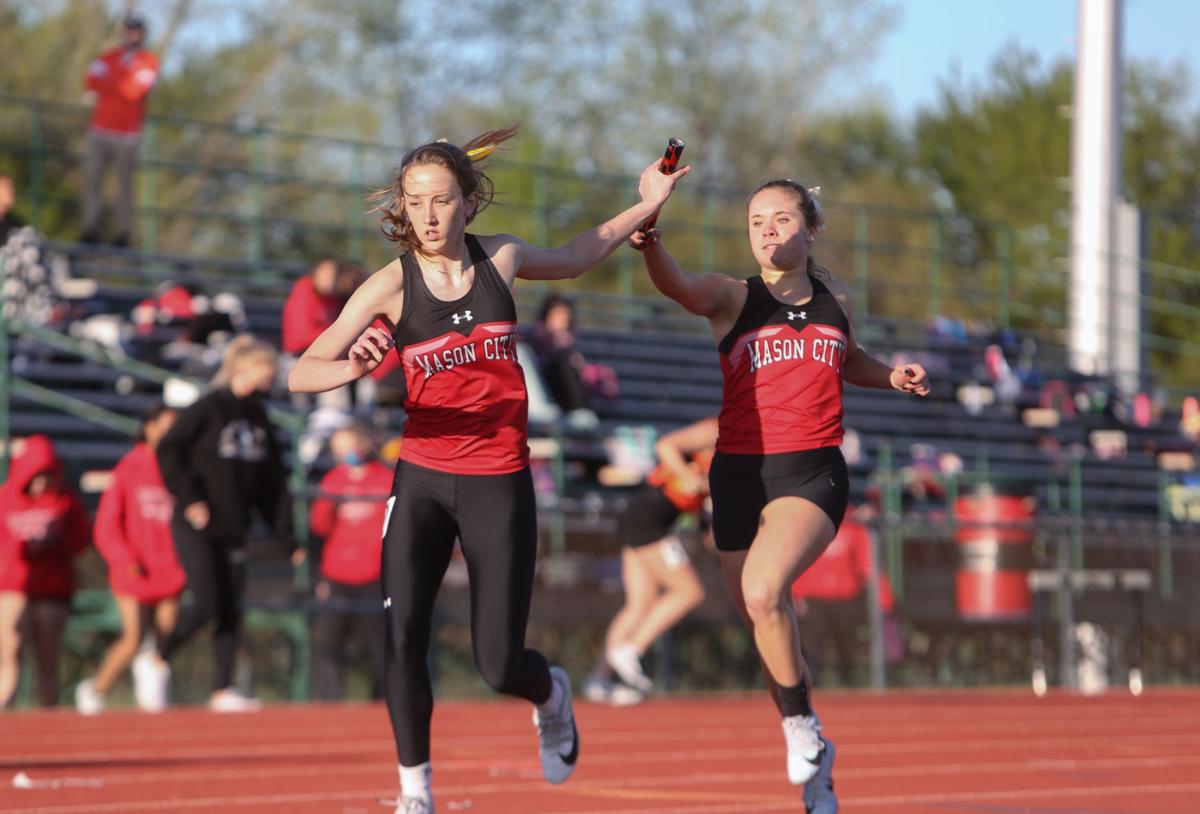 For the Mason City girls track and field team, it was in seven heaven.
Seven being the number of seconds a pair of relays plus an individual dropped to hit their best times of the season at the CIML Iowa Conference track meet held at Mohawk Field on Tuesday night.
Mason City had one conference champion and a multitude of top-five finishes, piling up 56 points to finish in fourth place, edging Fort Dodge (44) and Marshalltown (43).
"I said 'Hey girls, there's no shame, we're going to beat Marshalltown and Fort Dodge, we're going to get him,'" Mohawks head coach Jim Lee said. "They were amazing tonight, I'm very proud of the kids."
It was two-team race for most of the night. Ankeny, fueled by seven wins, sneaked past Ankeny Centennial 159-153 to take home first. Ames cruised to a third place finish with 123 points.
Jada Williams, a Drake Relays qualifier in the open 100 and 400 relay, ran against two of the best sprinters in Class 4A in Ankeny's Mytika Mayberry and Ames' Cameron Moon.
The UW-Milwaukee basketball commit had ran against Mayberry at the Jim Duncan Relays and lost by what Lee said was quite a bit. She had not ran against both of them.
Williams closed the gap this time, hanging with the two for the majority of the race and sprinting to a new season-best time of 12.62 seconds.
Barring other faster times, that puts her as the 10th fastest sprinter in the 100-meter dash in 4A.
"It made me think like 'I have to stay with them,'" Williams said. "This meet really gives me a better understanding of how I'll do at districts. It motivates me to be better."
It's a different story from her appearance at the Drake Relays, in which the junior ran over 13 seconds in the second of six heats. 
"That's the best she's ran all year long tonight," Lee said. "I think tonight gave her a ton of confidence."
Williams placed first in the 200-meter dash then anchored the third place 1,600 relay with a split time of just over 60 seconds in a new season-best time of 4:14.58.
Mason City was in sixth place entering the 200. Williams victory catapulted them to fourth and it never lost that spot for the remainder of the meet. 
It was not the only relay to drop significant time.
The quartet of Brycelyn Hanson, Marcella Sierra, Audra Mulholland and Aspen Cole ran a new best time of 10:29.71 in the 3,200 relay. It puts them inside the top-25 barring faster times from Tuesday.
Sierra believes there is still more time to drop next week at districts.
"Every time we have ran we've gotten a better time," the senior said. "As long as we all get PR's on the same day."
After a small delay getting results put in following a 28-person junior varsity 1,500-meter run, Sierra ran 5:20.76 that also was seven seconds faster than her previous best.
It was a performance that delighted Lee.
"Our goal tonight for her was to beat the Marshalltown kid," he said. "She just pulled away from her and she was gone. That race tonight gave her confidence. I think she can drop another five seconds."
Rosa Monarch, a sophomore, placed runner-up in the 100 hurdles out of lane two in a new PR of 16.52 and also anchored the second place shuttle hurdle relay to a time of 1:10.29, a one second drop.
That was without one of their main hurdlers -- Ariel Lee -- who fell in the previous meet at Carlisle and was out.
"I wasn't expecting it, I don't know if they (the Ames runners) were having a bad day (or) I was having a good day," Monarch said. "It definitely gets me excited (for districts)."
Coach Lee believes he has five girls he could turn to for the state qualifying meet next Thursday in Urbandale.
"I can take anyone of those girls and plug them in, mismatch them and they'll all run great," he said. "It's just comforting knowing that I plug in there and run state qualifying times."
Girls track and field
CIML Iowa Conference Meet
At Mohawk Field, Mason City
Team scores -- 1. Ankeny 159; 2. Ankeny Centennial 153; 3. Ames 123; 4. Mason City 56; 5. Fort Dodge 44; 6. Marshalltown
Sprint medley relay -- 1. Ankeny Centennial (Addison Arringdale, Olivia Anderson, Elle Street, Kathryn Vortherms), 1:52.11; 2. Ames (1:52.59); 3. Ankeny (1:56.60); 4. Mason City (Makenna Van Syoc, Taia Hillhouse, Madisyn Heller, Megan Tobin), 2:00.86
3,000 run -- 1. Rondi Quass (Centennial), 10:41.66; 2. Alyana Wallace (Centennial), 11:12.31; 3. Paige Beason (Ankeny), 11:13.06
3,200 relay -- 1. Ankeny Centennial (Josie Bearden, Maddy LaVoi, Katie Jensen, Rondi Quass), 10:05.44; 2. Marshalltown (10:24.52); 3. Mason City (Brycelyn Hanson, Marcella Sierra, Audra Mulholland, Aspen Cole), 10:29.71
Shuttle hurdle relay -- 1. Ankeny (Ellie Dalton, Calyssa Wright, Madeline Poock, Shelby Romig), 1:09.19; 2. Mason City (Tara Backhaus, Ellea Lewerke, Gwen Fiser, Rosa Monarch), 1:10.29; 3. Ankeny Centennial (1:12.58)
100 dash -- 1. Mytika Mayberry (Ankeny), 12.50; 2. Cameron Moon (Ames), 12.59; 3. Jada Williams (Mason City), 12.62
Distance medley relay -- 1. Ankeny Centennial (Jordan Su, Olivia Anderson, Addie Pollock, Kathryn Vortherms), 4:15.91; 2. Ankeny (4:17.99); 3. Ames (4:26.23); 6. Mason City (Alexis Hoeft, Averi Peterson, Layla Phillips, Olivia Schissel), 4:58.74
400 dash -- 1. Olivia Jones (Ames), 1:00.36; 2. Ellie Lynch (Ames), 1:00.76; 3. Josie Bearden (Centennial), 1:02.76
800 relay -- 1. Ames (Cameron Moon, Morgan Engels, Elaina Deardorff, Genesse Diggins-Kennedy), 1:45.62; 2. Ankeny (1:49.08); 3. Fort Dodge (1:51.54); 5. Mason City (Gwen Fiser, Taia Hillhouse, Makenna Van Syoc, Megan Tobin), 1:56.93
100 hurdles -- 1. Shelby Romig (Ankeny), 15.48; 2. Rosa Monarch (Mason City), 16.52; 3. Ali Frandsen (Ames), 16.69; 9. Ellea Lewerke (Mason City), 18.34
800 -- 1. Kathryn Vortherms (Centennial), 2:25.75; 2. Megan Bosch (Ankeny), 2:28.98; 3. Leola Almquist (Ames), 2:30.69; 6. Aspen Cole (Mason City), 2:37.61
200 -- 1. Jada Williams (Mason City), 26.17; 2. Ellie Lynch (Ames), 26.73; 3. Eva Van de Mortel (Ankeny), 27.00
400 hurdles -- 1. Millie Hill (Centennial), 1:07.82; 2. Ellie Dalton (Ankeny), 1:10.44; 3. Ella Jumper (Centennial), 1:12.10
1,500 -- 1. Lauren McMahon (Ankeny), 4:49.73; 2. Katie Jensen (Centennial), 4:55.53; 3. Rondi Quass (Centennial), 4:59.69; 5. Marcella Sierra (Mason City), 5:20.76; 8. Audra Mulholland (Mason City), 5:31.05
400 relay -- 1. Ankeny (Eva Van de Mortel, Lillian Smith, Macie Strnad, Mytika Mayberry), 50.37; 2. Ames (50.43); 3. Ankeny Centennial (51.89); 5. Mason City (Rosa Monarch, Taia Hillhouse, Gwen Fiser, Jada Williams), 52.59
1,600 relay -- 1. Ankeny Centennial (Jordan Su, Elle Street, Josie Bearden, Millie Hill), 4:08.31; 2. Ames (4:09.37); 3. Mason City (Brycelyn Hanson, Madisyn Heller, Megan Tobin, Jada Williams), 4:14.58
High jump -- 1. Claire Galvin (Ames), 5-0; 2. Lexi Stephens (Ankeny), 4-10; 3. Morgan Posusta (Centennial), 4-10
Long jump -- 1. Shelby Romig (Ankeny), 16-09.50; 2. Jordan Su (Centennial), 16-06.50; 3. Kambria Leazer (Centennial), 15-06
Shot put -- 1. Ella Stagg (Ames), 36-11.25; 2. Lainey Maehl (Fort Dodge), 32-01.75; 3. Ja'Dein Madison (Ankeny), 31-10.50; 8. Adyson Evans (Mason City), 28-06.00; 11. Jaelyn Falls (Mason City), 26-04.00