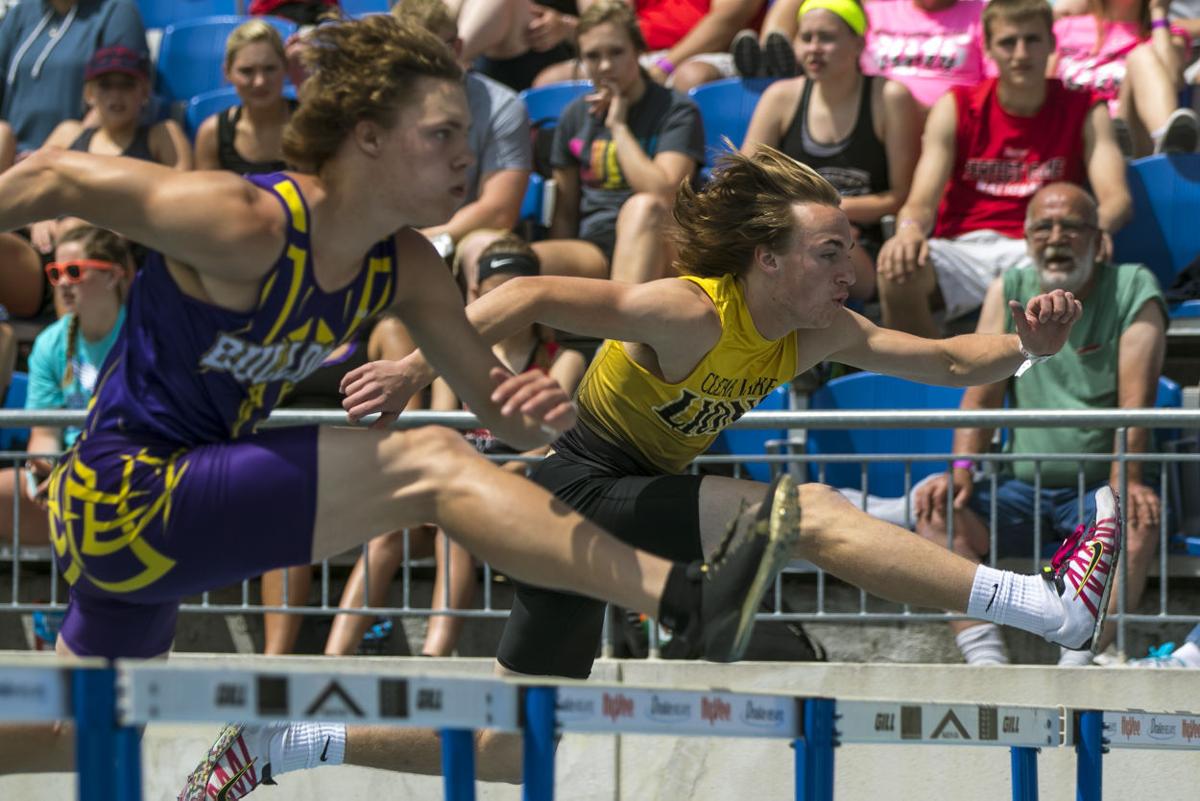 DES MOINES — Clear Lake seniors Zach Tatum, Cooper Merrill, Parker Truesdell and Chase Bacon wanted to end their prep track and field careers in style in the Class 2A 4x100 on Saturday.
A day after setting a school record in 43.54 seconds in the prelims, the Lions ran to fourth in the finals in a time of 43.56 seconds.
"We started out slow at the beginning of the season but we kept getting better and better," Tatum said. "I'd say that none of us would've expected this at the start of the season. To get fourth is awesome."
Tatum got the Lions off to a great start before handing the baton to Merrill.
"Tatum gave me a great handoff," Merrill said. "He's been great with handoffs all season and had another great one when it counted. We weren't expecting to be in this position but nearly set another school record. It's amazing."
Meanwhile, Truesdell's focus was getting Bacon a chance to take home a state title during his third leg so the Lions could end their senior seasons on a high note.
"I love these three guys and we wanted to create a moment that we would cherish forever," Truesdell said. "I knew I had to bust my butt to make that happen."
As Bacon crossed the finish line, it finally sunk that the four runners had just finished their last race together and also that they had accomplished something they'll never forget.
"To finish the way we did as one of the best 4x100 relay teams ever at Clear Lake, it's pretty special," Bacon said. "It's been a lot of fun running with these guys."
Clear Lake was also fifth in the shuttle hurdle relay in a time of 59.73 seconds, setting a new school record in the process.
Truesdell ran the opening leg, followed by Parker Crispin, Zach Lester and Bacon.
"It feels great," Truesdell said. "We really wanted to run under 60 seconds and set a new school record. We all stepped up."
Lake Mills finished just ahead of the Lions in the shuttle hurdle relay in a time of 59.37 seconds as the Bulldogs ran Grant Fjelstad, Charlie Dugger, Grant Boehmer and Max Bergo.
"They're really great guys," Truesdell said. "We race against them a lot and I think we only beat them one time. They beat us again and hats off to them."
Dugger said the fourth-place finish came as a surprise to the Bulldogs, who won the first section of the timed finals ahead of Clear Lake.
"We weren't expecting to finish fourth at all," Dugger said. "We came in seeded sixth and were hoping to maybe get fifth. We just wanted to beat every team we were running against in our section and we did that."
Get in the game with our Prep Sports Newsletter
Sent weekly directly to your inbox!