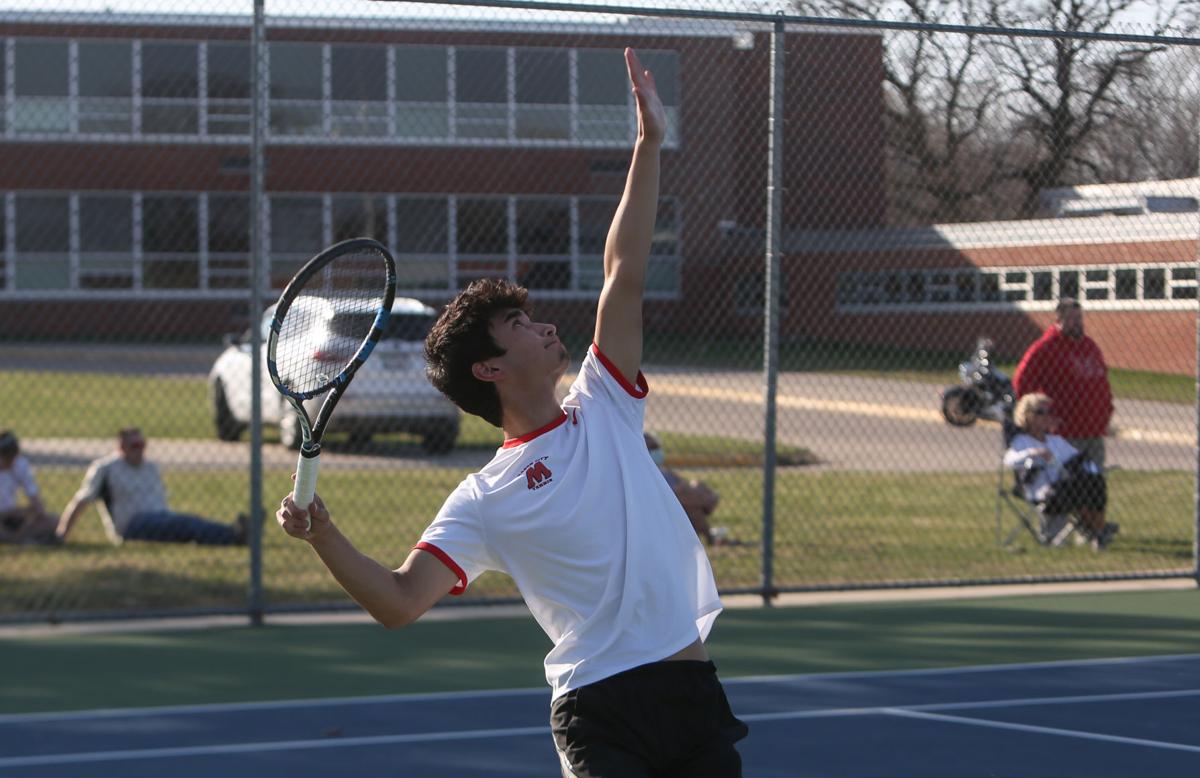 James Matthews was blunt in a self assessment of his tennis game.
While understanding there were things he could improve upon, the senior that attends Newman Catholic but plays on Mason City's boys tennis team, had the confidence to be a No. 1 tennis player.
"I made a huge leap in my game," Matthews said. "I think I was ready."
COVID-19 had other plans.
Despite that one-year hiatus, Matthews had over 500 days to prepare for his final high school season for the Mohawks and showed glimpses Monday afternoon of what could transpire in a full season.
Using a slow second serve and quickness running side-to-side, Matthews didn't drop a game in a 6-0, 6-0 season-opening singles victory then teamed up with fellow senior Caden Rodning to triumph 6-0, 6-1 at No. 1 doubles.
That was two of the nine team victories for Mason City, dismantling Clear Lake 9-0 at home.
For Matthews, his ambition for an extended season might be through the doubles side with Rodning. Those two are the lone seniors occupying the Mohawks' varsity lineup.
"We hit really well together and he has a really good serve," he said. "When we get our returns in, we're like unstoppable."
Tennis has been in the Matthews' family for the last handful of years.
James' older brother, Nick, placed inside the top-8 at the Class 2A state doubles tournament in his junior and senior seasons. Nick departed Mason City as James entered.
It led to internal expectations that Mohawks head coach Patrick Kruger felt were, in hindsight, too high.
"When he was younger, he put a lot of pressure on himself," Kruger said. "He had big shoes to fill with both of his older brothers who were very successful and sometimes he was his worst critic.
His confidence level was a little bit down, but he's totally changed it."
James was consistently the No. 2 singles player as a sophomore for the Mohawks, piling up a 6-5 record. He teamed with former teammate Joey Hansen in the district meet at No. 1 doubles and went 1-2.
As the spring season last year was wiped out from the COVID-19 pandemic, James Matthews had two components in his arsenal get better: Serving and ground strokes.
So he worked with Nick, a former Division I player and a pro player over that time to hone his craft. His main home of practice were the indoor courts in Waterloo when going outside wasn't possible.
"I was not that good of a server my sophomore year and I like to think I'm decently better now," James said. "I guess I didn't practice it as much as I'd hope to. I didn't get the technique down until my junior year into my senior year.
"I learned a lot from all of them."
That offseason work was showcased in his match against Clear Lake's Jackson Gerhardt.
James' second serve was slow and had enough curve to it that caused Gerhardt to hit returns long or wide. The former mixed in enough power first serves and was crisp in returns.
It took James about 45 minutes to complete the sweep.
"I try to get more consistent with it, try to switch it up," he said. "It worked really well today. I don't think they were expecting that."
And while the tennis game has seen improvements, that's not where Kruger sees the biggest growth in one of his five returners from 2019.
"He's always had really nice skills, it's just being consistent in practice," Kruger said. "The growth of him and his maturity has helped a lot."
Zach Martin is a sports reporter for the Globe Gazette. Follow him on Twitter at @Zach_Martin95.