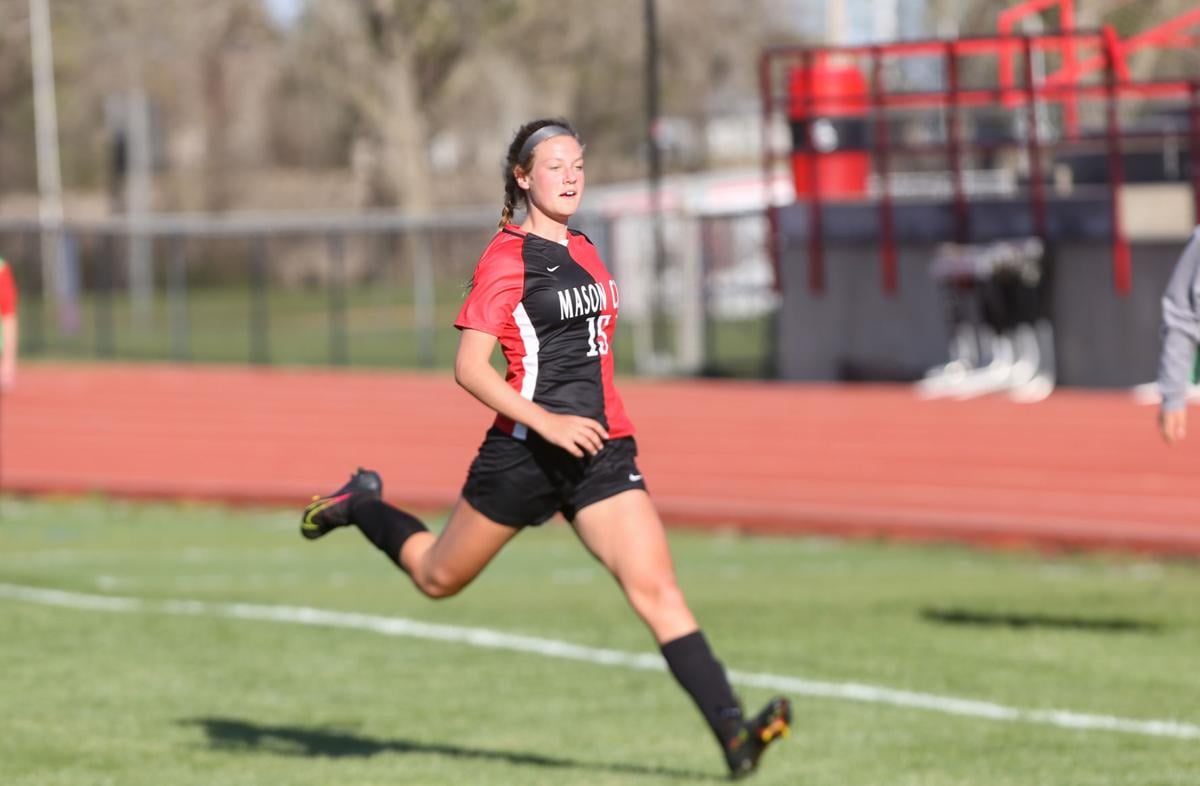 Needing to replace three of its top five goal scorers from two seasons ago, a trifecta of freshmen have stepped up to the plate for the Mason City girls soccer team.
Not just step up as in provide minutes and gain experience. They have stepped up and made an impact on the offensive end.
Reggi Spotts and Claudia Sewell have taken the reigns as the primary offensive weapons, while Kenna Hemann has chipped in a handful of goals to show the future is bright for the Mohawks.
"I wouldn't say they were shocked by any of it," Mason City head coach Shannon Dykstra said. "They're very coachable and ready to hear feedback and that puts them in a good position to just keep a constant trajectory."
In Thursday's 10-0 smackdown of Webster City, Spotts scored twice - once in each half - and Sewell had one of seven goals in the second half to end the match early due to the mercy rule.
Sewell and Spotts share the team lead in goals with five apiece.
"I was not really surprised, we've been playing together forever," Sewell said. "I knew we were going to have an immediate impact. We're just going to keep growing."
It is not the first time Spotts has seen varsity competition in her first year as a student-athlete.
She was the No. 3 runner on the cross country team in the fall, while also being a key contributor on the basketball squad during the winter. As an eighth grader last summer, she started 22 games on the softball team.
Those early experiences have paid dividends for her play on the pitch.
"I've learned to be a leader, I've learned to talk more and speak up when I think something needs to be changed," Spotts said.
Of the multiple sports the three play, Sewell believes soccer is the one that takes the top priority.
Not just for her, but for all three of them.
"We love the sport so no matter who we're going up against, we'll put in our best effort, no matter what the outcome is," Sewell said.
Which begs the question: How good can they be in the next two years?
"We obviously trust them playing heavy minutes, not only in the future but now," Dykstra said. "When they're hot, they're hot. They looked really good tonight, it's a product of their work."
Even during the six-game skid, in which Mason City was drubbed by four different CIML teams plus 3-0 losses to Cedar Falls and Clear Lake, Dykstra still felt good about them.
He views that for them, they can be really good while also dealing with some bumps.
"They're young and their were some brand new things for them in terms of the physicality and the speed of the competition," he said. "They're just learning."
Dykstra doesn't want to shy away from his team's identity, by improving one game at a time and not letting the opponent dictate that.
Those freshmen have taken that approach to heart.
"Just being ourselves, playing our hardest," Spotts said.
Zach Martin is a sports reporter for the Globe Gazette. Follow him on Twitter at @Zach_Martin95.