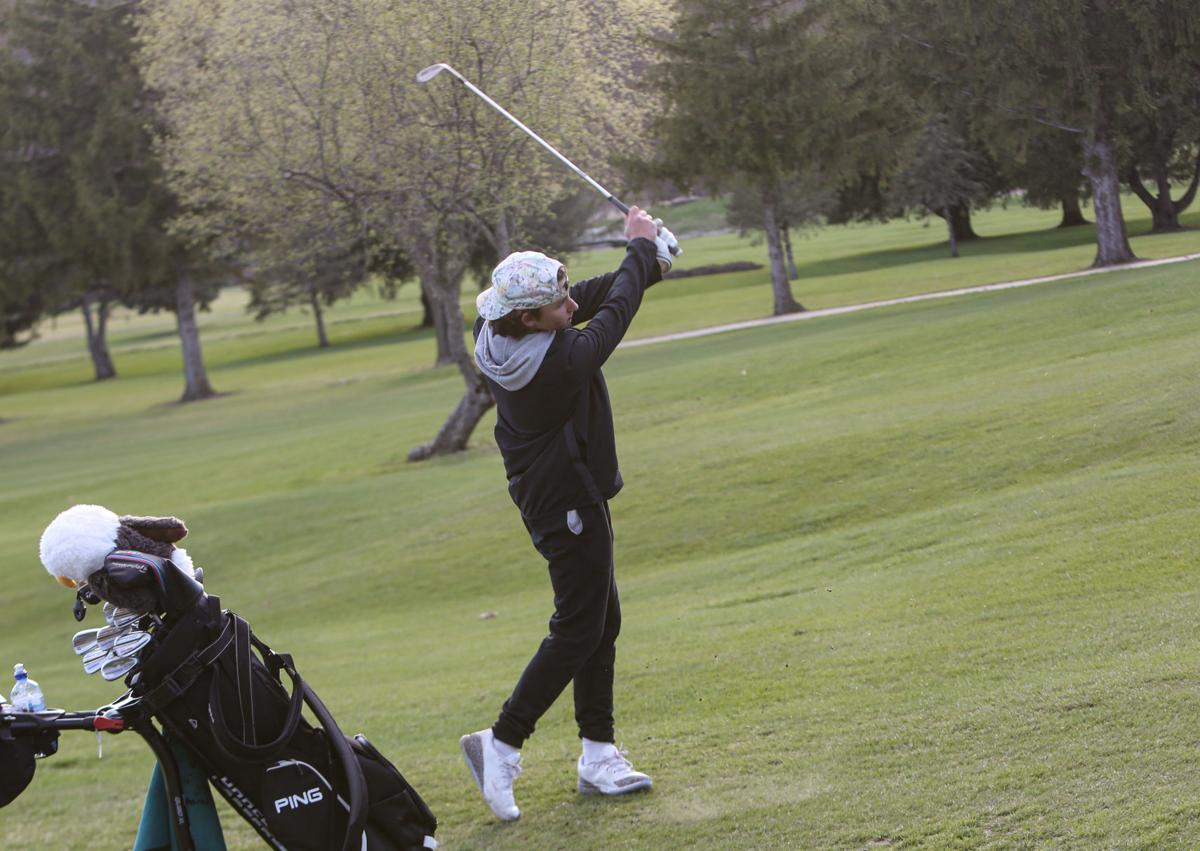 The good times just keep on rolling for the Lake Mills boys golf team.
After yet another triangular victory – this one over Forest City and West Hancock – moves the Bulldogs to 8-0 on the season with a new season-low team score of 154 strokes.
Junior Bennett Berger was the meet medalist, firing a new 9-hole season low 33 at Rice Lake Country Club. Lake Mills also had the runner-up in Casey Hanson as he carded a 37.
The Bulldogs' third and fourth golfer – Garrett Ham and Peyton Severson – were in the top-5. Ham finished with a 39 while Severson recorded a 45.
Forest City finished with a team total of 183, ignited by its low-four in the top-10. The Indians were paced by Jack Harm's 39 that placed him tied for third with Ham. 
Tommy Miller (6th), Jaydon Kendall (9th) and Elijah Alsop (10th) all carded scores under 50.
West Hancock fired a team score of 211. Its lowest individual was a 49 from Alex Marks.
Boys golf
Osage runs away in quadrangular
The Green Devils not only left their home meet at Sunny Brae with the medalist, they captured the entire top-5 on the individual scorecard.
Five of Osage's six varsity golfers carded a 45 or lower to finish with a team stroke total of 164, more than enough to defeat West Fork, North Butler and Riceville.
Leo Klapperich recorded a 3-over 38 to win the meet while Shawn Eichmeier (40), Spencer Krabbe (41), Bodie Goddard (45) and Jayden Scharper (45) finished two-through-four.
West Fork edged North Butler 202-205 for runner-up, powered by the Warhwaks top-3 golfers finishing ahead in the individual standings.
Noah Atkinson led West Fork with a 48 while teammates Nate Atkins and Brett Witte each carded a 49.
Riceville was led by a 69 from both Anthony Houser and Brian Grimm.
On Saturday, Osage finished fourth at the Grundy Center Invite with a team score of 361. Scharper fired an 18-hole score of 86 to finish in a tie for eighth for the Green Devils.
Bishop Garrigan defeats GHV on tiebreaker
Both the Golden Bears and Cardinals finished with a team score of 189 in a triangular at Garner Golf Course, but with the former's No. 5 golfer shooting three stokes lower than the latter's, it gave Bishop Garrigan the win.
GHV's Sam Wood earned another medalist honor, finishing with a 41. His teammate, Eric Heitland, carded a 42 that tied him for second with Kyle Schaff of the Golden Bears.
The Nos. 3 and 4 golfers for Bishop Garrigan each had rounds under 51 compared to the Cardinals Nos. 3 and 4 each with finishing scores of 52 and 54.
Girls golf
Lake Mills edges Forest City in dual
The Bulldogs were led by a 52 from senior McKenna Hanson and a 53 courtesy of junior Lindsey Hershey to defeat the Indians 217-282 at Rice Lake Country Club.
No Forest City scores were published online.
Bishop Garrigan cruises past GHV
With their low-four all carding scores under 50, the Golden Bears went on the road to Garner Golf Course and defeated the Cardinals 183-212.
Anna Berke fired a 42 to leave with medalist honors for Bishop Garrigan. GHV was paced by Rylee Frayne's 50.
Girls track and field
Saints get double digits wins, triumph at Viking Relays
St. Ansgar won five individual events and five relays to pile up 189 points and take first at Northwood-Kensett. West Fork (127), Northwood-Kensett (91), Lake Mills (84) and North Butler (74) rounded out the top-5.
Newman Catholic (71), Riceville (58) and Rockford (17) finished out the scoring.
Kira Baldus swept the throws for the Saints while Cora Heeter claimed the 100-meter dash, the long jump and anchored the winning 400 relay. Lauren Bork started off St. Ansgar's first place 3,200 relay then later triumphed in the 800-meter run.
The Warhwaks had two victories and a plethora of other point scorers. Jordan Swenson won the high jump and Kacie Eisentrager took the 1,500.
Lake Mills' Ella Stene was the winner of the 100 hurdles and was on its triumphant 800 relay quartet.
Emily Opstevedt won the 200-meter dash for Newman Catholic while Riceville's Juliana Droll was the lone runner to break 12 minutes in the 3,000.
Forest City runner-up at Bishop Garrigan Relays
Powered by four wins and 12 top-5 finishes, the Indians accumulated 145 points to finish second behind Algona. West Hancock finished fourth with 93.5 points while Garner-Hayfield-Ventura (51) and Clear Lake (47) were sixth and seventh, respectively. 
Jayln Hovenga sprinted 28.85 seconds to win the 200-meter dash while Keevan Jones ran 1:05.11 to win the open 400. The Indians won both of the medley relays. They finished runner-up in four of the seven relays.
West Hancock's Kennedy Kelly (400 hurdles) and GHV's Kylie Anderson (100 hurdles) were the other two area winners.
Tennis
Clear Lake boys, girls shut out
It was not a Friday to remember for the Lions tennis program as they didn't win a single set in either the boys dual against Decorah or the girls matchup with Aplington-Parkersburg.
A-P dominated the three doubles matches, winning each of them 8-0. In singles, it allowed Clear Lake to win just six total games to end the night with a 9-0 win.
On the boys side, Decorah didn't drop a single set in the six singles and three doubles matches to cruise 9-0. Ten of the 18 sets were 6-0.
Boys soccer
Des Moines Lincoln 6, Mason City 0: The Mohawks finished with 11 shots, but none found the back of the net in Friday night's loss at home.
The Railsplitters scored twice in the opening 40 minutes then poured on four goals in the second half to move to 2-3 on the season.
Mason City goalie Carson Siemons had 13 saves. No stats for Des Moines Lincoln were published online.
Girls soccer
Garner-Hayfield-Ventura 2, Belmond-Klemme 0: As the only two members in the Top of Iowa Conference with girls soccer programs, the Cardinals claimed the first meeting over the Broncos.