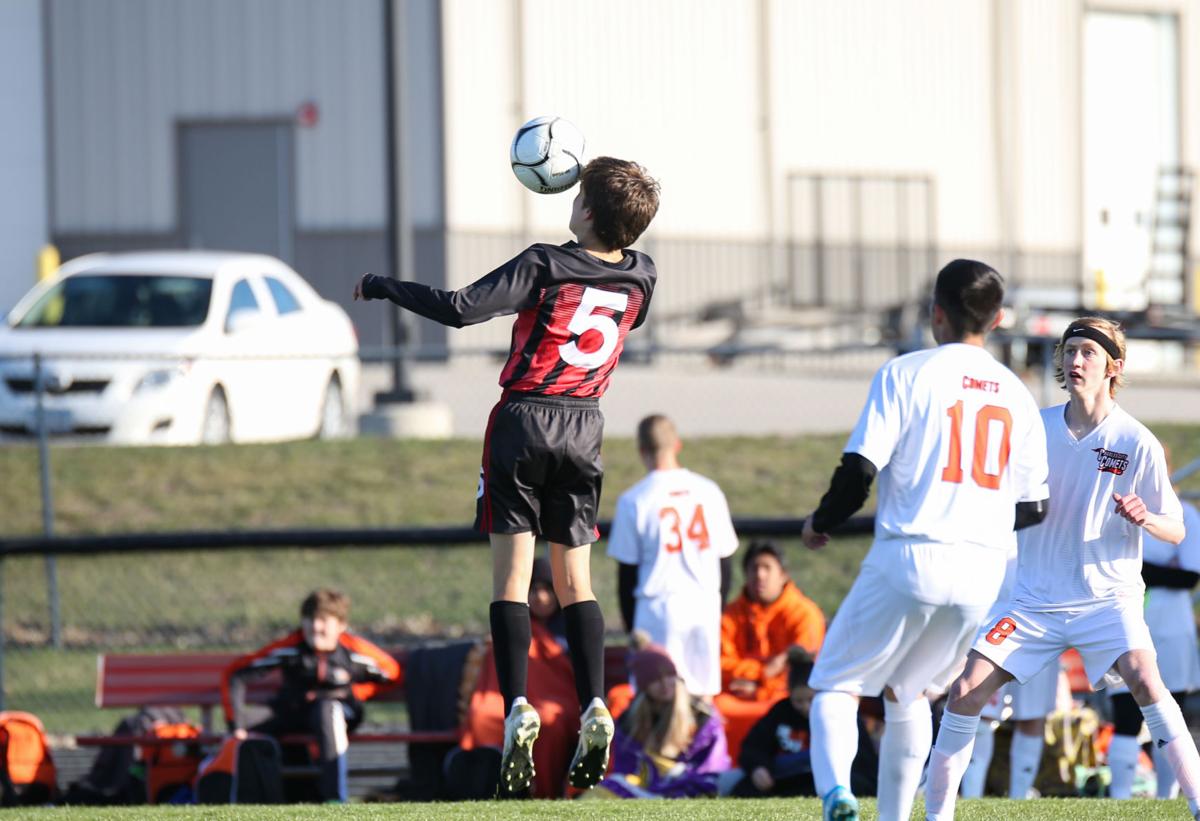 Garner-Hayfield-Ventura historically hasn't had its US Highway 18 rival Clear Lake's number in soccer, boys or girls.
The Cardinal girls nabbed a road victory earlier in the 2021 campaign over the Lions. On Friday night at Lions Field, it was the boys turn.
Carson Smith produced the overtime winner in the 86th minute that sent GHV into euphoria, triumphing 2-1 to push its winning streak to five matches.
During the current streak, three of the five wins have been by one goal.
"This group of young men surprise me with every game we play, even when we don't play as well as we can, we find a way," GHV head coach Josh Banse said. "Our boys were resilient tonight, not giving up and pushing through it. Every time you can play a game against a rival and come out on top it is nice."
Smith assisted Evan Sloan for the equalizing goal in the 78th minute to send the match into overtime. No Clear Lake stats were available online.
The Cardinals have a busy final month of the regular season with four of the final six games at home. They will face Mason City and Humboldt while also getting rematches with Clear Lake, Charles City and Webster City.
Boys track and field
The Lions, aided by five event wins, piled up 128 points to win the team race at the Jim Bayse Co-ed relays at Hampton-Dumont-CAL High School on Friday night. Forest City edged Charles City for second, 101-98, while Fort Dodge St. Edmond (86) and Central Springs (75) rounded out the top-5.
The host Bulldogs were sixth; West Fork, West Hancock and Lake Mills finished eighth through tenth.
It marks the fourth time in the last five meets Clear Lake has won the team race. Seven athletes were responsible for at least 11 points.
Justin Wright (51.31 seconds) and Jagger Schmitt (52.09) ran new season-best times to go 1-2 in the 400-meter dash. Zeke Nelson (400 hurdles) blitzed through the field in a new PR of 57.43.
Tanner Reimann won the long jump while two Lions relays - 3,200 and shuttle hurdle - were victorious.
Forest City had three event wins. Joey Hovinga ran 10:25-flat to win the 2-mile and in the field events, Dakota Carlson leaped 6 feet even to win the high jump while Kaden Hagy uncorked a heave of 51 feet, 1.5 inches to take the shot put.
Charles City's Ian Collins and Jeremiah Chapman each left Hampton with two triumphs. Collins, the Drake Relays high jump champ, won the 100-meter dash while Chapman coasted for the 110 high hurdles victory.
Both were on the victorious on the Comets winning 400 relay. Tino Tomayo won the discus for Charles City.
Central Spring's Bryce McDonough claimed the mile as the other area winner.
Girls track and field
Charles City cruises to relays crown
There was no one in the nine-team field that stopped the Comets from winning, or for that matter, having athletes place in the top-5 on Friday.
Of the 19 events, Charles City had one girl finish at least fifth in 15 of them that included seven wins to accumulate 182 points to win the Jim Bayse Co-ed Relays at Hampton-Dumont-CAL High School.
Fort Dodge St. Edmond was the runner-up while a trio of area teams - Forest City (96), West Fork (89) and West Hancock (77) - rounded out the top-5 team scores.
Lake Mills (69) finished sixth while Hampton-Dumont-CAL placed eighth and Clear Lake was ninth.
In five events, the Comets placed multiple athletes in the top-five. 
Kiki Connell, a UNI recruit, swept the distance races while Carly Stevenson took both of the throwing events. Charles City also won both of the jumping events with Keely Collins (high jump) and Lydia Staudt (long jump) triumphing.
Its 800 relay was the other event winner. 
West Hancock's Kennedy Kelly triumphed in the 400-meter low hurdles then anchored the Eagles winning shuttle hurdle relay time of 1:13.47.
Forest City had two event winners. Hannah Good won the 400-meter dash and its 400 relay quartet ran 53.50 seconds to win. 
Lake Mills' Ella Stene took home first in the 100 hurdles.
Final few events the difference for Saints win
It was a close team race at the North Butler Relays between St. Ansgar and Turkey Valley. The latter had a one-point lead over the former with four events left.
The Saints turned it on, claiming top-5 finishes in all of the final four events that ended with a victory in the 1,600-meter relay to triumph over Turkey Valley 180-126. Riceville and Rockford, the other two area teams, placed 11th and 12th, respectively.
Kinsey Anderson won the 3,000-meter run in 12:33.81, but that was the lone individual win for St. Ansgar. It left victorious in the 800 relay, but the rest of the damage came from top-6 finishers.
Riceville had two third place performances from Saige Sullivan in the 400 and Juliana Droll in the 1,500.
Boys golf
Krabbe becomes medalist as Osage wins again
Green Devils senior Spencer Krabbe fired a 34 to win the individual race in a home quadrangular at Sunny Brae Golf and Country Club. Osage won the team title, placing its low-four in the top-6 with 157 strokes.
Mason City Newman Catholic was second with 180 and St. Ansgar finished fourth with 210.
Leo Klapperich, who had been the medalist for the last couple of meets, finished in a tie with the Knights' Bennett Suntken. Both carded a 38.
Bodie Goddard (42) and Shawn Eichmeier (43) rounded out the effort for the Green Devils.
St. Ansgar was paced by a 49 from Kasey Igou, good for a tie in 10th place.
Lake Mills still perfect as postseason nears
Bennett Berger and Casey Hanson love going first and second and that proved to be the case again on Friday at Rice Lake Golf and Country Club.
Berger recorded a 34 to win another medalist and Hanson was six shots behind him with a 40 as the Bulldogs shot a team score of 165 to defeat Bishop Garrigan and Eagle Grove.
The record in the final stretch of the regular season for Lake Mills moves to 16-0. Garrett Ham and Kinser Hanson fired scores of 45 and 46, respectively. 
GHV sneaks past Forest City in triangular
Sam Wood regained medalist honors with a 34 as the Cardinals claimed the team race at the Gruis Recreation Area over Forest City 173-176.
Eric Heitland carded a 43 for GHV. No Forest City individual scores were published online.
Clear Lake loses to St. Edmond by a stroke
The Gaels edged the Lions 168-169 in a triangular meet. No Clear Lake individual  scores were published online.
Girls golf
St. Ansgar edges Osage for team title
Despite the Green Devils having the medalist, the Saints had the depth to spur them to edge their Top of Iowa rival 215-220 at Sunny Brae Golf and Country Club. Mason City Newman Catholic wasn't far behind, rounding out with a 223.
Kirsten Boerjan placed solo third with a 51 and St. Ansgar had two of its low-four finish in a tie for fifth. Annika Hemann and Brace Jahr each recorded a 53.
Osage's Dani Johnson, a UNI volleyball recruit, carded yet another nine-hole round in the mid-40s with a 44. The next highest Green Devils golfer was Leah Hauge, ending her day with a 54 that tied her for seventh.
The Knights were led by three in the top-10, paced by a solo fourth place performance from Maree Scholl with a 52. Ellie Dterman (54) and Emma Weiner (56) finished seventh and ninth, respectively.
Frayne sisters lead GHV to win
Rylee and Kennedy Frayne tied for first with a 53 to pace the Cardinals to a team title over North Iowa and Forest City at the Gruis Recreation Area with 218 strokes.
No Forest City individual scores were published online. It accumulated a team stroke total of 282.
Lake Mills second in home triangular
Makenna Hanson was the lone Bulldog to break 50 as they piled up a team stroke score of 221 to finish runner-up behind Bishop Garrigan.
Lindsey Hershey and Kenna Vanek each carded a 56.
Boys soccer
Ames 6, Mason City 0: After earning a thrilling second win of the season, the Mohawks were brought back down to earth as the Little Cyclones cruised to a shutout win.
Five goals were scored in the first half by Ames. Jordan Corrieri had a hat trick.
Mason City had just six shots and only two of them were on frame. Its keeper, Carson Siemons, had eight saves.
Humboldt 10, Hampton-Dumont-CAL 2: Following a crushing one-goal loss at the hands of Mason City, the Wildcats scored seven times in the second half to dismantle the Bulldogs.
No stats were published online. Hampton-Dumont-CAL scored a goal in each half.
Girls soccer
Hampton-Dumont-CAL 4, Humboldt 3: The Bulldogs snapped a two-match losing streak with a thrilling road victory over the Wildcats to move to 2-6 on the season.
It was a tie contest after the opening 40 minutes until Hampton-Dumont-CAL scored twice in the second half to snare the win.
Franka Schmid had two goals while Lauren Meader registered three assists in a nine-shot (eight on goal) offensive performance. Bulldogs net minder Faith Grover finished with an eye-popping 23 saves.
Boys tennis
Clear Lake 6, Webster City 3: The Lions have won just two duals this season, but both have came against the Lynx. The former took four of six singles and two doubles matches against the latter.
Jaxon Gerhardt and Ben Loge, the top two singles players in the lineup, registered straight set wins then each won their respective doubles matches.
Girls tennis
Aplington-Parkersburg 9, Hampton-Dumont-CAL 0: The Falcons didn't drop a set and won sixof the nine matches by 6-0, 6-0 scores to handle the Bulldogs.
Lily Mason (No. 4 singles) and Sophia Schmerlaib each won a game in the first set. Schmerlaib took two games in the second set as did No. 1 player Jessica Martinez in her match.
Zach Martin is a sports reporter for the Globe Gazette. Follow him on Twitter at @Zach_Martin95.