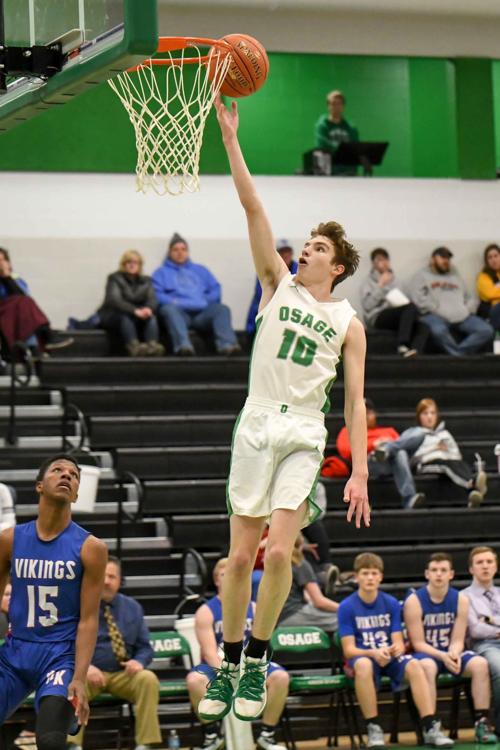 On paper, the Osage boys basketball team had a decided advantage on Friday night as the 8-1 Green Devils entertained a gritty but undermanned Northwood-Kensett team.
Green Devils coach Mike Brahn, though, knows that if they are to make a deep run in tournament play, there are a few aspects of the game that the Green Devils need to improve on.
One of those facets got a workout in the Osage offense, and the result was a convincing 73-20 Osage victory.
"We wanted to try to eliminate the quick shots," Brahn said. "We wanted to move the ball and get a lot of good inside-out touches."
Osage built a 41-10 halftime lead, but the offense worked to near perfection in a third quarter that saw the Green Devils go 9-for-11 from the field and have six different players score.
Osage outscored the Vikings 20-4 in both the second and third quarters.
As he has done most of the season, Jonah Bluhm led the Osage offense with 23 points, including five three-pointers.
You have free articles remaining.
Bluhm is averaging nearly 21 points per game.
Ty Creger added 10 points while Nathan Havel came off the bench for another ten points.
Nine different Green Devils scored in the contest.
The Osage defense limited N-K to seven field goals and no more than six points in any quarter.
"Our defense is pretty sound," Brahn said.
Jason Hanson, a sophomore forward, led the Vikings with seven.
Osage (9-1) steps out of conference play on Monday when it travels to Hampton-Dumont/CAL.
N-K (1-9) is at North Butler on Tuesday.