North Iowa sports roundup: Highland Park to host Early Bird tournament, postseason golf in full swing
High School girls golf: Northwood-Kensett, Saint Ansgar advance to postseason's next stage
Monday was a success for a handful of individuals and a pair of teams at Rice Lake Golf & Country Club. Northwood-Kensett claimed first with a 406, and Saint Ansgar was second with a 412. Each of those performances were good for a berth in Monday's regional finals.
The Vikings had two golfers finish in the top six, which pushes them into the next round, as well. Allie Carman was third overall with a 97, and Alexis Halbach was tied for fourth with a 98.
Lake Mills' MaKenna Hanson took first with a 92, and North Butler's Rainy Kock was second with a 93. Fellow Bearcat Meg Thompson was tied for fourth. Rockford's Abby Murray claimed the sixth and final spot, finishing in 99 strokes. 
Newman Catholic golfer Mya O'Connell earned a top-10 placement, finishing tied for ninth with a 101.
High School girls golf: Garner-Hayfield-Ventura paces local teams at 2A Regional Tournament
A handful of North Iowa teams competed at the 2A Regional Golf Tournament at Bear Creek Golf Club in Forest City on Monday, and though no area teams took first, three claimed top-five finishes.
Okoboji and Crestwood took first and second, golfing a 343 and a 399, respectively. Garner-Hayfield-Ventura was third among the seven-team field with a 435. Osage was close behind with a 440. Forest City was fifth, finishing in 449 strokes.
Okoboji had the top three finishers. Garner-Hayfield-Ventura's Carlee Frayne, a junior, was fourth with an 87. Dani Johnson of Osage was sixth with a 94. Forest City was led by Jessa Loges, who finished with a 99.
High School boys soccer: Clear Lake defeats Mason City
Clear Lake 3, Mason City 1
Mason City's boys soccer team saw its losing streak reach four games Monday, as the Lions defeated the Mohawks by a pair of goals. 
Sam Nelson, Jacob Petersen and Noah Petersen scored goals for the Lions. Jacob Petersen and Sam Badger each had an assist.
Mason City's goal was scored by David Johnson and assisted by Jake Kaune. 
Clear Lake, which has won three of its past four games, improved to 7-10 with the victory. Mason City fell to 5-7.
"We have improved so much from the beginning of the year and it is time to regroup and finish the season strong," Mason City coach Bryan DeGabriele said. "Credit Clear Lake for the hustle they displayed during the game. At times, we played with fantastic effort, skill, and determination. We just need to stay focused for all 80 minutes."
High School girls golf: Hampton-Dumont narrowly falls to Waverly-Shell Rock
Waverly-Shell Rock 199, Hampton-Dumont 203
Hampton-Dumont's girls golf team suffered a narrow defeat to Waverly-Shell Rock on Tuesday, falling by a mere four strokes. Marissa Schneider (42) was the medalist for the Go-Hawks, and Hampton-Dumont's Kaci Arjes (46) was the runner-up. 
Sydney Meyer golfed a 51, and Jenna White had a 52. Maci Arjes and Anika Miller each finished with a 54.
The Bulldogs fall to 14-7 on the season. They'll return to the course Monday for Class 3A Regionals. 
High School boys golf: Charles City places third at Northeast Iowa Conference Meet
Charles City's boys golf team claimed a third-place finish at the Northeast Iowa Conference Meet on Monday, finishing with a team score of 332. Waverly-Shell Rock, which won its first conference title since 1999, won with a score of 314. Decorah (331) was second. 
Tait Arndt and Jackson Molstead led Charles City, as each golfer finished with an 82. Trevor White and Atticus Parrott finished two strokes behind with an 84. 
Highland Park Golf Course to host Early Bird Tournament
Highland Park Golf Course will host the Early Bird Golf Tournament, its first of the year, beginning at 9 a.m. Sunday. 
The cost is $30 per person with an optional skins game available for $5. Management at the golf course can be reached at 641-423-9693 to sign up an individual or to reserve a hole for an entire foursome.
High School boys track and field: Mason City athletes qualify for state
Mason City's boys track and field team turned in a spectacular performance at Fort Dodge on Friday, as the Mohawks set 27 personal- or season-best times. 
The 4x800-meter relay team of Luke Mullholland, Christian Rodriguez, Miguel Jaime and Michael Rowe earned the 22-seed with a time of 8:20.31. The distance medley team (Chris Keller, Joey Quintero, Connor Lafrenz, Rowe) also earned No. 22 while finishing with a time of 3:42.51. 
Rodriguez qualified at No. 19 in the 400m hurdles with a time of 56.84, a new career-high. 
Ethan Malek and Dalton Gorder also qualified as alternates.
The 4x800 relay team with participate Thursday, and Rodriguez, as well as the distance medley relay team, competes Friday.
High School girls track and field: Mason City qualifies handful for state meet
Mason City's girls track and field team qualified for the state meet in seven events, automatically qualifying in three. 
Grace Tobin was the district champion in the shot put with a throw of 40 feet, her best of the season. The performance put her at the No. 6 slot at the state meet, which begins Thursday at Drake Stadium in Des Moines. 
Jada Williams was the runner-up in the 200-meter dash with a time of 26.13, putting her at the 9-seed. Junior Hannah Thomas was the runner-up in the long jump (15 feet, 11 3/4 inches). She'll be seeded 24th.
The Mohawks had four other at-large bids. Thomas was third in the 400m hurdles with a lifetime-best time of 1:07.94, which gives her the 7-seed.
Mason City also had a trio of relay teams qualify. The sprint medley relay team, comprised of Odeleine Daugherty, Zoe Green, Nienke van Aalst and Williams finished third with a season-best time of 1:51.35. 
The 4x200m team of Daugherty, van Aalst, Williams and Thomas placed 19th in 1:48.12, also a season-best. 
Lastly, the 4x400m team (Daugherty, Williams, Brycelyn Hanson, Thomas) was fourth, finishing in 4:16:05 and earning the 24-seed.
"Both Hannah and Jada qualifying for state in four events apiece is a remarkable feat in itself," Mason City coach Jim Lee said. "The last Mohawk Girls to do that were Barabara Nzegwu and Andrea Sellers in 2005 and Nicole Carroll in 2004. Grace keeps popping that shot put out there further each meet, and Nienke is flirting with that 25 flat time in her 200 splits.  There are definitely some exciting goals the girls will be shooting for.  State medals are a possibility in some events along with 2 or 3 school records within reach ... The whole team is very excited and looking forward to it."
High School girls golf: Clear Lake second at Forest City invitational
FOREST CITY | The Clear Lake girls team finished second in the team standings at the Forest City Invitational on Friday, shooting a 373, 34 strokes back of victorious New Hampton. Mason City finished fourth, with a score of 404. Algona was fifth, at 428, Charles City shot a 438 for spot number six. Clarion-Goldfield -Dows was seventh, at 441, with Forest City and Garner-Hayfield-Ventura finishing eighth and ninth.
Allison Nuss of New Hampton finished first, with an overall score of 70. Ashley DeLong shot a 77 to take the second spot, and Carlee Frayne of GHV finished third, after golfing an 80. 
High School boys golf: Clear Lake wins sectionals
CHARLES CITY | The Clear Lake boys team took the team title at 3A sectionals on Friday, shooting 326 as a team, beating West Delaware by 11 strokes. Waverly-Shell Rock was third overall, at 345, while Charles City was fourth, with a 351.
West Delaware's Brandon Larsen took the individual crown, as he shot a 73. Jack Barragy of Clear Lake shot a 77 to finish in the silver spot. Fellow Lion Tyler Eaton finished fourth, while Tate Storbeck tied for si with Carter Johannigmeier of Charles City.
High School boys golf: Bishop Garrigan tops 1A Sectionals
NASHUA | The Bishop Garrigan boys team came out on top Friday in sectionals, golfing a 349 as a team to take the victory by 18 strokes over host team Nashua-Plainfield. Newman Catholic finished third overall, with a score of 377, with North Butler fourth at 381. Rockford came in fifth by virtue of a 394 score, while West Fork was close behind at 395. Central Springs and West Hancock rounded out the field, with respective marks of 397, and 419. 
Andrew Andorfer of Bishop Garrigan shot a 79 to take home the medal. North Butler's Beau Thompson shot an 80 to take the runner-up spot. 
High School boys tennis: Mason City third at district tourney
AMES | The Mason City boys team finished third overall at the 2A District Tournament on Friday. Host team Ames finished first, while Cedar Rapids Washington was runner-up. Mason City played CRW in a dual on Saturday to try to qualify for substate. Results were not known at press time. 
Senior Brian VandenBerg qualified for state in singles. VandenBerg won his first two rounds before he lost to Rami Sheetz of CRW, 6-2, 6-2. 
In doubles, James Mathews and Joey Hansen finished fourth. JJ Wickman and Jackson Wickman lost to the No. 2 team from CRW in the second round.
High School boys tennis: Clear Lake doubles team advances to state
SPENCER | Clear Lake's Mac Adams and Aaron Blum won the doubles district title on Friday, and advances to the state tournament. The pair battled back in the semi finals from being down two match points, 4-6 in the second set, and 2-5 in the third. But the two managed to win both sets, by scores of 7-5 and 6-2, respectively. The Lions tied for second in the team standings with 17 points. LeMars won the runner-up spot on criteria. 
On the singles side, Carter Olk beat Cherokee's Mathew Stieneke in the first round 6-0, and 6-1, before losing to Zach Wingert in the second round. Clear Lake will play LeMars in the preliminary substate round at Spencer, on Monday.
High School girls golf: Mason City girls score close win at Marshalltown Dual
The Mason City girls team scored a close victory in the Marshalltown Dual on Tuesday, beating the Bobcats by just two strokes, 190-192. 
Mason City's Thea Lunning took home the medal by shooting a a 40, with Marshalltown's Kyra Feldman taking the silver spot at 44. Sophie Lunning was the second place finisher for the Mohawks. She shot a 49. Fifth place finisher Alyaa Alert shot a 50. 
High School girls golf: North Union wins Top of Iowa West conference meet
The North Union girls team shot a 407 to win the conference title by two strokes over Bishop Garrigan. The top two teams dominated the match, as third place team Lake Mills shot a distant 476. West Hancock finished fourth with 477 strokes, Belmond-Klemme was fifth at 478. G-H-V shot a 483, with Eagle Grove close behind at 489. In eighth place was Forest City, who shot a 514.
GHV'S Carlee Frayne won first place all conference with a score of 83. Halle Rezac of North Union was second with a score of 96. Hot on her heels was lake Mills' MacKenna Hanson, with a score of 97.
High School girls golf: Clear Lake second at Fort Dodge Conference Meet
FORT DODGE | The Clear Lake girls team finished second overall, and the Hampton-Dumont girls team finished third in an eight-team field on Monday at the Fort Dodge Conference Golf Meet. 
Humboldt finished first in the team standings, with 350 points, with Clear Lake second, at 360 points. Algona finished fourth,4 at 419, followed by Clarion-Goldfield Dows at 421, IFA at 437, St. Edmond at 460, and Webster City at 484.
Clear Lake's Ashley DeLong won the medal with a score of 83, with teammate Mattie Krause finishing second, with a score of 92. Kaci Manning of Hampton-Dumont  placed eight overall, which earned her all-conference honors. Fellow Bulldog Sydney Meyer shot a 95, to finish 10th.
High School boys golf: Clear Lake wins North Central Conference tournament
The Clear Lake boys team came out on top at the North Central Conference tournament on Monday, golfing a 322 as a team, with three Lions finishing in the top four. Webster City came in second place, with a team score of 331, followed by Humboldt at 341, St. Edmond at 342, Clarion-Goldfield-Dows at 353, Iowa Falls-Alden with 362, Algona at 369, and Hampton-Dumont/CAL in eight place, with a distant 436. 
On the individual side, Webster City's Nathan Ferrell won the medal, with a round-best 72. Tyler Eaton, Jack Barragy and Tate Storbeck took the next three spots, with scores of 75, 78, and 80 respectively. 
High School boys soccer: Mason City drops third straight game
The Mason City boys team dropped a close game to Marshalltown on Tuesday, as the Bobcats scored two second-half goals to improve to improve to 13-1 on the season. The loss for the Mohawks was their third in a row.
The two teams seemed evenly matched through most of the game. At halftime, the squads were locked in a scoreless tie. But five minutes into the second half, Marshalltown finally got a goal off a kick near the corner, to take a 1-0 lead.
Mason City struggled to control the ball against Marshalltown, but going into the later stages, seemed on the verge of a breakthrough. But with 7:36 left, Jose Torres scored a goal for Marshalltown to give the Bobcats a two-goal lead.
Near the end of the game, the players on both teams started getting a bit chippy, with several players jawing at each other. Mason City sophomore Jacob Wolf received a red card with just seconds left in the game, to the disbelief of his teammates. Mohawks coach Bryan DeGabriele dismissed some of the calls that went against Mason City as just "part of the game".  But a few of the calls rubbed him the wrong way.
"We got a bad call on a yellow card in the first half for delay of game," DeGabriele said. "Marshalltown did it twice, and didn't get any calls on it, which I think is ridiculous. At the end, they got a yellow card, and we did something stupid to get a red card, which was uncalled for."
After entering May with a winning record for the first time in team history, the Mohawks fell below .500 with the loss, to 5-6. Regardless, DeGabriele is optimistic, considering his team's performance against a tough Marshalltown team. Next on the schedule is a game on Friday at Fort Dodge, followed by games against Clear Lake and Iowa Falls-Alden.
"If we play like we did tonight, we're going to have some success," DeGabriele said. "... We've got to try to take care of business, but it's going to be tough. Those three teams are good teams, and they're looking at us, and we're looking at them, and we're both thinking it's going to be a really good game."
High School boys tennis: Mason City dominates Fort Dodge
The Mason City boys tennis team took down Fort Dodge on Monday at Mason City, 10-1, just one win away from sweeping the day. The Mohawks finished the regular season at 5-6, with all six losses coming against teams ranked in the state's top 13. 
Mason City's Brian VandenBerg swept his single's match against Fort Dodge's Lucas Buie, and also helped sweep in his doubles match. He and his partner Lane Kruger beat Buie and Luke Vaughan 6-0 and 6-2. 
The season will continue for for Mason City at the District Meet this Wednesday at Southeast Polk.
High School girls golf: Saint Ansgar wins Conference, rack up awards
NORA SPRINGS | The Saint Ansgar girls team took the conference title on Monday, beating Osage by three strokes, 410-413. Newman Catholic finished in the bronze spot, with a 425.
Dani Johnson won the individual medal, the only Green Devil golfer to finish in the top 10. Morgan Hemann of Saint Ansgar finished tied for third, with a score 0f 95, with teammate Kirsten Boerjan five strokes behind, at 100, good for sixth. Both Saints golfers were named to the All-Conference team, and Hemann was named the Top of Iowa East Conference Player of the Year. Saint's coach Shannon Belz was named Top of Iowa East Coach of the Year.
High School boys golf: Osage wins third straight conference title
SAINT ANSGAR | The Osage boys golf team secured its third straight conference title on Monday, topping the field with a team score of 356 strokes. Central Springs came in second place at 384. 
Carter Pals of Central Springs and Osage's Jerett Scharer both shot 80's, to take first place in the individual standings. Beau Thompson of North Butler was third overall, shooting an 82. Green Devil Zach Duren shot an 87, good for fourth place. 
As far as the team standings, local school Newman Catholic came in fifth place, with a score of 397. Host team Saint Ansgar shot 485, which gave them ninth place. 
Saint Ansgar's Carlson earns TOI honors
Saint Ansgar's Addy Carlson was voted the Top of Iowa Conference Female Track Athlete of the Year by coaches, and the Saints' track and field team finished second Thursday in Greene.
"It's a nice honor, and coming from the coaches, I believe they recognize the hard work she puts in and the leadership she provides for our team," Saints coach Phil Baldus said. "She is the heart and soul of our distance program."
Kira Baldus (discus), Taylor Hanna (400-meter dash) and the 4x400m relay team each placed first. 
Carlson finished second in the 3,000m run with a personal-best time of 11:13.58. The 4x800m relay team placed second in a season-best time of 10:32.24.
"It's the end of the season and, as coaches, we are expecting athletes to perform their best," Baldus said. "Tonight that happened for us."
The Saints will compete this Thursday, May 9 at the district track meet.
20190502-IMG_7025.JPG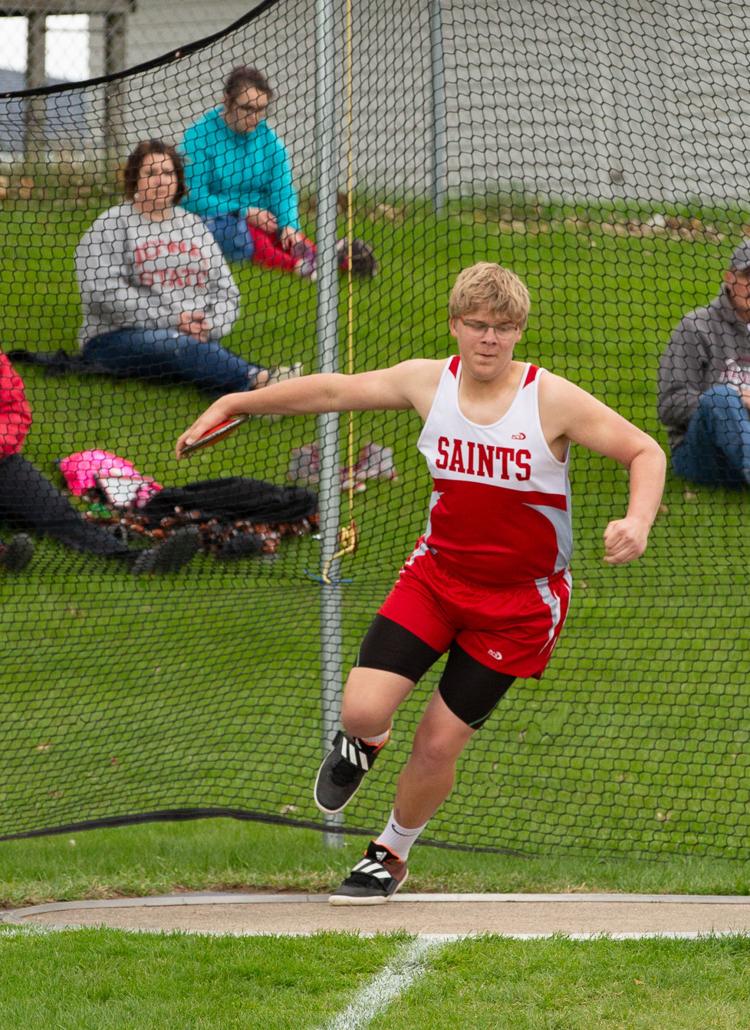 20190502-IMG_7140-2.JPG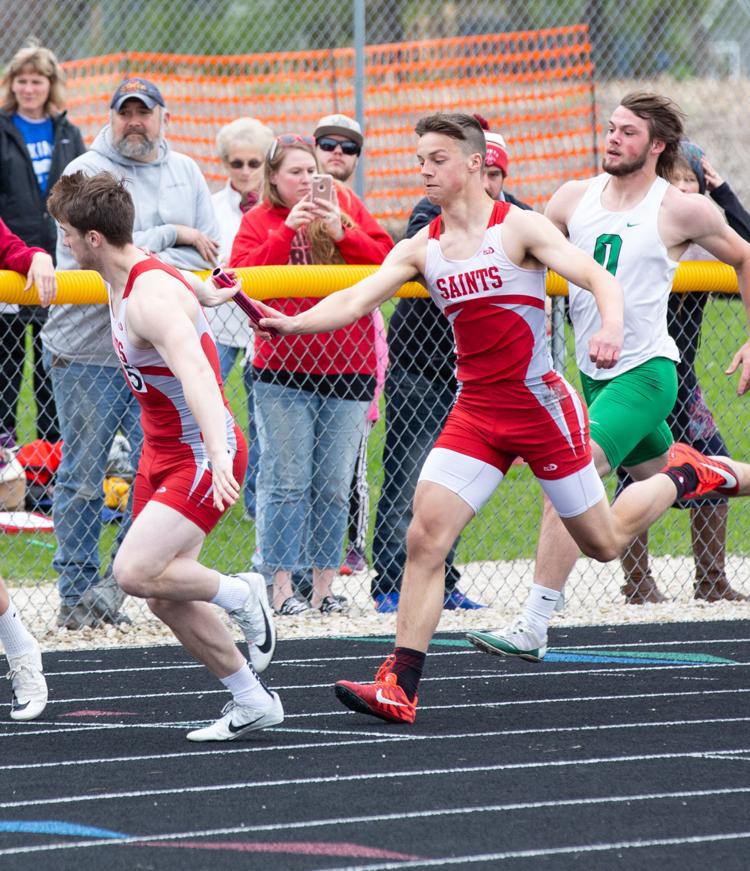 20190502-IMG_7147.JPG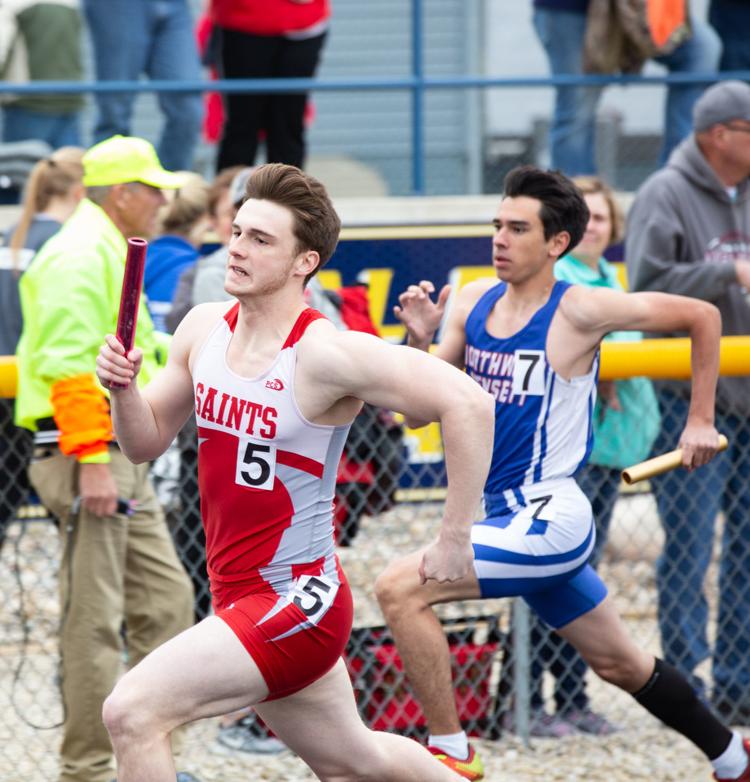 20190502-IMG_7152.JPG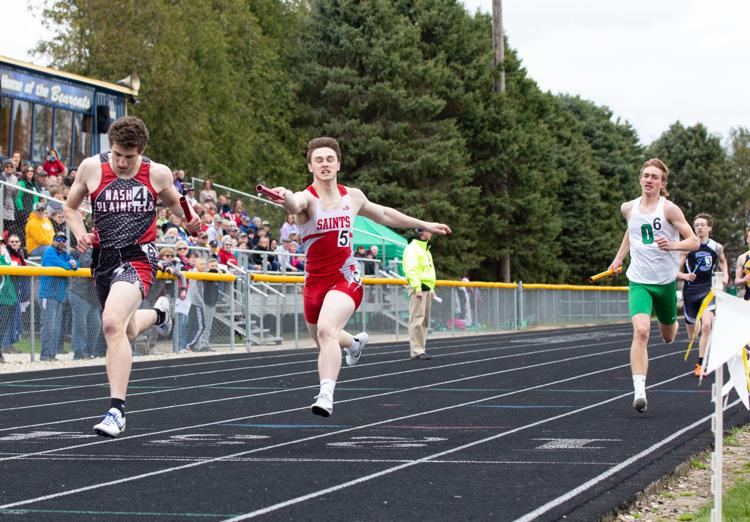 20190502-IMG_7161.JPG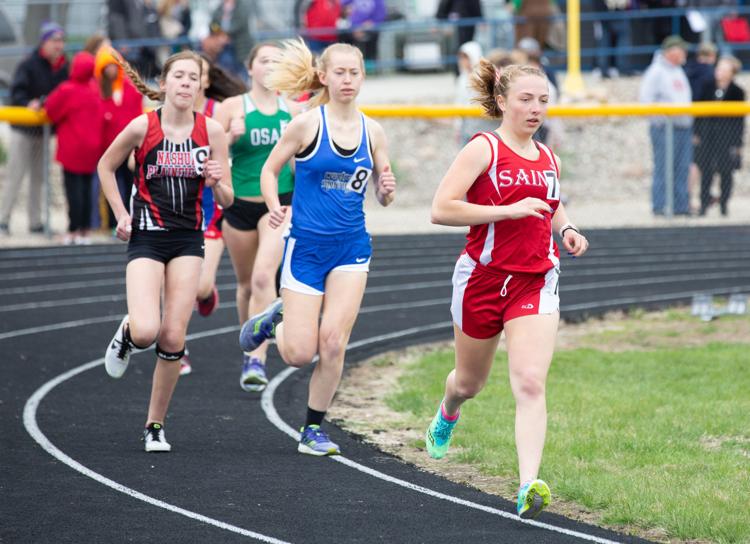 20190502-IMG_7168.JPG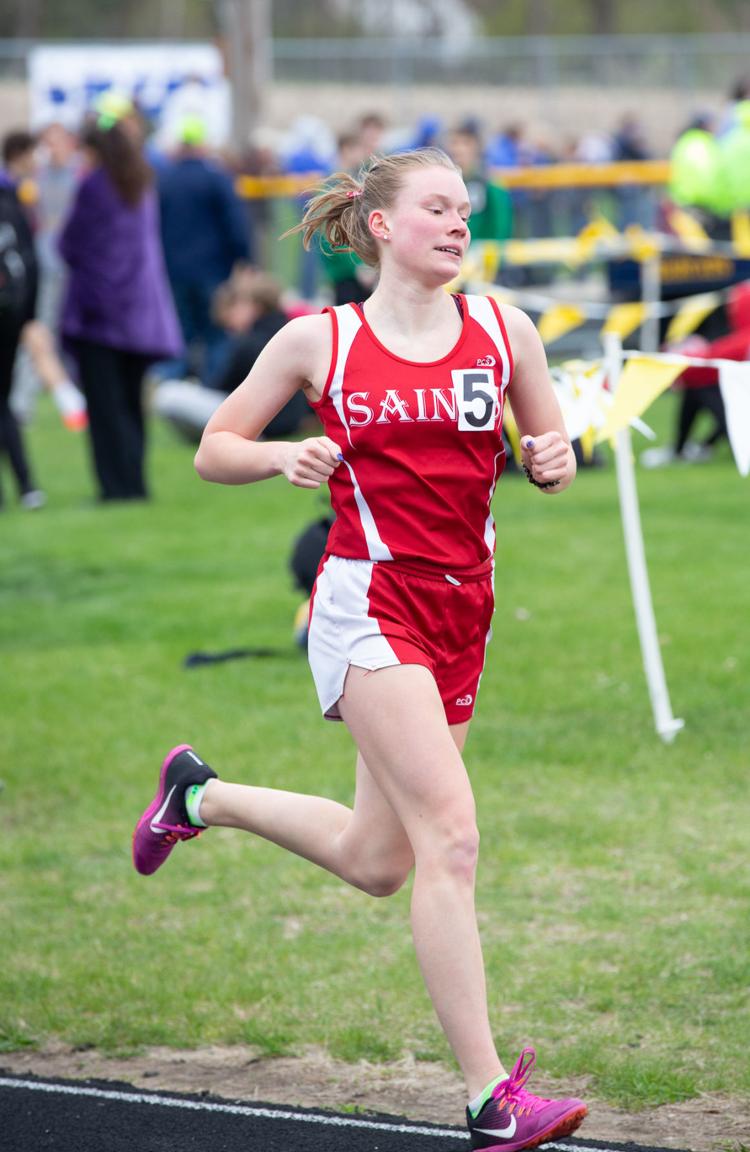 20190502-IMG_7173.JPG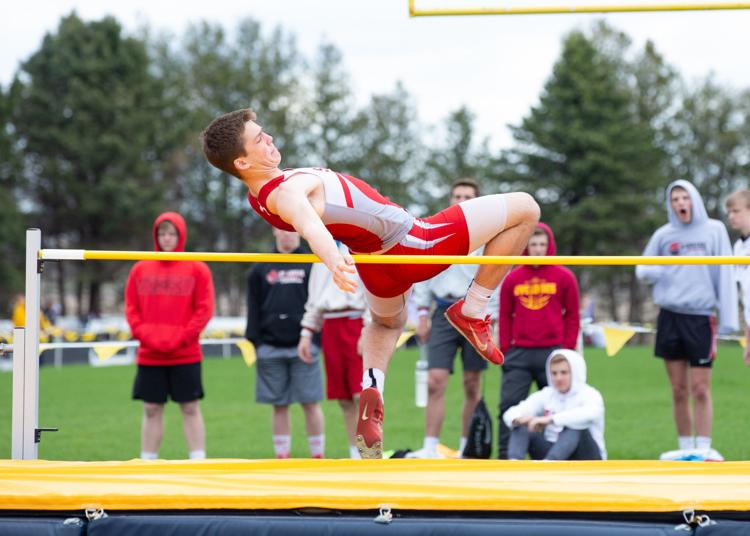 20190502-IMG_7178.JPG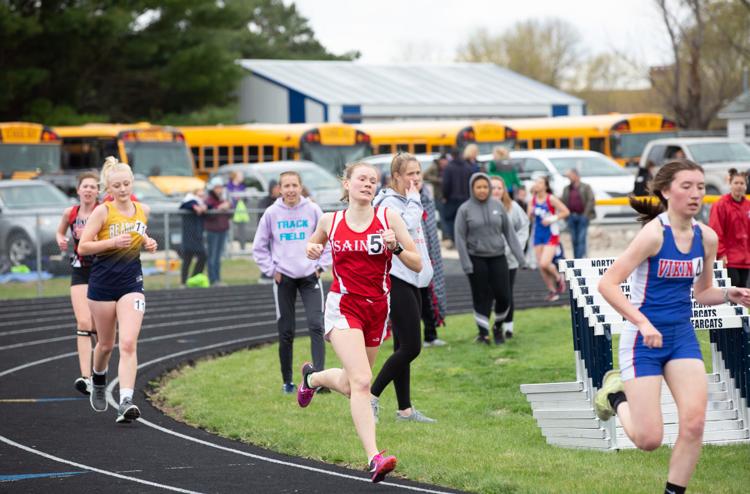 20190502-IMG_7180.JPG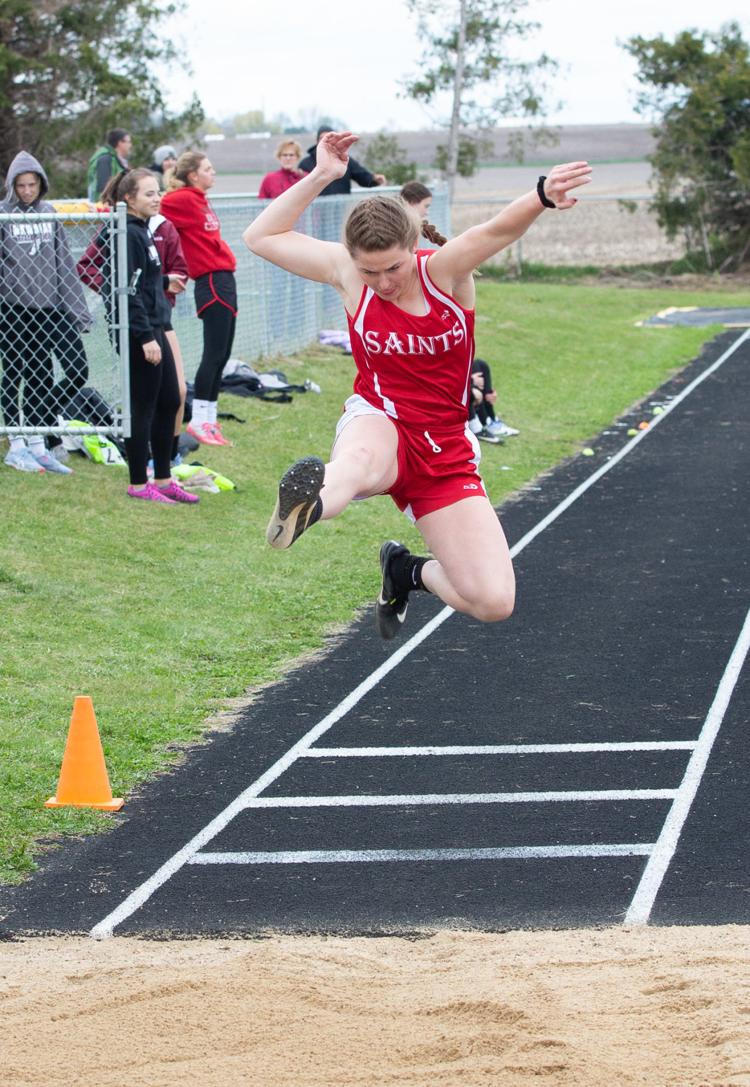 20190502-IMG_7192.JPG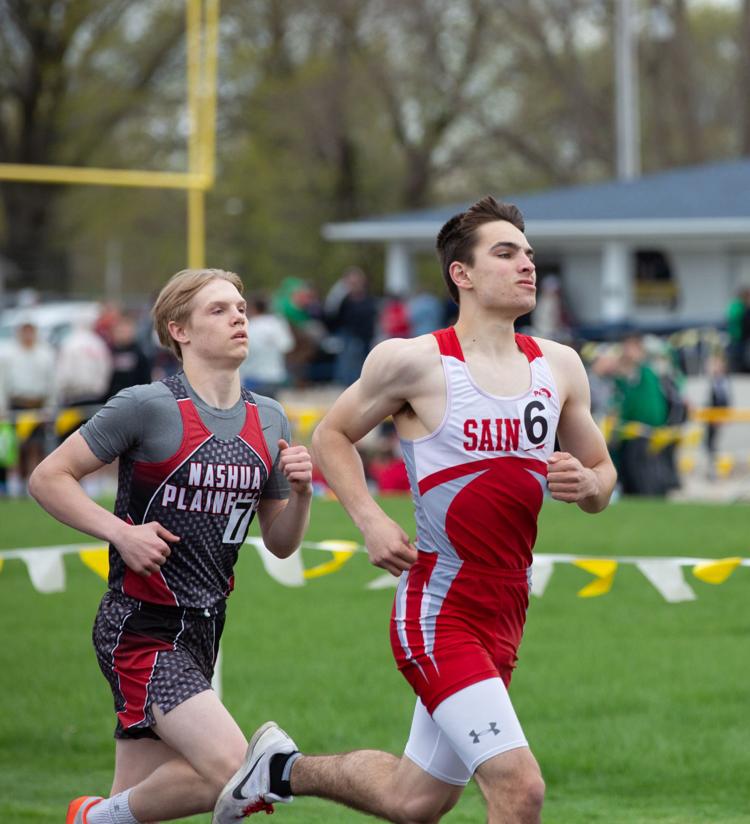 20190502-IMG_7206.JPG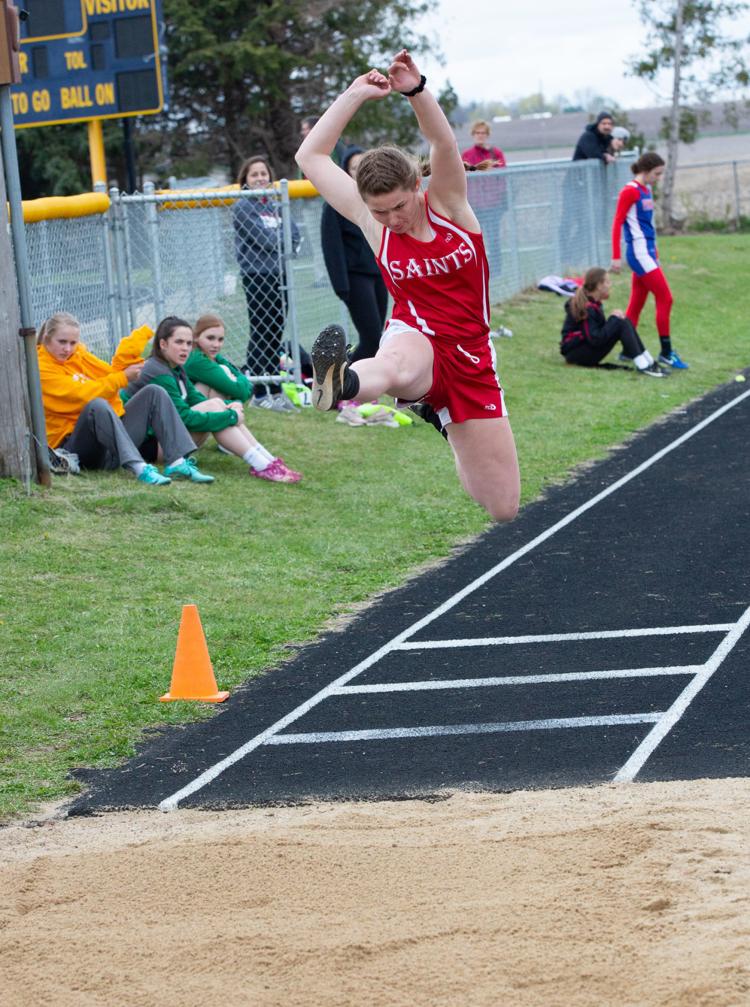 20190502-IMG_7217.JPG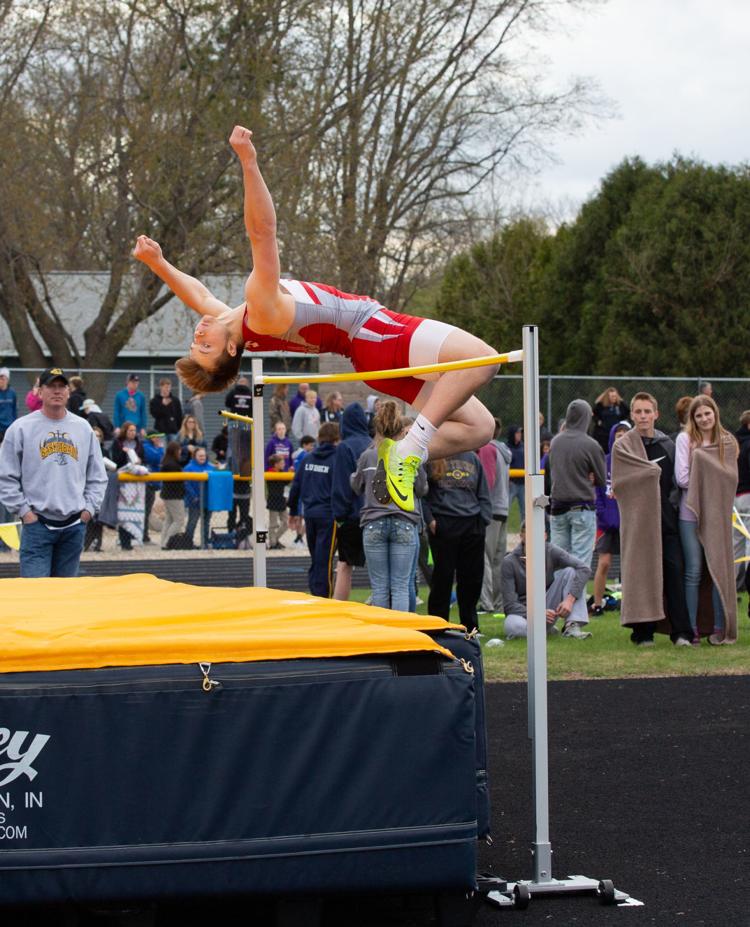 20190502-IMG_7218.JPG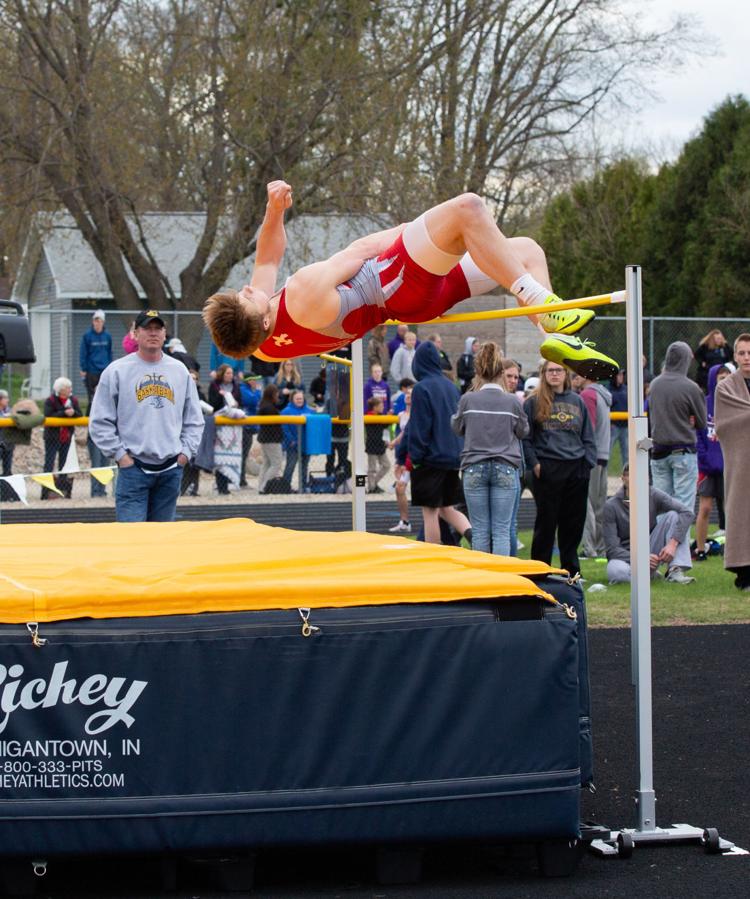 20190502-IMG_7222.JPG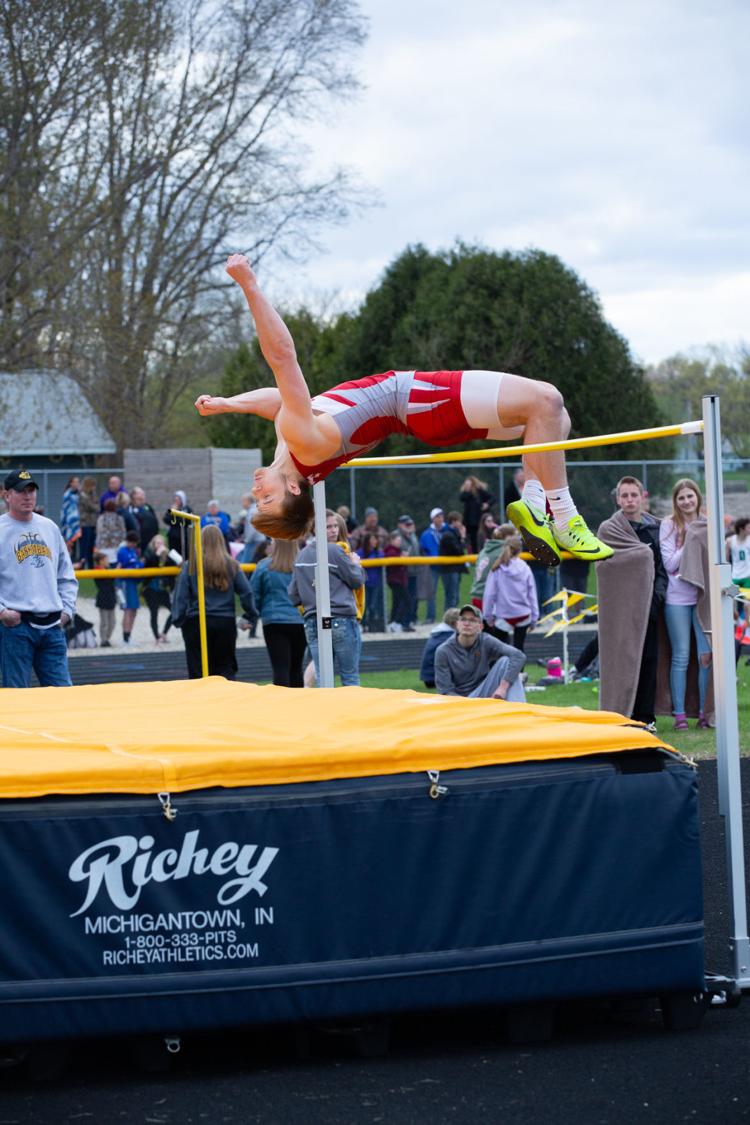 20190502-IMG_7273.JPG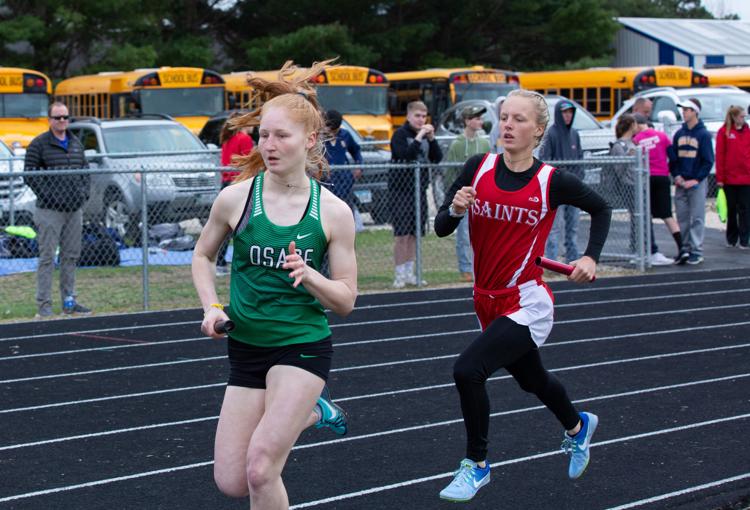 20190502-IMG_7309.JPG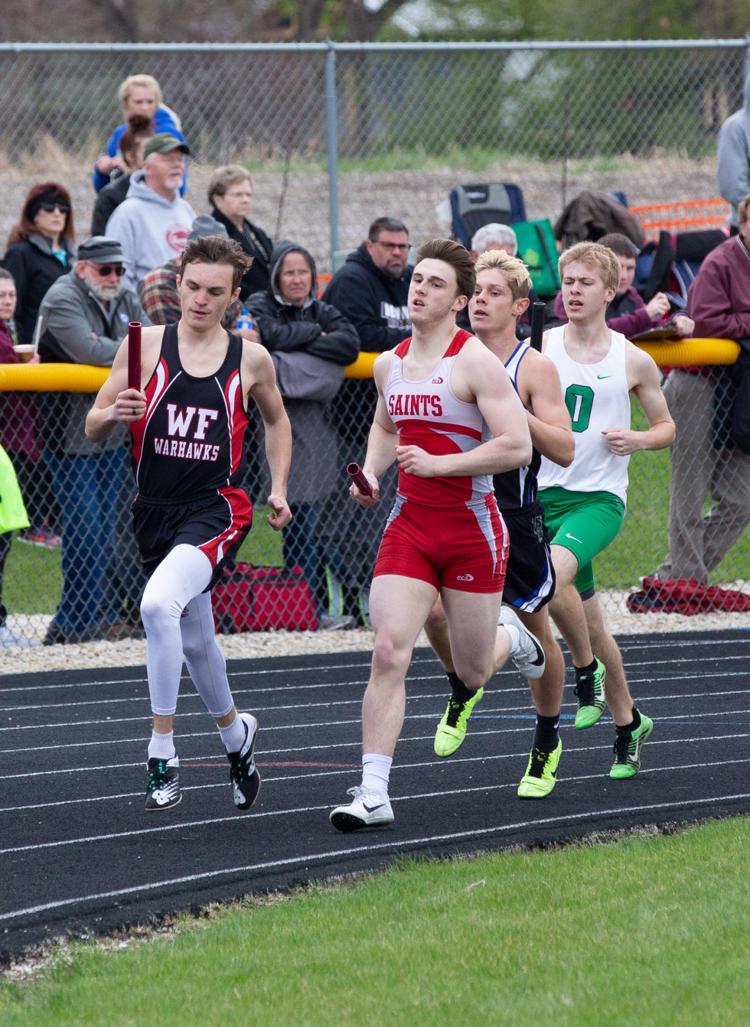 20190502-IMG_7315.JPG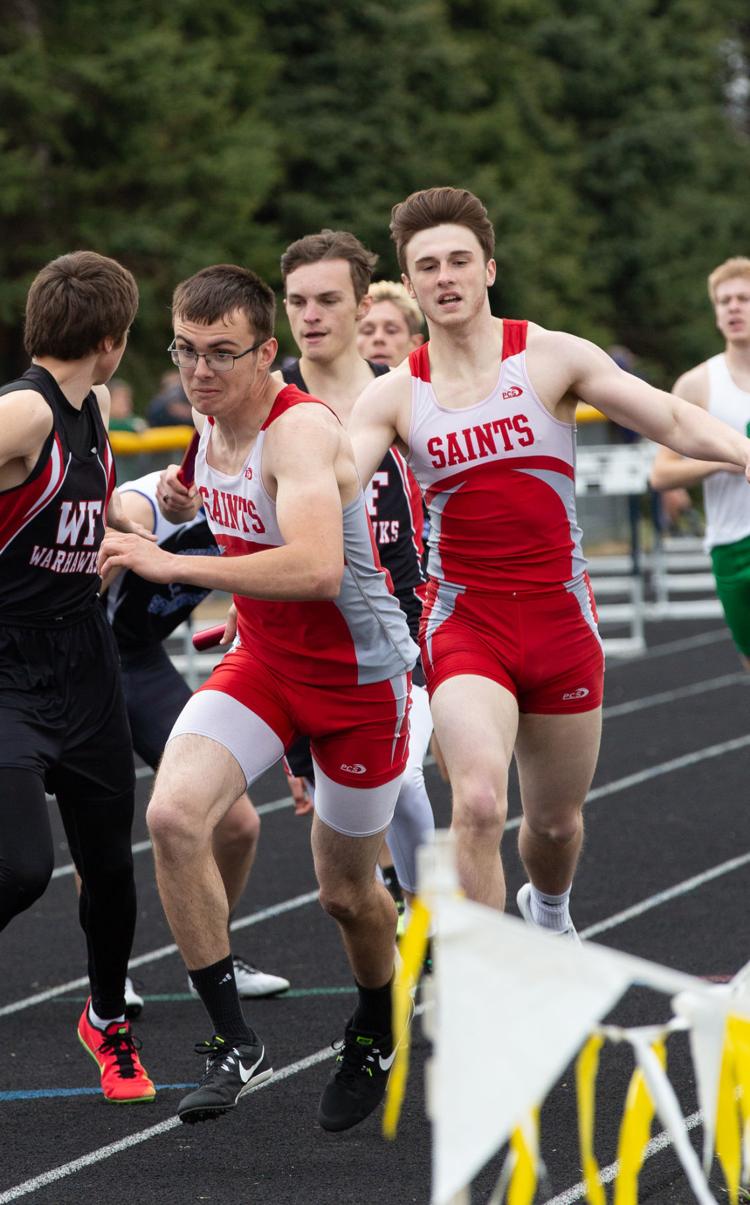 20190502-IMG_7323.JPG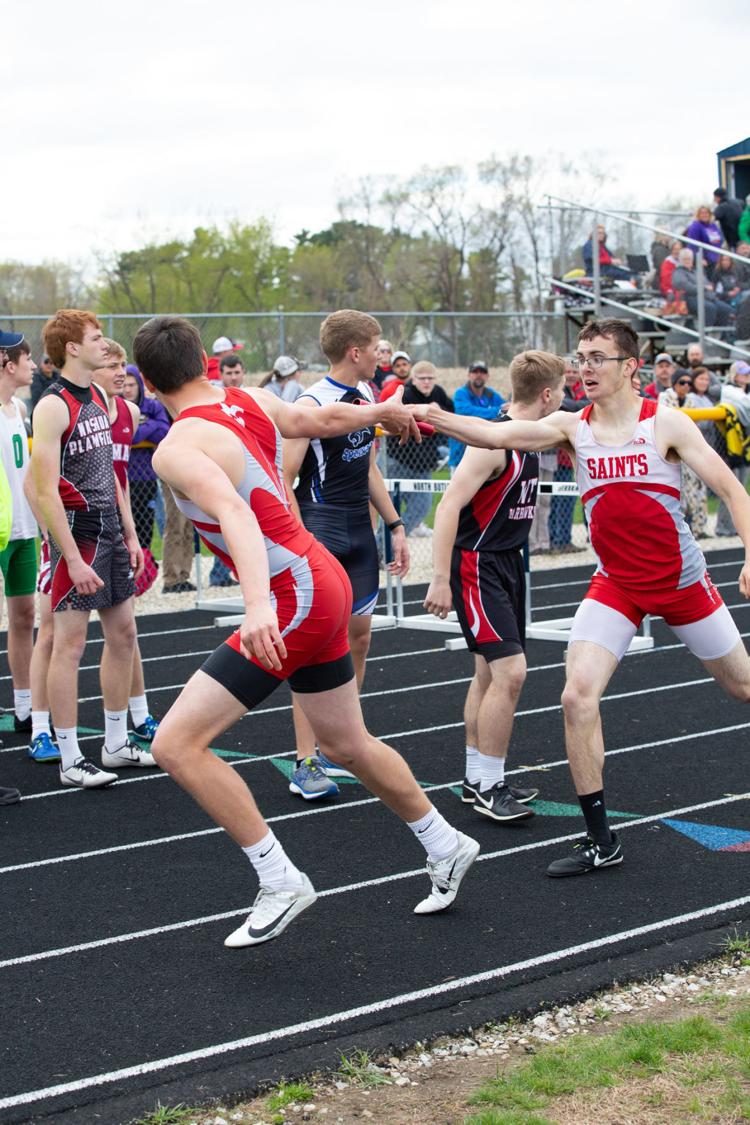 20190502-IMG_7337.JPG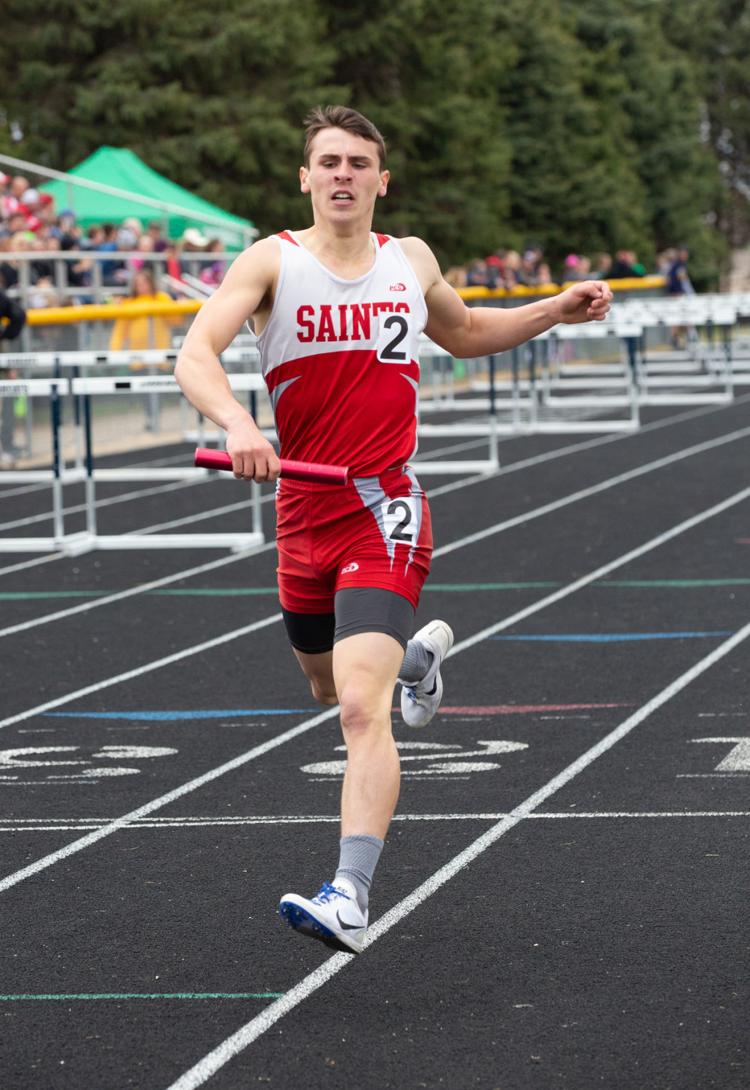 20190502-IMG_7352.JPG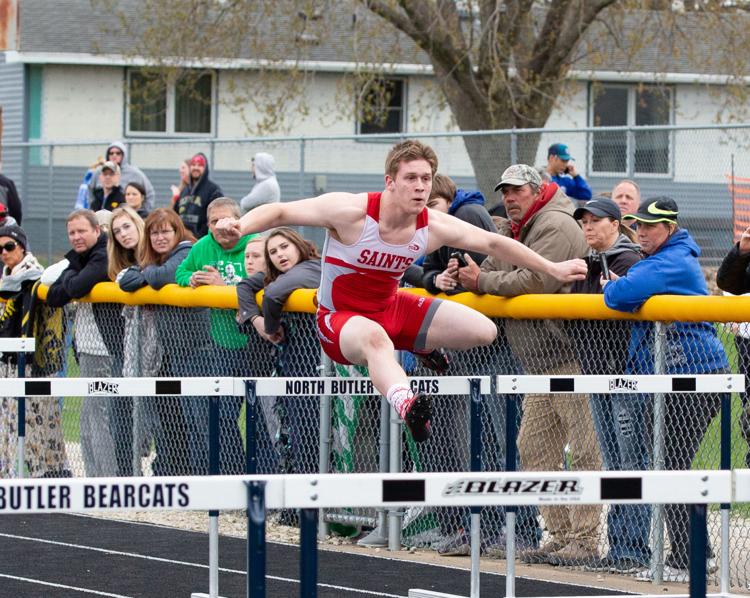 20190502-IMG_7372.JPG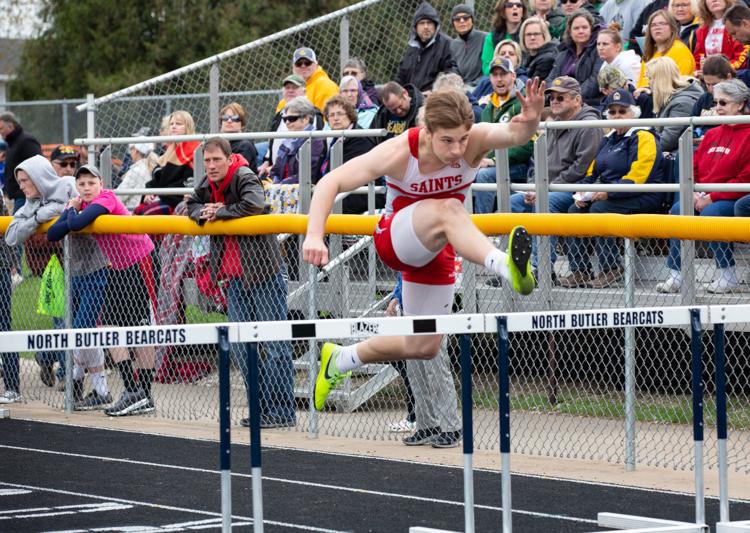 20190502-IMG_7379.JPG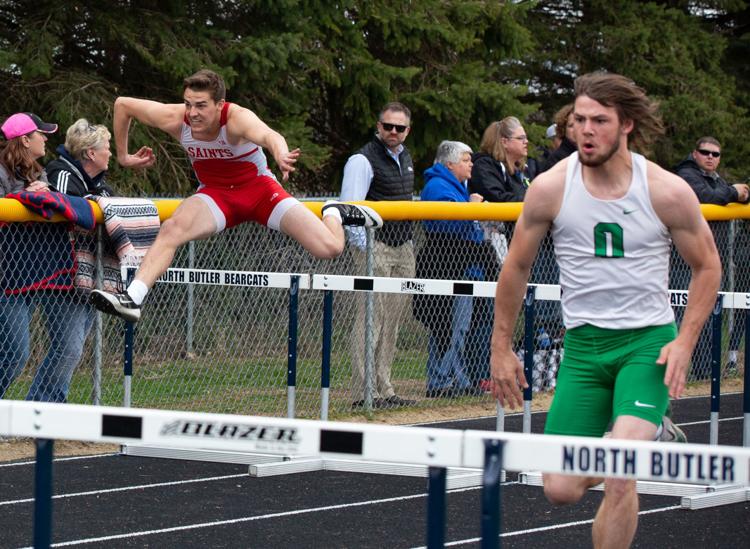 20190502-IMG_7418-2.JPG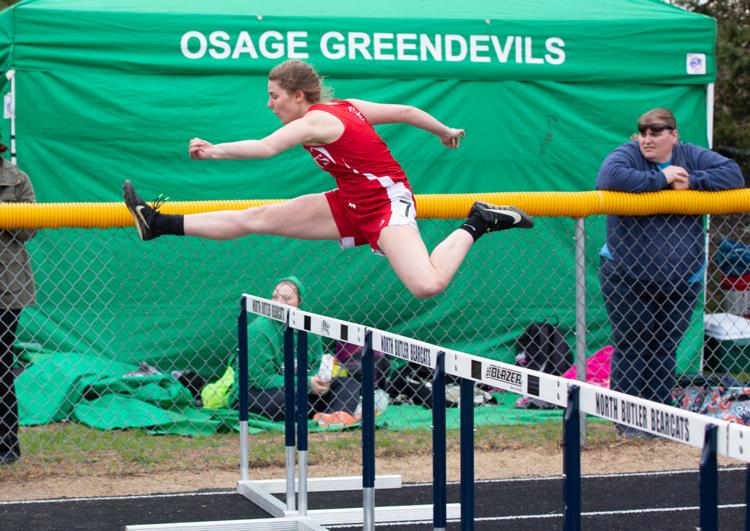 20190502-IMG_7513.JPG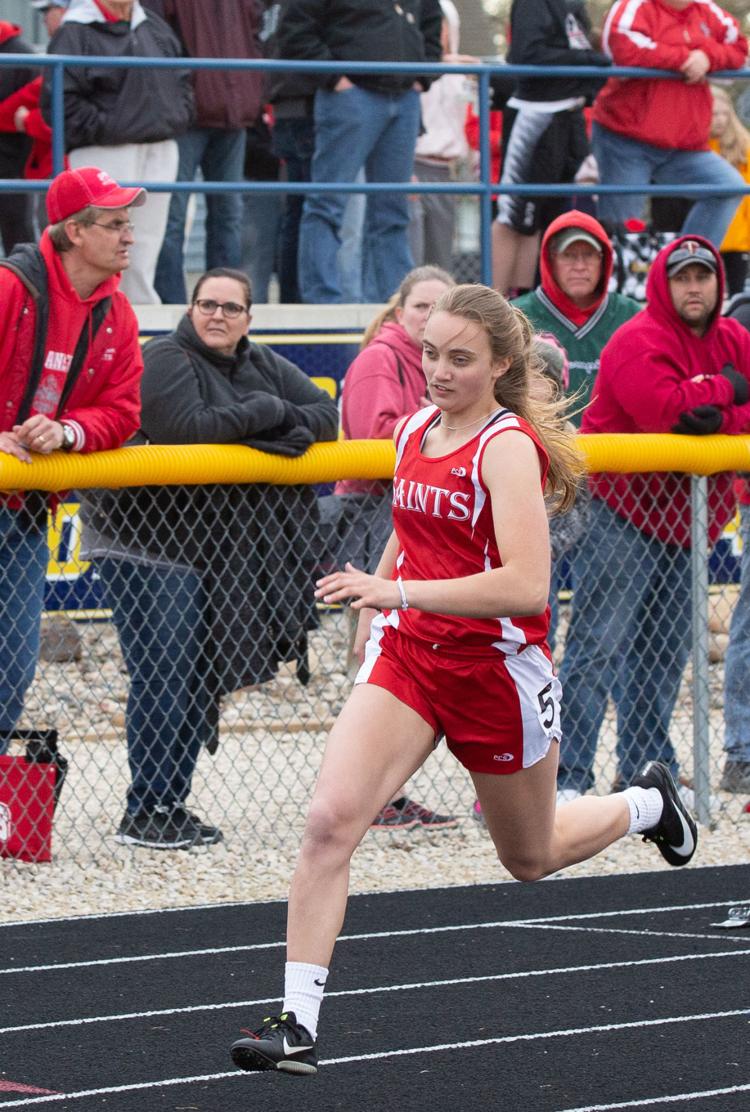 20190502-IMG_7518.JPG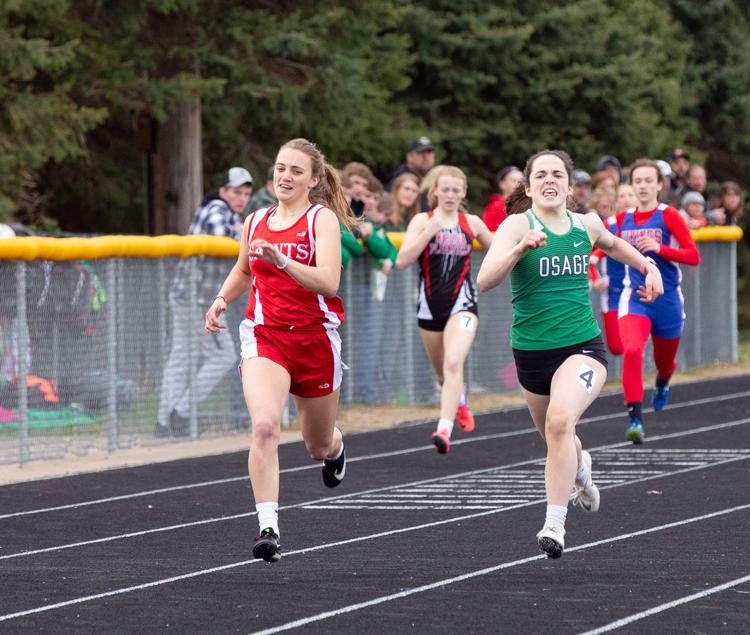 20190502-IMG_7570.JPG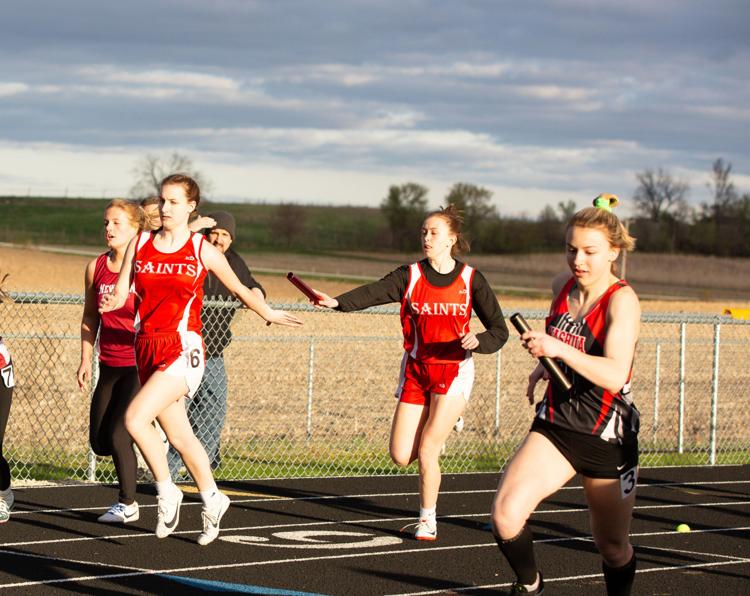 20190502-IMG_7576.JPG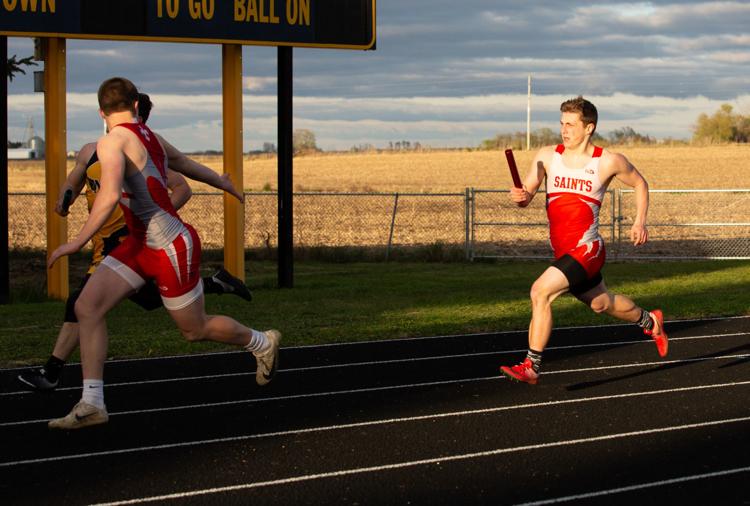 20190502-IMG_7584.JPG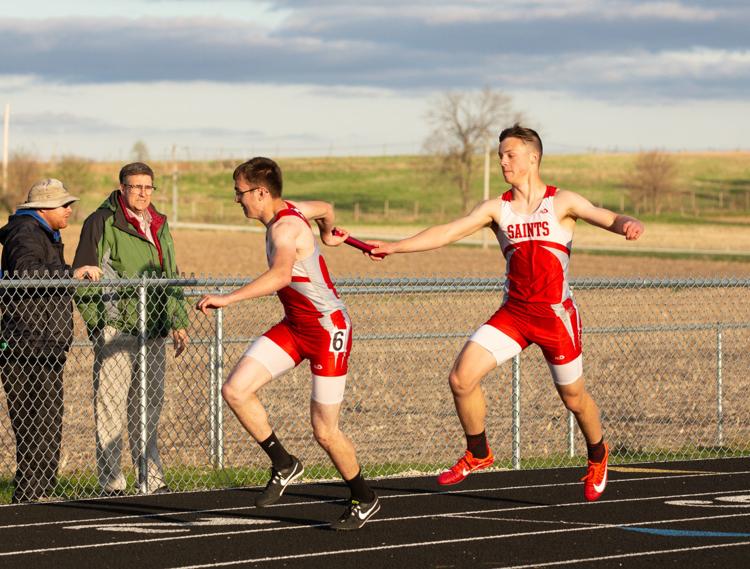 20190502-IMG_7601.JPG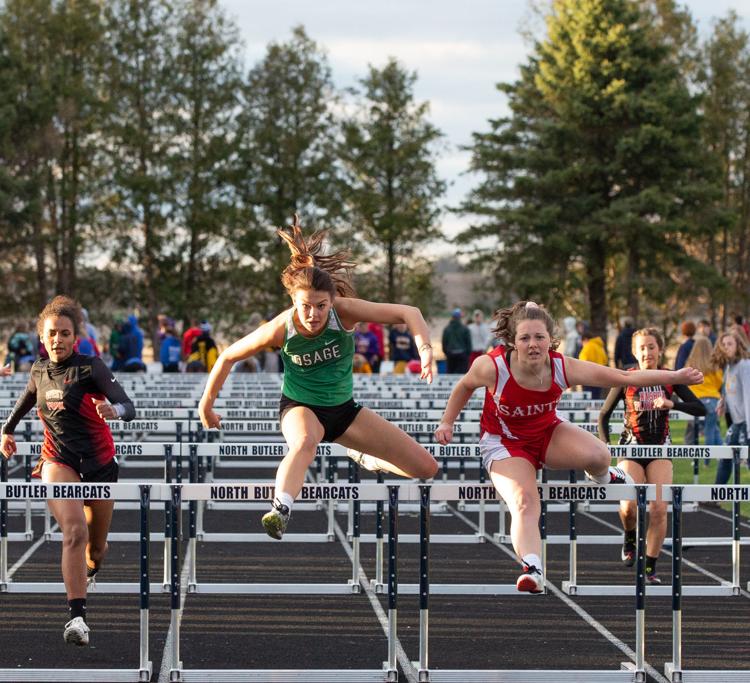 20190502-IMG_7635.JPG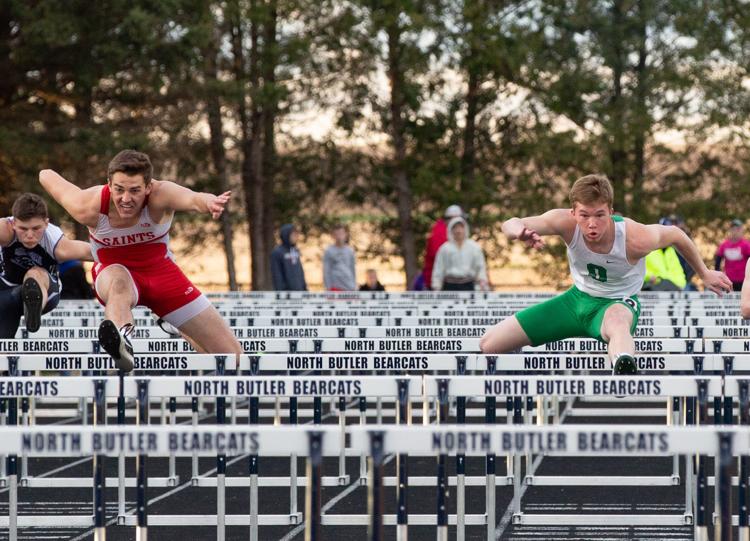 20190502-IMG_7637.JPG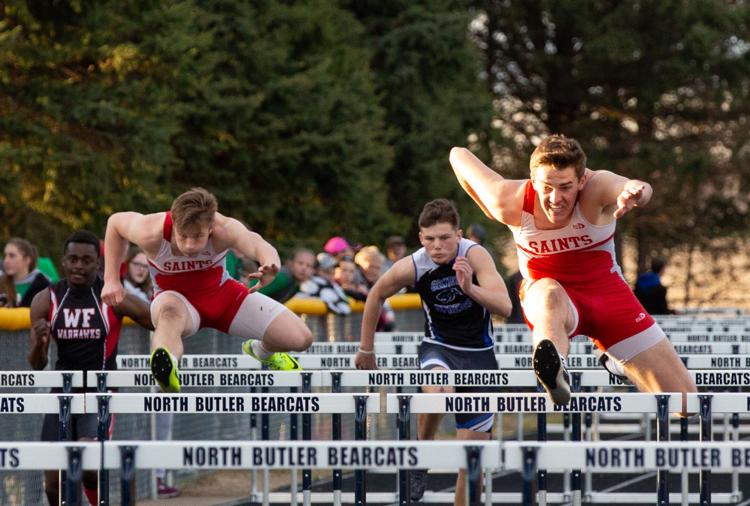 20190502-IMG_7686.JPG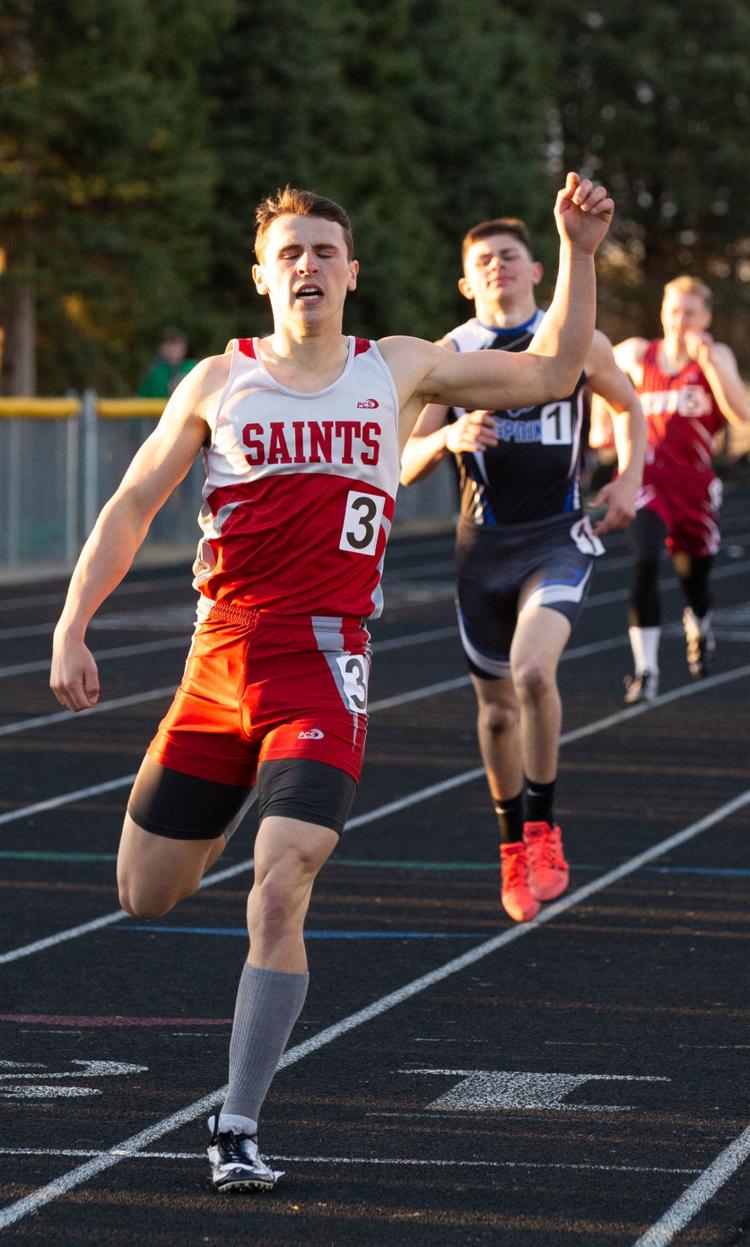 20190502-IMG_7722.JPG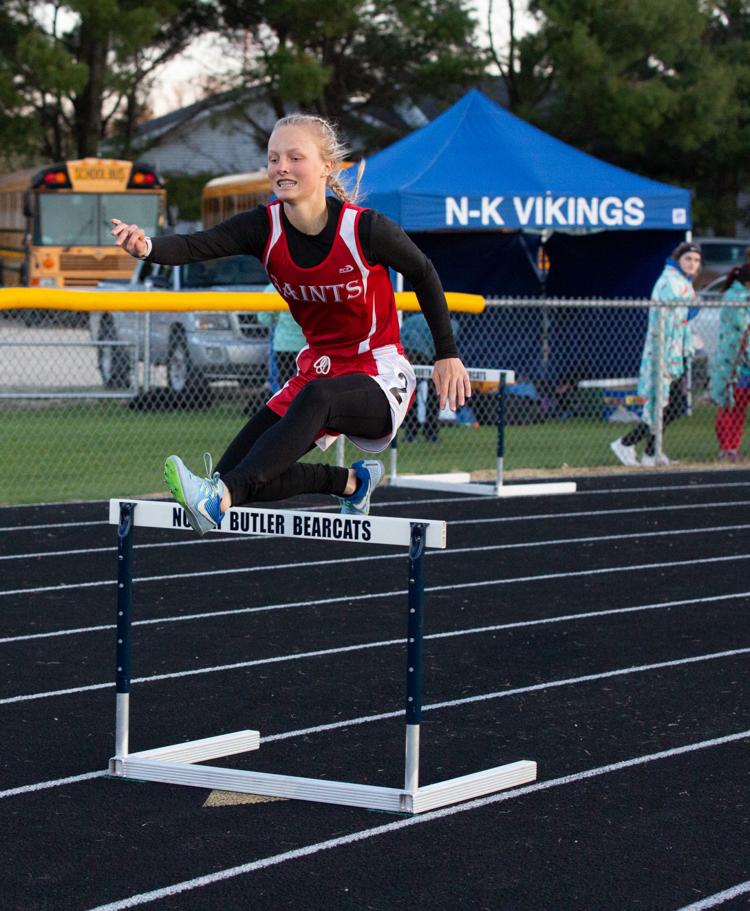 20190502-IMG_7727.JPG
20190502-IMG_7769.JPG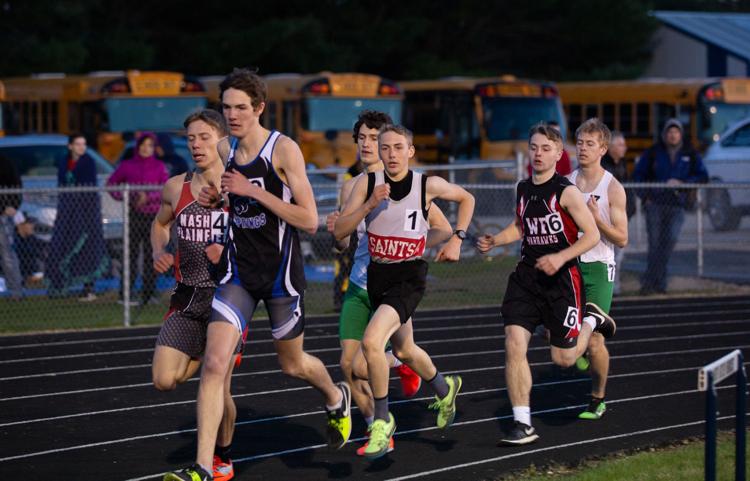 20190502-IMG_7849-2.JPG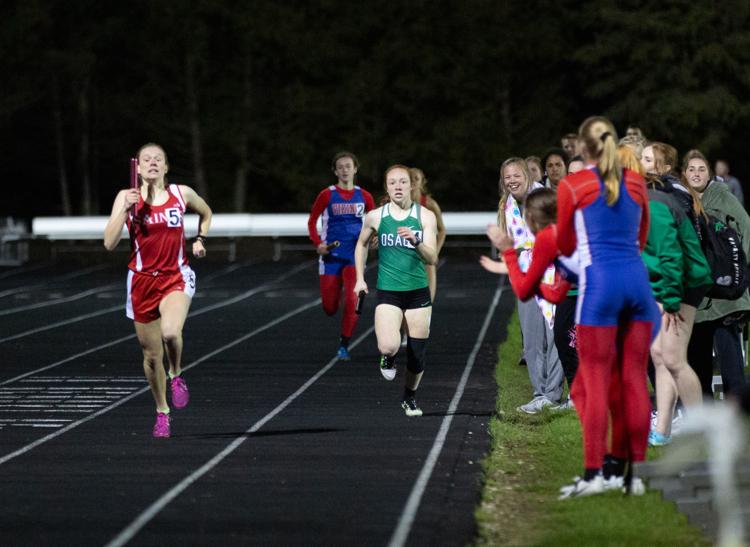 Forest City girls track wins meet in Garner
The Forest City girls team finished first overall in Thursday's meet at Garner, with 164 total points.
Anna Lehman and Hannah Good were second and third in the 400 meter dash Lehmann ran a 1:03.30, and Good ran a time of 1:03.55. In the 800 meter run, Forest City took the one and two spots, as Keevan Jones and Good finished at 2:36.31. 
Emmalee Warren ran a 12:51.41, finishing second in the 3000 meter run. 
The Indians had plenty of success in the hurdles. Kelsey Koch won both the 100 meter and 400 meter hurdles, in addition to the long jump, in which she leapt a distance of 15-07.75.  The Indians also won the 4x800 relay, and the 800 sprint medley. 
Forest City's girls track and field team dominated the competition at Garner-Hayfield-Ventura on Monday, April 29, finishing with 181 team points in a first-place finish. Osage finished with 114, and Hampton-Dumont was third with 72.
Emalee Warren placed first in the 3,000m run, and Henriette Winum was second. Anna Lehmann and Hannah Good were the first two finishers in the 400m dash, as well. Kelsey Koch was first in the 400m dash with a time of 1:14.40, as well as the long jump. Shae Dillavou's jump of 4 feet, 10 inches was good for first in the high jump.
Cora Holland also placed first in the shot put and discus.
The Indians will compete in the district track meet on Thursday, May 9, at Garner-Hayfield-Ventura.
High School girls golf: West Hancock wins triangular
West Hancock 243, Forest City 279, North Iowa N/A
West Hancock's Abbie Melohn earned medalist honors as the Eagles' girls golf team picked up a victory Thursday, golfing a 50. Forest City was led by Jessa Loges and Audrey Skjeie, who each shot a 67.
High School boys tennis: VandenBerg, Matthews pick up long Mason City victory
Ankeny Centennial 10, Mason City 1
Mason City's boys tennis team dropped to 3-6 as it took a loss to Ankeny Centennial on Thursday, but the No. 1 doubles team of Brian VandenBerg and James Matthews picked up a 7-2, 7-6 victory, improving to 5-1 on the year. 
High School boys golf: Osage first, Newman third at Nora Springs
ROCKFORD | The Osage boys team came out on top Thursday, in a four-team match in Nora Springs. The Green Devils shot a 186 as a team, while Rockford finished close behind at 189. In third place was Newman Catholic, who shot a 194. 
Kaden Lyman of Rockford was the day's winner, shooting an impressive 42 to win the medal. George Schmidt of Newman Catholic shot a 43 to finish. Third-place was shared by three golfers, as Austin Efflandt of Northwood-Kensett, Kolton Lyman of Rockford, and Zach Duren os Osage each shot a 44. Ty Creger was sixth with a 46. 
High School girls track and field: Mason City places fourth at conference meet
Mason City's girls track and field team claimed a fourth-place finish with 59 points at the CIML Iowa Conference Track Meet on Thursday. 
Grace Tobin placed second in the shot put with a season-best throw of 38 feet, 10 inches. That mark is also the sixth-best throw in Class 4A. Tobin was third in the discus with a career-best throw of 118 feet, 11 inches, good for eighth in Class 4A. 
Hannah Thomas was third in the 400-meter hurdles, finishing in 1:08.80, a career best that is the eighth-best mark in Class 4A. Thomas was also third in the long jump.
Jada Williams impressed in the 200m dash, finishing in 25.92, good for sixth in Class 4A.
A pair of relay teams (the sprint medley and 4x400m) placed third.
"Grace is really coming on strong at the right time of the year in both throws events and has an opportunity to do some special things these next two weeks," Mason City coach Jim Lee said. "Hannah's durability and training is really starting to pay off now, allowing her to excel in multiple events in the same meet. It was also really exciting to see the shuttle hurdle team of Tara Backhaus, Lizzie Quintero, Skyler Johnson and Ali Rood drop 2 1/2 seconds from their previous season's best time.
"We just really need to focus on fine-tuning a few things and quite honestly, focus on rest and recovery so the kids are fresh and healthy so they can be at their best trying to qualify for state."
High School girls golf: Algona wins close match against North Union
The Algona girls team finished one stroke ahead of North Union on Thursday, securing a slim victory. The Bulldogs shot 227 as a team, and the Wildcats finished at 228.
Hallie Lovestad shot a 47 to take the individual medal by seven strokes. The second Algoaa finisher was Shaylen Knapp, who shot a 56 to finish fourth overall. ALy Yokimishyn was fifth, at 58. 
Jordyn Cummins and Kayla Sabin of North Union tied for second place with scores of 54. 
High School boys golf: Clear Lake places third in six-team match
WEBSTER CITY | The Clear Lake boys eamed a third-place finish on Thursday, eagainst five other area teams, shooting 331 as a team. Host team Webster City finished second with a score of 323, while Nevada won by golfing a 312. 
For Clear Lake, Tate Storbeck had the best day, shooting a 74, to finish in second place overall. Carter Backhaus shot an 80, second-best for the Lions. Jack Barragy was third for the Lions, with a score of 85. 
Nathan Ferrell of Webster City, shot a 69 to earn the day's medal.
High School boys track: Mason City competes at Iowa Conference Meet
Mason City's boys track and field team fifth out of six teams at the Iowa Conference Boys Track Meet, which was held at West Des Moines Valley High School, on Thursday. The Mohawks finished with 23.5 team points. Valley finished first with 186. Waukee (185.5) and Southeast Polk (135) rounded out the top three.
Mason City placed third in two events. Christian Rodriguez finished the 400-meter hurdles in 57.04, a new personal best. The distance medley relay team of Chris Keller, Joey Quintero, Connor Lafrenz and Michael Rowe also placed third with a time of 3:43.46.
The 4x80m team of Luke Mullholland, Rodriguez, Miguel Jamie and Rowe was fourth with a season-best time of 8:25.33.
Quintero was fifth in the long jump, notching a jump of 20 feet, 5 inches. Reid Johnson's 5-foot, 8-inch performance in the high jump was a personal best.
"Our conference meet is as competitive as any in the state," Mason City coach Tyler Ketelsen said. "Anytime you can come away with a medalist in an event in a conference meet as competitive as ours, it is a huge honor. Overall, we had 39 total personal-bests and season-bests on the season. The kids performed tremendously tonight. "
High School girls golf: Mason City second at Valley Dual
WEST DES MOINES | The Mason City girls team lost to West Des Moines Valley on Wednesday, finishing 36 strokes behind the Tigers, 160-196. 
Valley's Paige Hoffman was the day's medalist, as she finished with 37 strokes. Teammate Saffire Sayre was second, at 40. Jenna Korguiski finished third, as thr TIgers swept the top three spots in the individual standings. The Mohawks' top finisher was Thea Lunning, who golfed a 42. She was the only Mason City athlete to finish in the top seven. 
The Mason City girls team lost for the second time this week on Thursday, falling to Waukee, 163 strokes to 199. 
Jessey Wyzgowski won the individual title, shooting a 37 for Waukee, with teammate Brooke Boardman was close behind, at 39. The Mohawks' top finisher was Thea Lunning, who finished third with a score of 39. 
High School boys soccer: Waukee mery-rules Mason City
Waukee 10, Mason City 0
Waukee got off to a quick start in their blowout victory against Mason City on Tuesday, scoring two goals in the first four minutes of action. 
"A special season could still be in the works if we continue to work together as a team and keep improving," Mason City coach Bryan DeGabriele said. "It was nice to get everyone some playing time against the defending state champs."
The Mohawks fall to 5-4 with the loss. They'll resume play when they host Des Moines Lincoln on Friday at 7:30 p.m.
High School boys golf: Newman Catholic third at Manly meet
MANLY | The Newman Catholic boys team finished third in Manly on Thursday, with a team score of 209, behind Nashua-Plainfield and Central Springs. Ryan Curley was the top finisher for the Knights, with a score of 48, fourth overall. Mike Monternach was second, at 55. 
Carter Pals of Central Springs and Derik Auchstetter of Nashua-Plainfield tied for the days top score, at 41. Auchstetter won the tiebreaker, and was named the days medalist. 
Nashua-Plainfield came out on top with a team score of 186. Central Springs was second, at 191. 
High School girls track and field: Mohawks boys third, girls fifth, at Waverly
The Mason City girls team finished fifth overall in Thursday's meet at Waverly High School, scoring several top finishes but winding up in the middle of the pack in team scoring. 
Jada Williams won the 100 meter dash with a time of 12.99. In the 200 meter dash, she scored another win by finishing in 26.78 seconds. Williams was also a member of the Mohawks' 4x100 meter relay, which finished second overall at 54.18 seconds. Mason City's A-team also wound up in the silver spot in both the 4x400 meter, and 4x800 meter relay. 
Christian Rodriguez had a big day for the Mason City track team, finishing second in the 400 meter hurdles for the Mohawks, with a time of 57.29. Rodriguez was also a member of the boys distance medley, who finished first overall at 4:01.50. 
In the 4x100 meter shuttle hurdle, the Mohawks were second, at 1:10.91. 
The Mohawks had a solid day in the individual field events as well, with Iverson Quade winding up third in the shot put with a throw of 39-09.50. In the discus throw, Mohawk Sebastian Brock won, at 123-07. As a team, Mason City finished third, with a score of 72.