Meghan and Rebecca DeLong have been taming golf courses across North Iowa all spring.
When it came time for the Clear Lake sisters to do it on the big stage at the Class 3A state golf meet on Tuesday and Wednesday at Adel's River Valley Golf Course, the girls didn't disappoint.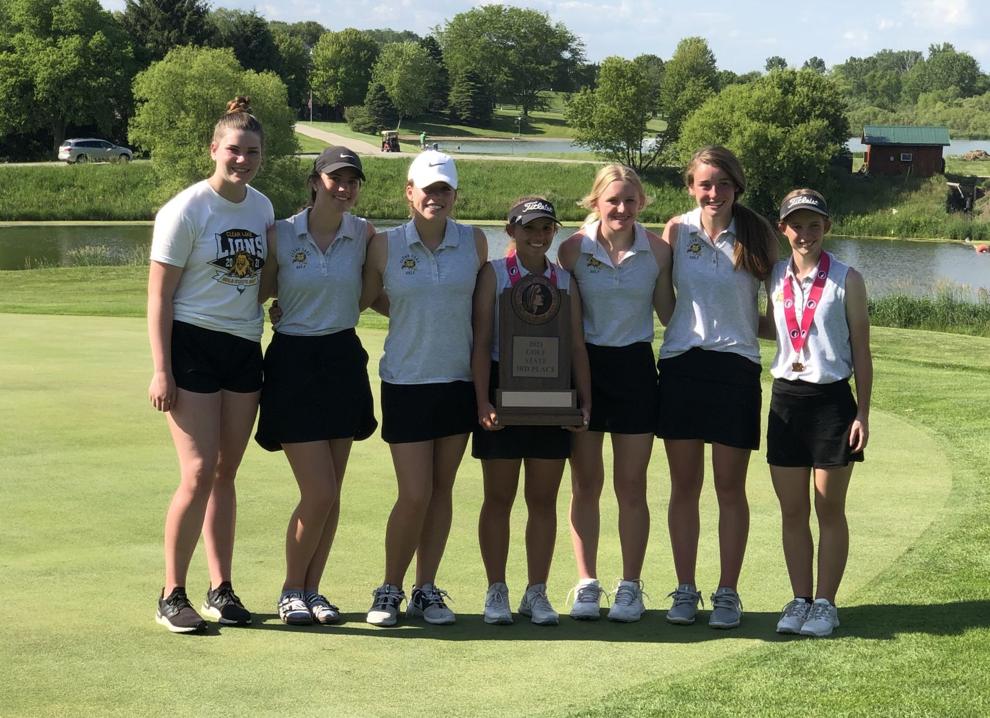 Both finished in the top 10 of the individual leaderboard and the Lions finished in third place as a team with a final score of 745 strokes.
The Lions originally were in fifth place after day one of the meet, but dropped 33 strokes as a team on day two to place in the top three as a team.
"It was great to see them battle a really hard golf course and come back and shoot a really good score on a tough, tough golf course the next day after most of them struggled on day one," Clear Lake head coach Colby Andrews said.
Meghan, a freshman, finished in a tie for third place with Xavier's Kaitlin Hotchkiss at 161 strokes. She shot an 83 on Tuesday and a 78 on Wednesday.
"Meghan was very steady and played really well today," Andrews said. "She's just a freshman and got third overall at state. That's an amazing accomplishment."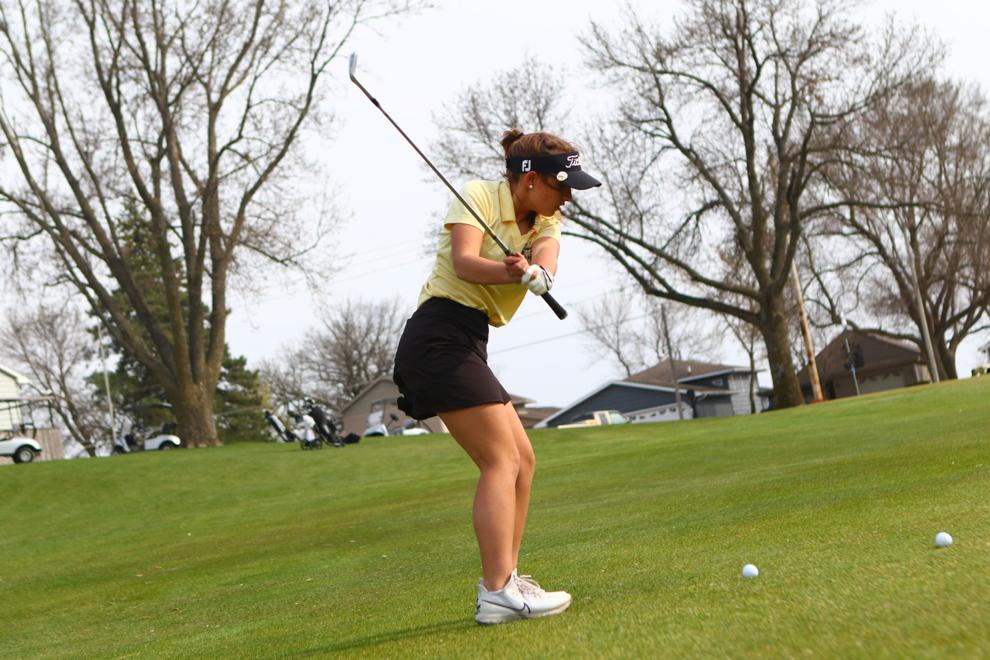 Not far behind her was her older sister, Rebecca. The sophomore finished in a tie for seventh place overall with a 166 (87-79).
"She hit 15 out of 18 greens today in regulation and came back with a 79," Andrews said. "It was just awesome to see her regulate herself and get back to the way she was playing. Because she definitely didn't play up to her capabilities on day one."
Junior Jaden Ainley carded a 209 (112-97) over the two days and senior Phoebe Nelson finished with a 215 (107-108) to round out the top four overall scores of the meet for Clear Lake.
The Lions will return almost all of the top golfers that contributed this season next year. The experience at the state meet will be beneficial for next spring.
"We totally expect to be back here next year and competing for the state title," Andrews said.
Outside of Clear Lake, Charles City's senior Sarah Mitchell finished in a tie for 38th place on the individual leaderboard. She carded a 98-104 to finish with a score of 202.
St. Ansgar finishes in sixth place
In just the second trip to the Class 1A state golf meet in program history, the St. Ansgar girls golf team finished in sixth place on Wednesday at Ames Golf and Country Club.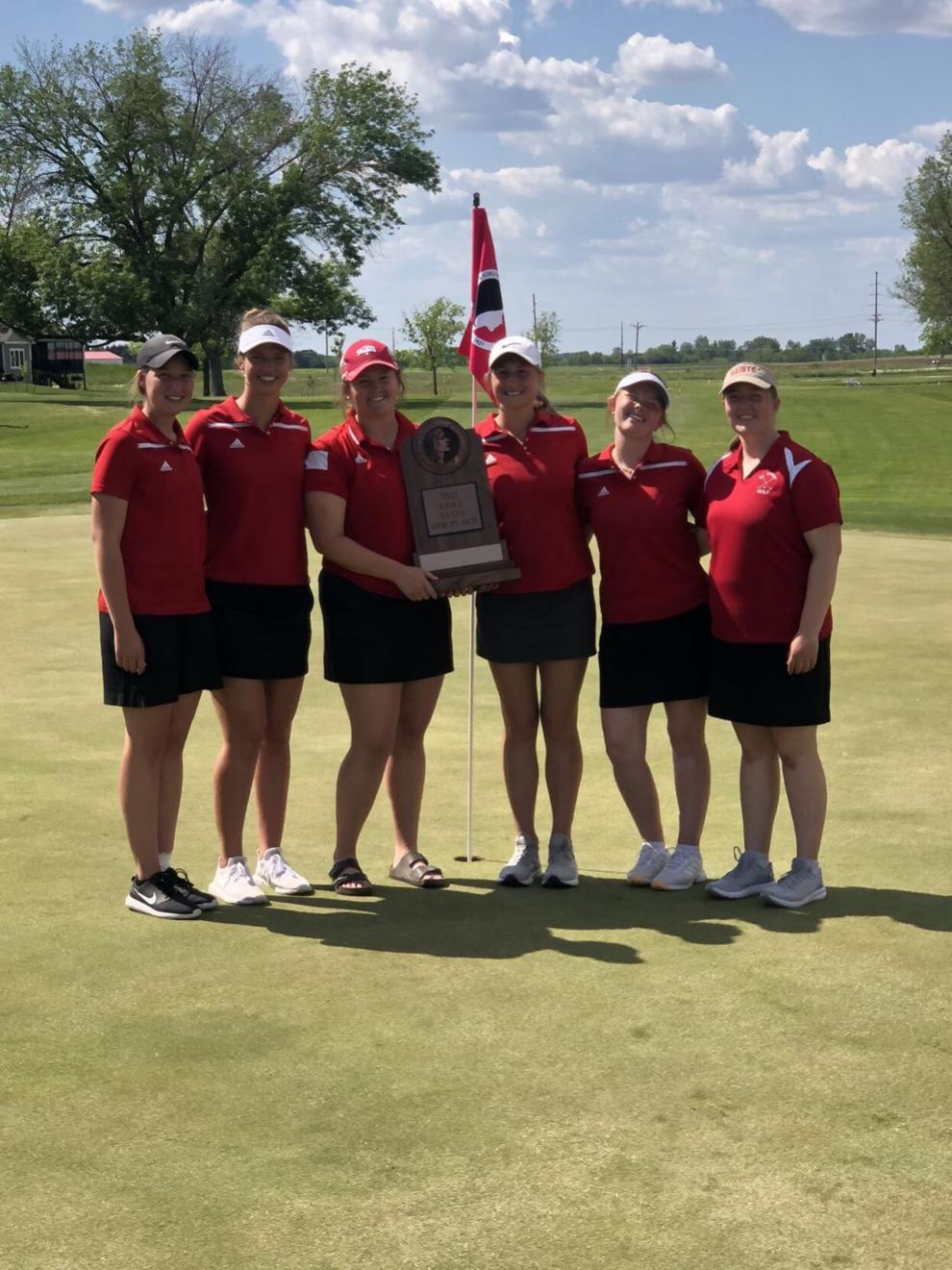 The Saints finished with a two-day team total of 787 strokes (401-386), which was good to tie with Newell-Fonda (399-388). However, the Saints took sixth alone after a countback of the fifth score tiebreaker.
"I think the team did amazing for what we expected," senior Kirsten Boerjan said. "We all had expectations and I think we all achieved them this week. I'm really proud of them for all the work they've put in this season."
After finishing day one of the state meet on Tuesday in seventh place, the Saints were happy with the 15-stroke improvement to jump up a spot on the leaderboard as a team on Wednesday.
"I know they weren't very happy with their scores yesterday and they knew they could be better," Boerjan said. "They really put everything together today to do it and make it happen."
Boerjan was the best finisher on the individual leaderboard for St. Ansgar. The NIACC golf commit finished in a tie for 13th place with a 178. She carded a 90 on Tuesday and an 88 on Wednesday.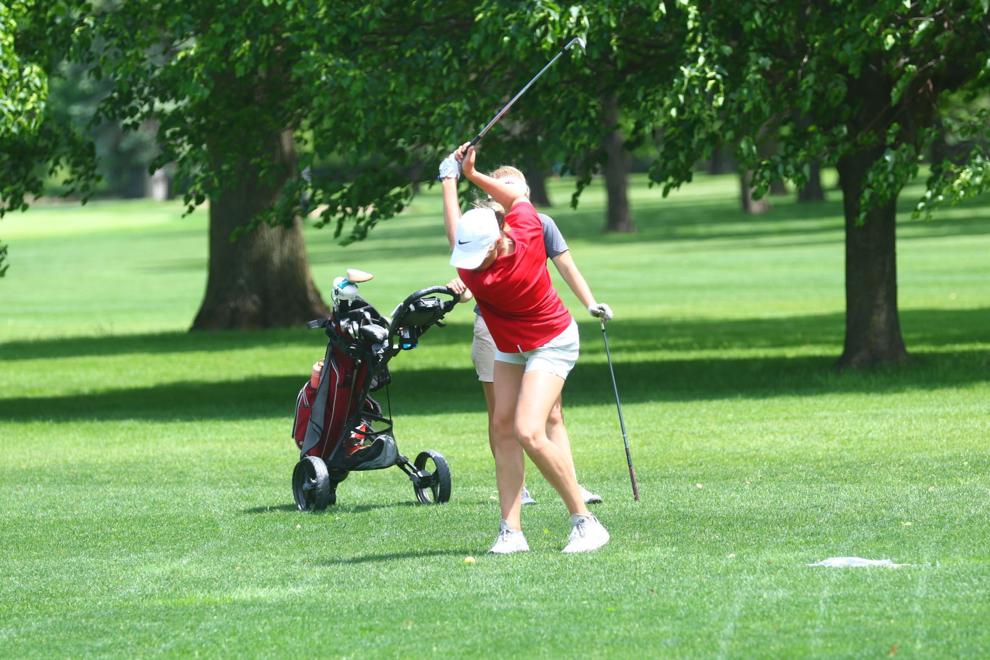 Junior Annika Hemann was the next-best golfer on the team with a score of 200 (103-97). Senior Brooklyn Hackbart's 201 (101-100) wasn't far behind Hemann. Senior Grace Jahr shot a 208 (107-101) to round out the top four scores of the two-day meet for St. Ansgar.
"It just makes me extremely happy that we get to finish out the season together with such a strong finish, "Boerjan said. "Sixth place, that's amazing. That's better than we came in. So I'm just really happy that we ended it off like this."