It's a fresh start for every area football team, with a new season fast approaching. But some things remain forever the same. 
The West Hancock football team likes to run the ball.
That might actually be a bit of understatement. 
Last season, the Eagles' top two running backs, Tate Hagen and Josef Smith, combined for 403 rushing attempts and 2,903 yards. 
The Eagles' two starting quarterbacks from 2018, Gavin Becker and Brayden Leerar, combined for just 54 passing attempts and 353 yards on the season.
That offensive trend is expected to continue, as it has for most of the past 50 years under head coach Bob Sanger. After compiling a 9-3 record, and making it to the state semifinals in 2018, Eagles' assistant coach Mark Sanger sees little reason for the team to change things up.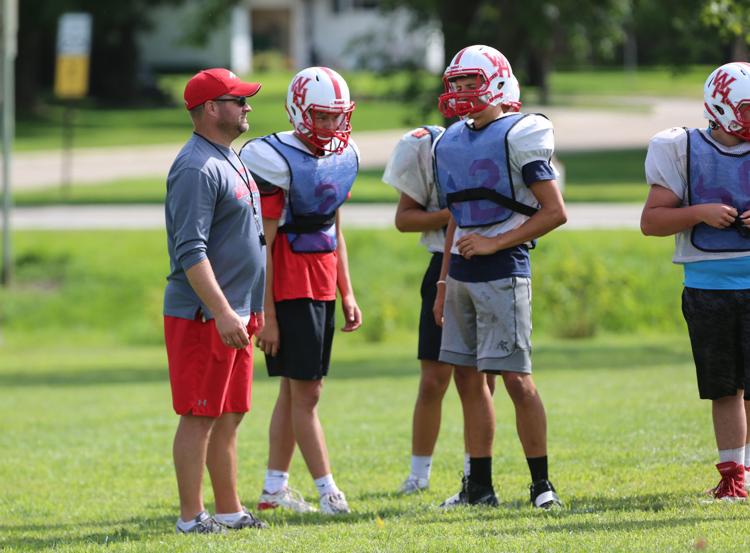 "If its not broke, don't fix it," Sanger said.  "It's a thing that we've had a lot of success with. We try to throw as many wrinkles in as we can to change it up. Anymore, it's a tough brand of football. A lot of people don't see it anymore. A lot of people want to throw it all over, and when you've got a team that is real physical, when it gets to that fourth quarter, it wears on you as a defense.
The team runs a fairly simple offensive scheme, with seven or eight base running plays. But on Wednesday morning, the team was practicing its passing plays, which senior quarterback Brayden Leerar estimates get used around three to four times a game, mostly for short-yardage gains.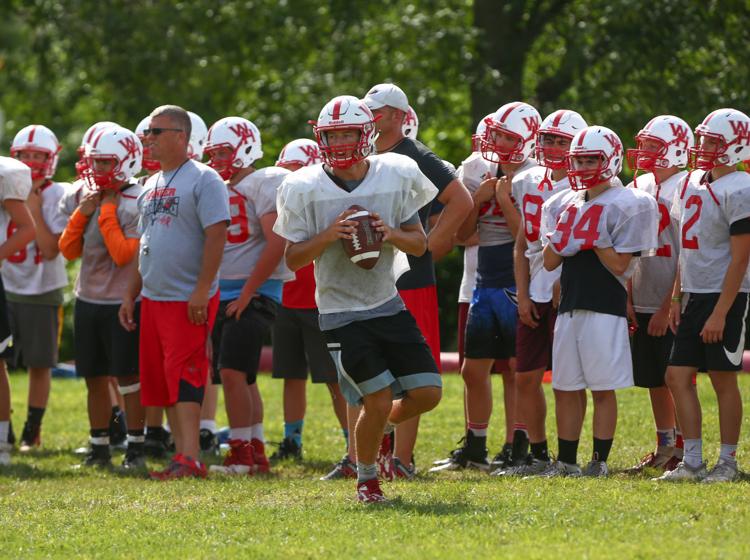 "We're a rushing team, but when your moment comes, you've got to be ready just like anybody else," Leerar said. "But it's more fun than anything. It's rare, so I get excited when they call a pass play."
Leerar's moment came midway into last season when Becker, the senior starting quarterback, broke his arm. Leerar stepped into the starting role and led the team to four straight victories before they ultimately lost in the playoffs.
His teammates and coaches were impressed with his play, and Leerar is excited to go into training camp this year as the unquestioned starter. 
You have free articles remaining.
"I learned a lot of discipline, being a younger guy," Leerar said. "You've got to step in, and fill shoes, so you'll learn a lot on the fly. You learn to trust your teammates a lot, and you'll get the job done if you all do it as a team.
"I feel more prepared. I know what is expected of me. I'm ready for whatever is thrown at me from the coaches."
Smith, who ran for 1,152 yards on the ground last season, thinks that the team might look to the pass a little more often this season, just as a change of pace. 
"We've got the pass plays in the book," Smith said. "I think this year, we won't make it so obvious. On 4th and 15, you probably know we're passing. I think we'll work them in a little more. Work the (rushing) plays a lot, and then catch them off guard with the pass plays."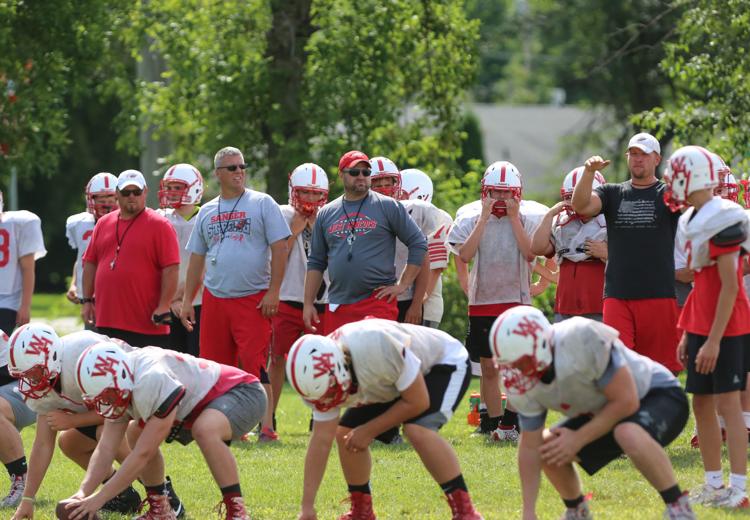 Smith emphasized that a big strength for the 2019 Eagles is their experience. Leerar comes into the season with game experience already under his belt, and the entire offensive line is returning. That gives Smith a lot of confidence as a running back. 
"I feel pretty good, and the team feels pretty good," Smith said. "There a lot of guys, where we don't have to go over the basics too much. We pretty much all know it. I've been on varsity for, this'll be the third year. There is a lot of experience going around. Everybody really knows their jobs."
While the team's identity is mostly focused on its offense, Sanger emphasized that his defense wants to be known for its toughness. Overall, Sanger labeled his team as a "hard-nosed" squad. 
"We are going to have 11 guys on defense running like rabid dogs, but you do that with any team," Sanger said. "It's something that our guys understand. If you're not going to run to the football, you're not going to play. That's what it is. You're going to give it what you have between the whistles, or you're going to be standing by me on the side-line."
Two weeks remain in training camp, and the Eagles will open the season on the road on Aug. 30, against rival Garner-Hayfield-Ventura. The Eagles have not won a season-opening game since 2012, a trend they hope to reverse this year. But the real hope is to get the win that comes at the very end of the season. 
"The sky is the limit for this group," Sanger said.  "I can't predict what is going to happen, because of how injuries and things happen. But we have high expectations. As high you can get. We'll see if we get there."