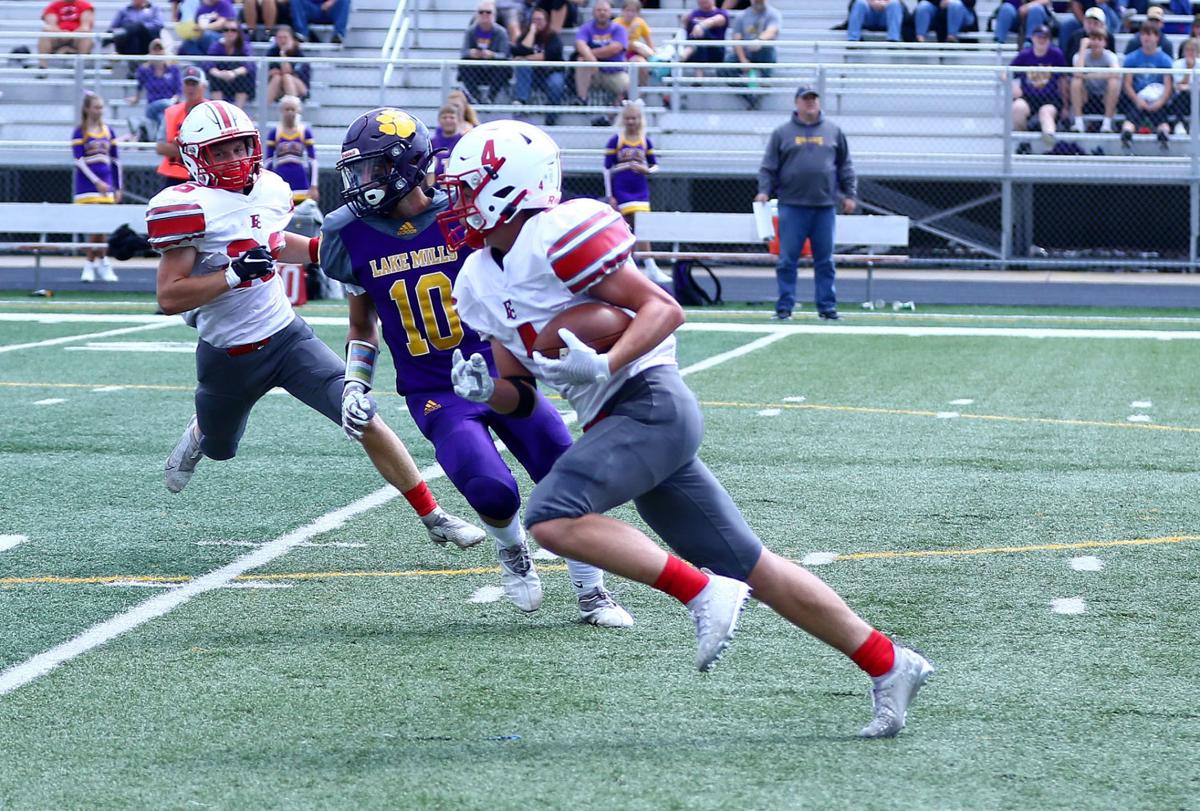 Chad Moore stated during the second week of practice he had a handful of guys he would look towards to take some carries out of the backfield.
On Forest City's roster, there were 10 players that had the designation of running back next to their name. Jack Thompson was not one of them.
That didn't matter on Saturday afternoon. And it certainly didn't prevent Moore from putting the ball in his hands.
The sophomore handled the kick and punt return duties and finished with a game-high 90 yards rushing and a touchdown to lift the Indians to a 43-6 romp over their Winnebago County rival Lake Mills.
"I think I can do a lot of things," Thompson said. "My speed helps with that a lot."
The game was originally scheduled to be played in Lake Mills on Friday night. Weather pushed the contest to Saturday in Forest City.
It didn't take long for the player listed as a quarterback/wide receiver/defensive back on the roster to make an impact. In fact, it took all of 16 seconds.
Thompson took the opening kickoff from the Forest City six-yard line. He found a hole and darted to its 45-yard line to set up the first drive of the game.
Indians quarterback Carter Bruckhoff handed the ball off to Thompson and there was a gap on the right side of the offensive line that he found and sprinted to the end zone.
Fifty-five yards. Untouched. First varsity touchdown. And it was all in one play for an 8-0 Forest City lead.
"It was a really good feeling. I've had a lot of touchdowns, but that was the best one I've ever had," Thompson said.
He finished with five carries. His next longest run was a 16-yard gain late in the second half. He also caught one pass for nine yards from Bruckhoff.
The Indians are searching for a running back, or backs, to replace Reese Moore. There was a total of 14 yards coming back this fall from the ground game.
Kellen Moore had five carries for 80 yards. Andy Olson ran 12 times for 78 yards. Robay Birri dashed for 58 yards on four carries. Olson and Birri each found the end zone.
In one game, Forest City rushed for 313 yards. Not too shabby.
"They did answer the bell today," coach Moore said. "I guess we have that expectation to finish out our assignments. I was pleased with our running game and our offensive line. Really excited about where they can potentially go."
For some of the Indians drives, Thompson put them in favorable situations.
He caught four punts and took half of them from his own territory into inside the Bulldogs 35-yard line. That second time, in the second quarter, set up Olson's four-yard plunge.
Coach Moore sees the type of athlete he has at his disposal.
"He's a great complement," he said. "Jack's got nice speed, he's gonna learn and he's probably gonna get better each and every week. The challenges will get bigger."
What is left to be determined is what level of success the underclassmen can have as the season continues on Friday night at home against Spirit Lake and into district play in the next couple of weeks.
For now, Thompson is enjoying what Forest City started off the season with, a dominant triumph over its rival.
"It was a really fun win," Thompson said. "Play hard and run hard, we should be okay."