The times are a-changing on the Newman Catholic football field. 
A few weeks ago, the school won yet another Class 1A state baseball title. Now, just three weeks later, the Knights are getting work done on the gridiron, and things look a whole lot different than they did last season. 
Gone are the seniors whom head coach Rich McCardle described as a "once in a generation" class. Quarterback Merritt McCardle is gone, as are the team's top three rushers, and top four receivers.
As for the team's expectations amidst those heavy losses, McCardle stresses that the team is a work in progress.
"It's a slow process," McCardle said. "There are a lot of unknowns right now, because a lot of these guys haven't played in a varsity game. There are five returning starters, but there are a lot of kids that we just don't know yet."
One young player that has already impressed the coaching staff is freshman Max Burt. McCardle has been impressed with Burt's arm, and has penciled him in as the team's new starting quarterback.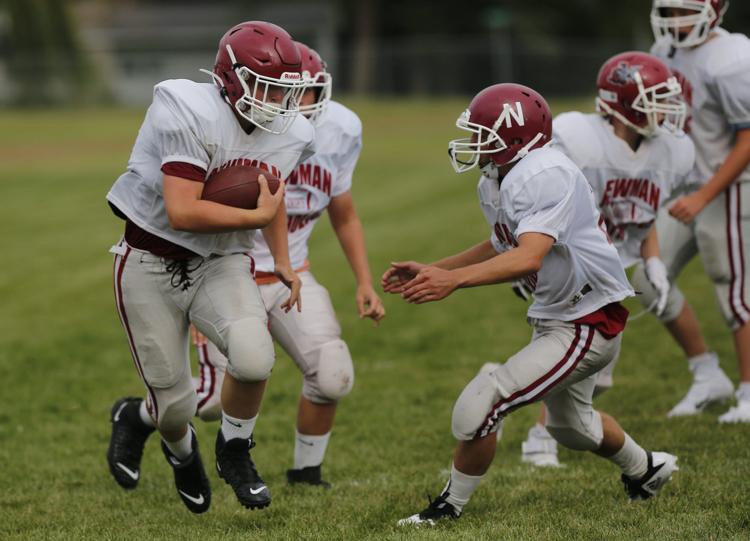 "We're excited to have him for four years," McCardle said. "He's got a good arm. As he gets used to the position, it's a little bit of a different style of play than he is used to. He's going to be more under center, which I don't think he's been in a lot. That's something he has to learn."
Burt knows that expectations for the Knights are lower this season than they have been in the past, but along with his young teammates, he relishes the opportunity to prove the doubters wrong. 
"I think a lot of people doubt us right now, and doubt that we can even get a winning record, or have a productive season," Burt said. "If we continue to put in the work and continue to get better each and every day, I think we can have a great run at a good season.
You have free articles remaining.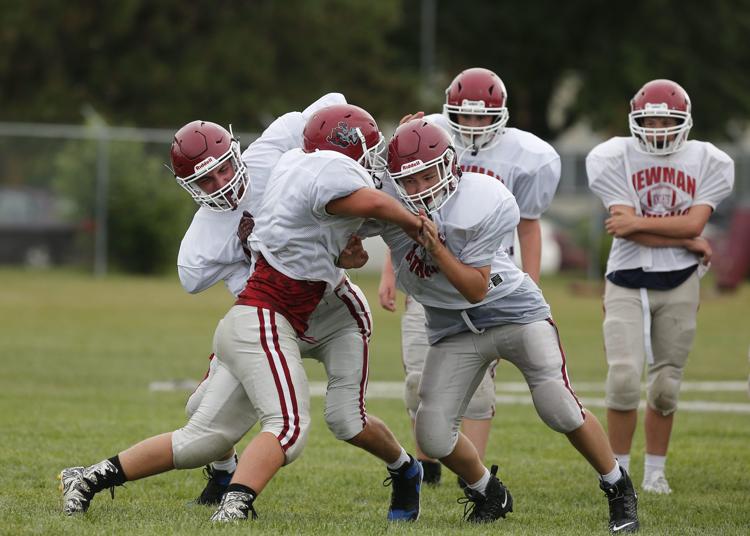 "Everyone is pretty young. Everyone is having to go through the growing pains, and we're all having to learn new stuff. We're doing it together as a group, so it should be good."
Even though most of the players will be new, Newman Catholic fans should expect to see a very similar offense to the one that the Knights have been running for decades under offensive coordinator Jim Kruckenberg. 
"Coach Kruckenberg does a great job of mixing it up," McCardle said. "We like moving the  ball down the field. I don't know if we have as big an explosiveness as we've had in the past. When you miss a player like Josh Fitzgerald, who is a game-breaker from anywhere on the field, it takes awhile to replace that guy."
Also providing a big boost for the Knights is the return of seniors Jack Lander, who will play strong outside linebacker, and John Fitzsimmons, who will line up at middle inside linebacker and as the fullback on offense.
As the starter at two of the team's premier positions, Fitzsimmons is confident that the team can still put a winning team on the field, even with its heavy reliance on youth.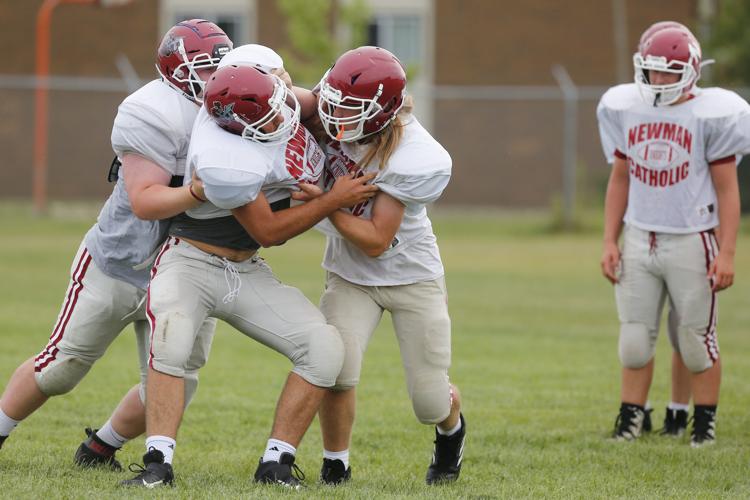 "I think we all work really well together," Fitzsimmons said. "We've got some good chemistry this year. We've played together since middle school. Our line, and our backs really have a good chemistry to work together. I think we'll be fine."
The Knights are coming off a season where they finished as a top eight team in Class A and made it to the second round of the state playoffs. This year, things will be a bit more challenging with all the new faces, but McCardle is confident that the team can still go far.
"We have to do a lot more coaching this year," McCardle said. "More teaching. We got kind of spoiled with those guys last year, they were three-year starters and they knew exactly what to do.
"We were a little ahead of ourselves, as far as getting everything in last year. This year, it's a little bit of more a slow process. We don't have as much in, but we have our base stuff, and we're ready to go."