In a tell-tale sign of the approaching autumn, a shrill whistle punctuated the air on Monday afternoon at Mason City High School.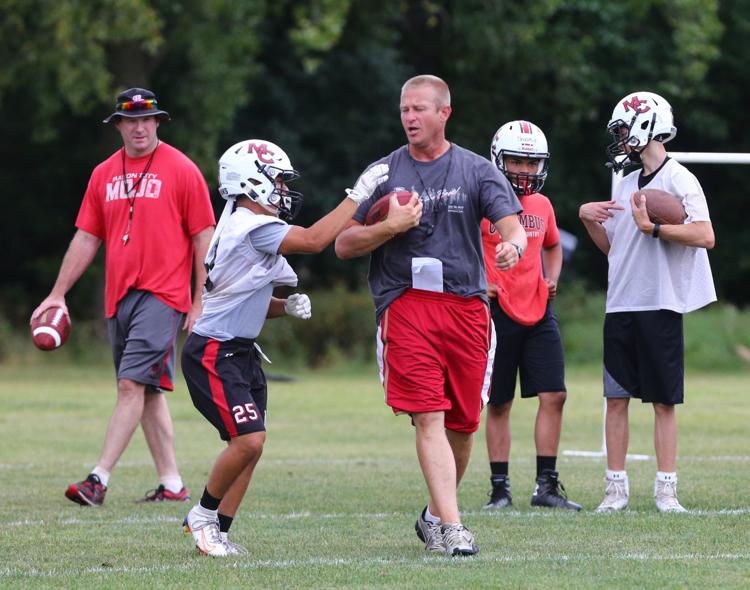 It was the first day of fall football practice, and for the Mohawks, the start of a new era.
One man in particular was highly visible, clad in a grey t-shirt and baggy red shorts, running from drill to drill with a piece of paper in hand and many tasks to accomplish.
New Mohawks head coach Brandon Krusey is not a coach who is afraid to get involved. Krusey is clearly a vocal presence, one that his players seem grateful to have.
"We're feeling really good about it," senior Neil Gogerty said. "It's a brand new atmosphere. There is a lot more energy and I think this offense is a lot more to our playing style. I really like what we have this year."
Krusey, most recently the head coach at Davenport North, is excited to get started with his new program. With just over two weeks until Mason City's opener at Fort Dodge, he was eager to get the team into a practice routine and used to the new system.
On the first day of official practice, he had plenty of kids he needed to help get up to speed.
"We have a whole lot to get done," Krusey said. "It's been good to get to know the kids and get a lot in there. We've had some new kids come in and practice. I'm just trying to get everybody back on the same page."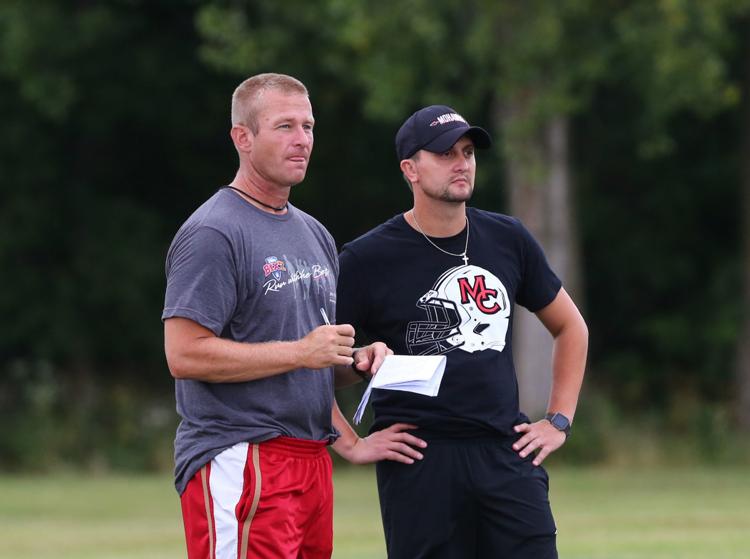 Monday seemed to mostly be focused on the fundamentals. In the offensive linemen drills, Krusey grabbed one of the pads and demonstrated how a lineman should block, not with their arms extended, but close to the chest.
He took part in the running backs drill, where the backs practiced the art of the option play. He showed the quarterbacks how to throw the ball down at their receivers, so as to keep the ball from floating. 
Running from drill to drill, Krusey wanted to make sure that all of his players were paying attention, even the ones who weren't actually taking part in the drill.
"We want to try to keep everybody engaged as much as possible, and keep everybody active" Krusey said. "Today, we had a few too many guys standing around, but that was just the first look. My goal is to try to keep everybody engaged all the time and keep hitting them with new things.
"Games don't slow down, so practices should be like a ballgame. It's just kind of the way I think an effective practice should look."
Over the years, Krusey has gained a reputation as a coach who turns around struggling programs. In three seasons at Davenport North, he brought the team from a 1-9 record to 5-4 at the time of his departure. At Independence, he led the team back to its first postseason in nearly 30 years. And in his first head coaching job, at North Tama, he compiled a 65-16 overall record and finished as state runner up in 2008. 
Now, as the lead man of a team coming off an 0-9 season, and which is 6-34 record in its past 40 games, he begins the program building the process over again. He is realistic about the team's expectations for this season and also recognizes the value in having upperclassmen who have been through the team's lowest days.
You have free articles remaining.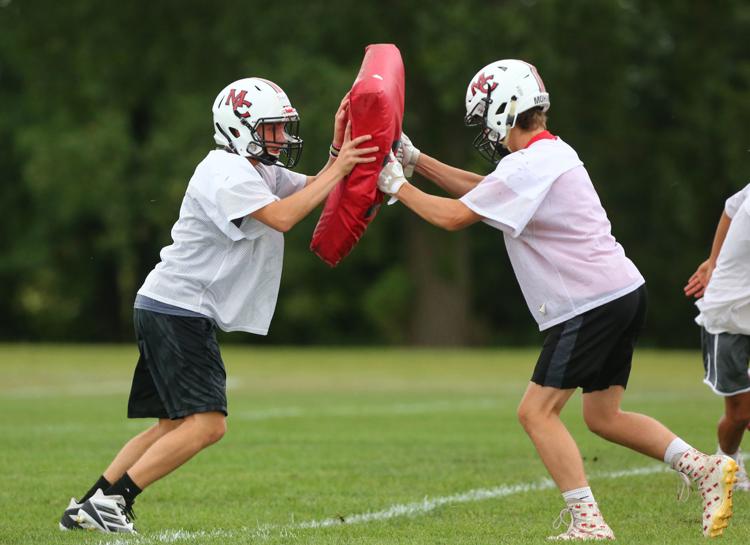 "It's never easy to go through seasons like that," Krusey said. "Those happen for a number of different reasons. They've persevered. They're hungry to break through and try to do better than they did last year and leave an impression that they can be proud of going out as seniors. I want to start something new for our school and get back on track where they should be going."
Though last season was a hard experience for many of the players, senior J.D. Ward thinks that it will pay dividends this season.
"It was a great experience for us as leaders to go through that, because we know how to lead when times are down and when they're tough," Ward said. "Anybody can lead when everything is going right. It's what happens when things are tough. I think that'll really help us this year in how we lead."
Since Krusey started, junior offensive lineman Ben Pederson has already noticed a difference in the team's energy level and overall demeanor. 
"The pace of practice has been a lot better than it was in past years," Pederson said. "Overall, it's been a great experience. He brings a whole different feel for it. Everybody has a better grasp of what they need to do. He's done a good job of that.
"It's not necessarily football things, just the little things. Like being on time is very important and it's one of the things he stresses a lot. He stresses body language and attitude."
Aside from attitude, Krusey is changing a lot about the team on both sides of the ball.
"There is a lot scheme-wise on both sides of the ball that we've changed up. What they did last year was perfectly fine, it's just not me," Krusey said. "I'm trying to get my personality a little bit in everything. You'll see us with a lot more spread type looks offensively, and defensively we're hoping to run around and defend the whole field. There is a lot going on on both sides."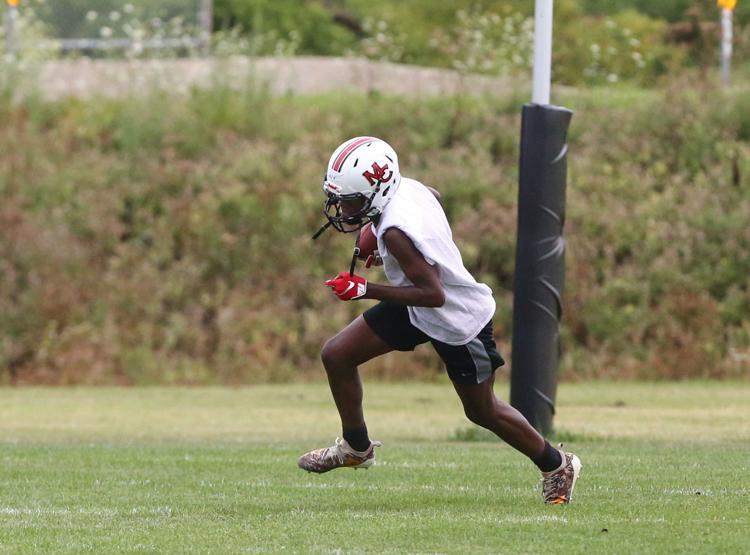 One pivotal preseason battle is who will take the snaps. As of now, the quarterback position is a competition between two players, James Jennings and Jeffrey Skogen. Both are new to the offensive system, which Krusey describes as about 60 percent rushing and 40 percent passing. 
"They kind of go off and on one day or another, who steps up and takes the lead," Krusey said. "Both of them are very decent athletes, and if they don't end up at the quarterback spot, we'll end up using them somewhere else as well. I've been pleased with their effort and their focus."
After several hours of running to and fro on the practice field, even the coach starts to feel tired. But with a whole season ahead, Krusey is ready to go.
"It's just like a kid putting on the helmet, when a coach puts on the whistle, you've got to be ready to go, ready to compete and give them your best effort," he said.
MCHS Football - first day of practice (1).jpg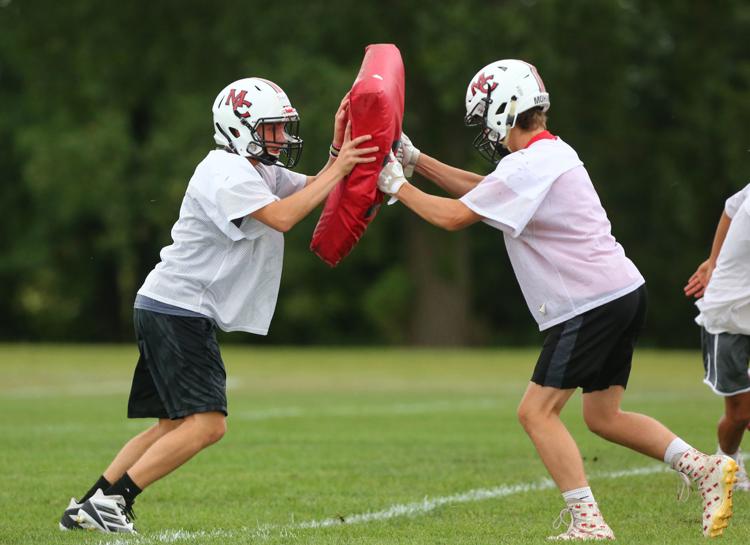 MCHS Football - first day of practice (2).jpg
MCHS Football - first day of practice (3).jpg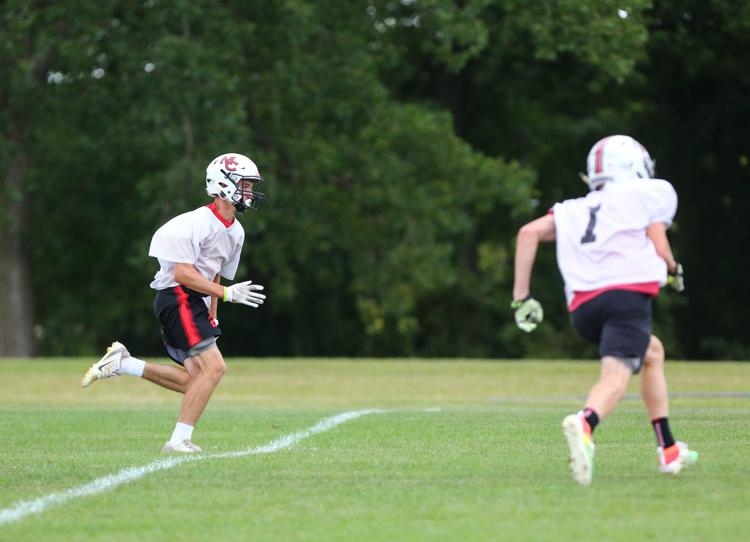 MCHS Football - first day of practice (4).jpg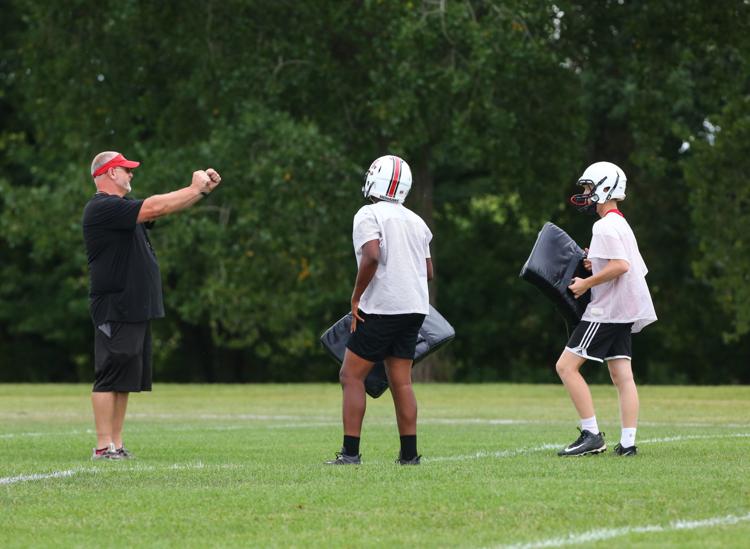 MCHS Football - first day of practice (5).jpg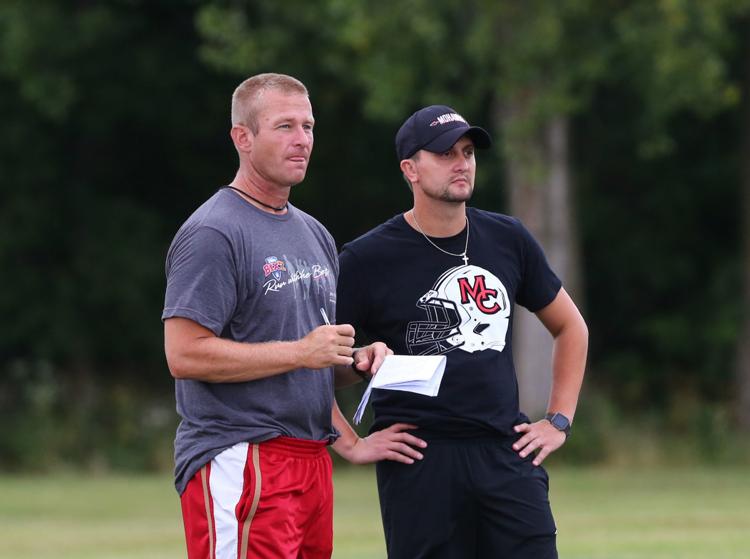 MCHS Football - first day of practice (6).jpg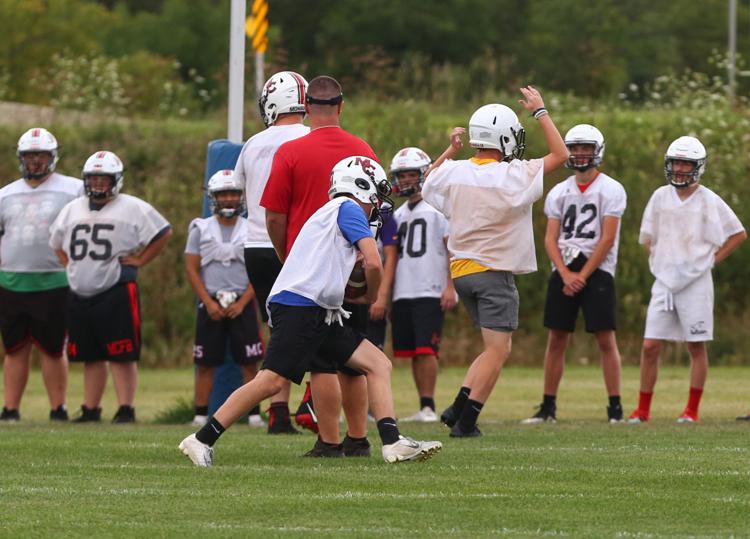 MCHS Football - first day of practice (7).jpg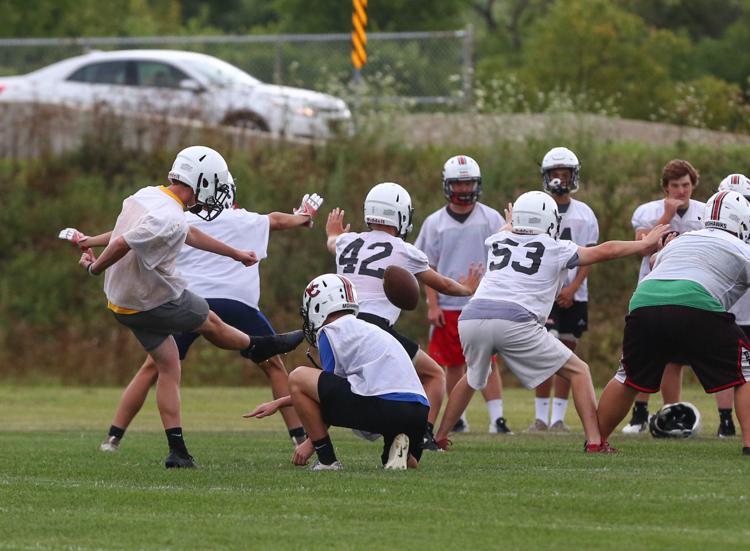 MCHS Football - first day of practice (8).jpg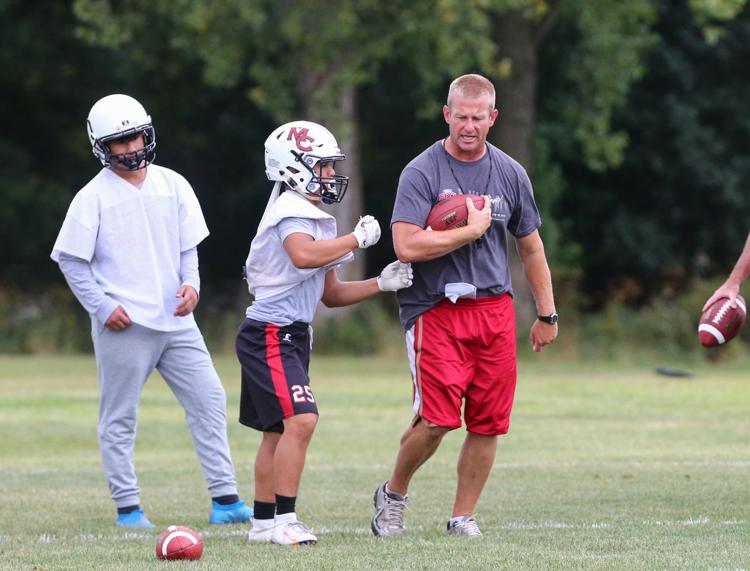 MCHS Football - first day of practice (9).jpg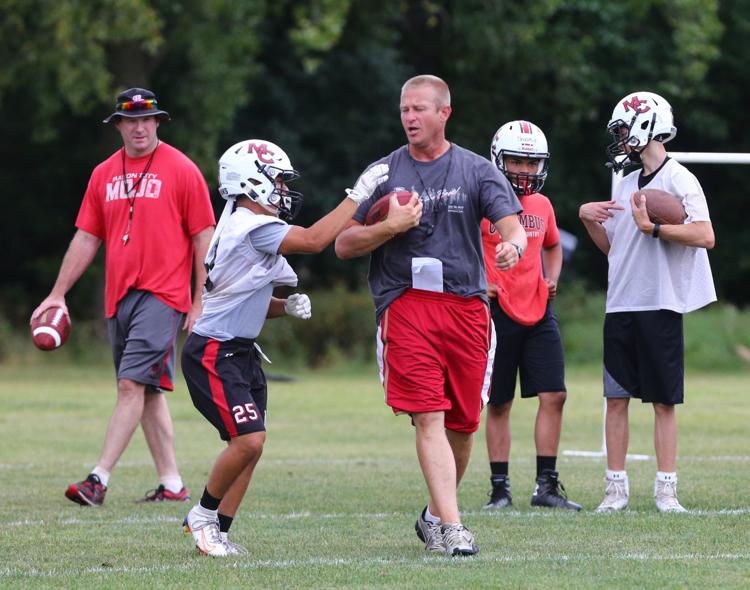 MCHS Football - first day of practice (10).jpg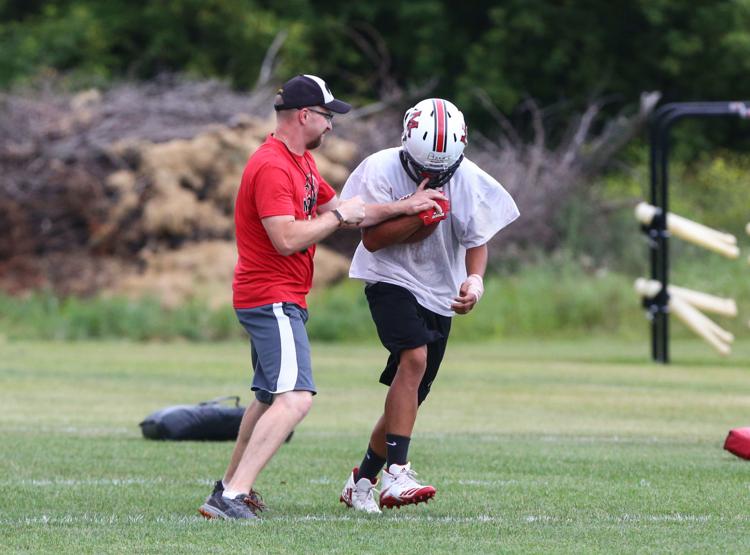 MCHS Football - first day of practice (11).jpg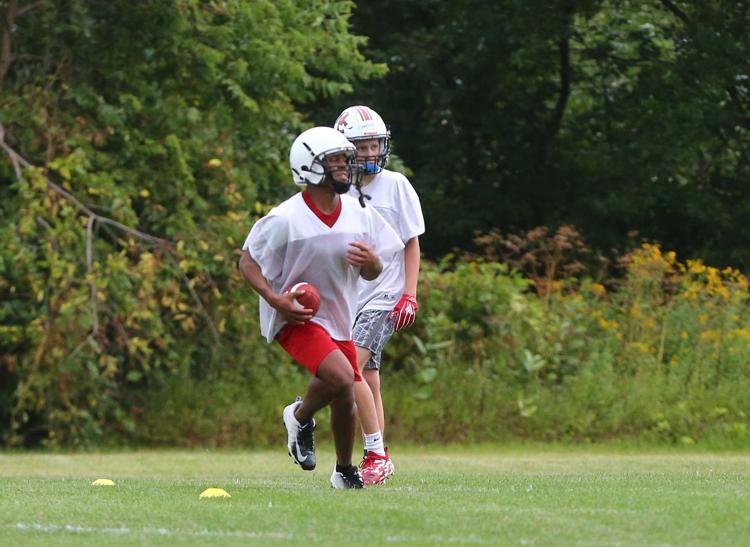 MCHS Football - first day of practice (12).jpg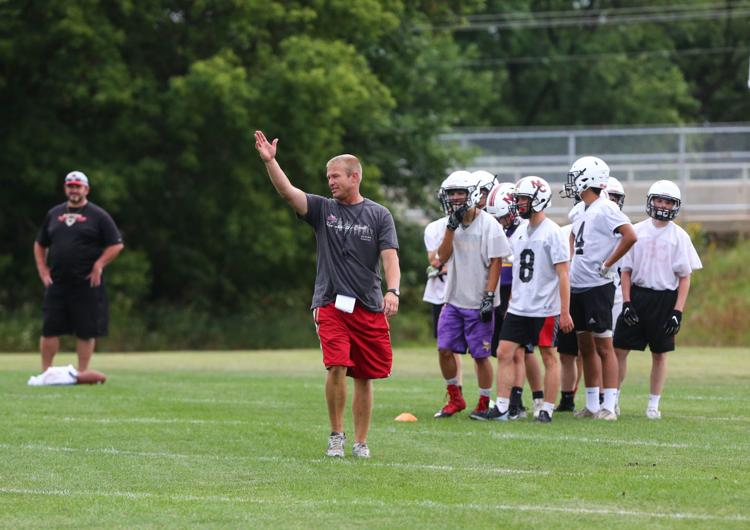 MCHS Football - first day of practice (13).jpg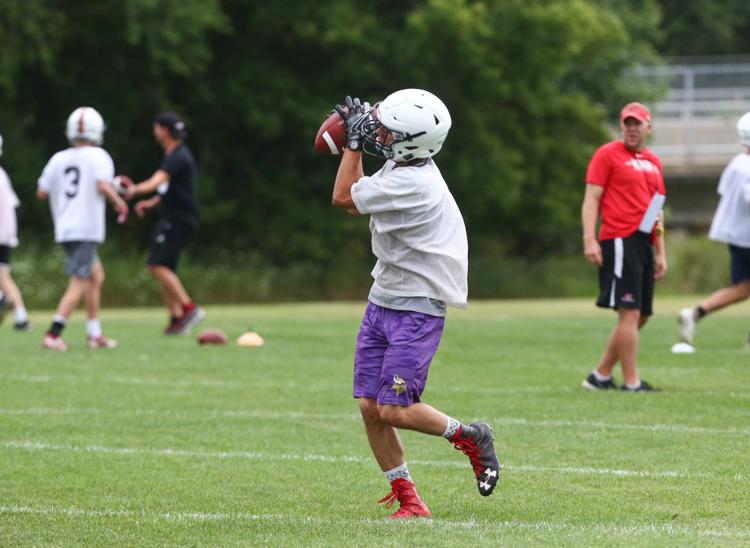 MCHS Football - first day of practice (14).jpg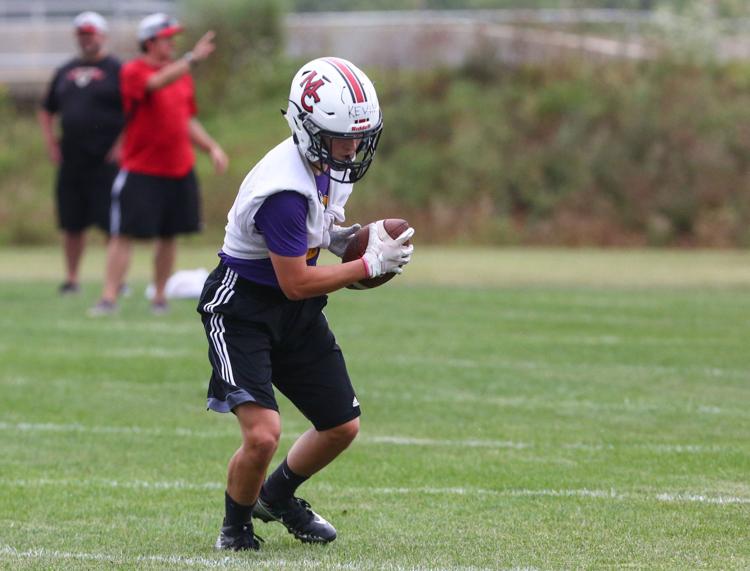 MCHS Football - first day of practice (15).jpg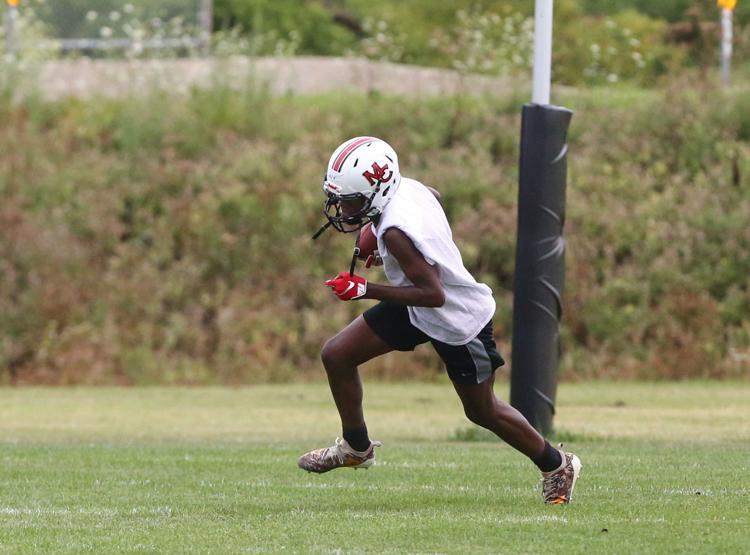 MCHS Football - first day of practice (16).jpg