Newman Catholic's defense has been opportunistic this season, causing nine turnovers through three games.
It added two crucial fumble recoveries in high leverage situations Friday night.
Forcing a fumble in the opening kickoff in the second half then with the Knights backs against the wall, they came up with another turnovers as they put together a statement 37-21 victory over St. Ansgar on the road.
"We just had to bring the energy, we couldn't let up at all," fullback Jack Maznio said. "We've been really waiting for this one."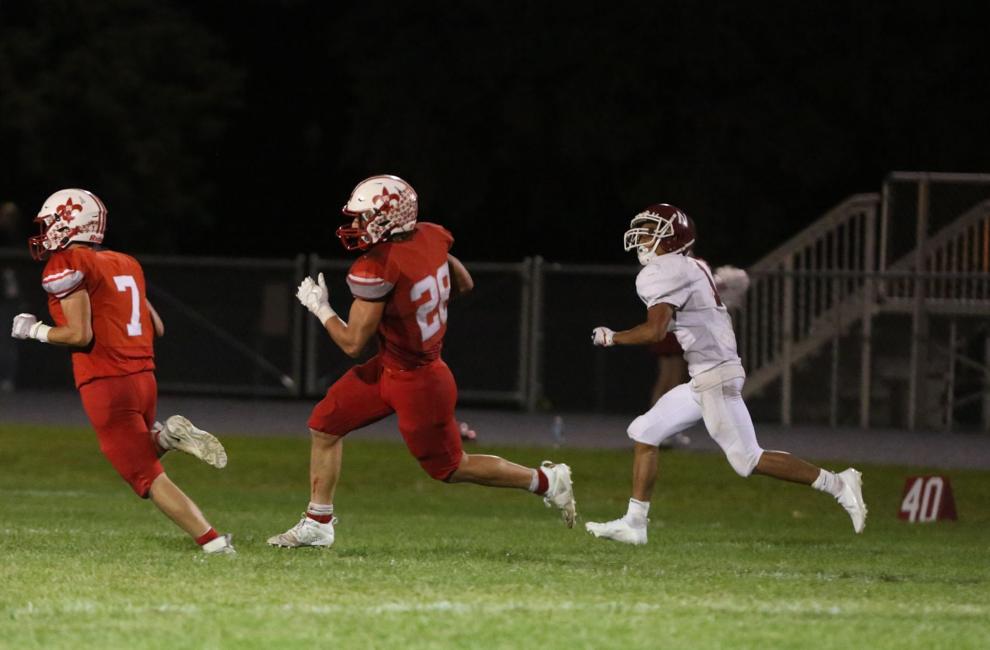 It marks just the second time in the last 10 years Newman Catholic (3-1, 1-1 District 2) has beaten the Saints. It is the first time since 2010 it has won in St. Ansgar.
Maznio and James Jennings called this a "program changing" win. Coach Rich McCardle didn't see that way.
"It is a good stepping stone, I don't think it is that huge," McCardle said. "It is always tough to play here. No lead I feel is big enough."
The Knights trailed 14-13 at the half. They kicked off to Bradley Hackenmiller, who coughed up the ball on St. Ansgar's 38-yard line. Six plays later, Newman Catholic quarterback Max Burt dove in for a 1-yard TD then found Nash Holmgaard on the two-point conversion to make to give it a 21-14 lead.
"We had to stay on top," Maznio said. "I was really confident in our guys. If we did the little things, kept it smooth, we would go away with it."
On two of the next three drives, both sides had their fullbacks have fumbles. Maznio dropped the handoff and set up the Saints (2-2, 2-1) in Newman territory. 
When they got to the 11-yard line with 1st and 10, Lorne Isler was met at the line of scrimmage and fumbled in the final few minutes of the third quarter.
"Certainly give Newman a lot of credit, they capitalized on our mistakes," St. Ansgar head coach Drew Clevenger said. "Sometimes, that's just what happens. I don't fault anybody's effort."
Newman Catholic proceeded to march 89 yards on 12 plays, capped again by a Burt rushing touchdown to make it a 15-poinrt lead. Holmgaard caught two passes for first downs and Jennings busted out a 20-yard run.
The Knights rubbed salt in the wounds over the remaining 8 minutes, 42 seconds of the night.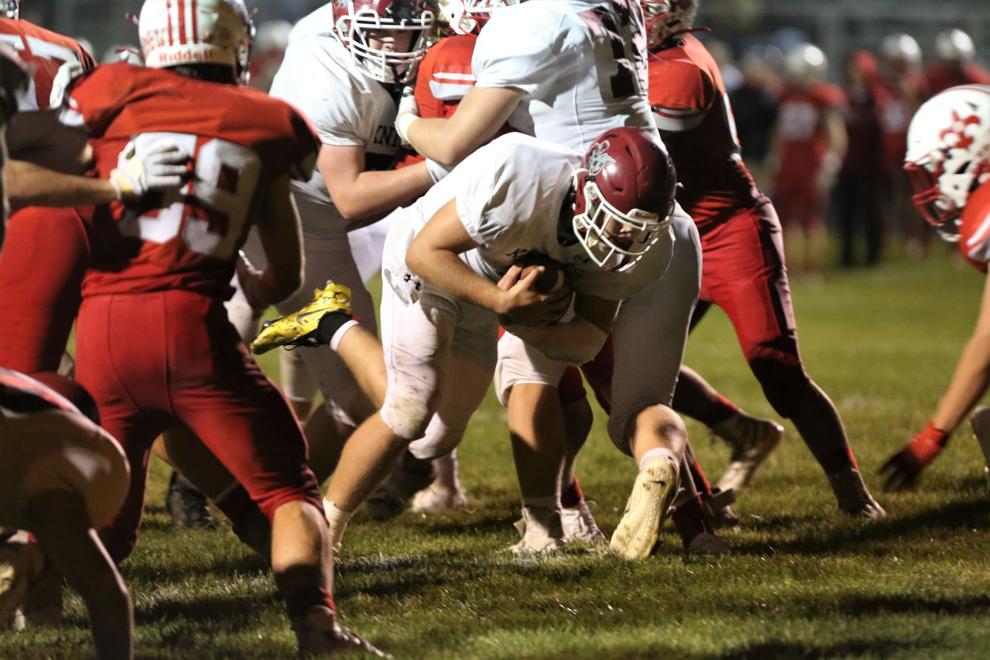 They forced a safety then Jennings caught a 4-yard pass from Burt on a flat route to put the finishing touches on a 16 first down, 306-yard offensive showing.
"At the end of the day, this wouldn't happen with everyone else," Jennings said. "I do my part, they do their part."
Maznio finished with a team-high 125 yards and two touchdowns of one and six yards. Burt threw for 108 on 8-of-12 passing, 70 of those yards in the direction of Holmgaard.
St. Ansgar QB Tate Mayer got into the secondary and bolted for a 56-yard score at the 9:52 mark of the second quarter. The Saints, facing a 4th and 3, called a fake punt and converted a 9-yard gain to Hackenmiller to keep the drive going.
It ended with McCabe Hendrickson bulldozing seven yards for his first and only score of the night.
"We got several things we can do off of that," Clevenger said. "It was a big play for us."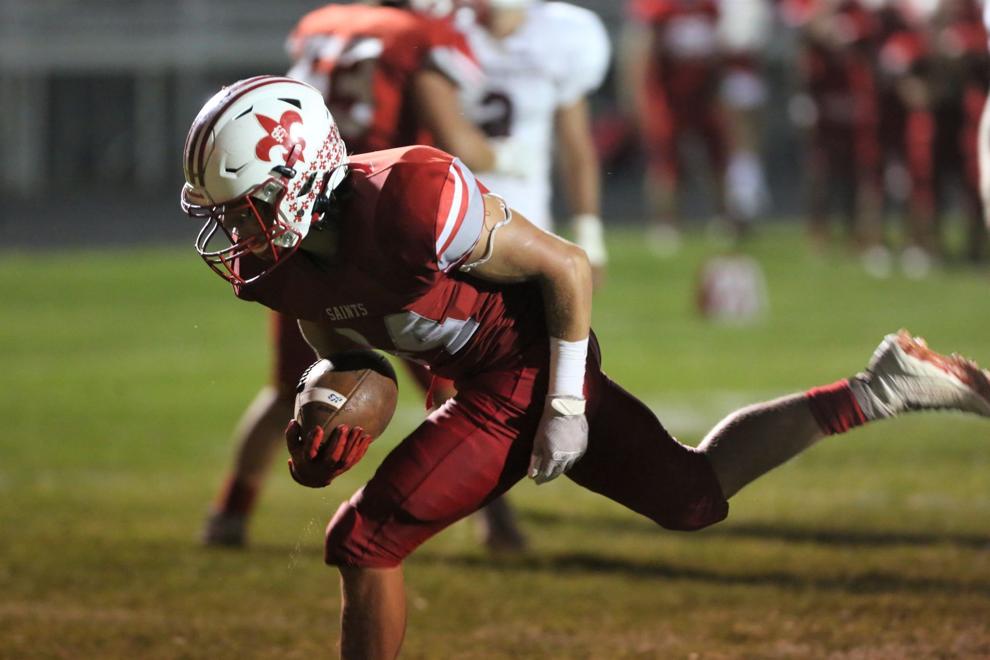 The Saints couldn't generate a drive after the Isler fumble into the Knights side of the field until the final one where Isler finished off a 147-yard performance with a 4-yard TD.
They now find themselves at an even .500, uncommon territory for a state semifinalist and traditional power.
"They'll be resilient," Clevenger said. "We have a lot of things we need to improve on. Hopefully learn from our mistakes. We still feel like we have a chance to be a pretty good football team. Our margin is maybe a little (more) slim."
Newman Catholic faces unbeaten North Butler next Friday for its homecoming game. The Bearcats and top-ranked West Hancock remain as the lone unbeaten teams in the district.
"I told the guys to enjoy this one," McCardle said. "North Butler will be tremendous challenge for us. They're a tough team and they plays us tough. We're not overlooking them one bit."