It's easy to feel the excitement in the air in Hancock County.
The Class A, No. 1 West Hancock football team will play at the UNI-Dome in Cedar Falls on Thursday for the first time since 2019 – when the program won a Class A state championship.
"It's huge for our guys and huge for our community," West Hancock head coach Mark Sanger said. "It's just great to have the opportunity to be down there. To be one of the four teams left and have the opportunity to try to punch a ticket to go to the state title game."
The Eagles rolled through the first three rounds of the state playoffs, earning a 43-7 win over Alta-Aurelia in the first round, a 31-7 win over South O'Brien in the second round and a 27-0 win over Hartley-Melvin-Sanborn on Friday.
But the toughest task for the Eagles is still ahead.
West Hancock (11-0) will play East Buchanan (10-1) in the Class A state semifinals on Thursday morning.
"They're a very big, physical football team that does things well," Sanger said. "They're very well-coached and very well-organized. They have a good group of kids that do what they need to do to win. It's no question why they're in the semifinals of the football season."
The Class A, No. 8 Buccaneers have earned their way into the state semifinals with back-to-back close wins in the last two rounds of the playoffs. The team earned a 12-8 victory over Lisbon and a 12-0 win over Wapsie Valley, respectively.
Much of that success has to do with senior ball carrier Adam Hackett. He's rushed the ball 191 times for 1,723 yards and 20 touchdowns.
The Buccaneers also boast two other rushers in sophomore Tanner Thurn and senior Connor Williams that have combined for 1,361 yards and 14 touchdowns.
"They want to run the ball, but they do it in a lot of different ways and a lot of different formations," Sanger said. "They attack all different sides of the field and they can throw the ball when they need to. Then, they play very good defense. They're strong in all areas of the game."
Only surrendering one touchdown in the past two games, East Buchanan's defense is playing its best at the right time.
But the Buccaneers will face a strong West Hancock offense that can attack defenses in multiple ways.
Senior fullback Mathew Francis is coming off his best game of the season, rushing for 256 yards and three touchdowns in Friday's win. He's rushed for 1,675 yards and 25 touchdowns this fall.
Behind a physical offensive line, seniors Kane Zuehl and Braden Walk are threats from the halfback position in West Hancock's traditional, under-center offense.
When the Eagles want to shake things up on offense, they do so by sticking sophomore Mitchell Smith into the lineup as a quarterback out of the shotgun position. He can run and pass, which makes it difficult for defenses to prepare for.
But what's most impressive about this top-ranked West Hancock team is its defense. The Eagles still haven't given up more than one touchdown in a game all season long.
"Our coaches always preach to have grit and never give up, no matter how hard it is," Walk said on Friday night. "Our defense is one of the strongest parts of our team right now."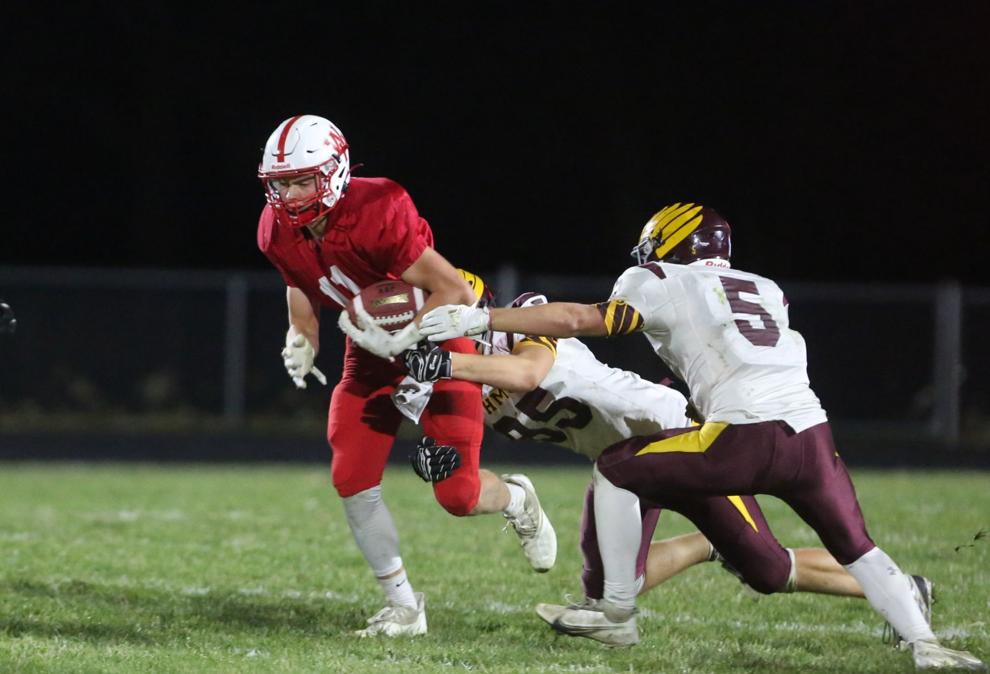 Sanger knows that a win on Thursday won't be easy. But he also knows his guys are prepared to leave their own mark on a storied West Hancock program filled with a history of success.
The coaches are ready, the community is ready and, of course, the players are, too.
"We do everything for this community, because they do everything for us," Francis said. "We appreciate everything they do, so we're going to give them a show."
A win on Thursday would send the Eagles back to the program's eighth state championship game. Only three teams in West Hancock (Britt) history have won a state title.
"We're going to enjoy the time we have down there, because it's not normal," Sanger said. "We're one of four teams left. Sometimes you get caught up in that, and don't realize how special of a deal what our guys have got going."
West Hancock will play East Buchanan in the Class A state semifinals at 10 a.m. on Thursday at the UNI-Dome in Cedar Falls.