West Hancock football coach Mark Sanger knows what he wants in an offensive lineman. 
Fiery. Tough. Strong. Athletic.
Someone with a little bit of a mean streak.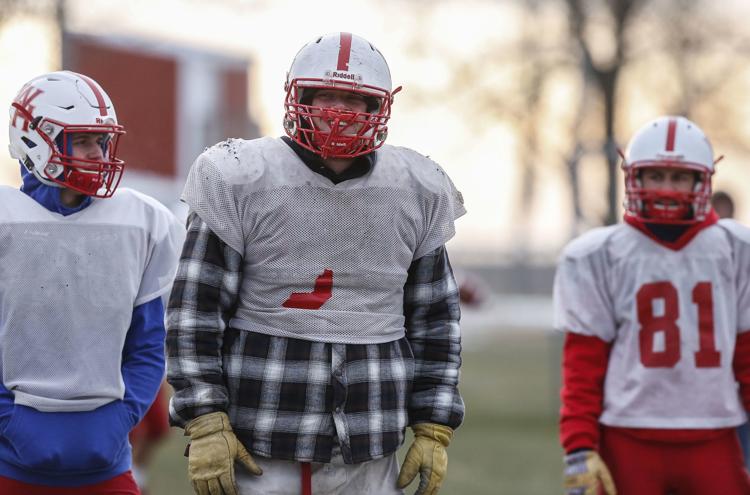 For the Eagles this season, that attitude has helped elevate the team to the No. 1 ranking in Class A, with the team just two wins from its third state championship.
Opposing teams know what they are going to get when they face West Hancock. But knowing what is coming does not mean they are going to be able stop it. 
The Eagles are widely recognized as the best small-school team in the state, and have the top rushing attack, with a state-best 4,496 yards on the season.
The Eagles have three running backs with over 1,000 yards – Tate Hagen, Cole Kelly and Josef Smith – and have scored 65 touchdowns on the ground, which is third-best in the state. 
In each of the past four seasons, the Eagles have had at least two rushers with over 1,000 yards on the ground. While plenty of that lies on the shoulders of the athletic running backs, the team's stalwart offensive line is what makes the team go.
"Every play, our o-line is busting it," senior Josh Stromer said. "We never take a play off, and I think that is a good thing. When you watch back on film, every time, every play, we're all going 100 percent." 
The West Hancock program has a long tradition of having a dominant running attack, going all the way back to the late 1960s. For the Eagles, that dominant tradition starts with the big guys up front. The current group of lineman has been among the most successful in recent memory.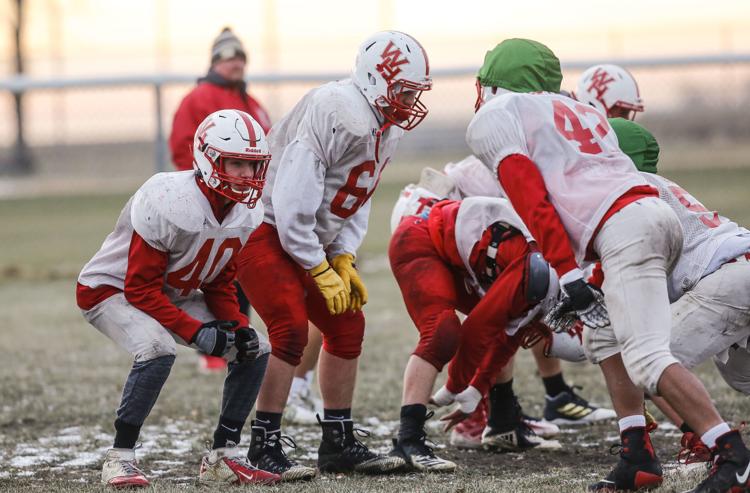 "If you're an offensive lineman, you've got to be tough," Sanger said. "You're the only guys on the team that are guaranteed contact on just about every play in the trenches. With linemen, you want a big, strong, fast guy. If you can get all three, that is a perk."
Kelly, Smith, and Hagen each complement the work the line does in opening up gaps and giving each of them plenty of room to run. With a three-headed monster at running back, and a group of bruisers on the line, it oftentimes seems like the Eagles offense cannot be stopped. 
You have free articles remaining.
"We're just really a complete team," Smith said. "We don't really have any weak spots. Everyone does their role, and we've had success because everyone does their job. 
"A lot of times I make my cuts, and there is no one there for five yards."
The offense the Eagles run is very simple on the surface. They run just a few plays, and run them extremely well.
"We have enough talent that we can really run whatever we want," Stromer said. "Everybody knows our dive play, and our inside trap has been really good the last two years."
Teams with the unenviable task of going up against the undefeated Eagles can understandably start to feel the effects by the end of the game. West Hancock players take pride in the reputation the program has as a tough, physical, bruising opponent. 
"Some people aren't really made for that kind of football, and they don't really understand. Once you get to the fourth quarter, it kind of wears on you for awhile," Hagen said. "Some people just can't handle it and they just fold."
The Eagles have run a very similar offense for decades, and yet continue to be among Iowa's best teams. For Sanger, a lot of that has to do with the line's attitude. 
"They don't like to lose, and there is nothing wrong with that," Sanger said. "That is a big part of it, and they're willing to do the things necessary to not allow that to happen. The things that they control to make sure that that doesn't happen. They're a competitive group. They're fiery and edgy."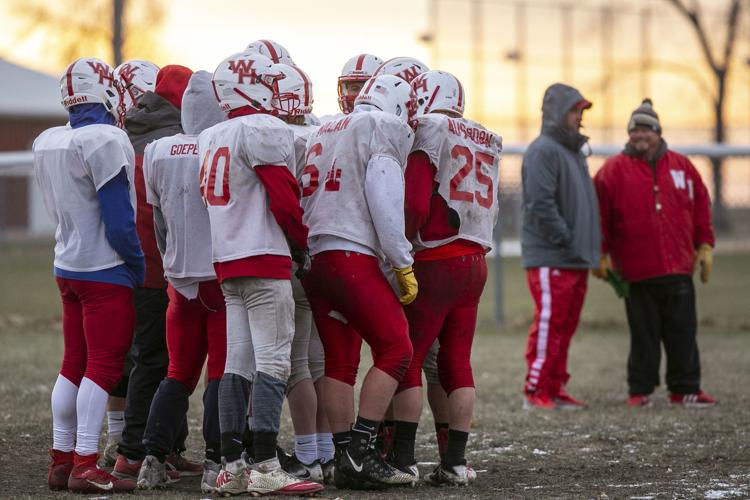 Sometimes, that fire can lead to negative results, like penalties. But for a coach, it is always better to tell a player to settle down than have to try to get a player hyped. 
"You need somebody that is a little edgy, and has got a little chip on their shoulder," Sanger said. "You can always pull the reins back on somebody, but trying to kick somebody in the rear to get them to go more, that is even tougher. I'd rather have it the other way."
Kelly, who is third on the team with 1,060 yards on the ground, captured the team's mindset: "It's everyone being willing to die for each other," he said. "When we're out there, we're going play after play, going hard. Everybody executes their objectives and gets it done."
The Eagles' starting line, which consists of tight end Tanner Hagen, left tackle Chandler Redenius, left guard Tristan Hunt, center Josh Stromer, right guard Tanner Thompson, right tackle Brody Cox, and split ends Cole Wood and Matthew Francis, played together last year on the team that got to the state semifinals. Their hope is that last year was just the dress rehearsal for the big show.
"Our goal is not to stop in the semifinals, but to win it," Redenius said. "It's pretty cool. It's a big atmosphere and you're going from the cold weather to the hot weather. Its a big change and it's a lot of excitement for your team."
That championship experience is valuable for the squad as they prepare to go up against Woodbury Central at the UNI-Dome. After falling just short last year, Sanger knows that his players will be ready this time.
"How many times where you do fall a little bit short, you know you have the possibility of getting back, and don't?" Sanger said. "They have another shot. That is the only motivation they need."