After a dream season, the honors just keep coming for the West Hancock football program.
The days are dark, cold and short right now in North Iowa, but a new beginning is here.
It may be hard to believe, but another decade is at its end. Over the past 10 years, a lot of fantastic athletes have graced the fields and gy…
Bright and early Thursday morning, Clear Lake quarterback Jaylen DeVries made his future official, signing his letter of intent to play footba…
There is still plenty of football for fans to watch, with the NFL playoffs and the college bowl season both just around the corner.
Five days after raising the Class A state title trophy at the UNI-Dome in Cedar Falls, the West Hancock football team received a warm welcome …
With West Hancock raising the Class A state title trophy last week, North Iowa's high school football season has officially come to an end.
St. Ansgar senior running back Jack Sievert was honored on Thursday as the Class A winner of the 2019 Iowa Bankers Association Student Athlete…
The West Hancock football team capped off its historic run to the Class A high school football championship Thursday with a 21-17 win over Gru…
Photos from West Hancock's 21-17 victory against Grundy Center to claim a state title at UNI-Dome in Cedar Falls on Thursday. 
The state title is the Eagles' third in school history, and first since 1996.
There is something about a small-town football team that just feels special. Sure, football teams in big cities will draw crowds of close to 8…
For the Algona High School football team, Saturday's state semifinal game was wild, exhilarating, frustrating and ultimately, a disappointment. 
A llok at the student-athletes who were named to the 2019 Class 2A District 3 All-District teams: 
When the West Hancock football team finds it groove, it seems like no one can keep it from a win. And after being eliminated last season in th…
On Saturday, the undefeated Bulldogs will battle OABCIG at the UNI-Dome in the 2A state semifinals
Photos from Saint Ansgar's state semifinal loss against Grundy Center on Friday at the UNI-Dome in Cedar Falls.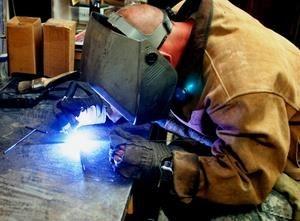 J & J Machining, Welding & Fabricating
After dominating its opponents all year long, the St. Ansgar football team played in a stressful, wild game that went down to the final second…
Friday is a day of reckoning for the area football squads that are still in the hunt.
West Hancock football coach Mark Sanger knows what he wants in an offensive lineman. 
After a season full of exciting moments and big wins, the Clear Lake football team saw its season come to an end on Friday night, as the previ…
Clear Lake Lions lost to Williamsburg Raiders 35-21 at the quarterfinal game in Clear Lake on Friday, Nov. 9.
Photos from West Hancock's shutout victory against South O'Brien Friday in Britt.