The state cross country meet took place under a beautiful blue sky on Saturday, with several area runners putting up solid finishes, and several more lamenting opportunities lost. Races were run, trophies awarded, and championships won, as the 2019 high school cross country season came to an end. 
Class 3A
Connell finishes eighth overall 
Charles City junior Kiki Connell was all smiles at the end of Saturday's 3A girls cross country race. While the Comets finished 13th in the team standings, Connell ran a solid race, finishing eighth overall with a time of 18:57.4. 
"It was a lot better than I did last year, Connell said. "I was much happier with this finish than I was last year. That's all you can do is keep improving. I was happy with it."
As  a team, the Comets finished 13th, with an average time of 20:54. 
Sophomore Lydia Staudt was the second place finisher for the Comets, running a 20:16.4, good for 49th overall. 
Ballard finished first in the team standings, with an average time of 19:16.7, while the second-place finisher was Dallas Center-Grimes, with an average of 19:32.3. 
Charles City finished just ahead of Glenwood, and right behind No. 12 finisher Norwalk. 
"It's always good to run on a sunny day," Connell said. "Our conference is usually rainy and cold, so I really like this weather, and this is a really competitive and fast course. 
Connell was satisfied with her personal performance, though with one year left, she plans on reaching even higher heights in 2020.
"I'm satisfied, but still hungry for more," Connell said. "Next year, I'm going to come back and do even better."
On the boys side, Clear Lake runner Justin Wright finished in 67th place with a time of 17:20.8. 
Nate Mueller of ADM, Abel won the individual title with a time of 15:45,7, while Quintin Orr of Humboldt ran a 15:52.1 to take second.
Dallas Center Grimes won the team title by just one point over Clear Creek-Amana, 109 to 110. 
Class 2A
The Osage boys had only one runner compete at Fort Dodge, in senior Caleb Sledd. Sledd ran a 17:30.2, good for 43rd place overall. After the race, he was unhappy with how his final race in a Green Devils uniform turned out. 
"It was a tough course," Sledd said as he stood near the finish line. "It was real windy and it got you. Having it be the last race ever sucks."
Sophomore Joey Hovinga of Forest City finished in 49th place, with a time of 17:36.5. Garner-Hayfield-Ventura runner Jake Hejlik ran a 17:48.9 to finish 63rd. 
The two Osage girls runners seemed a little bit happier with how their races went. Freshman Katelyn Johnson and sophomore Talia Stangel finished in 42nd and 84th place overall, with respective times of 20:52, and 21:38.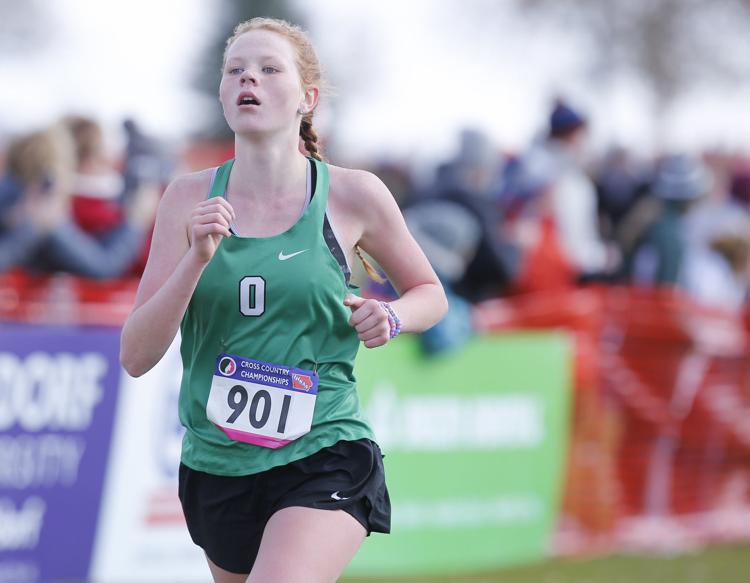 For Johnson and Stangel, who come from a small town and a small school in Osage, running on the big stage of state cross country, with so many eyes watching, was a bit of an adjustment. But both had ways of coping with the environment. The team ran in several bigger races this season to try to get the two used to the crowds. As far as during the race, Johnson's strategy was to stay out of the scrums. 
"I try to stay in front of the big packs," Johnson said. "I try to stay in front of a couple of them so that I don't get blocked in. I don't do very well once I get blocked in." 
Having each other to lean on during the craziness of the state meet was helpful to both runners. 
"It makes it easier when we are actually here," Johnson said. "We're not stressing out as much because we have someone to talk to that is going through the same thing."
With only two runners, the Green Devils did not factor into the team standings. 
For the 2A girls, Mid-Prairie, Wellman won the team title by a single point, with an average time of 19:39.5. Williamsburg was a close second, with an average of 19:55. On the individual side, Mid-Prairie senior Marie Hostetler came in first place at 17:58.2, 41 seconds ahead of second-place finisher Emily Staal of Springville-Central. 
You have free articles remaining.
With the win, Hostetler became only the seventh girl in Iowa history to win three career individual state titles. 
Abby Christians of Garner-Hayfield-Ventura ran a 19:46.5, good for 16th place. 
Class 1A 
Only one area runner competed in the 1A girls race, West Fork sophomore Kacie Eisentrager. 
Eisentrager finished in 89th place overall, with a time of 21:57.9. She finished right between Abby Boardman of South O'Brien and Sarah Eubanks of Pekin.
Eisentrager was disappointed with how her race went, but said that she plans on using the race as a learning experience for next season.
"I'm not feeling very good," Eisentrager said. "I didn't really do what I wanted. I wanted to come and really get to know the place, so I can come back next year and really do damage. It didn't turn out how I wanted.
Eisentrager admitted that she had been nervous prior to the race, and had some stomach pain that kept her from reaching her goal of finishing in the top 30. 
"I ended up throwing up during the race," Eisentrager said. "I really wasn't in a healthy state to be able to do it. Next year, to prepare my body more, I need to be healthy, and I'll be better."
Logan Magnolia won the 1A team championship by 21 points, beating out second-place Hudson 112 to 133. 
Junior Peyton Pogge of Tri-Center, Neola won the individual title with a time of 18:45.4. Kee sophomore Haley Meyer ran an 18:51.4 to come in second, while the third and fourth place runners were Jalyssa Blazek of Turkey Valley and Sophia Jungling of Aplington-Parkerburg, who finished .3 seconds apart. 
After losing six seniors to graduation after last season, Newman Catholic knew that they would have a very young squad this season. Senior Braden Petree was the only returning varsity runner, and early in the season, head coach Mike Schutt said that his team would be leaning on Petree to provide leadership.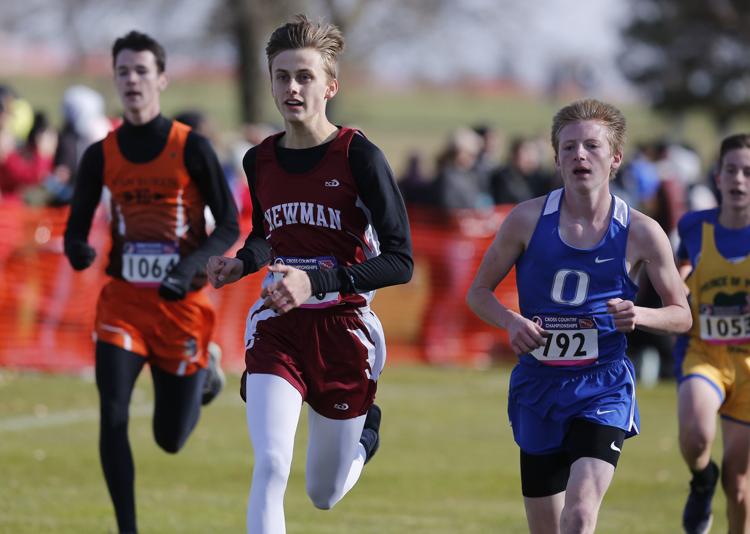 On Saturday, Petree's high school cross country career came to an end with a top-30 finish. Petree finished 41st overall with a time of 17:32. 
"I feel good, that was a good run," Petree said. "My teammate last year, Stephen Ringo, he said to run a 17:30. I passed people at the end. It sucks that it's my last race, but I feel good that I'm done running. 
"I'm not the biggest fan of running, but I love the sport."
As a team, the Knights finished 14th overall, with an average time of 18:02, one spot ahead of North Iowa rival St. Ansgar. 
"We wanted to beat St. Ansgar as a team," Petree said with a smile. "And we did."
The Knights second-place finisher was freshman Joey Ringo, who ran the race in 17:58 to take 72nd overall. Junior Jacob Wolf finished 82nd, with a time of 18:09. 
Petree enjoyed being the team's leader this season, and was proud of how his younger teammates progressed throughout the year. 
"They're a little shy," Petree said. "I think I helped pick them up, and get them started. I think we've got a good year next year."
With a bunch of young runners who had never competed on the state meet stage before, Petree did his best as the grizzled veteran to help prepare his teammates to perform well. 
"The crowd really gives you adrenaline," Petree said. "It pushes you. I told them, don't abuse that feeling. If you run too hard, just because there are a lot of people, you're going to be exhausted at the end. Use the crowd to your advantage, use it to block the wind, but don't abuse it."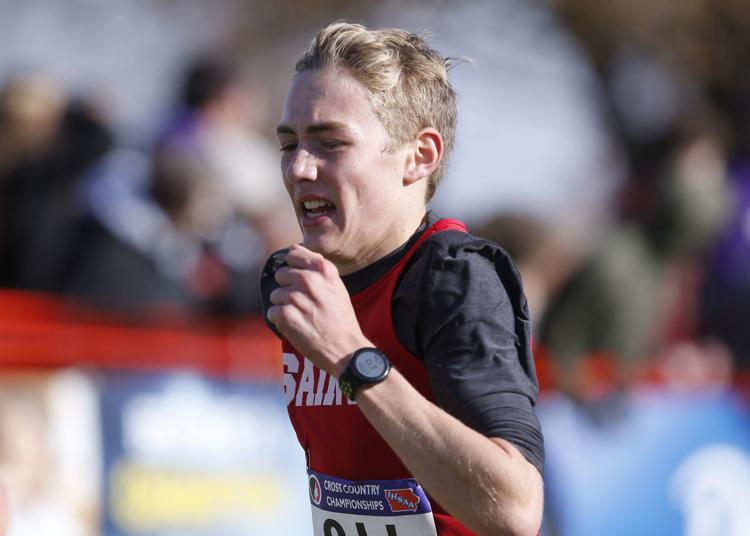 Rival school St. Ansgar finished one spot behind the Knights at 15th. Sophomore Riley Witt was the Saints' top finisher at 27th overall, with a time of 17:15. Senior Seth Hershey was close behind with a 17:30, good for 39th place. 
The West Fork boys had the best day of any area 1A squad. The Warhawks finished ninth in the team standings with 223 team points, four points ahead of Pekin. The Warhawks top finisher was senior Josh Reiter, who finished in 21st place with a time of 17:09. Junior Jakob Washington was the runner up for West Fork at 17:54, good for 63rd overall. 
Madrid won the 1A boys title with 74 points, and an average time of 17:05. Jason Renze was the team's top runner, finishing third overall with a mark of 17:05. Nodaway Valley took second place in the team standings, but senior Joshua Baudler did take the individual state title, at 16:11. Noah Jorgenson of Sidney finished in second place.