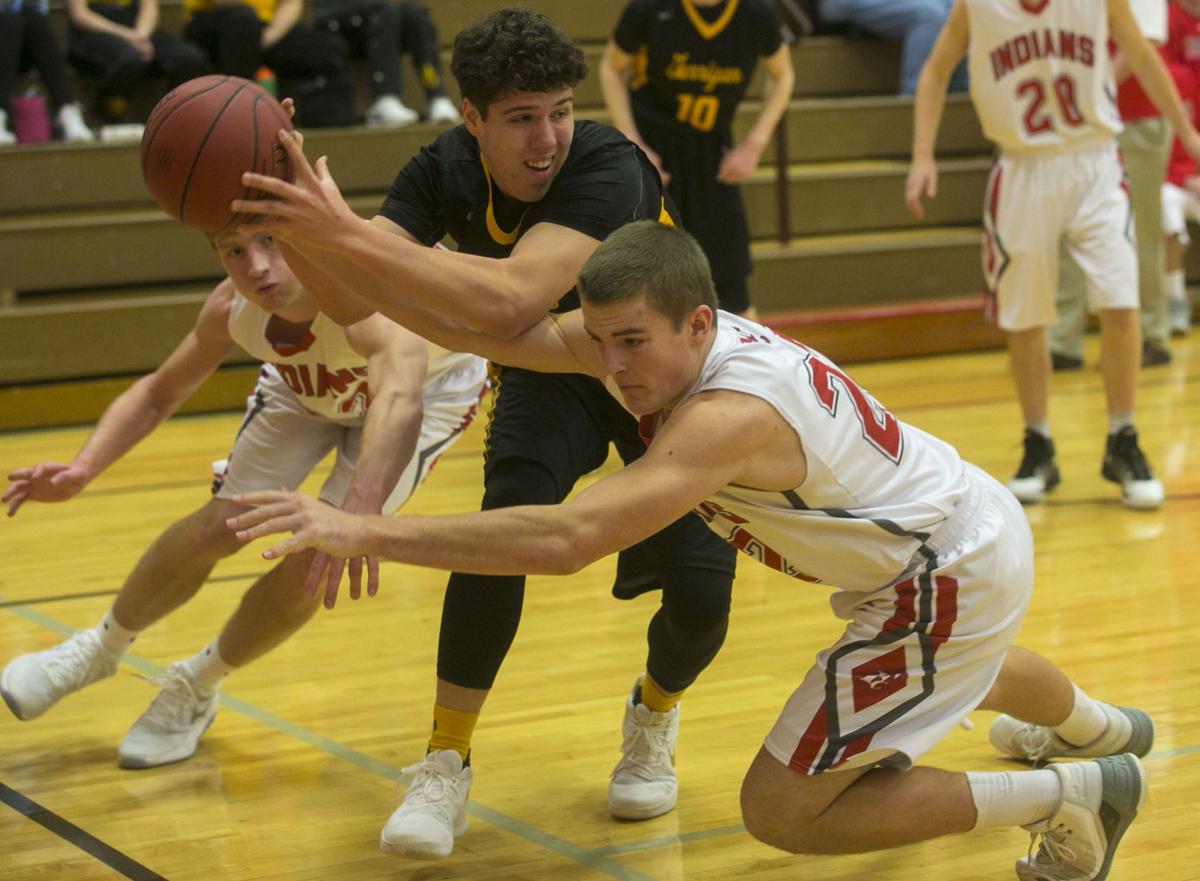 The Bishop Garrigan boys basketball team is known for its tremendous size.
Only one player on the roster is shorter than 6 feet tall. Nine players clock in at 6-foot-3 or taller. Watching them is to watch a clinic in basketball fundamentals.
Two of those players share a lot more than just an ability to reach things on tall shelves.
The Winkel brothers, Angelo and Cade, have helped push the Golden Bears (18-6) to the substate championship, only one game from the state tournament.
The Winkels are both standout athletes. Cade is a Division I football recruit, and his work as an offensive and defensive lineman for the Golden Bears has stirred interest from Power Five schools such as Iowa and Nebraska. Angelo, a sophomore, is getting basketball interest from Iowa and UNI.
The brothers complement each other well on the court. Angelo is a big low-post presence, and his dunks and ability to block shots can create nightmares for even the most prepared team.
Cade is an excellent passer, and puts his teammates like Angelo and senior TJ Schnurr in positions to score on a regular basis. For the brothers, their familiarity with each other is a big asset during the game.
"I know when Angelo has one hand up, he's asking for the ball," Cade said. "If he's going low, he wants a really low pass, or if he's spinning around, I throw it right when he spins, and you can catch him going up for dunks."
You have free articles remaining.
The Winkels grew up in Algona, and have played with or against each other all throughout childhood. Angelo's growth spurt occurred around seventh grade, when he passed Cade, who is older by one year, in height. Angelo played against the older kids, and credits these experiences with shaping his basketball abilities, while also using the opportunity to trash-talk his older brother.
"It made me a lot better, and made me toughen up," Angelo said. "It made me learn how to go through adversity, and play against someone better than me. When I was younger, he was better than me. I don't think he is now, but it made me a better player overall."
The Winkels are known for their height. Their father is 6-foot-3, Cade is 6-4, and Angelo, the youngest, comes in at a towering 6-9.
"I was expecting to be 6-foot-6, or 6-foot-7," Angelo said. "In our family, the youngest is usually the tallest. I just stretched."
For new Bishop Garrigan head coach Mark Meister, who took over the program on Feb. 15 from Harry Condoleon, having the Winkel brothers makes his life easier, simply because both of them can do so much on the court, and do it so uniquely. Cade, a junior, brings leadership and a multitude of skills.
"Cade is like a Swiss Army knife," Meister said. "You can throw Cade out there, and he can do anything in any situation. He help-defends well, rebound pass, great shooter with touch...he's capable of anything on the court."
As for Angelo, his size and ability block shots is his biggest weapon.
"Angelo, being 6-foot-9, on defense, he changes your shot," Meister said. "On the corner, as a guard, you're immediately intimidated when you see him,... offensively, the footwork, the low block. He's starting to get a little bit of a mid-range shot right now. He's a force to be reckoned with."
The success that Bishop Garrigan has had this season comes in spite of the drama of losing their head coach of the past five years. In the past few weeks, the Golden Bears have had to adjust to a new coach, while trying to focus on preparing for their postseason opponents. Their next challenge is, against Janesville (19-4).
"(This season) has been really up and down," Cade Winkel said. "We're playing really good when we need to play good, and the right time. We're peaking at the right moment. That's what matters in the end, not your regular-season record."