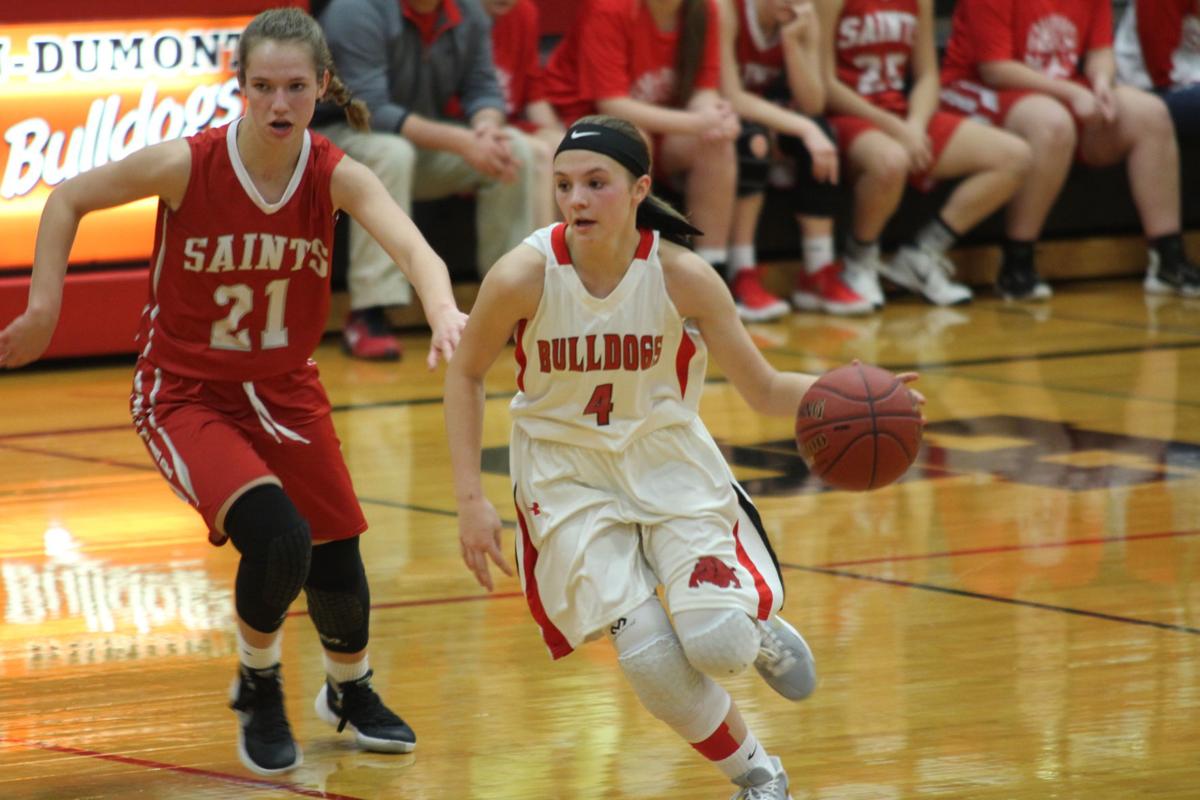 Home is where the heart is.
That home is on the basketball court for Kaci Arjes.
She's the one in the white Nike headband that ties just below her short brown ponytail, which bobs to the rhythm of her dance down the court.
The 5-foot-6 Hampton-Dumont sophomore is fast, but smart. The fluidity of her ball-handling makes her even more dangerous as she weaves through the gaps of the Clear Lake defense on Jan. 16 with complete control.
She can make the layups, but on this night her strength came from beyond the arch in the third quarter. Kaci sets up the play accordingly, putting her in position on the far right end of the basket. It's a straight-line shot, she makes it.
The next one she has more of an angle on the left side, and as she lobs the ball into the air, there's no doubt she's got it.
That's two straight, then she makes a third. The fourth comes later.
Though still behind, she's got the Lions' attention as they call a timeout. "Don't let the girl with the white headband get that ball!"
The Bulldogs crowd is roaring, standing up to applaud Kaci's effort. They mutter under the claps.
"Is that three in a row?"
The teams take the court again. Kaci is sitting on the bench for a breath. That's for more reasons than the average observer might think.
Kaci checks the polar band under her shirt, which monitors her heart rate. As long as she stays below 210, she has a peace of mind. The polar band is Bluetooth, so her mom, Cindy Arjes, can check it from the stands on her phone.
When she's back in, she jogs swiftly on her toes just enough to keep pace with the rest of her team. Give her the ball and she's on fire again.
The Bulldogs would lose to the Lions 51-36, but Kaci would finish the night with a team-high 18 points.
"She, last year, was told she would never play basketball again," Hampton-Dumont head coach Miranda Valley said. "She doesn't take it for granted; some athletes will get out there and play to play. She takes advantage of every minute."
Kaci emerges from the locker room, beaming, despite a loss. She runs back to grab her white headband for a picture.
"I love how I can get my feelings out of it [basketball]," Kaci said after the Clear Lake game. "I love having the feeling of the intensity and when I'm on fire with my shots tonight, it just feels good."
You'd never be able to tell that Kaci has hypertrophic cardiomyopathy, a genetic condition that results in a thickened heart muscle. It makes it harder for the heart to pump blood.
And harder to play basketball.
She tries to act casual about the polar band underneath her bra, but tears well up in her eyes when she recalls that moment when she was told last winter that she couldn't play the game she loved anymore.
Cindy describes those few months as nothing short of devastating. Athletes like Kaci live for basketball; it's part of her identity. She's been playing with her twin sister, Maci, since the third grade.
Maci is the only one of the four siblings without the condition. Kaci's older siblings Trevor and Alexa also have it. Cindy has it too, and she got it from her mom, Kaci's grandma.
In August, the family decided to get a second opinion from Dr. Michael J. Ackerman, a cardiologist at Mayo Clinic's Long QT Syndrome/Genetic Heart Rhythm Clinic and researcher for the Windland Smith Rice Sudden Death Genomics Laboratory.
Ackerman currently treats 250 athletes like Kaci, who were told by other doctors that they couldn't play sports.
"In the past, in North America, cardiologists were under the common practice that it was their duty to disqualify," Ackerman said. "If you have a a sudden-death predisposing disease, then our role was to prevent from engaging in any competitive sport. What we do so much in medicine now, however, is shared-decision making."
This involves sitting down with an athlete and family, laying out all the risk factors and evidence.
"You shape the discussion as to what you think the evidence is that a certain activity may or may not act as a disease accelerator or trigger death," Ackerman said. "And allow the family to ask questions, from there ask if that sport is an acceptable risk in their world view."
There are a number of genetic variations of HCM, some less obstructive than others. Kaci underwent a series of tests to see what her risks were.
Those risks included: if she had fainted in the past, if her heart walls' thickness was greater than 3.0, displayed any scarring in the heart wall, abnormal EKG results and a family history of sudden cardiac death. Kaci also underwent holter monitor tests and stress tests.
Kaci didn't display any of these risk factors, so the family made a decision.
"As with any parent, just being able to watch your child living life to the fullest and doing the things they love is truly the greatest blessing," Cindy said. "And also watching her getting to play with her twin sister again is an unbelievable feeling as well."
But every six months, Kaci visits Dr. Ackerman to be evaluated once again. If the risk increases, she may have to stop playing basketball.
"It makes it more special," Kaci said. "I always think that this could be my last time playing, work as hard as I can."
As protocol, Ackerman has a set of rules the family abides by. It starts with a unanimous family-decision to allow Kaci to play.
The appropriate coaches and school officials have to be informed of her condition and establish a worse-case scenario safety plan.
If Kaci collapses and doesn't wake up in 10 seconds, 911 is activated and an AED is retrieved. And it must be Kaci's own AED, which she keeps in her athletic bag.
The protocol doesn't require the polar band because there is no guaranteed proof that above or below a certain heart rate is safe. It's something Ackerman provides to athletes and their families if they want to monitor activity closely for reassurance.
Ackerman has been treating athletes with this protocol in place for 18 years. He says that's over 1,000 athlete years, and none have executed the safety plan. But he insists on keeping it in place, calling it the patient's "commandments."
Now, for her own safety, Kaci signals to her coach when she needs to sit on the bench. As much as she loves the game, she knows how important it is to proceed with caution.
When she's ready to sub in, she claps hands with her teammates as she steps on the basketball court.