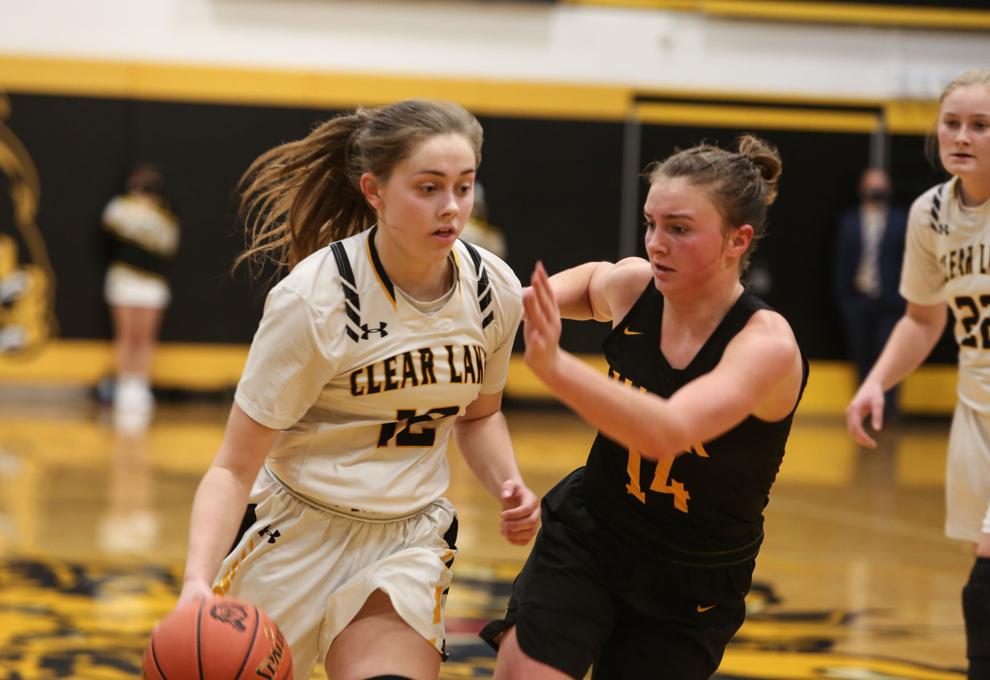 For the Clear Lake girls basketball team, the last couple weeks have been a roller coaster ride.
COVID-19 forced some of the Lions to sit out of their first round game. With everyone back and available for the Class 3A, Region 4 semifinal game on Wednesday night against Iowa Falls-Alden, Clear Lake was ready to roll at home.
The Class 3A No. 2 Clear Lake basketball team looked solid against the Iowa Falls-Alden. The Lions beat the Cadets, 54-41, to advance to the regional championship.
The game was close through the majority of the first half. The Lions held just a six-point advantage at halftime. But Clear Lake's solid third quarter was enough to separate the team and earn a win.
Senior Kaitlyn Vanderploeg led the Lions with 18 points, while junior Jaden Ainley finished with 13 points. Clear Lake improved to an overall record of 17-1 and play Williamsburg at 7 p.m. on Saturday at Grundy Center.
Girls basketball
Osage 67, New Hampton 42: A dominant third quarter pushed the Class 3A No. 6 Osage girls basketball team over New Hampton in Class 3A, Region 5 semifinal action. The Green Devils beat the Chickasaws, 67-42, to advance to the regional championship.
The Green Devils led by 12 points at halftime, but extended the lead by 12 more points after the third quarter.
Osage was led by senior Danielle Johnson, who scored 21 points and grabbed nine rebounds. Sophomore Claudia Aschenbrenner, junior Kaebre Sullivan and senior Ellie Bobinet each scored over double digits as well.
Osage improved to 21-2 and play Waukon at 7 p.m. on Saturday at Waverly-Shell Rock.
Estherville-Lincoln Central 60, Forest City 48: The Forest City girls basketball team gave Estherville-Lincoln Central a run for its money on Wednesday night, but came up short in Class 3A, Region 2 semifinal action. The Midgets beat the Indians, 60-48, to put an end to Forest City's season.
The Midgets led by one point and slowly increased their lead after every quarter. There were no additional stats available on VarsityBound for Forest City. The Indians finished their season with an overall record of 16-8.
Bowling
For the first time ever in Forest City bowling history, both the boys and the girls team qualified for the state tournament. The girls team beat six other teams at districts with a total score of 2,678. The boys team was also able to qualify. Jordan Trunkhill bowled a 299 at the meet, the highest ever for the Indians.