The North Iowa Area Community College gym hosted the Mason City and New Hampton volleyball teams for a game on Thursday night.
The Chickasaws and Mohawks traded wins in the first two sets, but New Hampton won the next two to earn a 3-1 victory.
"This was a hard fought, competitive match against a quality opponent," Mason City coach Curt Klaahsen said. "We struggled to block their attacks at times and need more consistent passing, but overall, we are pleased with our performance and look forward to a great rest of the season."
New Hampton took the first set, 25-15, but the Mohawks responded with a 25-22 win in set two. The Chickasaws then won the next two sets, 25-22 and 25-20, respectively.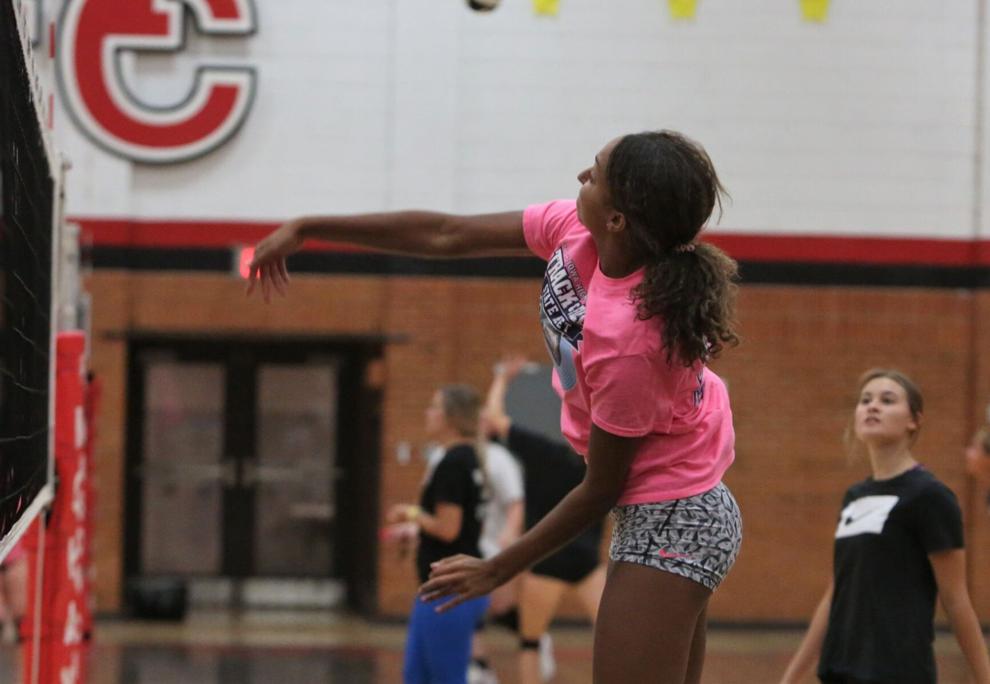 Jada Williams led with nine kills and four solo blocks, while Bre Lowe finished with 24 assists. Lowe also went 15-16 on serves with three aces.
The Mohawks dropped to 1-1 on the season.
Volleyball
Osage 3, Newman Catholic 0: The Class 2A, No. 9 Osage volleyball team picked up this season right where they left off last year, posting a 3-0 win over Newman Catholic in Top of Iowa East conference play on Thursday night.
The Green Devils earned a 25-11 win in set one, a 25-13 win in set two and a 25-7 win in set three. There were no additional stats available on VarsityBound for either team.
St. Ansgar 3, Central Springs 0: The St. Ansgar volleyball team had no trouble handling Central Springs on the road on Thursday night. The Saints beat the Panthers, 3-0, in Top of Iowa East conference play.
The Saints posted 25-19 wins in both set one and set two, and finished the Panthers off with a 25-20 win in the final set.
Alivea Harms finished the night with seven kills for the Panthers, while Liberti Ewin had 11 assists. There were no individual stats available on VarsityBound for the Saints.
St. Ansgar improved to 1-2, while Central Springs dropped to 1-3.
Forest City 3, Eagle Grove 0: Forest City kicked off its Top of Iowa West conference title defense with a 3-0 win over Eagle Grove on Thursday night in Forest City.
The Indians started off with a 25-7 win in the first set and followed it up with a 25-6 win in the second. In the third and final set, the home team posted a 25-11 win to earn the sweep.
Jalyn Hovenga led the Indians with seven kills and six aces. Jaden Jerome had 10 kills, while both Regan Helgeson and Karly Lambert each posted five kills.
Nashua-Plainfield 3, Rockford 0: The Rockford volleyball team struggled to get things going against visiting Nashua-Plainfield on Thursday night. The Huskies beat the Warriors, 3-0.
The Warriors gave the Huskies their all in set one, but the Huskies managed to pull out a 25-19 win. The next two sets weren't as close. Nashua-Plainfield won 25-11 and 25-10, respectively, to earn the sweep.
Emma Muller had six of Rockford's 12 kills on the night. Chloe Rooney had 13 digs as well. The Warriors are now 0-2 on the season.
North Butler 3, Northwood-Kensett 0: The Northwood-Kensett volleyball team couldn't pull out a win at North Butler on Thursday night. The Bearcats beat the Vikings, 3-0.
The Bearcats started it off with a 25-13 win in set one, then followed it up with a 25-17 win in the second set. The final set was won by North Butler, 25-14.
Marli Backhaus had seven kills, Emma Davidson posted 20 assists and Peyton Shoger had eight digs. The Vikings are now 0-2.
Lake Mills 3, West Hancock 0: The Lake Mills volleyball team started its season off with a Top of Iowa West sweep over West Hancock on Thursday night, 3-0.
The Bulldogs earned wins in three straight sets (25-7, 25-11, 25-8) and made things look easy at times. But head coach Jim Boehmer knows there's still things to improve on.
"I thought we had a good first night out," Boehmer said. "A little over anxious and excited maybe but our focus was good. We were trying to be aggressive with our servers and on offense so that was a positive. We need to be more efficient than we were tonight. But that will come."
Ellie Hanna led the Bulldogs with 10 kills. Leah Moen also posted 21 assists. Three different players had two kills for West Hancock. Kennedy Kelly led the Eagles with 10 digs.
The Bulldogs improved to 1-0, while the Eagles dropped to 0-1.
North Iowa 3, Garner-Hayfield-Ventura 0: The Garner-Hayfield-Ventura volleyball team had three competitive sets with North Iowa, but the Cardinals couldn't pull out a victory in any of them. The Cardinals fell, 3-0, on Thursday night to the Bison.
The Bison earned a 25-19 win in the first set. The Cardinals competed hard in both of the next two sets, but fell, 25-23, in both.
Chloe Frank posted nine kills and Liz Richardson had eight in the loss. Kenedee Frayne had 21 assists for the Cardinals. GHV is now 0-1 on the season.
Cross country
Graeser shines for Charles City
Xander Graeser is only a freshman on the Charles City cross country team.
But he ran like an experienced veteran on Thursday night in Charles City's home meet.
Graeser finished fourth for the boys team with a time of 17 minutes, 57.30 seconds. Nick Williams and Isaac Thompson finished in 13th and 14th, respectively, with times of 18:53.96 and 18:56.54.
On the girls side, the Comets' best finisher was Lydia Staudt -- who finished 16th with a time of 23:16.51. Lauren Staudt finished 27th place with a time of 23:55.92.
Riceville also competed at Charles City. Ashley Koenings (35th, 24:29.39) was the best finisher for the girls team, while Caleb Zweibohmer (60th, 21:27.60) ran the best time for the boys.