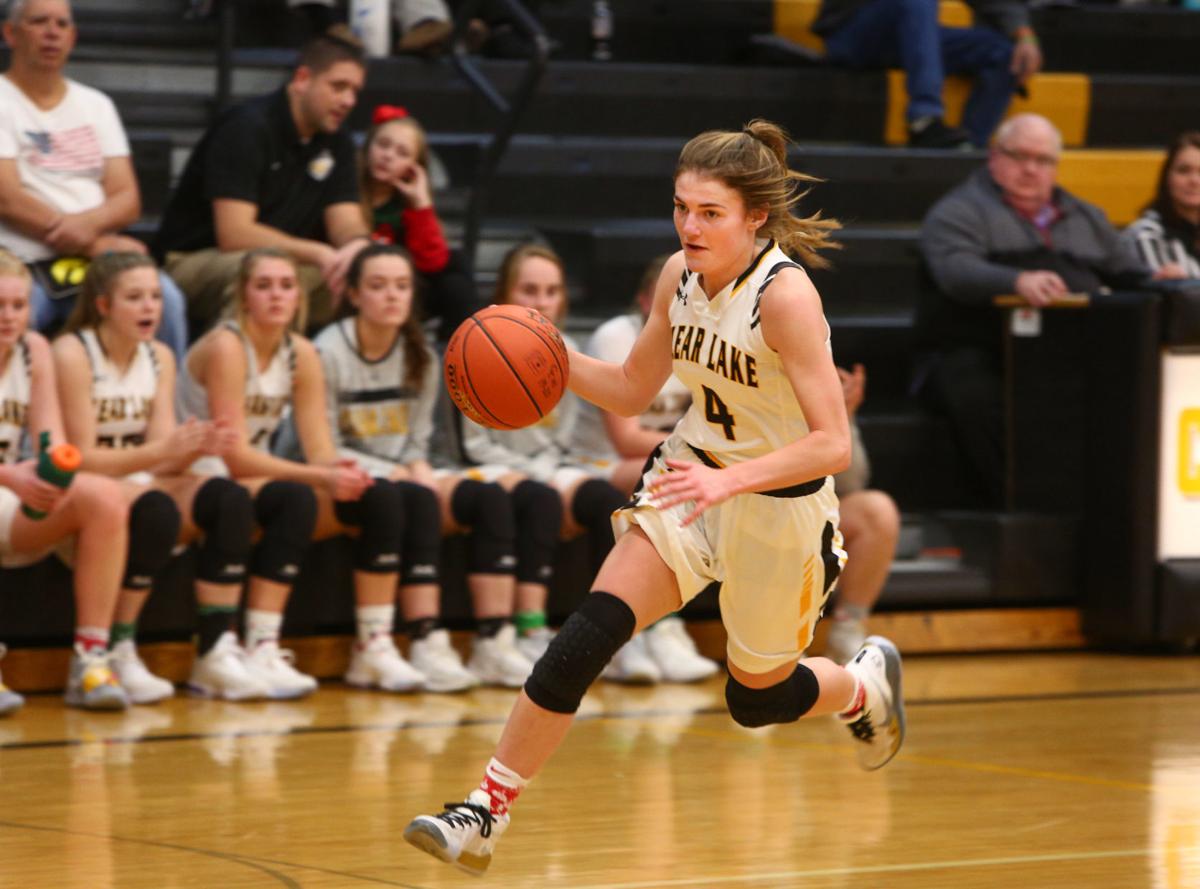 The Clear Lake girls basketball team was held far below its season average on Monday night, falling to Waverly-Shell Rock 58-35 for its first loss of the season.
After averaging just over 71 points a contest coming into Monday night, the Lions were held to 36 points below their average. Even more surprising was Waverly-Shell Rock nearly doubled the number of points Clear Lake has allowed its opponents through its first seven games.
Junior Chelsey Holck paced the Lions with a team-high 11 points on 4 of 8 shooting, including 3 of 5 from beyond the 3-point line.
Senior Sara Faber and junior Darby Dodd were held to eight points, while junior Kaitlyn Vanderploeg and senior Julia Merfeld were held scoreless.
The Lions shot just 28 percent from the floor, hitting 12 of 43 shots, and only 8 of 29 from beyond the 3-point arc.
Clear Lake will try to resume its winning ways on Friday when it travels to Humboldt.
Girls basketball
Tripoli 70, Rockford 48: The Rockford girls basketball team fell to 3-6 after losing 70-48 to Tripoli on Monday night on the road.
The Panthers jumped out to a 37-23 halftime lead and never looked back, despite the Warriors making a move in the third quarter.
Senior Amber Reams had a big night for the Warriors, scoring a team-high 21 points on 8 of 15 shooting. She also led Rockford with eight rebounds.
Senior Sierra Kuhlers also scored in double figures for the Warriors with 11 points, while junior Gabby Keith had nine points.
Rockford hosted Osage on Tuesday night and will host North Butler on Friday.
You have free articles remaining.
Northwood-Kensett 38, Riceville 33: The Northwood-Kensett girls basketball team won for only the second time this season, edging Riceville 38-33 on Monday night at home.
In a low scoring game that saw the Vikings score only four points in the first quarter, both teams found their shooting touch in the second and went into the locker room tied 19-19 at halftime.
After falling behind 29-26 after three quarters, Northwood-Kensett outscored Riceville 12-4 in the final frame for the margin of victory.
Senior Jaela parks had a game-high 16 points, including a 12-for-12 night from the free throw line. She also tied senior Clara Davidson with a team-high seven rebounds. Davidson finished with nine points.
Freshman Madison Mauer led Riceville in scoring with eight points, while sophomore O'Malley Fair had seven points.
The Wildcats shot a paltry 21 percent from the field, making only 13 of 61 shots on the night, while the Vikings shot just 27 percent from the floor, making 10 of 37 shots.
Riceville was at Nashua-Plainfield on Tuesday and will host Dunkerton on Friday. Northwood-Kensett hosted St. Ansgar on Tuesday and will be at Osage on Friday.
Boys basketball
Tripoli 61, Rockford 53: After matching Tripoli point for point through three quarters, a big fourth quarter by the Panthers sunk the Rockford boys basketball team Monday night in a 61-52 loss on the road.
The loss was the Warriors' second straight and third in their last four games and drops their season mark to 5-4.
After falling behind 24-18 at the half, Rockford stormed back for a 32-31 lead after the third quarter to set up a thrilling final frame that saw Tripoli outscore Rockford 30-21 for the margin of victory.
Senior Matt Schubert led the Warriors with a team-high 22 points on 8 of 13 shooting, including 3 of 5 shots from beyond the 3-point line. Schubert completed a double-double with a game-high 20 rebounds, including eight offensive boards.
The Warriors hosted Osage Tuesday night and are at North Butler on Friday.