After an 0-4 start that included losses to three teams that would eventually go undefeated on the season, the Osage football team found itself in district play.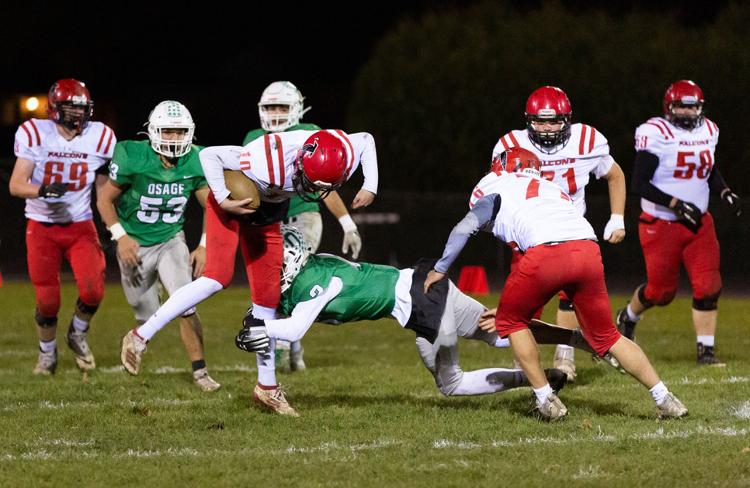 The Green Devils completed a perfect run through the district on Friday with a 30-20 win over Aplington-Parkersburg that propelled them into the Class 1A playoffs for the second consecutive season.
Zach Williams rushed 17 times for 180 yards and three scores to lead the Green Devil offense.
Williams also had 13.5 tackles.
Colin Muller was 14-of-18 passing for 151 yards and another score.
Osage (5-4) will host West Lyon (8-1) in the first round of the Class 1A playoffs on Friday.
West Hancock 55, Belmond-Klemme 7: Top-rated (A) West Hancock put up nearly 500 yards of total offense, including 444 on the ground, in a 55-7 rout of Belmond-Klemme that secured the Eagles a berth in the Class A playoff field.
Tate Hagen carried the ball 15 times for 280 yards and two scores.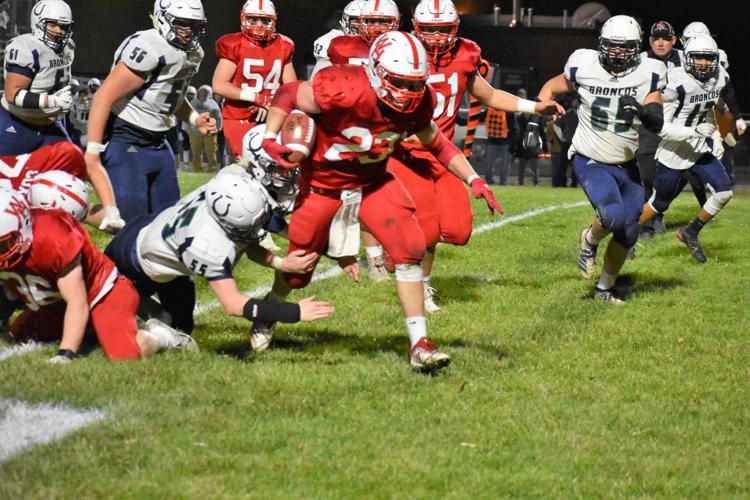 Hagen has rushed for 1,549 and 23 touchdowns on the season.
Josef Smith reached the end zone four times, twice on runs and twice on touchdown receptions from Brayden Leerar.
West Hancock (9-0) will entertain IKM-Manning (6-3) on Friday in the opening round of the Class A playoffs.
Belmond-Klemme finished its season with a 6-3 overall record.
Jaace Weidemann finished the season with 1,656 yards on the ground for the Broncos.
St. Ansgar 42, Central Springs 0: Jack Sievert and Ryan Cole combined for 210 yards on the ground and two touchdowns as St. Ansgar completed and unbeaten regular season with a 42-0 win over Central Springs on Friday.
Cole also returned a punt 66 yards for a score.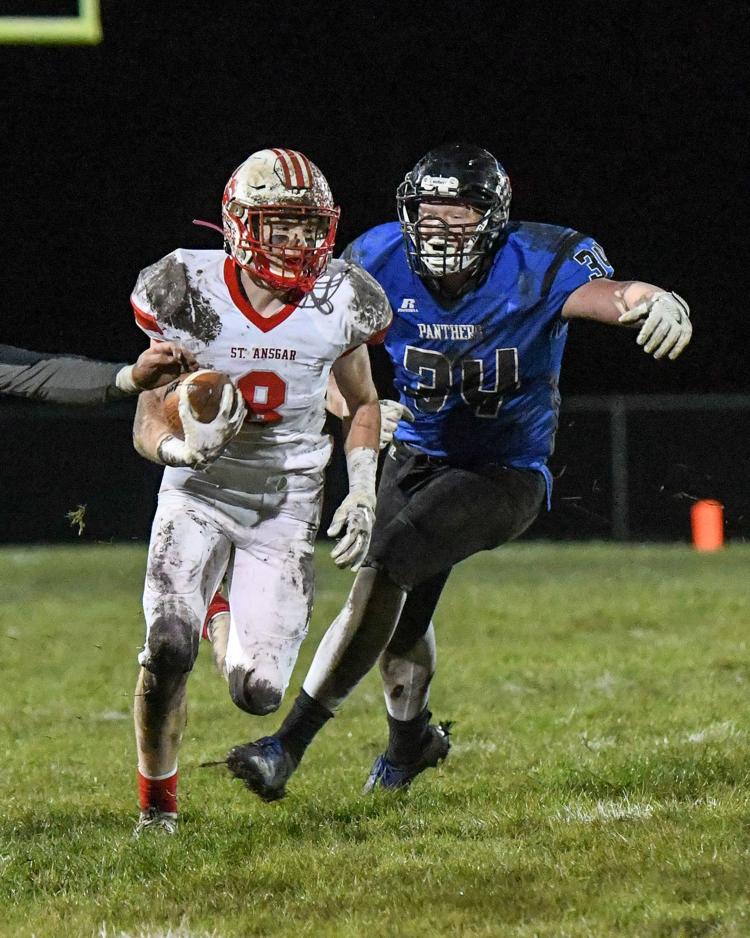 The Saints scored the fourth-most points in the state during the regular season with 503.
St. Ansgar enters the Class A playoffs as the third seed and will host Edgewood-Colesburg (7-2) on Friday.
Central Springs completed its season with a 3-6 mark.
Waverly-Shell Rock 31, Charles City 27: Trever Heitz rushed for 175 yards and three touchdowns, but Charles City could not quite get past Waverly-Shell Rock in a 31-27 loss that ended the Comets' season on Friday.
Alec Staudt passed for 109 yards and connected with Ian Collins on a 69-yard scoring strike for the Comets.
Charles City ended with a 2-7 overall mark.
Algona 43, Southeast Valley 0: Tyler Manske threw a pair of first-half touchdown passes as Algona jumped out to a 36-0 halftime lead and routed Southeast Valley 43-0 on Friday.
The win clinched a district title and an undefeated regular season for the Bulldogs.
Algona (9-0) will entertain CLGLR (5-4) in the opening round of the Class 2A postseason on Friday.
Spirit Lake 34, Garner-Hayfield-Ventura 29: Isaac Knudtson carried the ball 15 times for 242 yards and three scores, but Spirit Lake came from behind late and toppled Garner-Hayfield-Ventura 34-29 on Friday in a loss that ended the Cardinals' playoff hopes.
Knudtson also had 10.5 tackles to lead the Cardinal defense.
You have free articles remaining.
G-H-V completed its season with an overall record of 5-4.
Crestwood 7, Forest City 6: Riley Helgeson and Kristian Gunderson, a pair of seniors playing their final game for Forest City, combined for 243 yards of total offense, but it wasn't quite enough as the Indians dropped their season finale to Crestwood 7-6 on Friday.
Devin Alamsa kicked a pair of field goals for the Indians.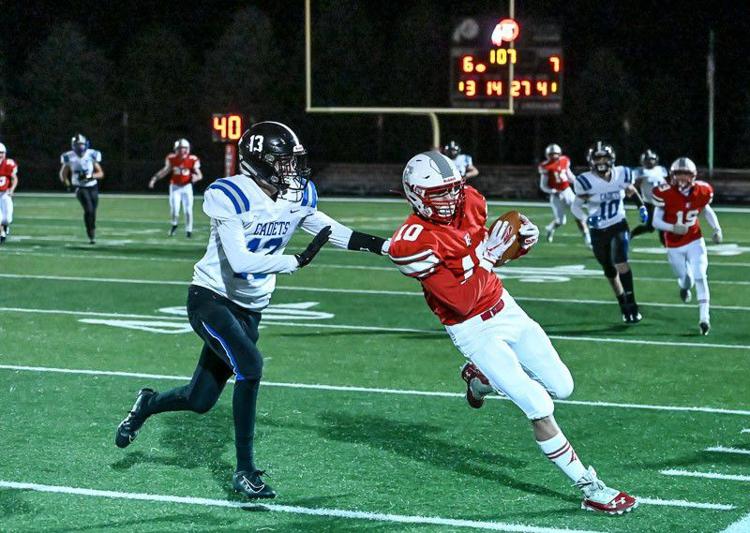 Forest City completed its season with an overall mark of 7-2.
New Hampton 21, Hampton-Dumont-CAL 6: Hampton-Dumont-CAL kept things close in the first half, but New Hampton pulled away after intermission in a 23-6 Chickasaws victory on Friday.
The Bulldogs trailed just 6-0 at halftime.
Cal Heeren passed for 106 yards and a touchdown to the Bulldogs.
Heeren, a sophomore, passed for more than 700 yards on the year.
Hampton-Dumont-CAL concluded its season with an overall mark of 1-8.
Denver 56, Lake Mills 13: After a promising start to the season, Lake Mills ended its 2019 campaign with a three-game slide after a tough 56-13 loss to Denver.
The Bulldogs finished the season with a 4-5 overall record.
Sumner Fredericksburg 23, North Butler 6: North Butler dropped to 1-8 for the 2019 season in a 23-6 loss to Sumner-Fredericksburg.
The offensive woes that plagued the Bearcats after their opening win were the story in the home loss.
Bishop Garrigan 37, Graettinger-Terrill 16: Bishop Garrigan closed the 2019 season with three consecutive wins after a 37-16 victory over Graettinger-Terrill on Friday.
The Golden Bears, who finished 6-3 overall, narrowly missed out on a Class A playoff berth as they finished 18th in the RPI ratinngs.
West Fork 13, North Union 12: West Fork got first-half touchdown runs from Kayden Ames and Brett Weaver and held off North Union in the second half for a 13-12 win in its season finale.
The victory gave the Warhawks a winning record on the season at 5-4.
Postville 13, Nashua-Plainfield 0: After picking up its first win of the season in week eight, Nashua-Plainfield closed out its season with a 13-0 loss to Postville on Friday.
The Huskies ended the season at 1-8.
South Winneshiek 50, Newman Catholic 19: A youthful Newman Catholic football team will look forward to better things next season as the Knights closed their 2019 campaign with a 50-19 loss to South Winneshiek on Friday.
The Knights, who battled significant injury issues for the last half of the season, finished the year with a 2-7 overall mark.
Don Bosco 73, Riceville 18: Don Bosco jumped out to a 49-6 halftime and dumped Riceville 73-18 in eight-man football on Friday.
Riceville concluded its season with an overall record of 4-5 while the Dons advance as an undefeated district champion into the eight-plaver playoffs on Friday.
Janesville 43, North Iowa 0: District play proved to be rough on North Iowa as the Bison dropped their eighth game in a row, 43-0 to Janesville on Friday.
North Iowa finished its season with a 1-8 mark.
Rockford 44, Northwood-Kensett 12: After a surprising runner-up finish in 2018, the Rockford Warriors needed a victory on Friday night to advance to the eight-player playoff field for the second consecutive season.
The Warriors came through when they needed to and pulled out a 44-12 victory that upped their season mark to 7-2 and moved Rockford into the playoffs.
Rockford opens the playoffs on Friday with a difficult road test at second-rated Turkey Valley (9-0).
The Vikings closed their season with a 6-3 record.