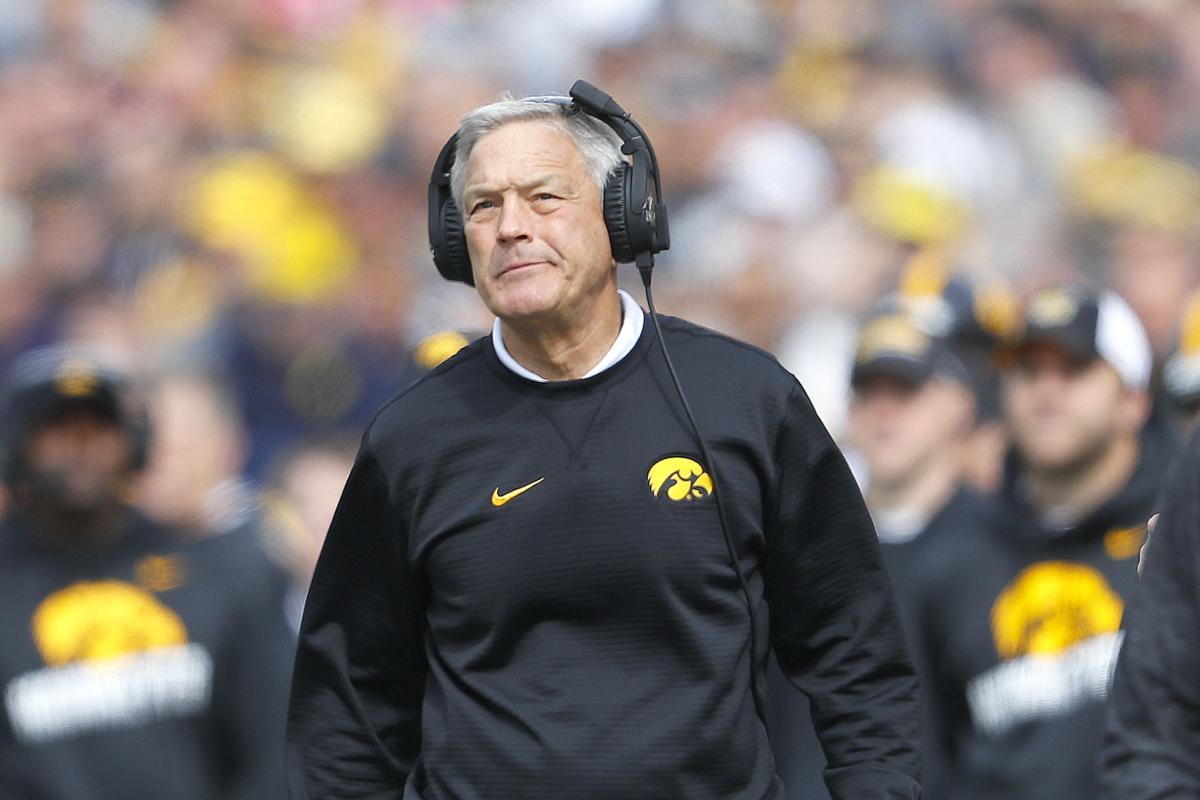 Iowa football players, coaches and staff members may be returning to campus in waves over the next three weeks, but Kirk Ferentz also wants the Hawkeyes to arrive as one.
The Hawkeye coach encourages open dialogue and a lot of listening to become the starting point for a team he believes can make a difference in race relations on the Iowa campus and beyond.
In the aftermath of George Floyd's death last week and tensions it has created across the country, Ferentz sees a need for a group with a diverse collection of backgrounds like those found within a football program to learn and grow from what has transpired.
He said Wednesday during a video conference that the common ground found within the framework of a team can provide a strong template for progress.
"We can all agree on something as we work together. We can all have respect for one another,'' Ferentz said, saying he sought an open culture in the Iowa locker room.
Ferentz wants a unified approach, something that has been the case since then-San Francisco 49ers quarterback Colin Kaepernick took a knee during the playing of The National Anthem to bring attention to police brutality and racial inequity in the United States in 2016.
Hawkeye players have stood together at each game since that time.
"I'd just like to see our team be together,'' Ferentz said. "So everybody's taking a knee or everybody's at attention, either way, the big thing is to be together.''
Ferentz said he initially planned to spend a lot of time fielding questions about football on Wednesday, but back in his office this week for the first time since mid-March it all seemed secondary to the primary concerns of the moment.
"The national conversation has changed over the past week,'' Ferentz said. "As part of coaching, we love to be teachers, but what we do goes well beyond that.''
Iowa is beginning a methodical process of bringing its football players, coaches and support staff back to campus following the COVID-19 pandemic as planned.
Ferentz, a few of the Hawkeyes assistants, a couple of support staff members and the entire strength and conditioning staff returned to work at Iowa's football performance center for the first time since March 13 on Monday.
Next Monday, veteran players will join additional assistant coaches and staff members in returning.
A week later on June 15, first-year players and remaining staff members will arrive.
Groups of Hawkeyes will begin voluntary strength and conditioning work next week, taking weekend COVID tests before entering the building and then having temperatures taken and medical surveys conducted daily at the one entrance that will be made available to them.
The enormity of the strength and conditioning area at the facility – 23,000 square feet indoors and three adjacent practice fields – will allow for plenty of social distancing and the timing of group work is being spaced out to provide for plenty of sanitizing and cleaning to take place between arrivals.
"It's not going to be perfect, and it's not going to like it was last summer or the summer before that,'' Ferentz said. "In terms of being able to come and go and all those types of things, we all realize our world has been rocked pretty hard and we're going to have to do things differently.''
Given that Iowa players have not trained in the facility in just shy of three months, Ferentz said the work capacity asked of players next week will be well under 50 percent of what the Hawkeyes would normally expect.
He said coaches are anxious to see what type of physical shape players will report in.
"We're expecting a mixed bag,'' he said.
Ferentz also expects the education to continue as players, coaches and others get to know each other even better than they have.
He anticipates everything from one-on-one talk to small group and team-wide discussions building off of talk that has already taken place.
Ferentz said during a position-group meeting video conference last week, one Iowa assistant asked his players to offer what they had been told growing up about what to expect and how to handle interactions with law enforcement.
The differences were stark, among the reasons Ferentz expects the conversations to continue.
"It is about players being educated, whether it is their course work or real-life events,'' Ferentz said. "Football is important to us, but what is going on in real life impacts all of us. Everybody in our program realizes that change is needed, and it is in our hands to try do something with it.''
Jerry Smith is sports editor and special projects editor for the Globe Gazette. You can reach him at jerry.smith@globegazette.com or by phone at 641-421-0556.
Be the first to know
Get local news delivered to your inbox!